by Jack Penland
Your Education Vacation
Imagine this; you're coming home from vacation laden down with several new pieces of art.   Maybe they're a couple of paintings, or something made out of glass.  But, for this vacation, this isn't art you bought.  It's art you made.
Or, maybe you're returning from vacation with more confidence in your Spanish-speaking ability than you ever got from your high school classes. Along with your newly-polished skills you have a new group of like-minded friends, ready to share something outside of the workaday world.
You're coming home rested, but excited, too.  You've just spent several days immersed in learning something new, and in the process, grew yourself.
---
Camp Casey hosts numerous youth camps
and adult workshops.
Your days were a mix of testing yourself and treating yourself. Maybe your day was a cooking class, and your night a multi-course extravagant meal. Maybe you went to the beach for a walk, or maybe you went there to paint.
There a word for this kind of vacation remix, an "education vacation," or "eduvacation" for short.
On Whidbey and Camano Islands, there are a surprising number of ways you can pursue your own "eduvacation." From art to farming, from photography to Spanish, with a little planning, you can turn a week into something life-changing.
---

The Northwest Language and Cultural Center
The Northwest Language and Cultural Center offers language intensive weekends, often coupled with cultural opportunities. Look for Spanish and French summer weekends, including some parent-child classes. Weekly classes are offered in other languages, as well.
---
Adults attending a Conference at Camp Casey.
---

Camp Casey Conference Center
There are thousands of people in the Seattle area who have memories of going to camp at The Camp Casey Conference Center on Whidbey Island. This historic former Army camp, complete with auditoriums, a mess hall, and barracks, is ideal for sports camps, church groups, school outdoor education classes, and other non-profit endeavors. The seaside parade grounds offer a spectacular backdrop for a wide range of outdoor activities.
8 Unique Schools
on Whidbey & Camano Islands
Escape from the Daily Grind on Rural Whidbey Island
If this has got you thinking about other unique accommodations on Whidbey Island, here are our recommendations. All you need to do is hop aboard the Mukilteo ferry or the Coupeville ferry or drive over Deception Pass Bridge, grab a Whidbey Island map to discover its back roads and you're set for your rural adventure.
See All of Our Hotels, Motels, B & B's, and More!

WHAT ABOUT ART SCHOOLS?!?
Both Whidbey and Camano Islands have a rich art tradition with many schools to educate and inspire both novice and experienced artists.
Visit the Art Schools!
---

Terra Teams
The beauty of Camano Island is the setting for this unique team-building adventure on Kristofferson Farm. You and your coworkers work through a series of team puzzles and challenges that break down barriers and help forge strong teams in the business world. And, you get to have a little fun along the way. Each session is customized to the team needs.
---
Hedgebrook
For women writers who already know and love their craft, Hedgebrook is an opportunity to immerse yourself in an island environment that nurtures one's creative soul and builds bonds with other women writers. Since 1988, this venerable school on a former working farm has hosted writers from all over the world.
The primary experience is a Writers in Residence that lasts from two to six weeks. Approximately 40 writers are selected each year and go through a rigorous multi-level screening process before being accepted. Additionally, there are several week-long "Master Classes" led by nationally-known women authors who are eager to mentor other writers and share their experiences with the writers' craft.
This is just a Sample!
We're not sure the Internet is big enough to hold all the schools on Whidbey and Camano Islands.   So this is just a sample to whet your appetite!
---

Orchard Kitchen
Learn cooking techniques from a master! Chef Vincent Natress offers classes each October through June that includes 90 minutes of hands-on instruction, a family-style farmhouse lunch an wine. Students each have their station around the kitchen's big country worktable. Unlike other classes where only a couple of students do the work, this is your hands-on chance to learn!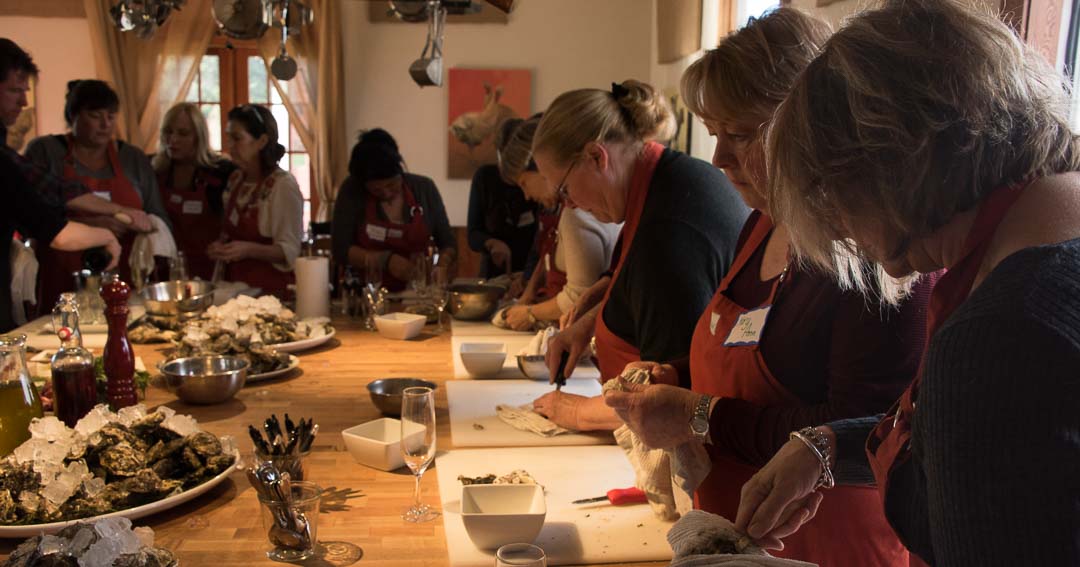 Cooking class at The Orchard Kitchen
---

Whidbey Kayaking
If you're going to an island, you want to get out on the water. There's no easier way than to go on a group kayaking adventure. Unlike other boats, kayaking encourages you to explore the water's edge, and learn about all the life that is in that boundary between land and water. Whidbey Kayaking offers tours, and rentals for both kayaking and stand-up paddle boarding. In early summer, they offer a multi-day class designed to familiarize you with many different types of kayaks so you can go out, purchase, and enjoy the best kayak for your interests.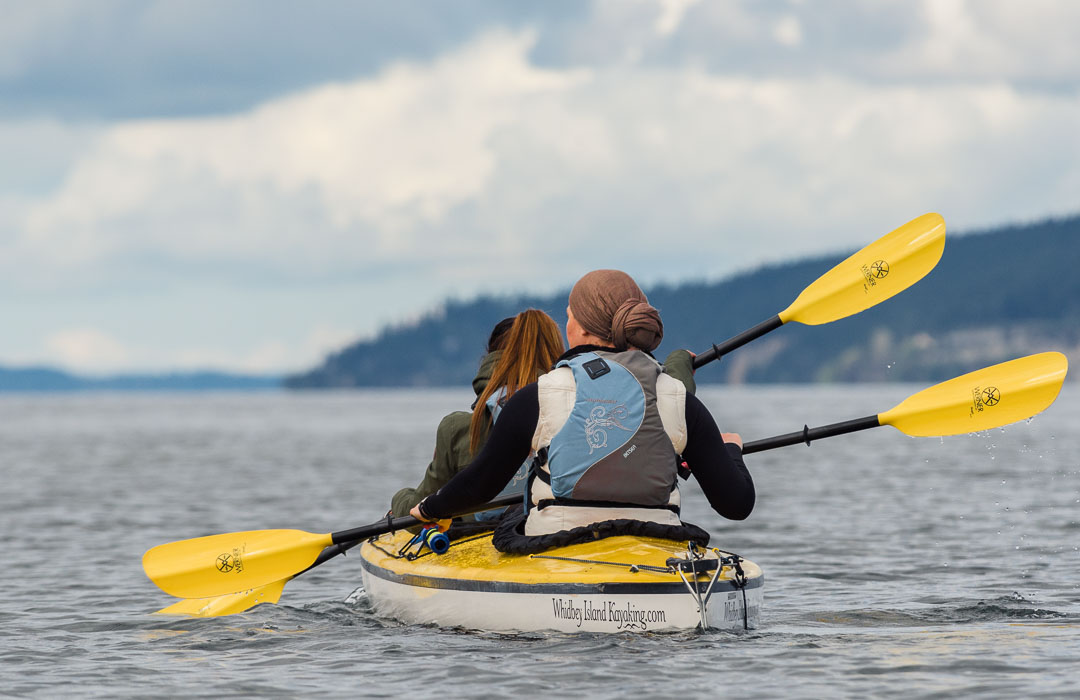 Kayaking just off the shore in Langley
---

AdventureTerra
One of the more amazing adventures on Whidbey Island is climbing a 200 foot tall tree with AdventureTerra. Operating at Deception Pass State Park (except during winter), the guides literally show you the ropes of technical climbing. If you are ready to take things to the next level and want to learn to climb your own trees, AdventureTerra offers a three day class where you learn about types of gear and climbing techniques.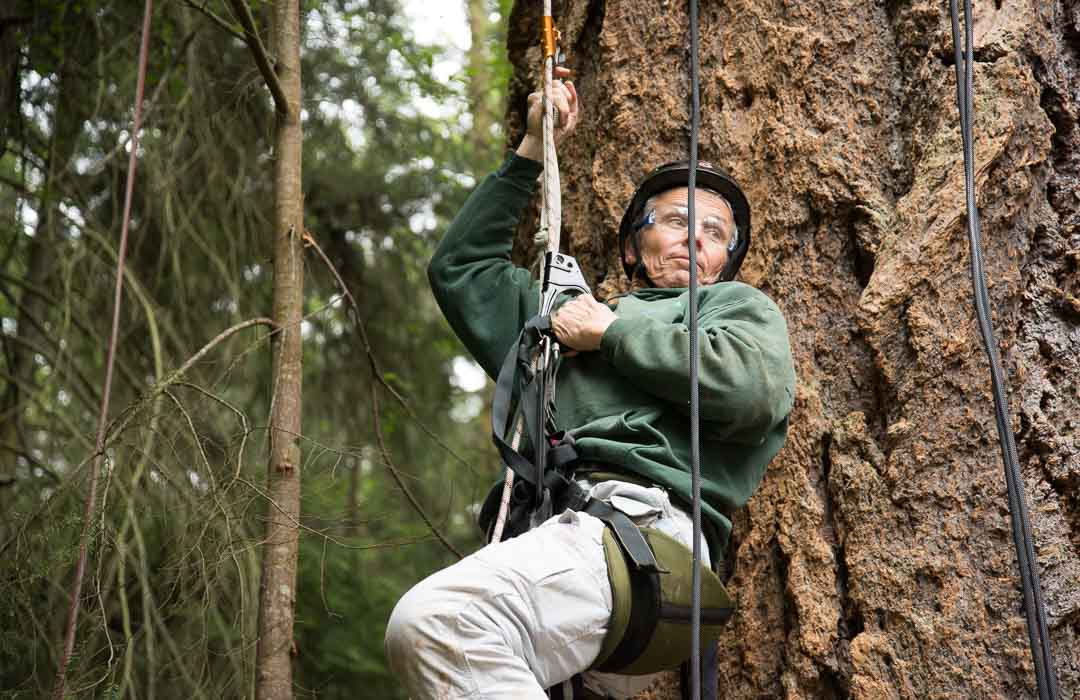 Former Park Chief Ranger Jack Hart Prepares to Climb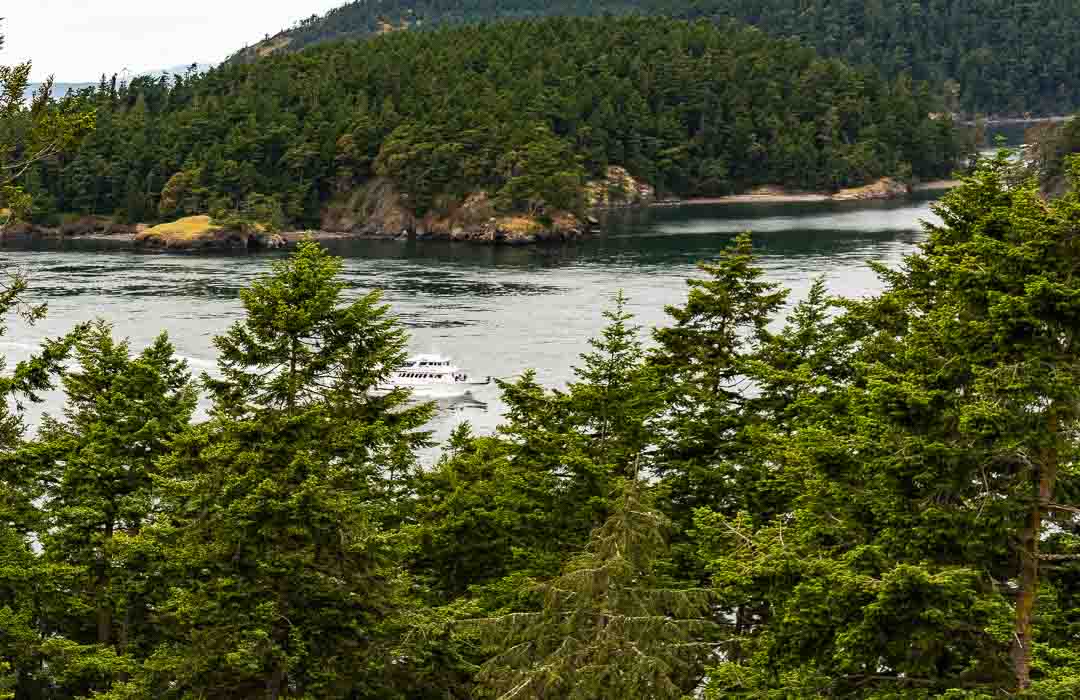 The View of Deception Pass From the Top
---

Organic Farm School
This is not a school for a weekend or even a week. The Organic Farm School is a season-long opportunity to change your life and establish a new career as an regenerative organic farmer. Students live, work, and learn on the farm and immerse themselves in everything from seeds and dirt to marketing and business. The farm does have a small number of community events and classes each year that tie those of us who eat to those of us who farm.
---

Educational Events (Bonus Classes!)
Education takes center stage a few weekends a year around here, with special events that are all about learning. The newest is Langley's Harvest Festival, a fall celebration of the region's bounty. It starts with a two-day harvest of knowledge, where area experts share their knowledge in a wide-ranging list of classes. Find something that interests you here. Sound Waters is a one-day offering of dozens of courses focusing on the natural world with an emphasis on this region. From carbon to crabbing and from forests to photography, there's something to interest you. You can learn more here. And The Whidbey Gardening Workshop has for 30+ years assembled gardening experts from all over for a days worth of classes that sell out well in advance.