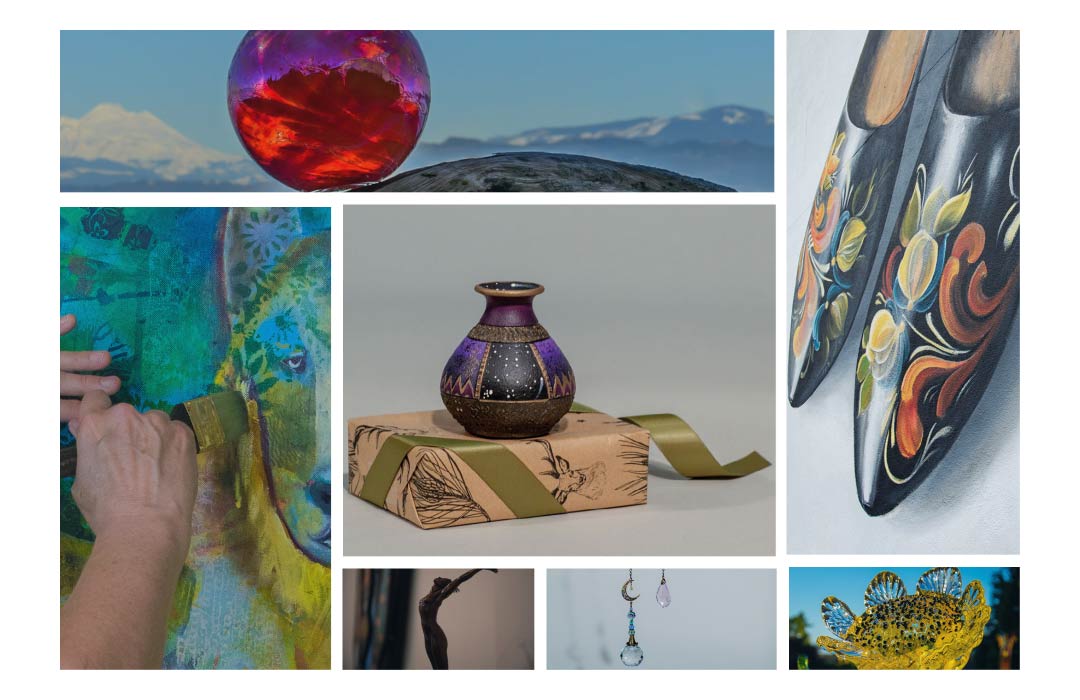 Art Galleries and
Artisans
Whidbey and Camano Island are filled with artists and crafts people who fill the world with beautiful.  Browse through our catalogue of island-made hand crafted beauty.  Also, look for our galleries, with art from the region and around the world.
Artisan Crafted Home offers the finest collection of designer home furnishings, décor and accessories available in North America. Their unique, handcrafted products are made from all natural and sustainable materials. They work directly with skilled artisans to bring you the finest products at the lowest price.

Briggs Shore Ceramics creates hand-made pottery with a clean and modern look.   Visit the store in historic downtown Coupeville or shop online here…

Located in what was Langley's fire station, Callahan's Firehouse Studio and Gallery features the work of Callahan McVay. You can also blow your own glass.

Located upstairs at the Camano Commons Marketplace, the studio features the work of Jed Dorsey. Other artists also exhibit. The gallery also offers classes.

edit. is an art gallery, a mercantile featuring quality women's clothing, beautiful things for the home, and more.  But mostly, it's a source of design inspiration for all who enter.  The gallery features the work of co-owner David Price.  His encaustic landscapes envision places that feel both timeless and familiar. However, they're not specific places, but instead places that might ... Read More

Frida's – A Beautiful Mess is an eclectic assortment of fun things to give as gifts or to decorate your home. There are also art and craft supplies for those wanting to make their own fun!

Island Art Glass makes affordable, quality hand-blown giftware in a rainbow of colors for over 40 years.

The Matzke Outdoor Sculpture Park is a ten-acre green refuge where art fans can walk among sculptures, big and small. More than 75 works are on the grounds at any one time. There is also a 3000 sq. foot indoor art gallery.

MUSEO is a gallery of contemporary fine art, and represents top local artists who are regionally and nationally known. MUSEO stages new shows monthly.

After a lifetime of travel the owners of Music for the Eyes sell rugs, jewelry, clothing, and other cultural artifacts from the countries they travel.