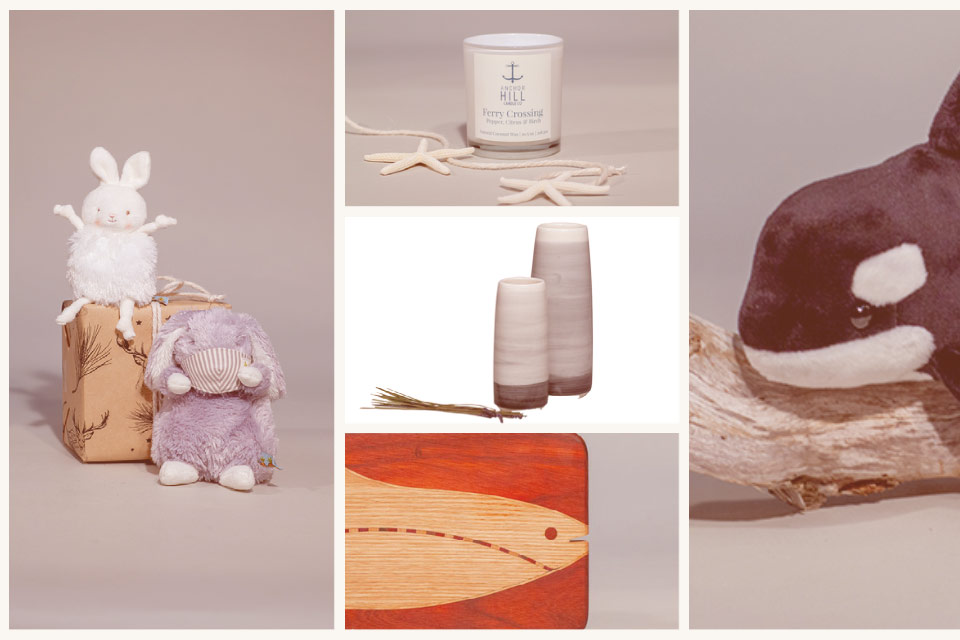 Gift-giving is easier when you shop local.
Since 1982 Ace Leather Goods has been creating hand-crafted leather goods.  They offer purses, backpacks, organizers, briefcases, and a lot more.  Their attention to detail and the use of scratch-resistant soft tanned leather means they'll look good for a long time. You can find Ace Leather Goods at art festivals around the region and at their online store here…

Located in the Langley Village, Artworks Gallery is a co-operative enterprise of Whidbey Island artists working in a variety of media.

Bayview Farm and Garden is one of the top 100 independent garden centers in the United States.  Come visit and feel inspired.

Located in what was Langley's fire station, Callahan's Firehouse Studio and Gallery features the work of Callahan McVay. You can also blow your own glass.

edit. is an art gallery, a mercantile featuring quality women's clothing, beautiful things for the home, and the art of co-owner David Price.

Explore Fair Trade Outfitters for unique women's apparel, home & accessories store that ONLY sells brands they deem as "Fair Trade."

Feather and Fox Print Company provides fine art and high quality photography printing.  They also offer an amazing range of banners, metal prints, print on shirts and other fabrics, and even laser cutting.  In addition to their store in downtown Langley you can shop their online store here…

Flying Bear Farm and Design is a more than a supplier of flowers, they are a farmer-florist.  From the seeds in the soil to the petals in a vase, Flying Bear Farm carefully nurtures flowers along the entire grower and designer's path.  When the winter months set in, they source their flowers as locally as possible, looking for like-minded growers ... Read More

A 90+ year-old home on Langley's 1st Street is filled with a beautiful selection of clothing, scarves, jewelry, and other accessories.

Island Art Glass makes affordable, quality hand-blown giftware in a rainbow of colors for over 40 years.