by Jack Penland
You've Zoomed, you've binged, you've played games, heck you might have even, gasp, cleaned!  But, there's no getting around it.  Spending 24/7 in "Home Sweet Home" has gotten a bit… stale.
With air travel a mess, road trips are once again on people's radar.  But, choosing a road trip that naturally gives you some personal space and some opportunities for moments of personal restoration is challenging to find.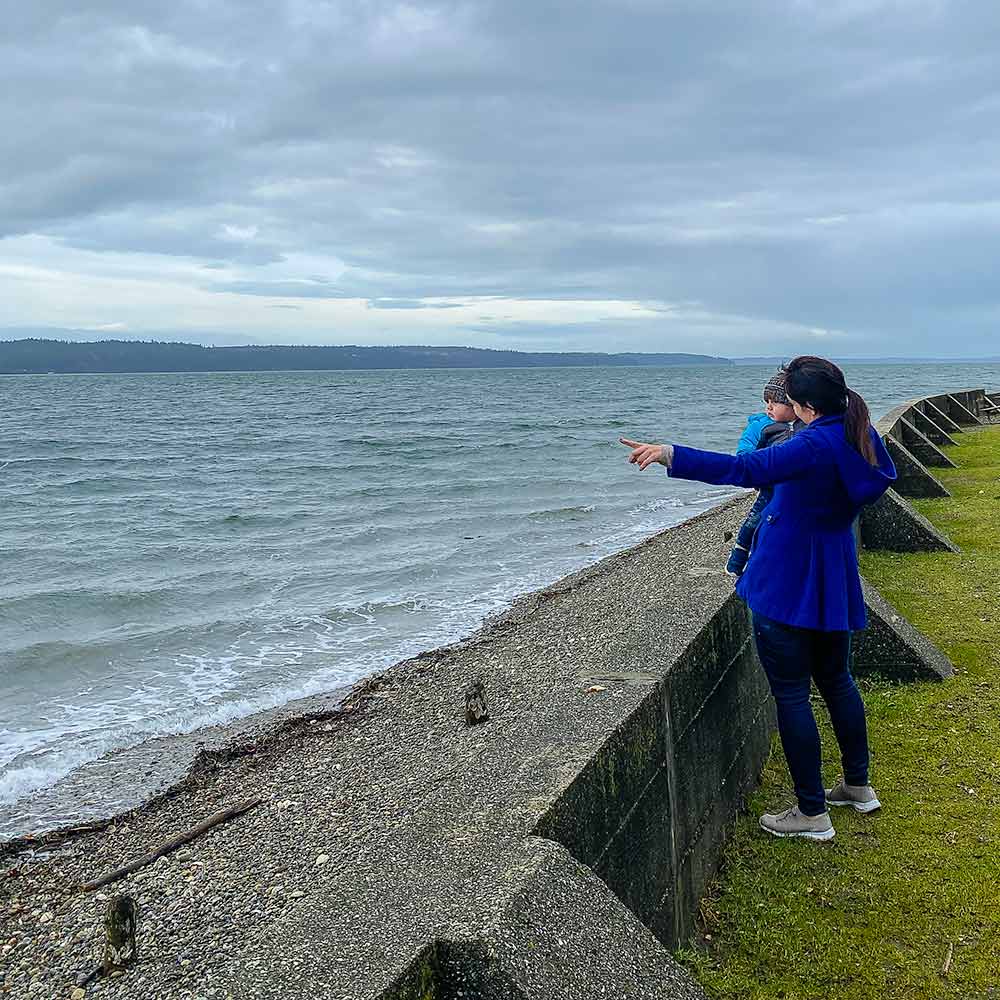 Watching the Wavesphoto: Marissa Pederson
Dare to Spend Time
Taking a Camano Island road trip is both an escape and an embrace.
You are simultaneously taking flight from big city stress and embracing an island where time isn't parsed by the minute.
With that comes a challenge.  Don't try to do too much.  Dare to linger, and treat yourself to that ultimate luxury...time.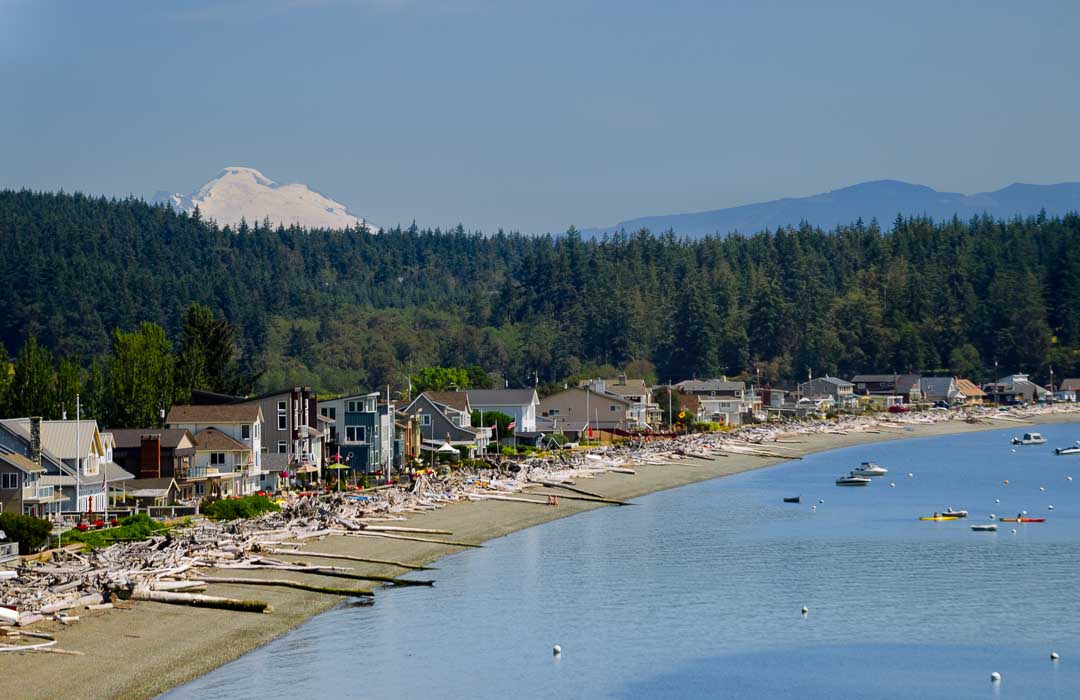 Beachside Homes at Driftwood Shores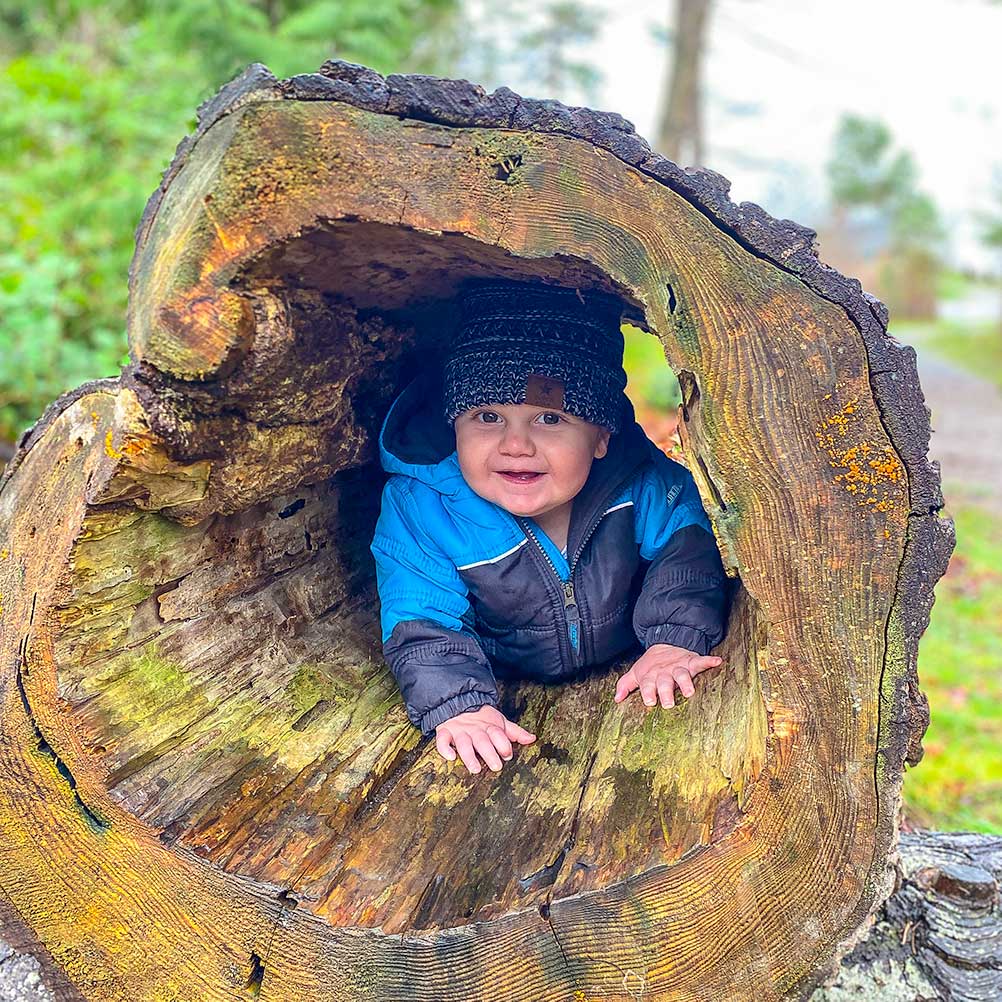 Not so Hollow Logphoto: Marissa Pederson
ROAD TRIP RULES
You're escaping to an island.  Leave your mainland stress behind.

Even though it's an island, you don't have to take a ferry to get here!

With this itinerary, you can start at the end, or end in the middle, or put the middle first.

Bring (and wear) your mask.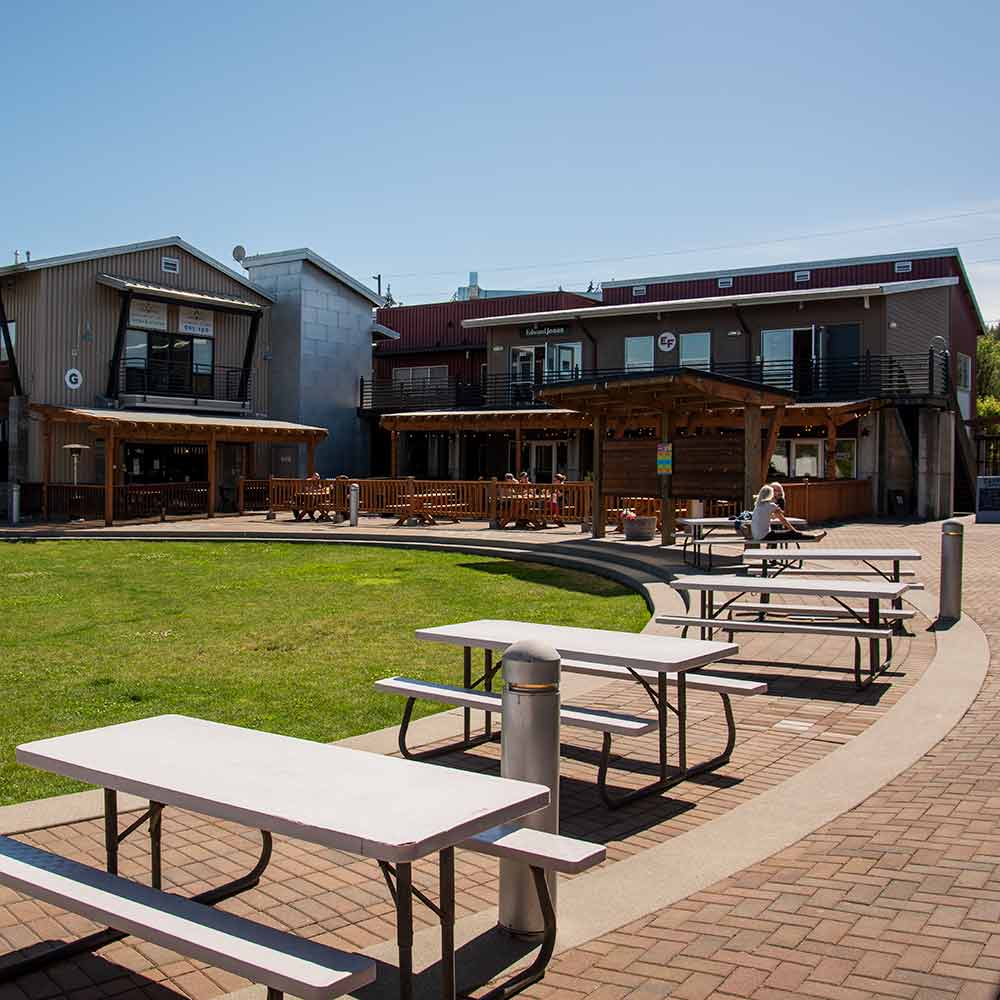 Plenty of Space at Camano Commons Marketplace
"DOWNTOWN"
Like any visit to a city, we'll start downtown.  For an island without a town, it's unusual to talk about having a downtown, but that's what many islanders call Camano Commons Marketplace.
Anchored by the massively popular Camano Island Coffee Roasters, this unique gathering of small shops and restaurants surrounds a grassy "market square" reminiscent of a downtown.
The marketplace stands as something of an unofficial entrance to the island.  The road here forks, one branch heading north, the other south.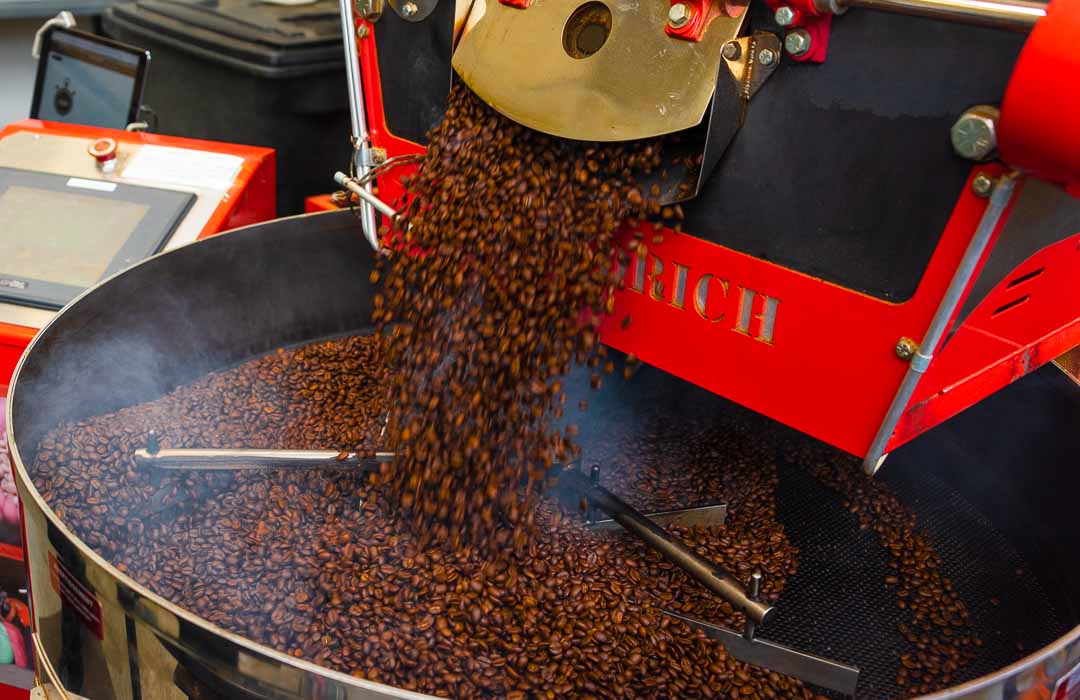 Fresh from the roaster at Camano Island Coffee Roasters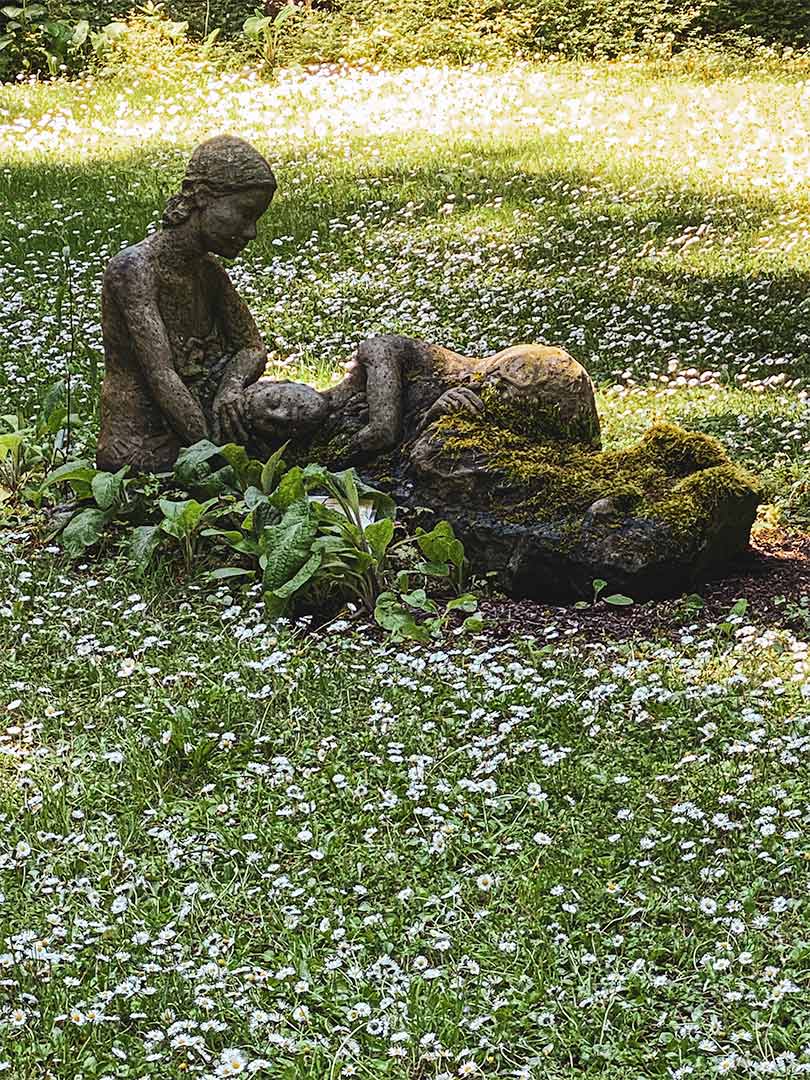 Inside a driftwood fort
Hopefully, you started your day early enough that breakfast is on your mind.  The Baked Cafe in the marketplace will make your early start worthwhile.  Take your goodies and Camano Island Coffee outside to the market square and enjoy just being away from…stuff.
There's plenty of other things to eat here, as well.  And, it's central location will help us stop by again, later.
First though, we head south.
Sculptures Among the Trees
Standing in the middle of this park that doubles as a sculpture gallery, you are greeted with one artistic surprise after another.  Sculptures are carefully arranged among the trees in a conspiracy to delight and surprise.
You might be looking at one sculpture reposing quietly in the shade, only to realize some very human-like rabbit statues are watching you from beneath a nearby tree. From there, you look out and the bronze figure of a woman is momentarily spotlighted by the sun. You find yourself looking up at an imposing sculpture two or three times your height, then looking down at an impish looking thing that makes you laugh.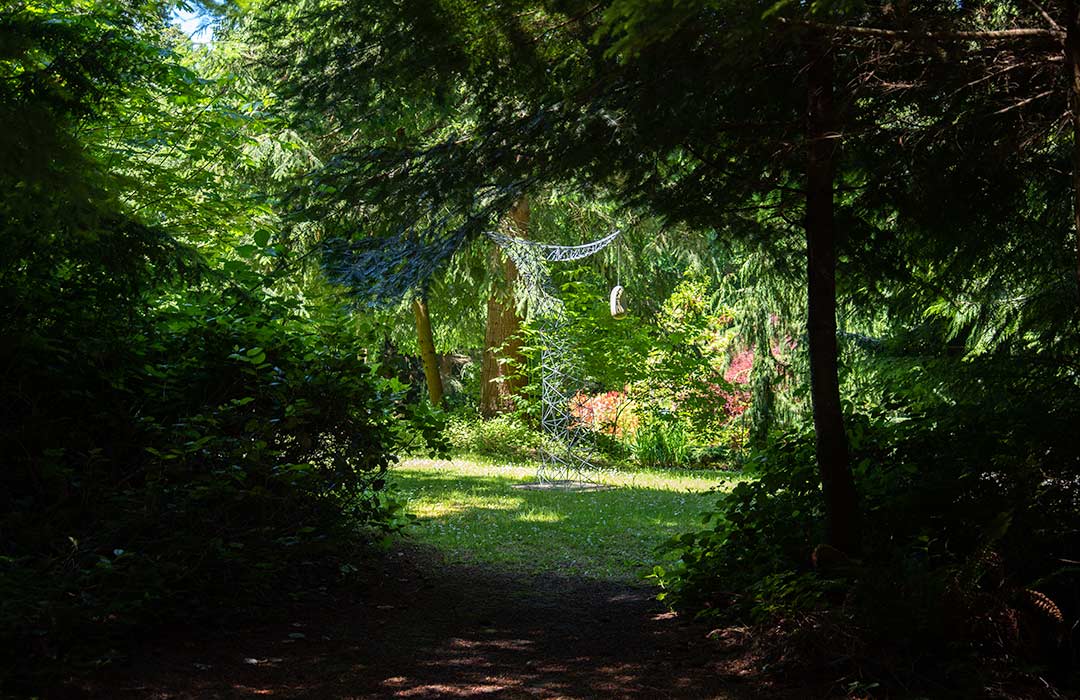 You're in the Matzke Fine Art Gallery and Sculpture Park.  Reigning over this is Karla Matzke, who has spent years shaping the land and the plants to compliment the sculptures that populate the park.
The spacious layout of the sculpture park gives you plenty of social distancing room, even on busy weekends.
Give yourself the time to wander the ten acres.  Dare yourself to visit one part of the park, then look at it again 30 minutes later.  Shifting light will likely direct your eye to something you missed the first time.
The indoor gallery offers a more traditional fine art experience, but the layout is roomy, uncluttered and, like Camano Island, itself, unhurried.  There are plenty of pieces to make you think, maybe laugh, or just say, "Wow!".
DISCOVER PASS
You're going to want a Discover Pass, because you'll be visiting several state parks, and this is a money-saver, especially since it's good for all state parks for a year.  You can learn more here…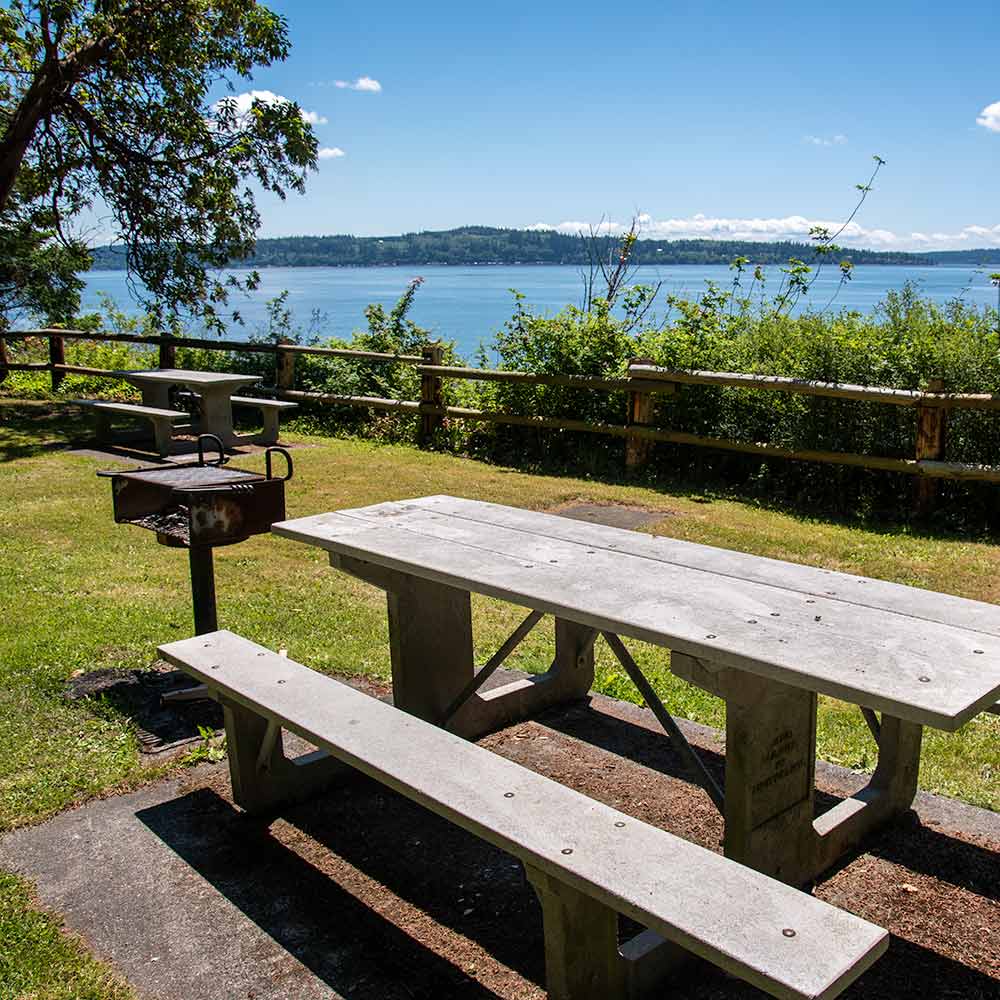 Dining and grilling with a view
Vintage Camano Parks
They're both timeless and timely.  Throwbacks from other times, Camano Island's twin parks are the kind of simple escapes that are so vital right now.
Through simple sounds like wind and waves, they wear away stress.  Through beautiful water views, they charm the visitor.  Through simple wood-hewn structures, they remind us of another time.
Much of Camano Island State Park was built in just a day.  Why?  Because the people on the island decided they needed one.  When you visit today, you'll find evidence of their work all around. 
There's more than a mile of rocky shoreline to explore along with hiking and biking trails.  The main part of the park has numerous picnic tables with a beautiful view of Saratoga Passage.
The picnic tables are spaced well apart so that every group can feel comfortably distant from one-another. They even have charcoal grills!  Imaging grilling with a view of the water!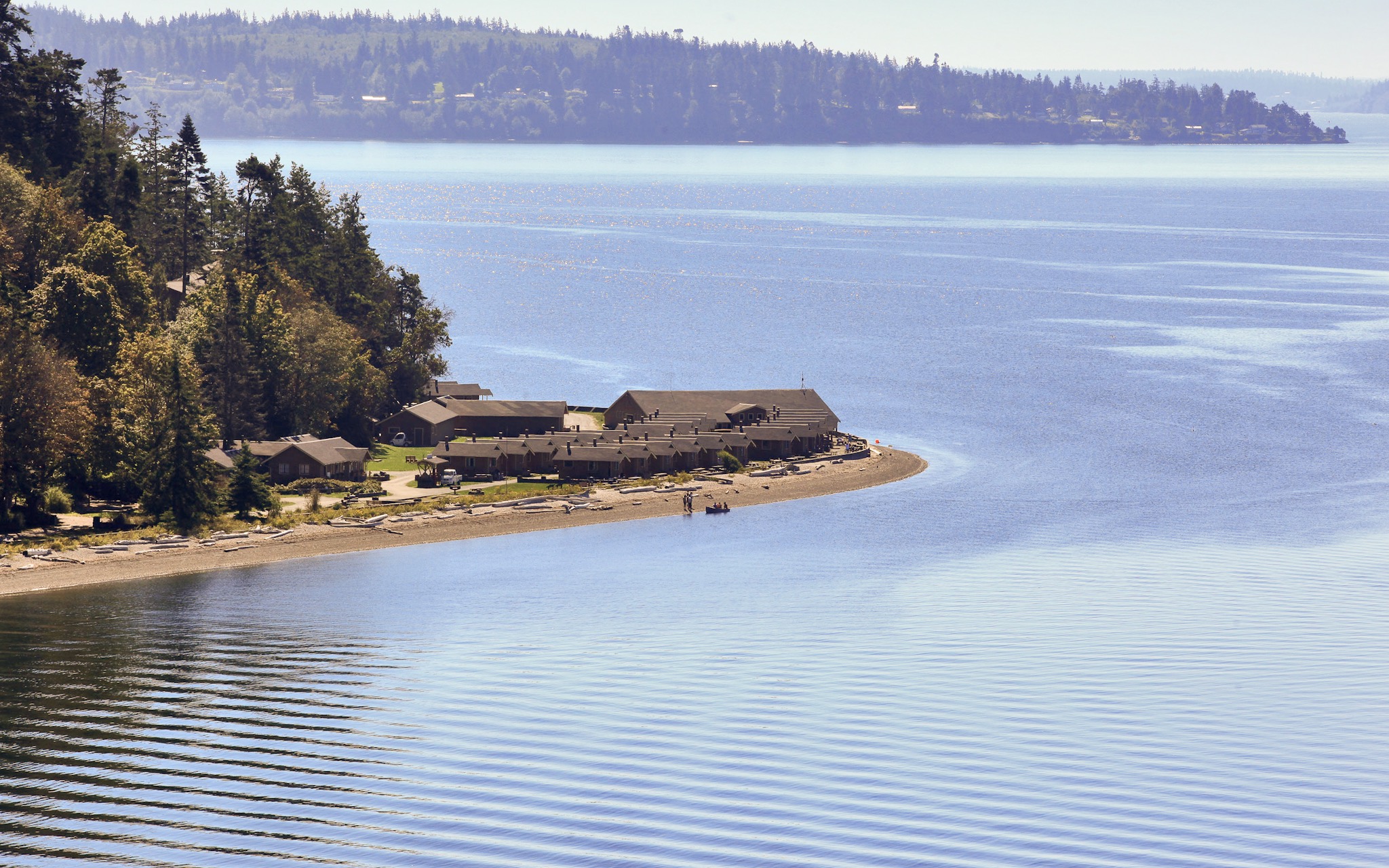 A bluff view of Cama Beach State Park
A mile to the north is one of Washington's most popular state parks, Cama Beach.  As a state park, it's relatively young, but people have been coming here for thousands of years.  As a place for fishing and crabbing, the park is legendary.
The park is an island within an island.  It's frozen in the 1950's while the rest of Camano Island moved into the future.  Two rows of small waterfront cabins are the park's focal point, just as they have been for 90 years.  A few other buildings, including more cabins and a general store, rounded things out.
For most of the last 90 years, this was a privately owned family fishing resort; one of many that dotted the Puget Sound coastline.  As vacation preferences changed, the resort became unprofitable and the owners chose to sell the property, not to a developer, but at a steep discount to the state.
It opened as a state park in 2008.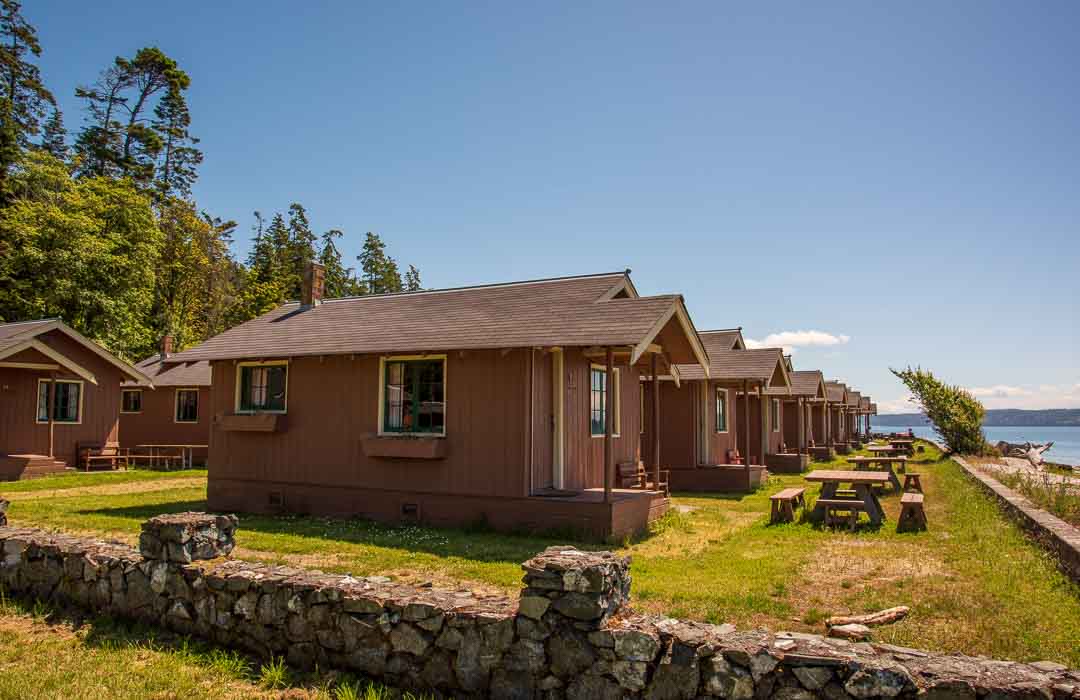 Rustic Cabins with Million-Dollar Views
The cabins are rustic reminders of the time they were built; practical shelters fending off the night's chill.  At Cama Beach, the rule is to, "Go play outside," and it's an easy rule to follow.
First, there's the beach, as timeless as ever, and always a family favorite.  There are hiking trails, including a bluff trail to give you a commanding view of the park and Saratoga Passage.
The cabin area is a car-free zone, giving kids the run of the place and parents some peace of mind.
Another fun place is the Center for Wooden Boats.  People can rent a boat and a crab pot, catch Dungeness Crabs, then cook and eat them right on the beach.  Be careful, having crab this fresh could spoil you for life.
Shuttle vans usually transport people from nearby parking lots to the park.  Due to COVID-19, that service is temporarily unavailable.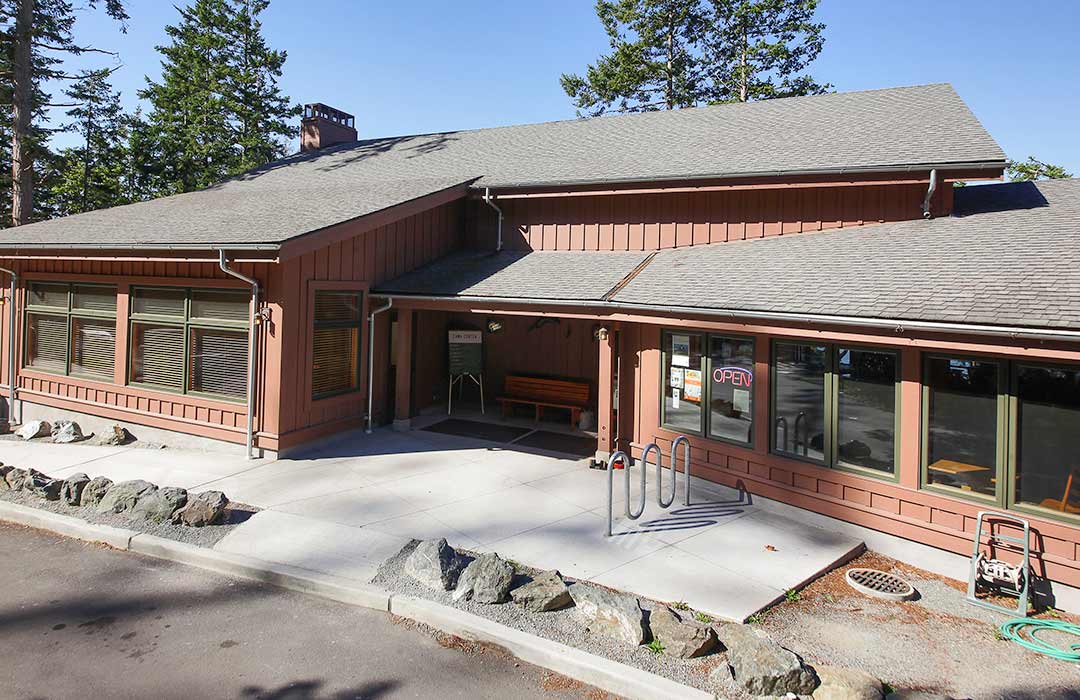 The Cama Beach Center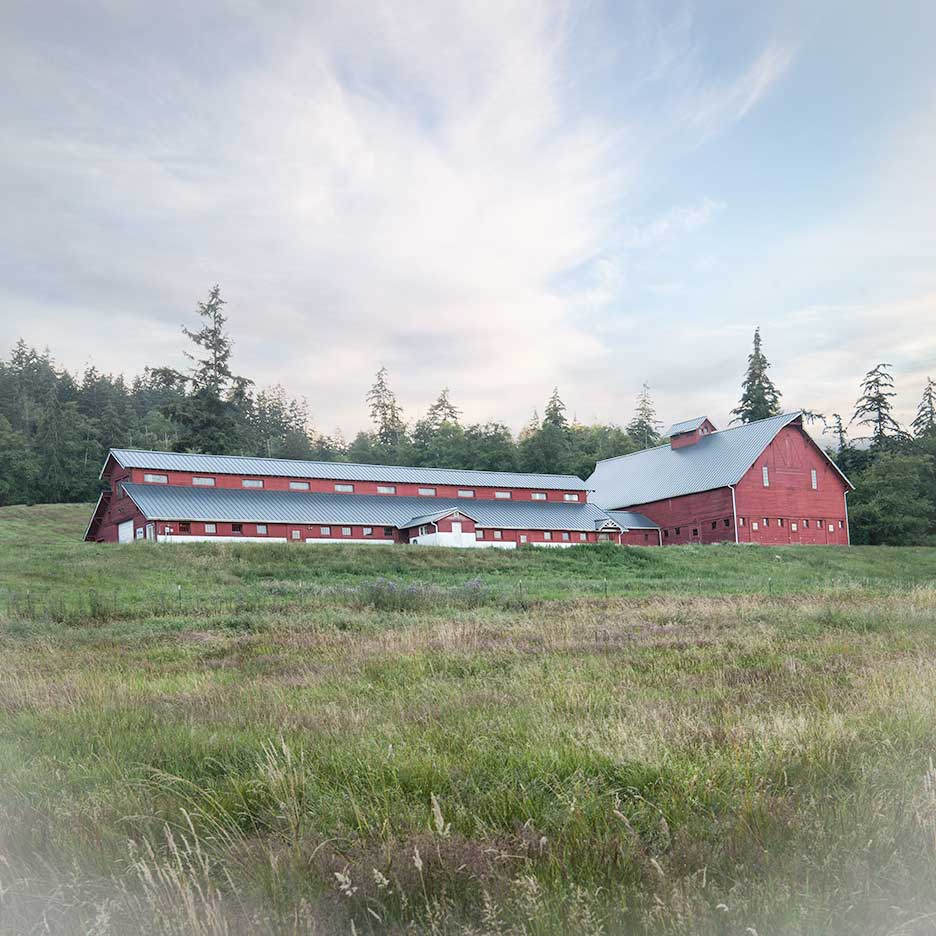 Kristoferson farm
The Kristoferson Family Farm has been around in various Puget Sound locations since 1897.  Whatever is going on in the world, you can be assured the family heritage survived it and even innovated along the way.  As a dairy, it was the first in Seattle to offer glass bottles and pasteurization.
So, a few years ago, it was in the family's innovative tradition that the Camano Island version of Kristoferson Farm offered the region's first zip line.
But the need for social distancing made zip lining impractical.  So, in 2020 the farm is offering the more sedate, U-pick lavender farm.  It's not quite the heart-stopping challenge offered by zipping, but it will  make your house smell good.
Now that Island County is in phase three of the virus lockdown, Kristoferson farms is also offering its farm to table dinners this summer.
TRADITIONAL ACTIVITIES LIKE A SPA VISIT, GOLF AND...AXE THROWING!?!
For many it's not a real vacation without a round or two of golf or a trip to a beauty spa.  Even in a socially-distant climate, those two things are available on Camano Island.  Camloch Golf is an 18 hole course open to the public with social distancing restrictions.  The Camano Island Day Spa, located at the Camano Island Marketplace, is also open with social distancing restrictions.
But, for a seriously different activity you head to Arrowhead Ranch for some stress relieving axe throwing.  You read that correctly.  You might have seen it once or twice on ESPN.  It's a real sport and you can give it a try.  It's an axe-cellent way to wrap up your Camano Island visit!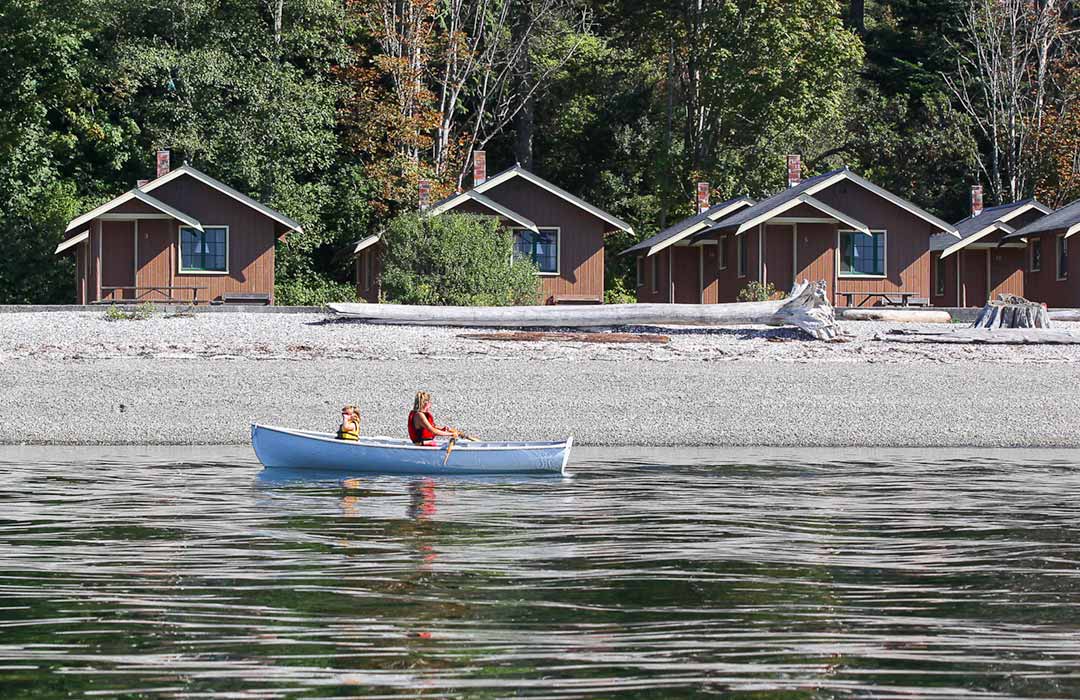 Cama Beach
Final Note
We missed things with this little write up, a lot of things.  But, that's why we have this website, so you can explore even more ideas.
Watch our social media for ideas, and even suggest one or two that might have escaped our eye.
Have fun daydreaming about your visit, and when you feel ready to travel, we hope a visit to Camano Island is on your list.