by Laura Hilton
6/5/20
Updated 4/16/21
Like everyone, I have been in lockdown for many months now. Because I live on Whidbey Island though, mine is a very beautiful bunker. With so much stunning scenery and green space around, I really can't complain. And yet…the cabin fever is real! Occasional trips to the grocery store are a sad substitute for any kind of social life (though grocery shopping in a small island community was often very social before the pandemic!).
The Drive-In Opens!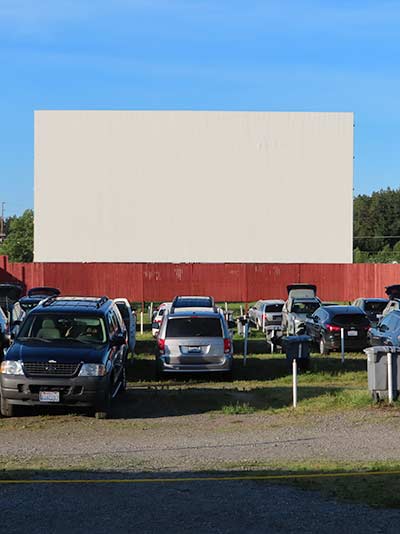 As Island County has recently entered Phase Two of the Washington re-opening plan, certain businesses have been allowed to open up with caution. I'm thrilled to report this includes the Blue Fox Drive In! Nationwide, the drive-in movie theaters that still exist are experiencing a renaissance, since their business model lends itself perfectly to socially distant entertainment. It's been less than a decade since the Blue Fox last beat the odds, when they raised tens of thousands of dollars to transition to digital film projection. Now they've jumped another big hurdle and continue bringing us films like they've done for over sixty years.
We're so fortunate to have one of these r­are theaters in our community, and it was a close call whether they were going to survive the shutdown. So, it was a huge relief to hear Blue Fox was given the green light in Phase Two, and I jumped online to make a reservation right away. This is a new step for everyone's safety, to stagger the arrival of cars on site and people at the snack counter. It was a race for the later time slots, since the days are so wonderfully long now that the movie wouldn't begin until well after 9pm (there's no turning the lights out at a drive in!). There's only one other person in my "covid bubble" and he had to work, so I would be going alone but that didn't matter. I was just so excited to have an outing to look forward to!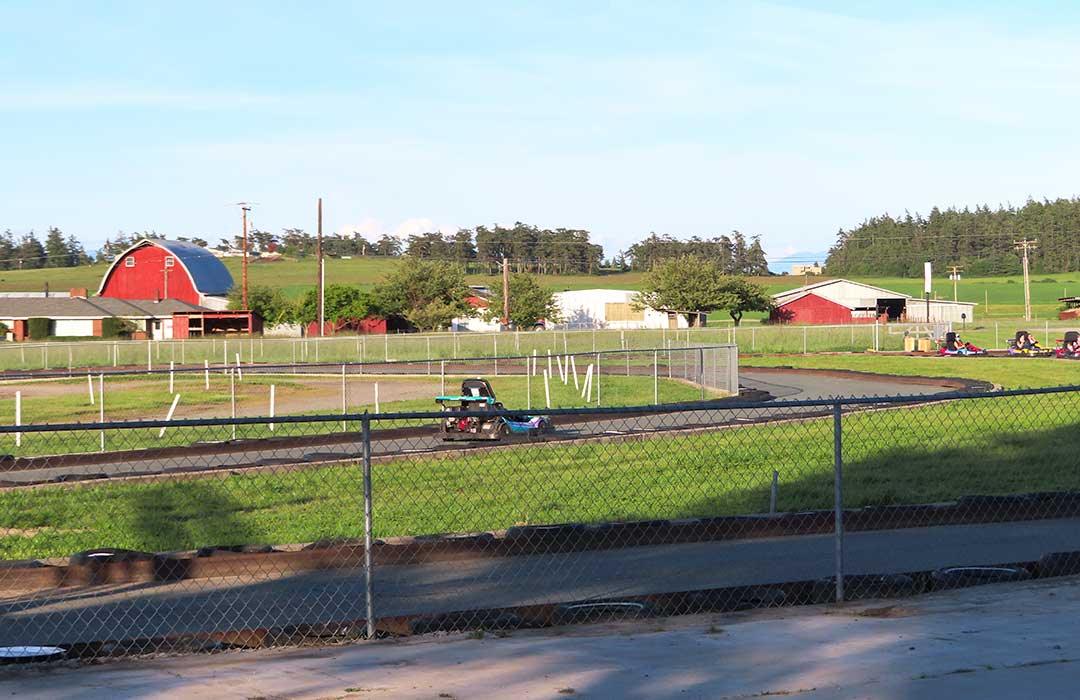 Until showtime, you can ride go-carts at the Blue Fox.
When I was a teenager, my friends and I used to frequent the Blue Fox Drive In. Particularly as soon as anyone was old enough to drive, we'd pile as many kids into a car as we could and make the trip to the north end of the island, near Oak Harbor. In later years, we'd sometimes camp up at Cranberry Lake and make the much shorter journey from there. Better than trying to keep each other awake for the return journey south, which could get awfully late-or early rather-after a double or triple feature!
It was always good to get there a little early, because there were steps to take on arrival: pick out the best spot and get our parking angle just right, create a nest of sleeping bags and blankets, change into pajamas or sweatpants, and stock up on candy and popcorn. Everything had to be in place before the pre-show cartoons, so that we could commence with watching the movie or chatting through the entire thing. That's the nice thing about a drive in, the atmosphere is great whether they're playing a movie you want to see or not, and you won't disturb anyone outside your car if you want to talk over it.
I have some very dramatic memories from our times there. Once a storm rolled in during a screening of M Night Shyamalan's Signs, and you could feel the pressure building both in the movie and in the air. The first on-screen appearance of the aliens coincided so perfectly with the first in-person bolt of lightening, I think everyone there must have jumped. An even earlier memory is of a Star Spangled Banner feature that always screens just before the first feature. It is Blue Fox tradition that people honk and flash their lights at the conclusion of that reel, but the time it most stands out in my mind was seeing a film not long after the 9/11 attacks, and the opening movie credits pausing to wait, as the honking and clapping went on and on and on.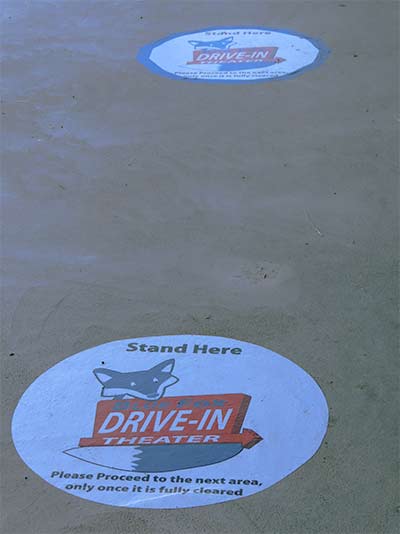 A Big Party in their backyard
The Blue Fox is family owned and operated, and that feeling really shines through when you're there. Despite the impressive extent of the business (which includes go-carts, an arcade, and a screen-printing business as well as the drive in movies), you somehow simultaneously feel that you're at a big backyard party.
Perhaps this is because the family also live on site, so they do essentially throw a big party in their backyard every night. There is sprawling farmland and classic red barns in the background, just to complete the feeling of nostalgia.
So, jumping back to this week, I prepared for my thrilling trip to anywhere outside my home, let alone a place that holds such fond memories. Throwing in the usual comfy clothes and warm blankets, my pandemic-era Blue Fox bag also included a face mask and hand sanitizer. For the safety of everyone, staff ask that patrons wear face coverings whenever outside our cars. When I arrive I see that they have also blocked off every other parking space to keep a safe distance between cars, and limit overall capacity. The staff have also provided social distancing markers and roped off a lane so that people can safely wait in line to order our food, then pick it up from an outside window when our sanitized pager has gone off. The arcade is closed of course, but kids are tearing around on the go-cart track having a grand old time. Most people are doing a great job of keeping their masks firmly in place, even the very small children.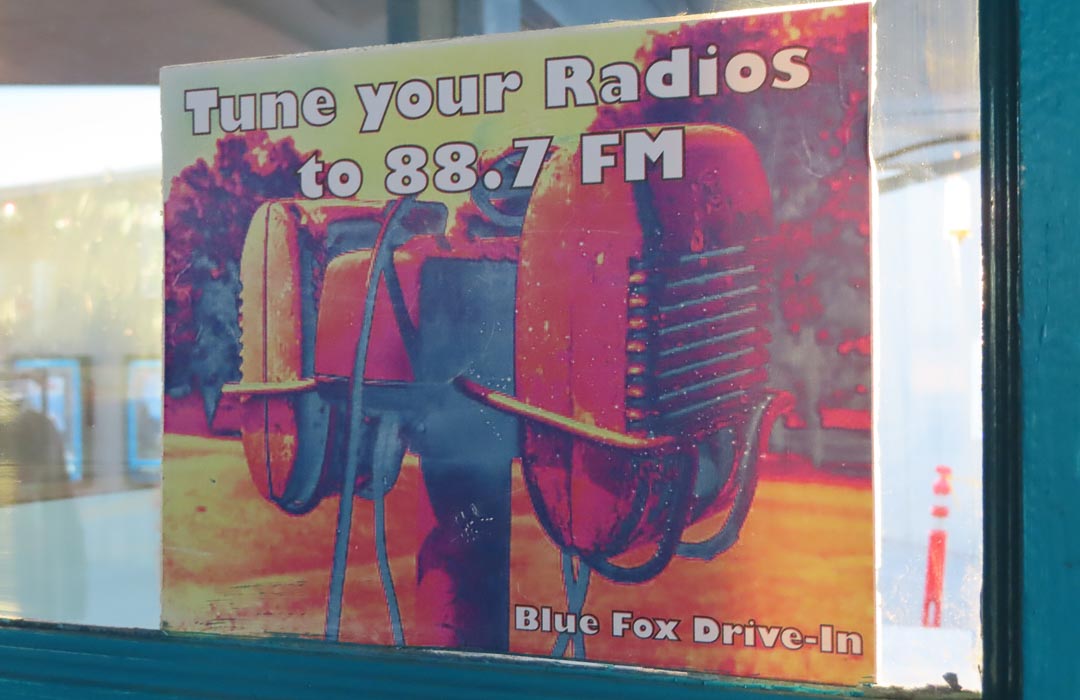 The ancient drive-in speakers are gone, and the projector is digital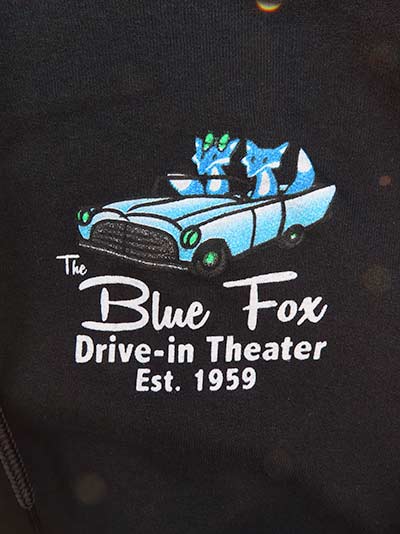 Shirts for Sale with the Blue Fox Logo
A Feeling of Summer Fun
With no new movies being released at the moment, the old-timey factor is cranked up further still, with the chance to watch bygone classics on the big screen again. I will happily sit through the first very silly kids' film for a chance to watch the original Jurassic Park on the big screen for the first time.
As I wait for a late dusk on this gorgeous warm evening, I look around and feel encouraged that there is still such a feeling of summer fun in the air, despite the strange circumstances. Kids are doing handstands on the grass in front of the big screen, a parade of adorable dogs marches steadily by, and people are snuggling into their blankets and pillows together as the sun gets lower. Even though I am sitting alone in my car, I have that wonderful sense of camaraderie and shared experience that only a cinema can bring, not like all the streaming we've been doing at home.
How lucky we are to have this unique venue on our island! That is always the case, but never more so than now. We will all have to take this summer gently, and there will be so many things we miss this year. But our island is still beautiful, the weather will still be lovely, and our community will support each other as always.
There are still restrictions in place limiting leisure travel at this time, but you can start daydreaming about your trip to the Blue Fox by keeping up with them on social media or at their website: www.bluefoxdrivein.com. If or when you do plan a visit to Island County, please consider supporting our local lodging businesses by booking through the official tourism page: www.whidbeycamanoislands.com/lodging. Through this platform all your dollars go to the business, instead of third-party sites who charge commissions.