Earth and Ocean Month 2022
Caring for Our Common Home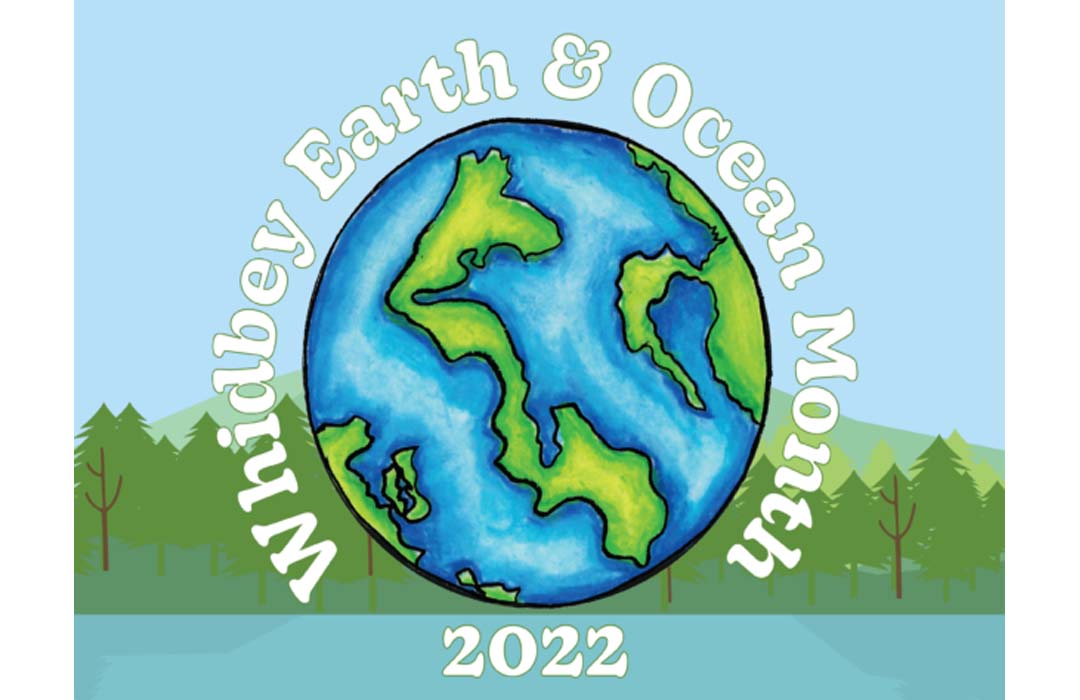 On Whidbey Island, Earth Day has expanded to encompass the entire month of April. Collectively known as Whidbey Earth and Ocean Month, activities appeal to a wide range of interests, ages, and backgrounds. After a pause due to world events for the last two years, this year's Earth and Ocean Month is returning with more activities than ever.
The overall theme for 2022, Caring for Our Common Home, has also been split into four week areas of focus: Waste, Transportation, Water, and Food. Activities to help learn more about how we can keep our island home beautiful include lectures, an art show, work parties, walks and tours, and more. Participating organizations include the Greening Congregations Collaborative, Island Transit, Orca Network, Pacific Rim Institute, Sno-Isle Libraries, South Whidbey Tilth, Whidbey Audubon Society, Whidbey Watershed Stewards, and more.
Most events are free and open to everyone. A complete schedule is available at www.whidbeyearthday.org
Week 1 | Waste

Do you recycle? How about composting or volunteering for a beach or train cleanup?

Week 2 | Transportation

Learn more about our free bus system, bike paths, and walking trails

Week 3 | Water

We are all about water. Explore our beaches, waterways, and the complex systems within.

Week 4 | Food

Learn the impact of what you eat and. why eating local is goof for the Earth...and you.
---
Maybe Earth should
be called Ocean, instead.
---

EVENTS INCLUDE:
Rags, Rubbish, and Refuse: Artists Who Get Dirty in the Bayview Cash Store Hub Gallery features artwork made exclusively from recycled and repurposed materials from local artists. On view April 1 – May 8. For more information call Marian Myszkowski at (360) 321-4232.
Family in Nature in Deception Pass State Park helps families explore the wonder of nature. This 90 minute-nature-based program is fun and highly interactive for children ages 3-5 years old and their families. These programs are held every other Friday and Saturday starting April 1, and are held in partnership with the Deception Pass Park Foundation and the Fidalgo Nature School. Contact Hayley at 360-675-3767 ext. 231 or [email protected].
Planting at the Prairie (Wed, April 6 at 9 AM): Come restore a native prairie by planting grasses and forbs at Admiralty Inlet Preserve in Coupeville. Sign up at https://www.wclt.org/get-involved/volunteer/ or contact Taylor Schmuki at [email protected].
Adventures of the Wild Wolf (Fri, April 8 at 4 PM): Deep in the mystical mountains of western North Carolina, if you listen quietly at night, you might hear the ancient and enthralling sound of ... a wolf! Although wolves no longer live in the wild in western NC, they definitely still live here in the West. Tanya and Rob will read and act out passages from her book. Sponsored by Sno-Isle Libraries and held online; register at https://sno-isle.bibliocommons.com/events/61f0741ef1cb7141003b0fc2
Low Tide Beach Walk (Wed, April 20 at 1:30 PM): Jointly offered by the Sound Water Stewards and the Marine Resource Committee, stroll the beach at Bush Point and learn more about the ecology of the waters around Whidbey. Register by contacting [email protected]
Whale of a Bus Tour to the Welcome the Whales Festival (Sat, April 23): Come onboard with a whale watching guide to learn about marine mammals on your way to the festival in Langley. Catch the free Island Transit bus in Oak Harbor departing at 9:50 and ride the bus for free down the island and then back after the festival.
Guided walks, work parties, and additional lectures and gatherings will take place throughout Whidbey during the month of April.
---
A heron flies in Holmes Harbor.