Hats Off To You!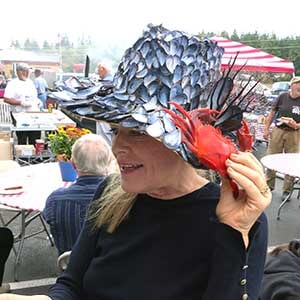 September 21, 2017 @ 4:00 pm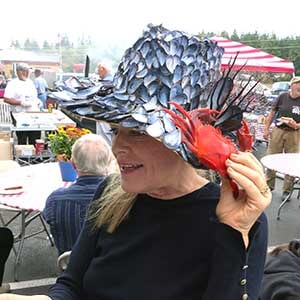 On Thursday, September 21, join Goosefoot from 4pm to 7pm at The Goose Community Grocer for a "Hats Off To You!" celebration! To thank community members for their support over the last year, Goosefoot is hosting a decorated hat contest, complete with prizes, free food and live music.
To enter the hat contest, contestants must create original designs, although it's okay to use purchased hats, caps, or visors as a base upon which to decorate. Additionally, nonprofit groups may enter a hat in the contest to represent their organization. All hats must be wearable, and only one entry per contestant or nonprofit is allowed.
All contestants must pre-register their hats to participate in the contest. Registration will take place outside The Goose from 4pm to 6pm the day of the event, and judging will commence at 6pm by a table of notable local artists and Goosefoot board and staff members.
Prizes will be awarded for the following categories: Best Hat Overall, Most Creative Hat, Most "Whidbey" Hat, Best Seahawks Hat, Funniest Hat, and Best Kids' Hat.
The winner of the Grand Prize will receive a $300 gift card to The Goose!
This year, contestants may also choose to auction off their hat at the end of the contest. All proceeds will go directly to a charity of the entrant's choice. Nonprofit groups may auction off their hat to support their own organization. To put a hat up for auction, contestants must indicate this choice when registering the hat.
Community members do not need to enter the decorated hat contest to enjoy the celebration! Come listen to Skinny Tie Jazz music, chow down on a 3 Sisters burger or frank, potato salad, and cake, and watch the decorated hat competition take place! All are welcome to this event.
The Goose Community Grocer is located at Bayview Center on South Whidbey Island, 14485 Highway 525, between Langley and Freeland. Owned by Goosefoot, a non-profit organization, store profits are invested back into the local community through grants to local charities.
Goosefoot is a non-profit organization dedicated to creating a healthy, sustainable future for South Whidbey in collaboration with others. Their projects focus on economic development, protecting rural character and the natural environment, historic preservation, supporting our local food system, and providing food & services to those in need. For more information on their role in the community, like them on Facebook, follow them on Instagram, or visit http://www.goosefoot.org.
Questions? Contact Lauren Tyner ([email protected]) or call (360) 321-4145.
Related Events