Into the Woods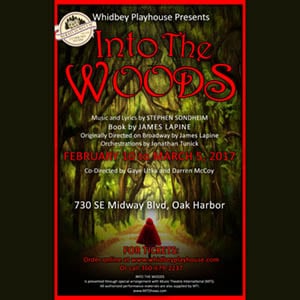 April 16, 2021 @ 7:30 pm
|
Recurring Event
(See all)
One event on June 30, 2022 at 7:30 pm
One event on June 30, 2022 at 7:30 pm
One event on June 30, 2022 at 7:30 pm
One event on June 30, 2022 at 7:30 pm
One event on June 30, 2022 at 7:30 pm
One event on June 30, 2022 at 7:30 pm
One event on June 30, 2022 at 7:30 pm
One event on June 30, 2022 at 7:30 pm
One event on June 30, 2022 at 7:30 pm
One event on June 30, 2022 at 7:30 pm
One event on June 30, 2022 at 7:30 pm
One event on June 30, 2022 at 7:30 pm
One event on June 30, 2022 at 7:30 pm
One event on June 30, 2022 at 7:30 pm
$20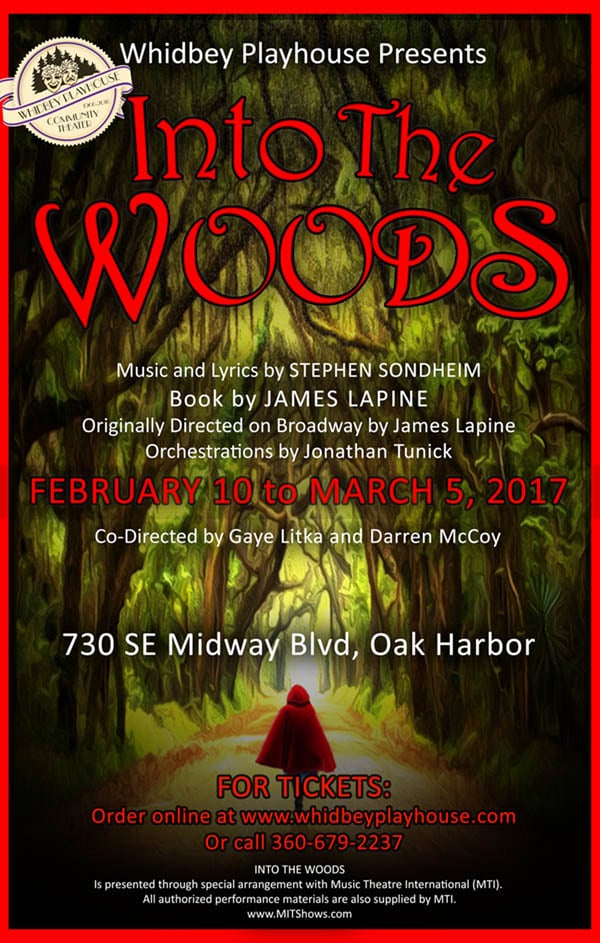 The Whidbey Playhouse in Oak Harbor presents Stephen Sondheim's INTO THE WOODS, opening February 10 and running until March 5, 2017. This storybook fantasy is a musical journey with an original story based on several Brothers Grimm fairy tales. A childless baker and his wife set out on a mission to begin a family but must break a Witch's curse. Their travels bring them to interact with characters from Little Red Riding Hood, Jack & the Beanstalk, Rapunzel, Cinderella and more. Weaving everyone's favorite fairy tales together, this delightful, dark, and witty musical asks: What happens AFTER happily ever after?
Showtimes are 7:30 p.m., and Sunday matinee at 2:30 p.m.
For ticket information, call the Playhouse box office at 360-679-2237 or visit the website for more.
Visit the Playhouse Webiste…
Related Events