Island County Earth Month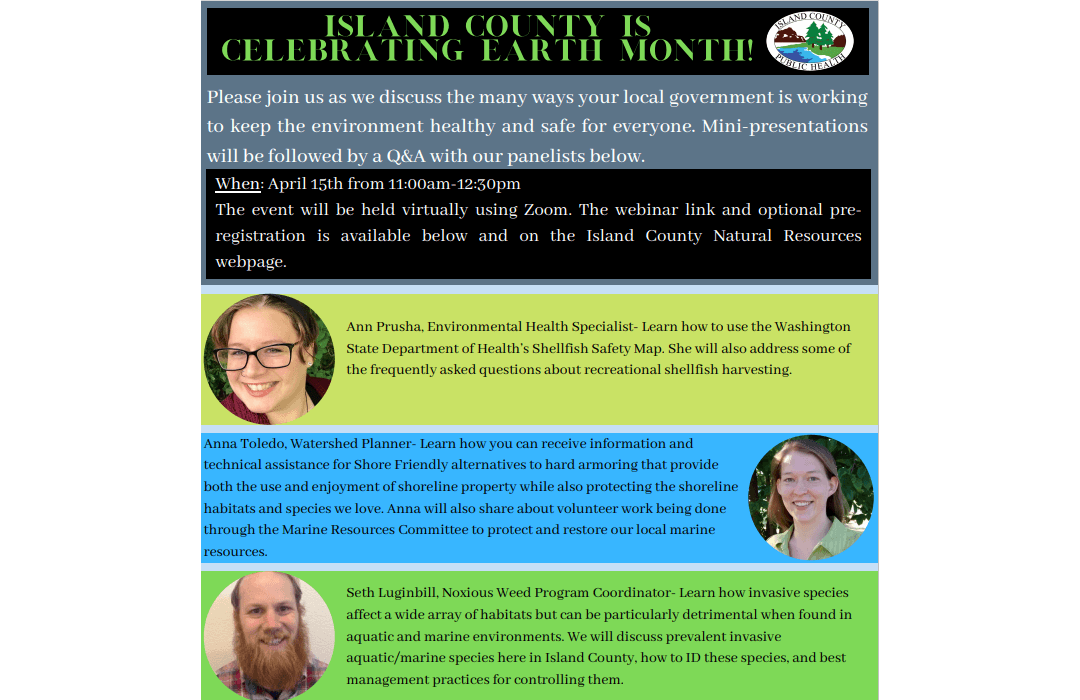 April 15, 2021 @ 11:00 am

-

12:30 pm

Free
An Environmental "Teach-In"
Please join Island County staff in discussing the wide range of services provided by your local natural resources team! From soil to stream to shoreline, factors such as noxious weeds, septic systems, and bulkheads can play a significant role in watershed health.
During this 90 minute interactive webinar, panelists will discuss how Island County Public Health is monitoring water quality and taking action to protect you from harmful pollutants in the local drinking water, shellfish beds, and beloved beaches! This event will take place virtually on Thursday, April 15th from 11:00 a.m. to 12:30 p.m.
PROGRAM DETAILS
Ann Prusha, Environmental Health Specialist- Learn how to use the Washington State Department of Health's Shellfish Safety Map. She will also address some of the frequently asked questions about recreational shellfish harvesting.
Anna Toledo, Watershed Planner- Learn how you can receive information and technical assistance for Shore Friendly alternatives to hard armoring that provide both the use and enjoyment of shoreline property while also protecting the shoreline habitats and species we love. Anna will also share about volunteer work being done through the Marine Resources Committee to protect and restore our local marine resources.
Seth Luginbill, Noxious Weed Program Coordinator- Learn how invasive species affect a wide array of habitats but can be particularly detrimental when found in aquatic and marine environments. We will discuss prevalent invasive aquatic/marine species here in Island County, how to ID these species, and best management practices for controlling them.
Matt Colston & Jenny Schofield, Surface Water Quality Monitoring Team- Learn about Island County's Surface Water Quality Monitoring Program and pollution identification and correction efforts. We will be joined by Nolan Simmons from our On-Site Septic Program to discuss how our every day actions affect our waterways.
Related Events