Music at Deception Pass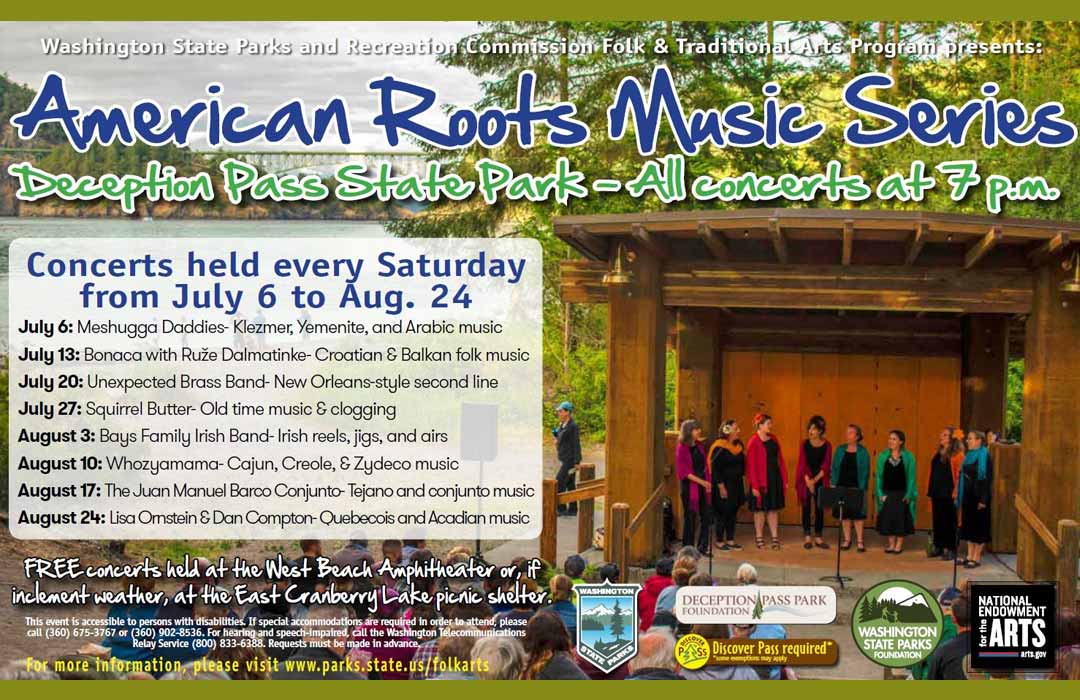 July 20, 2019 @ 7:00 pm
|
Recurring Event
(See all)
An event every week that begins at 7:00 pm on Saturday, repeating until August 24, 2019
The Washington State Parks Folk & Traditional Arts Program invites the public to the 14th Annual American Roots Music Series at Deception Pass State Park on Whidbey Island.
Thanks to the generous support of the Deception Pass Foundation, this year's series has expanded from four to eight concerts on Saturday evenings from 7-8p.m. from July 6 through August 24 at the West Beach Amphitheater. The concerts feature roots musical traditions from across America with the occasional world musical tradition sprinkled in for good measure.
Admission is free to the performances. The Discover Pass is required for vehicle access to the park.
The summer lineup includes:
July 20: Unexpected Brass Band — New Orleans second line-style street music
Inspired by the joyous and free-wheeling energy of New Orleans street bands, the Unexpected Brass Band plays good-time, funky music. Their repertoire includes traditional songs, jazz, and music from around the world. They invite you to celebrate with them so expect to get up and dance!
July 27: Squirrel Butter — Old time, roots music and clogging
Squirrel Butter performs traditional and original music influenced by Appalachian, early country, jug band, and blues artists from the late 1800's through 1950's. Husband and wife duo of Charlie Beck & Charmaine Slaven share a deep love of traditional music. Multi-instrumentalists, they play banjo, guitar, fiddle, steel guitar, step-dance, and sing in harmony. They are anchors of the old-time music, honky-tonk, & square dance communities in the Pacific NW and beyond.
Aug. 3: Bays Family Irish Band — Irish reels, jigs and airs
Randal Bays is well known in the worldwide Irish music community as a fiddler and guitarist, and he has performed with many of the great Irish musicians of our time, touring North America, Ireland and Europe. Joining Randal are his wife, Susan Waters, on fiddle and vocals, and his sons Willie and Owen Bays on Irish flute and concertina. They are following in the tradition of family music making in rural Ireland, going back hundreds of years and continuing to the present day. Family groups like theirs are often found making music for dances, parties, wakes, and gatherings of all kinds, in addition to appearing at concerts and music festivals.
Aug.10: WHOZYAMAMA — Cajun, Creole and Zydeco music
WHOZYAMAMA is a Cajun, Creole and Zydeco band led by Claudette Boudreaux from Dulac, Louisiana. Members, Claudette, Tami Allen and Claudia Anastasio played in the all-women Cajun dance band "Les Femmes d'Enfer for over a decade. They join Doug Warren, Todd Fischer, and Rick Rice, members of Bayou Boogie, Cayenne and Delta Reys to form WHOZYAMAMA.
Aug.17: The Juan Manuel Barco Conjunto — Tejano and conjunto music
Juan Manuel Barco is a legend of conjunto and Tejano music in the Pacific Northwest and beyond. Barco was born in Coal Mine, Texas, to a family of migrant farm workers who followed the crop harvests within Texas and to other states such as Minnesota, Wisconsin, Michigan, Ohio, Oklahoma, Arizona and California. Barco taught himself to play the guitar at six years of age, and later he taught himself to play the bajo sexto and bass guitar. His music incorporates all of the different styles he heard as his farmworker family traveled from place to place, and he composed his own songs about the migratory experience. He and his band play a lively mix of traditional Tex-Mex music and original compositions.
Aug. 24: Lisa Ornstein and Dan Compton — Quebecois and Acadian music
Virtuoso fiddler Lisa Ornstein and ace guitarist Dan Compton relish in musical conversation. They transcend the form of the fiddle-and-guitar duo by playing completely together from somewhere deep inside the music. A concert with Lisa and Dan takes you on a journey deep into the musical heartlands of Quebec and Appalachia, with side trips to Ireland, a sprinkling of songs, stories, and original compositions. The depth and diversity of Lisa's musical experiences and her powerful playing find their match in Dan's imaginative, innovative approach to guitar. Real deal music from players who know the traditions inside and out, served up fresh with a side of new tunes.
Related Events