Musical Treasures – Whidbey Island Community Orchestra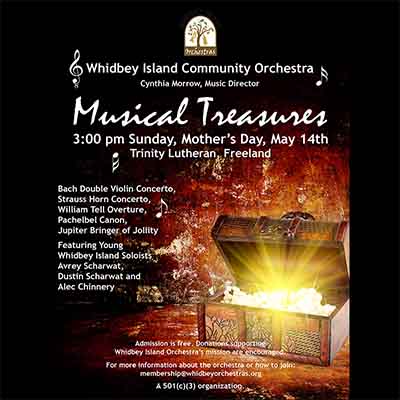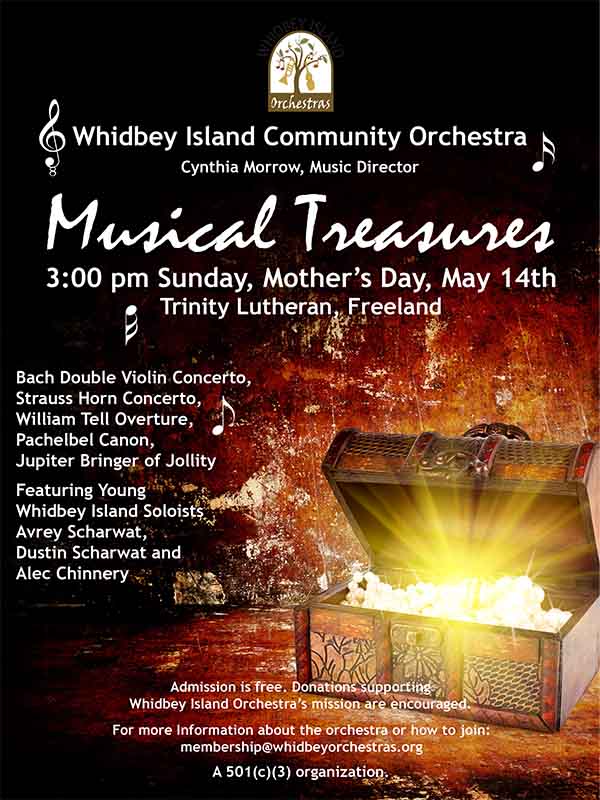 Enjoy a Mother's Day afternoon performance of Musical Treasures by the Whidbey Island Community Orchestra followed by a reception with the orchestra & refreshments.  Conducted by Dr. Cynthia Morrow and featuring new up and coming young Whidbey Island soloists Avrey Scharwat, Dustin Scharwat and Alec Chinnery!
Also special appearance by Victor Veltkamp, an island resident who in 2007 made a concert arrangement for "Crash On Artillery," a song written in 1934 by J.F. Hewett and A.H. Osborn and written for the Coast Artillery Corps so they would have a distinctive song to match other branches of the US Armed Forces. The arrangement was commissioned by Steven Kobylk, another Whidbey resident and Wash State Parks resident expert on the Coast Artillery Corps, with special emphasis on the Puget Sound island forts: Casey, Ebey and Whitman. As you may know, Whidbey Island's Fort Casey & Fort Ebey were an integral part of the Harbor Defenses of Puget Sound between 1898 and 1948. WICO's concert performance of this piece will be recorded live and become part of the permanent exhibit at the Admiralty Head Lighthouse.
Bring the whole family and share in an afternoon of musical delights and dessert!
Admission is free (although any donation is greatly appreciated).
This fundraising event is put on by the Whidbey Island Orchestras, a 501(c)(3) organization.
Related Events