Penn Cove Orca Capture Commemoration – virtual event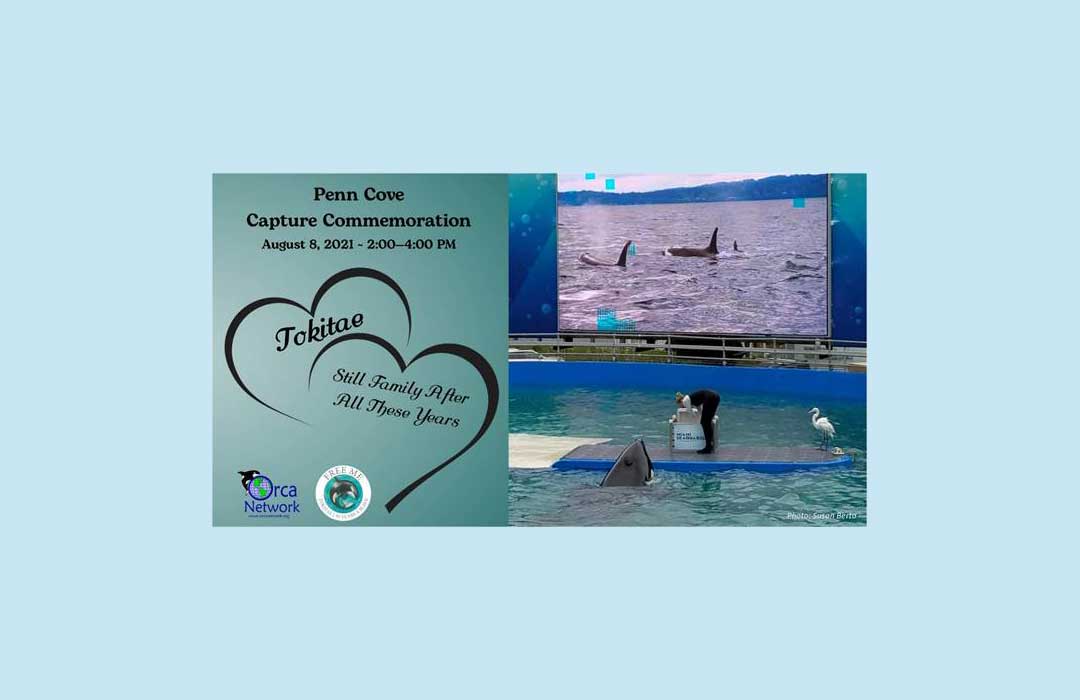 August 8, 2021 @ 2:00 pm

-

4:00 pm
Followed at 4:00 by a special virtual event from the Lummi Nation. Go to https://fb.me/e/3ZzxWLOEF for more information.
Join the Orca Network for a virtual event as we commemorate the 51st anniversary of the Penn Cove orca captures, and honor Lolita/Tokitae/Sk'aliChehl-tenaut and her grace and courage.
51 years ago over 100 Southern Resident orcas were herded into Penn Cove off Whidbey Island, Washington.  Seven of the young whales were netted and delivered to marine parks around the world.  All but one had died by 1987. Originally named Tokitae, they now call her Lolita and she has been held captive at the Miami Seaquarium since 1970. This event is in memory of the nearly 40 Southern Resident orcas captured in Washington State and the 13 orcas killed during the captures, and in honor of Tokitae, the sole survivor.
On August 8 from 2:00 to 4:00 pm, Orca Network will host a webinar to commemorate Tokitae's capture in Penn Cove. We will explore the cultural lives of the Southern Resident orcas and how, after all these years, Lolita/Tokitae/Sk'aliChehl-tenaut is still family. The event will include presentations from Howard Garrett, Ken Balcomb, Ralph Munro, Rosie Cayou James and Alexandra Morton, as well as music and videos.
"She is an extraordinary orca, so courageous, and yet so gentle. She shows unfathomable intelligence to survive these five decades, over 30 years longer than any other captive Southern Resident orca. She deserves our full consideration of her potential to return to her natural home, with the opportunity to see, hear, and touch her family, again." – Howard Garrett, Orca Network.
There is no charge for the virtual event, but pre-registration is required. Register HERE.
For more information go to www.orcanetwork.org or contact Orca Network at [email protected].
Related Events