Saratoga Orchestra: Musical Metamorphisis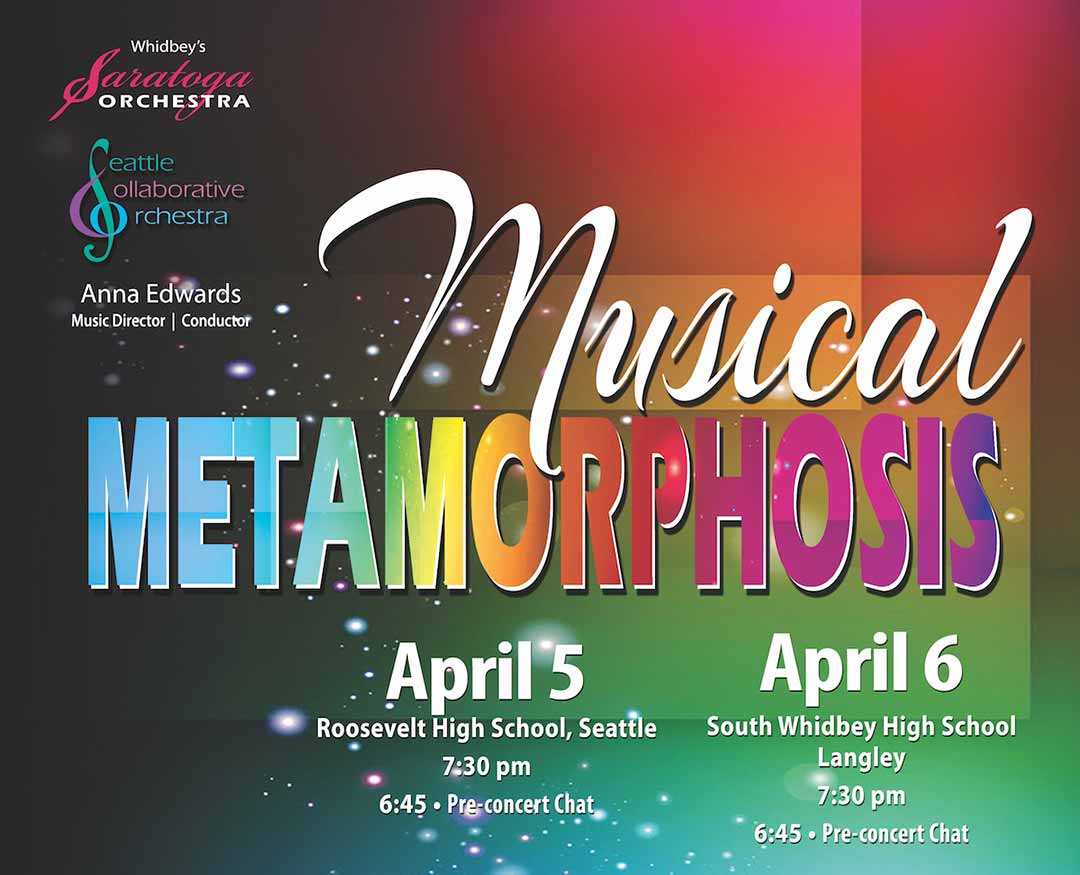 April 5, 2019

-

April 6, 2019

$25
SARATOGA ORCHESTRA of Whidbey Island
Anna Edwards, Music Director/Conductor
presents:
MUSICAL METAMORPHOSIS
a joint musical venture with the Seattle Collaborative Orchestra
Friday, April 5th @ 7:30 p.m.
at Roosevelt High School
1410 NE 66th St, Seattle
Pre-concert chat at 6:45pm
Saturday, April 6th @ 7:30 p.m.
at South Whidbey High School
5675 Maxwelton Rd, Langley
Pre-concert chat at 6:45pm
Join us for a special musical venture as Whidbey's Saratoga Orchestra and Seattle Collaborative Orchestra, both under the direction of Anna Edwards, present a program of works inspired by others—metamorphosing from the original into something new.
The program includes: 
The first movement of Rimsky-Korsakov's epic tale "Scheherazade", after which the ensemble will present the world premiere of Leanna Primiani's "1001" as a modern musical response to Scheherazade—this time from her perspective.
Paul Hindemith's "Symphonic Metamorphosis"—the first work he wrote in the United States after being banned by Nazis in his homeland of Germany, is based on themes by composer Carl Maria von Weber.
A highlight of the evening will be a celebratory performance of Seattle's own Walt Wagner's "The Miracle Concerto"—in honor of the 25th anniversary of the commissioning. Internationally acclaimed pianist Mark Salman will be the featured soloist.
The pre-concert chat will be moderated by Classical KING-FM radio hosts Lisa Bergman (4/5) and Dave Beck (4/6).
Mark Salman's performances have been described as "powerful," "astonishing, exacting and evocative," "dramatic," "wildly imaginative," and "touchingly lyrical." Mr. Salman's career has taken him to Europe, Asia, Canada, and throughout the United States. He has performed in Carnegie Hall and Alice Tully Hall in New York City, has been the subject of profiles in The New York Times, and has been featured in numerous radio and television broadcasts in the U.S., Europe, and China.
Walt Wagner, an American pianist, composer, and arranger based in Seattle, Washington, has performed with Jay Leno, Bill Cosby, Bob Hope, George Burns, Lily Tomlin, Roberta Flack, Sammy Davis, Jr., Bob Newhart, and as pianist- conductor with Peggy Lee. Walt recently ended a 20-year engagement at Seattle's famed Canlis; his performance finale was live-streamed internationally. Among his compositions are "Rhythms—for Piano, Winds & Percussion" and "The Miracle—for Piano & Orchestra" recorded with Gerard Schwarz conducting The Seattle Symphony Orchestra, with Walt as soloist.
Saratoga Orchestra of Whidbey Island was formed as an expansion of the Saratoga Chamber Players founded by Whidbey Island's legendary violinist and arts supporter, Michael Nutt. In 2007, Legh W. Burns, Music Director Emeritus, began a regular concert series performing throughout the island for Whidbey audiences. Anna Edwards has led the orchestra as Music Director since 2015, and has brought national attention to the ensemble for its innovative programming, especially championing women composers.
The Seattle Collaborative Orchestra (SCO) is a diverse, multigenerational performing arts organization dedicated to promoting diversity in symphonic classical music. SCO musicians include students, community members, and professionals who work together to create a unique and collaborative musical experience that represents a creative mix of traditional orchestral music, works by female composers, and composers of color. Professional musicians of the SCO come from Skyros String Quartet, Seattle Symphony Orchestra, and Pacific Northwest Ballet.
TICKETS $25 Adult / $20 Senior-Military / Students under 18 Always FREE
Moonraker Books & Blue Sound Music – Langley
bayleaf – Coupeville
ClickMusic – Oak Harbor
cash/check/credit card at the door
online at www.sowhidbey.com/tickets
SEASON COMMUNITY PARTNERS
Whidbey Seatac Shuttle, Whidbey Weekly, Island Thrift
Related Events