Whidbey Island Music Festival 2020 – Virtual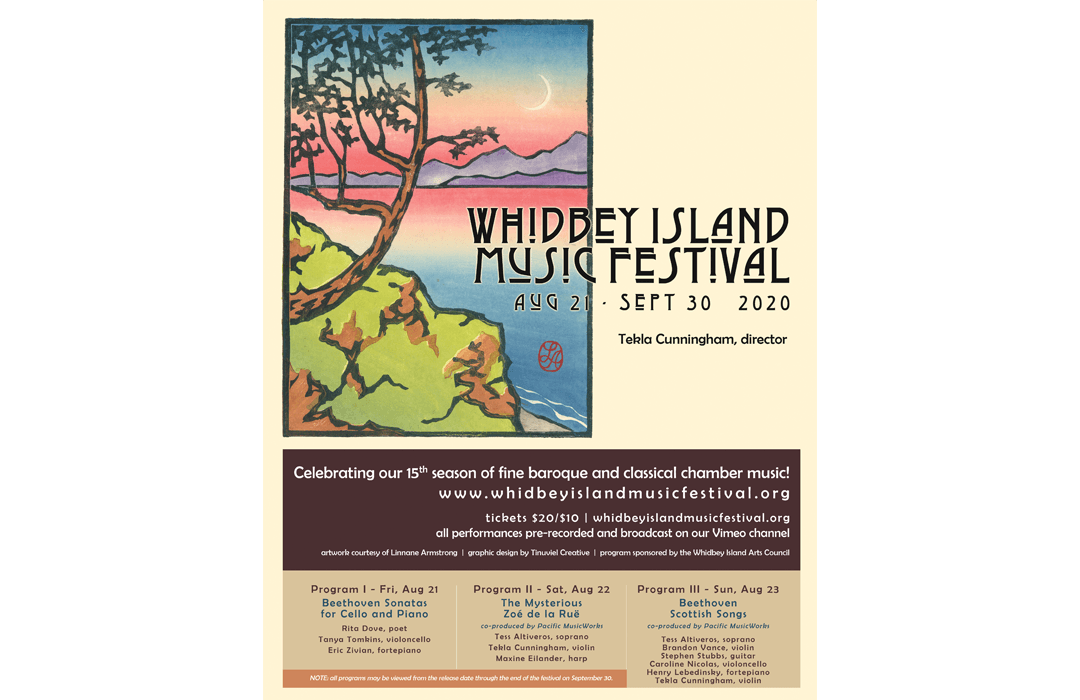 August 21, 2020

-

August 23, 2020
15 Years of  Classical Music on Whidbey Island

In celebration of the 15th anniversary season of the Whidbey Island Music Festival and the occasion of Beethoven's 250th birth year WIMF presents three virtual concert experiences to enjoy from the comfort and safety of your home. These programs will be available on Vimeo for you to watch whenever is most convenient for you. Your ticket purchase will include an invite to a Zoom pre-concert chat on "Opening Night" with festival artists. These programs will be available online until September 30, 2020.
The Whidbey Island Music Festival is a beloved annual event that presents great performances of baroque and classical chamber music in relaxed and intimate venues on beautiful Whidbey Island, with repertoire this summer from Rennaisance England to 19th century Vienna. We bring music of the past four centuries to life with vivid and moving concert performances on period instruments.
Program I
Beethoven's Sonatas for Cello and Piano
Opening Night Friday, August 21 at 7:30 pm (Available online until 9/30)
Zoom pre-concert chat at 7 pm
Program:
Ludwig Van Beethoven Returns to Vienna
Piano Sonata No. 21 in C major, Op. 53 "Waldstein"
7 Variations on 'Bei Männern, welche Liebe fühlen', WoO 46 Piano sonata No. 30 in E major, Op. 109
Rita Dove Ludwig van Beethoven L. van Beethoven L. van Beethoven
Fortepianist Eric Zivian has taken up the challenge of learning all 32 Beethoven sonatas for Beethoven's 250th anniversary year, a time-consuming project he can finally take on while sheltered in place. As a feat of endurance, it's a challenge not unlike hiking the Pacific Crest Trail. It is also a wonderful opportunity for the player and listener to explore the full range of Beethoven's style, and the emotion, humor, and spirituality of these treasures. For the Whidbey Island Music Festival, we are curating a selection of Beethoven's genre-defining works for fortepiano and cello. Former US Poet Laureate Rita Dove will read her poem "Ludwig Van Beethoven's Return to Vienna".
Over the course of the cycle, Zivian will use two different Viennese fortepianos corresponding with the changing sound world during Beethoven's lifetime, from a smaller, more percussive Poletti (copy of Dulcken, 1795) for the earlier sonatas, to an original 1841 Rausch for the later sonatas.
Artists:
Rita Dove, poet
Tanya Tomkins, classical violon & cello
Eric Zivian, fortepiano
Related Events