Whidbey & Camano Islands have rich farm and food tradition with farms raising everything from alpacas to zucchini, wineries creating some of Washington's best wines to mussel "farms" bringing a taste of the islands to plates worldwide. This infographic is a great starting point for understanding what is offered in our region.

Whidbey and Camano Islands are filled with specialty shops, farmers markets, wineries, distilleries, and more. View the listings and plan your adventure.View Listings...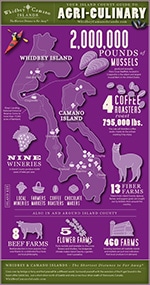 Download this Infographic
You can have your own copy of this infographic.