Written and Photos by Laura Hilton
As we move through the phases of reopening there has been a lot to consider, but businesses all over Island County have been carefully following guidelines in order to welcome customers back safely. It may look different than we're used to, but there will still be uniquely wonderful products and experiences available, for locals and visitors alike. Business owners up and down both islands have been working hard to keep us safe, but here is just a small snapshot from a few beloved Whidbey spots.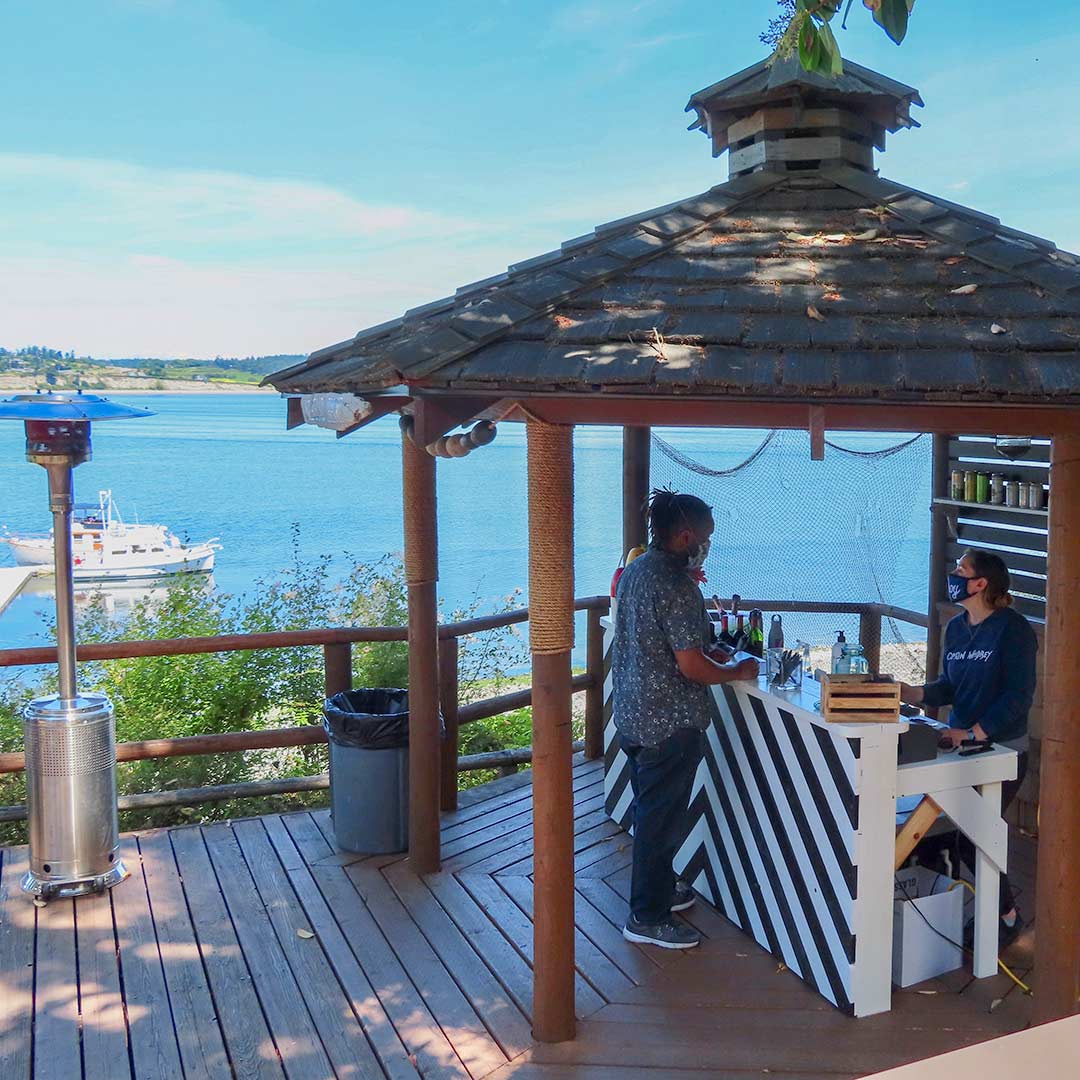 Ordering at the Seafood Shack
The Captain Whidbey
Did you miss out on a room at the Captain Whidbey? No matter, you can still make use of their gorgeous lawn and patio, looking out across Penn Cove (where the famous mussels come from!).
From Noon to 8:00 pm each day this scenic area, known as Still's Park, is open to the public. Any outside, well-ventilated area is ideal right now, and one that includes an open-air Seafood Shack even more so.
Masks are worn by all and contact points regularly disinfected. Food is served in compostable takeout containers, so if you'd like to take it home you can do so without being in contact with your server again.
For my next visit I'll have to leave time to stay longer. One could happily pass a whole afternoon there, just trying out all the different seating areas while you work your way through the menu. There's a shady nook with hammocks and lawn furniture, or a grassy knoll calling out for a picnic blanket, or the three different levels of the patio.
My companion and I chose a striped settee on the patio, where we debated which yummy thing to order while sipping ciders in the sunshine. He indulged his seafood craving with crab cakes and coconut prawns, while I was pleased to find deliciously non-fishy options like crispy pork belly and truffle fries. More ciders, more sunshine, just bliss.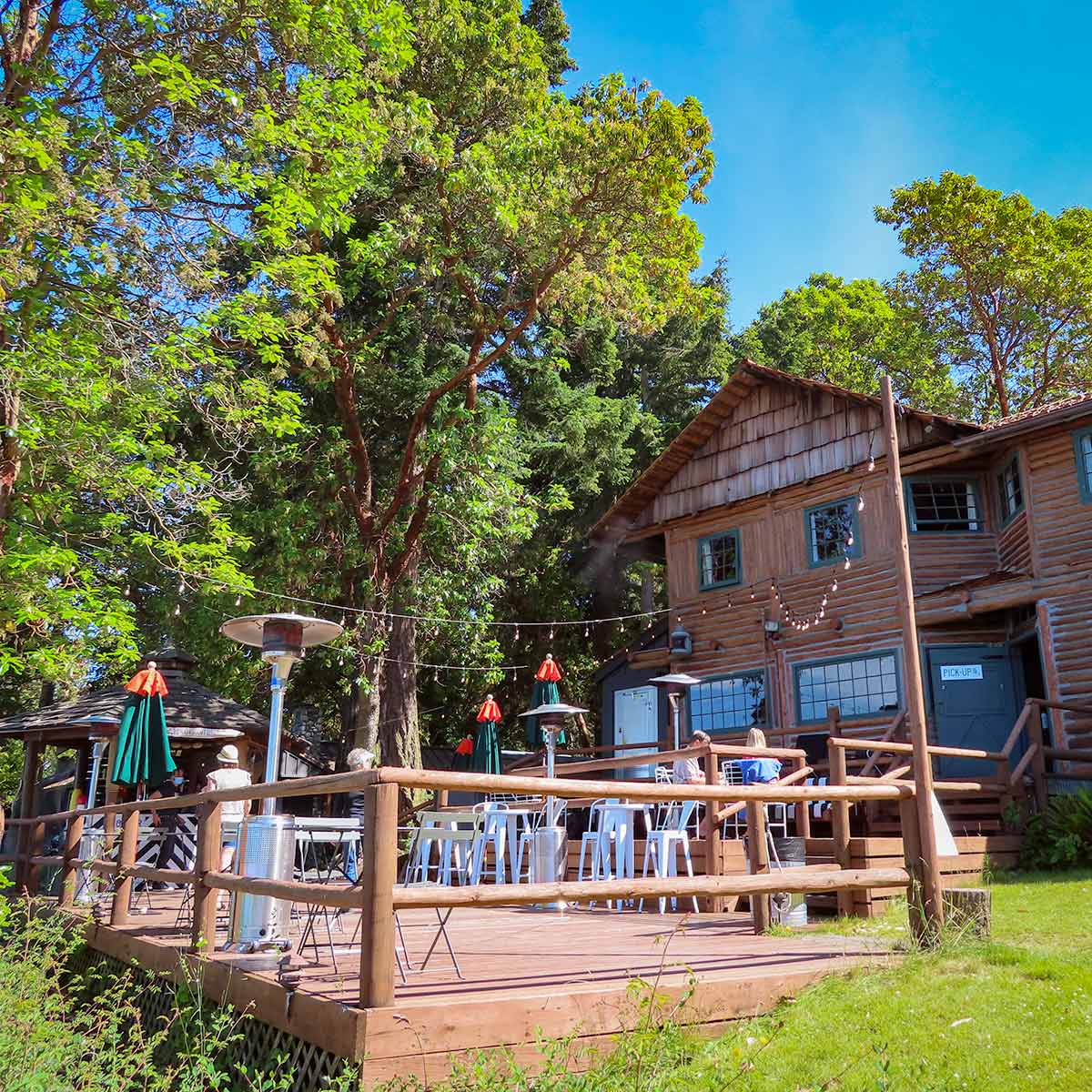 The Captain Whidbey's patio makes for safe, well-ventilated (and very scenic!) drinking and dining. Though their Seafood Shack and bar are open air, masks are still encouraged when not seated, and contact points are regularly disinfected.
"When paddling along the shores of Langley, it's easy to forget there's anything out of place in the world at all."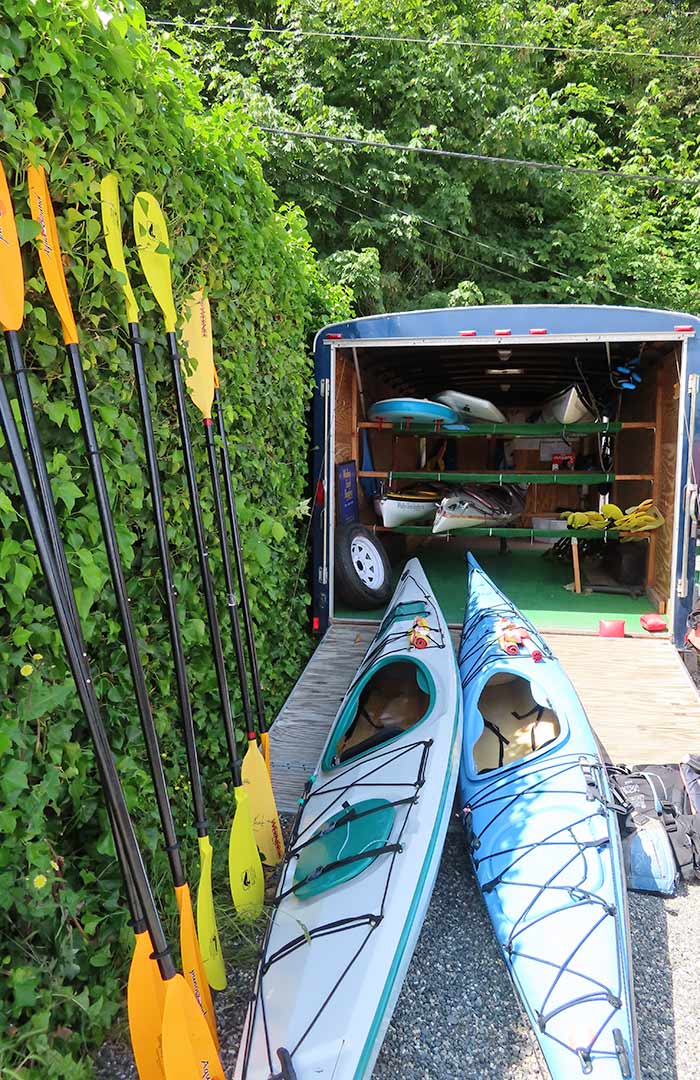 Kayaks Ready to Go!
Whidbey Island Kayaking
When paddling along the shores of Langley, it's easy to forget there's anything out of place in the world at all.
For a mental and physical escape, you can rent a kayak or stand up paddleboard from Whidbey Island Kayaking, and leave your cares behind.
This business is completely based outside anyway, so that's a big help in making it a safe choice. Furthermore, you'll be encouraged to book ahead (online or by phone) to limit crowding and avoid contact between groups. Staff will have your craft ready and waiting, and you can leave them on the shore for collection after you're done.
All gear is sanitized and allowed to sit unused in the open air between guests. Masks are required until you're on the water. If you're not an experienced kayaker and don't feel confident heading out on your own, never fear, they have guided tours available too. It's easy to keep a safe social distance when the Sound is your office!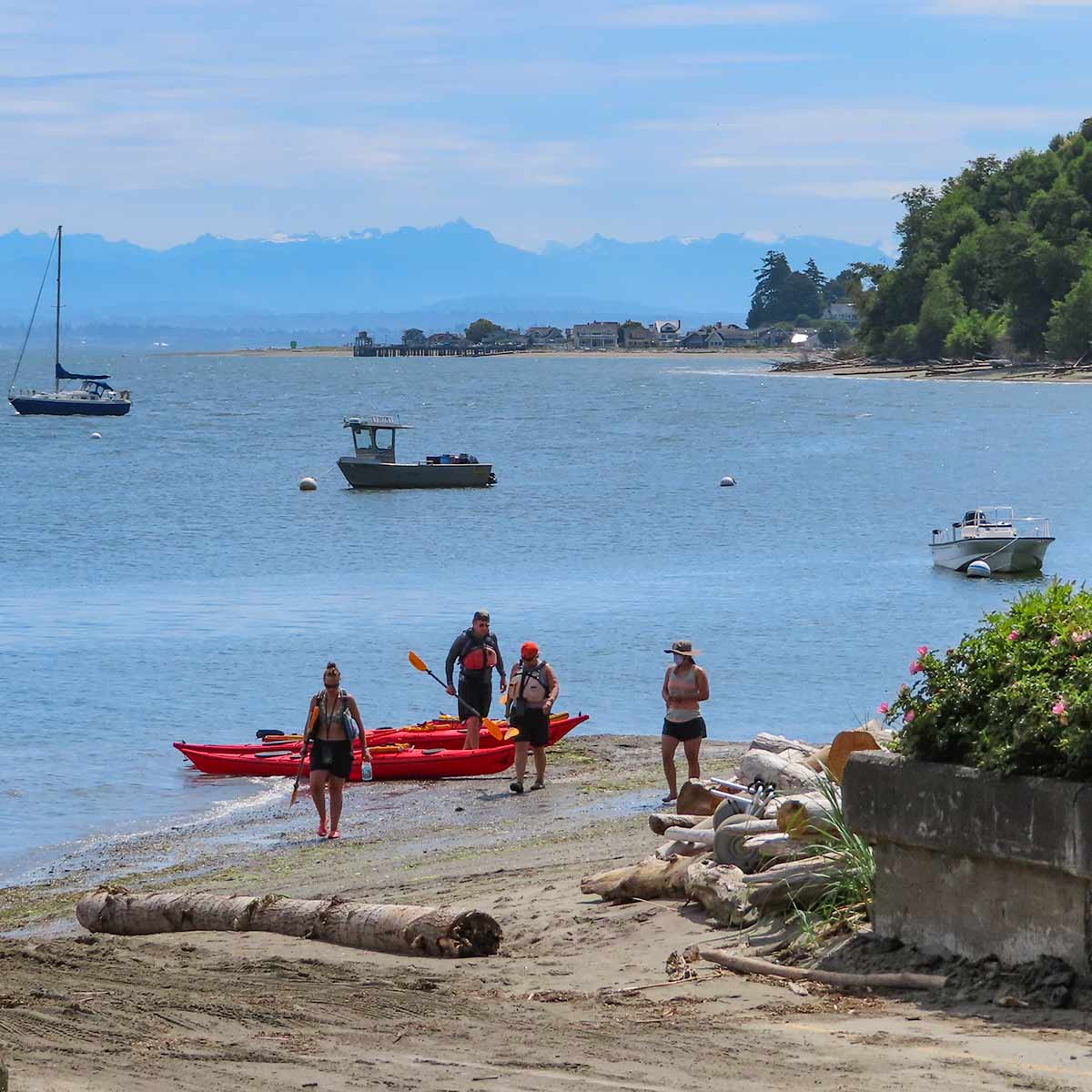 After a spectacular afternoon on the water, these guests leave their kayaks on the shore and drop off their paddles and life jackets. Staff at Whidbey Island Kayaking will thoroughly disinfect everything and stagger their bookings to limit contact between parties.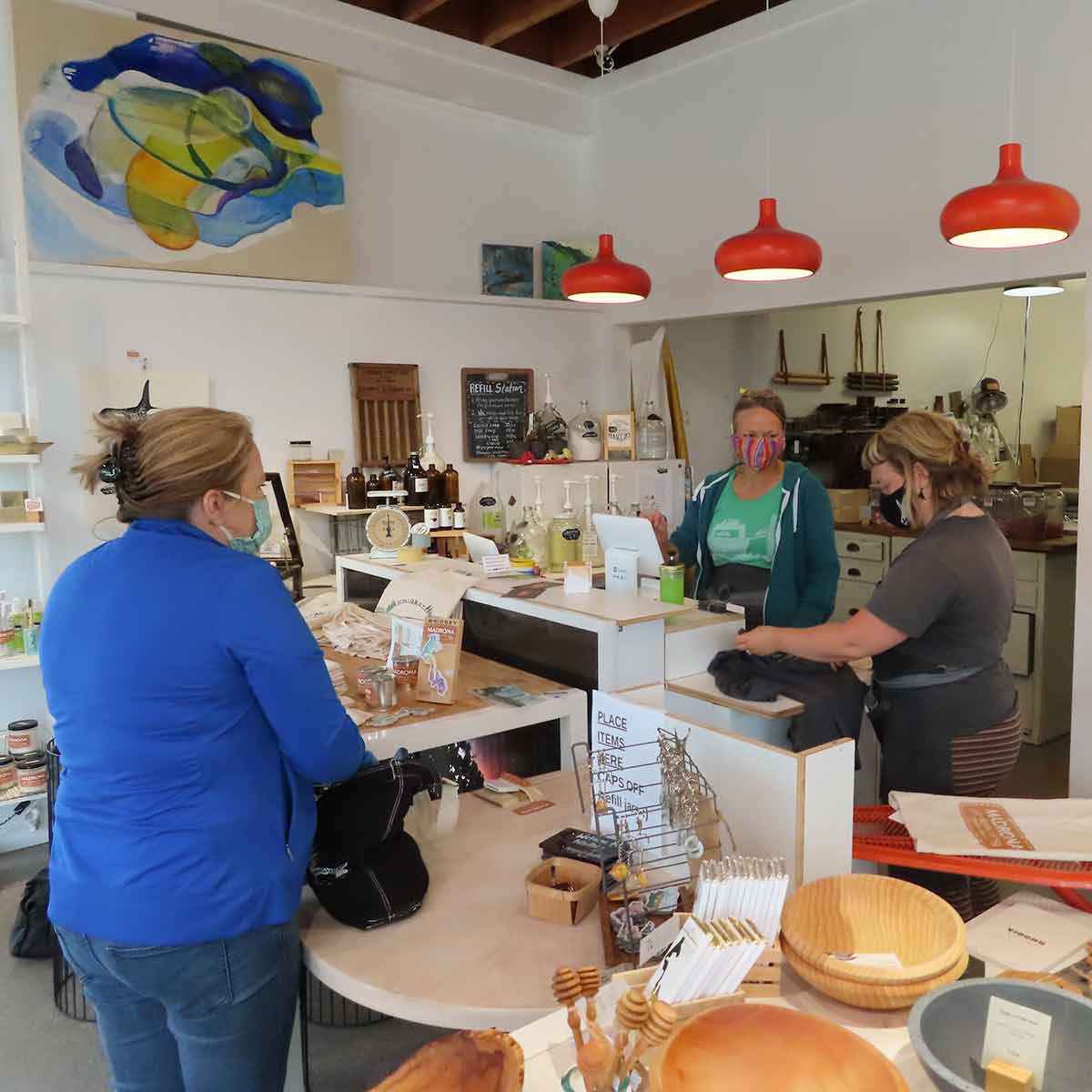 Shopping at Madrona Supply
Madrona Supply Co.
The Madrona Supply Co. is a great place to shop for island products and gifts, as everything is locally made and beautifully crafted. There are screen-printing and wood turning facilities right on site, plus the products of many other local artists and makers.
Whether it's homewares, clothing, artwork, gifts, or more, this shop showcases it all. I couldn't leave without a mint and lavender shampoo bar, it smelled too good.
This customer walked across the ferry from her hotel in Mukilteo, to spend a day exploring the shops and restaurants of Clinton.
Here at Madrona they've rearranged the store for wide open walkways and distance from the counter. Staff are committed to washing their hands between every customer and masks are required by all. They carry a beautiful line of handmade island-inspired masks if you want to expand your collection!