Driving is far and away the most popular way of getting here. By driving only a couple of hours, you are in the midst of your island adventure.
Planning a trip here by car?  If this trip is new, chance are you'll want some maps, driving directions, and insider tips.
Here are downloadable maps as well as Google maps for specific routes.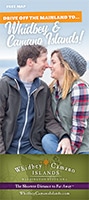 Download a Map of Whidbey and Camano Islands
More than a map, its our detailed guide to Whidbey and Camano Islands.
Popular Driving Routes and Maps