Whidbey Island via the Coupeville Ferry
Whidbey Island, in the middle of Puget Sound, is centrally located for exploring many parts of Western Washington, including the Olympic Peninsula.
DRIVING DIRECTIONS
This route is the longest, and arguably one of the most scenic ferry routes in Washington State.  Working between the ports in Coupeville and Port Townsend, the ferry crosses shipping lanes, open waters of Admiralty Inlet, and beautiful views of the Olympic Mountains.
Drive southeast on US-101 E. Turn left onto state highway-19N/20E. Follow Whidbey Island Ferry signs and catch the Port Townsend – Coupeville ferry.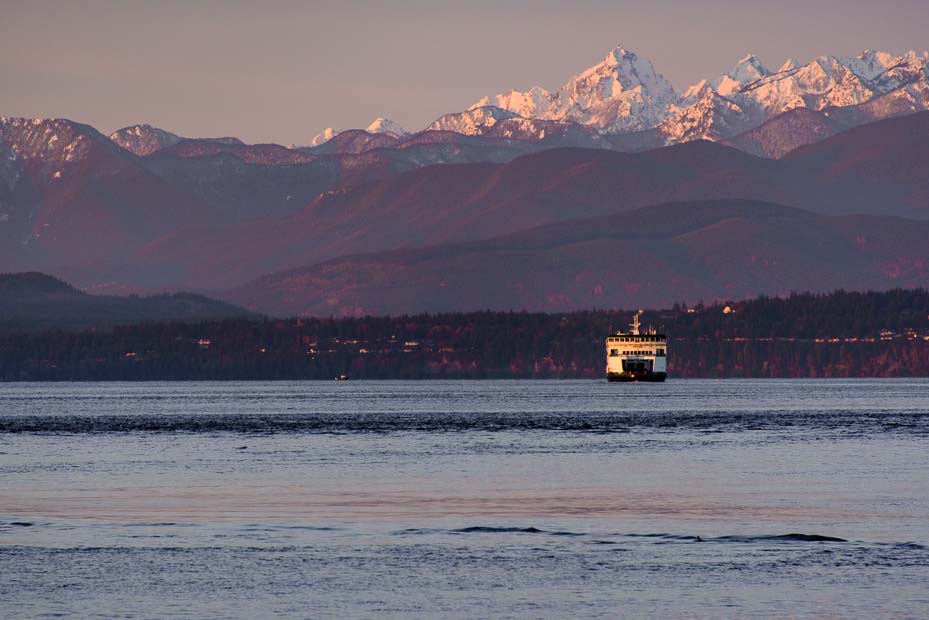 NOTES & HINTS
There are many ways to get to the Port Townsend ferry terminal. These directions assume a starting point at the northern end of the peninsula such as Port Angeles or Olympic National Park.
From the coast, drive US-101 around Olympic National Park through Port Angeles to Port Townsend.
From the southern end of the peninsula, drive north on US-101 to Port Townsend.
During the summer months, there can be long waits to board the ferry. You can make reservations on the Port Townsend – Coupeville ferry. More information can be found here…
A combination of low tides and tricky currents can force cancelation of some sailings.
The Port Townsend terminal is within walking reach of downtown. For this reason, many people on Whidbey Island park across from the Coupeville Terminal and walk on the ferry for a stress-free day trip.
The Coupeville ferry is a short 3 mile drive from Coupeville, Whidbey Island's historic county seat. There is also weekday bus service every 2 hours between the terminal and Coupeville.