A Dutch Celebration American-Style
Holland Happening is a celebration of Oak Harbor's Dutch heritage.  Held each spring usually on the same weekend that the Dutch "King's Day."  While there's no king to celebrate, the weekend is more about fun and celebrating that spring is going to show itself soon.
A carnival downtown will keep kids of all ages happily terrified with thrill rides Thursday through Sunday.  The uniquely Dutch part of the celebration begins on Friday with a traditional Dutch dinner.  But things really get going on the weekend.  Saturday morning begins with an official town crier proclaiming the start of the holiday and leading a parade through Oak Harbor.  Sunday features wooden shoe races in a man-made canal down Pioneer way.
Pioneer way is closed Saturday and Sunday to make room for the music, food, and a beer garden in the historic downtown area.  Restaurants and other downtown merchants are there to welcome visitors with Oak Harbor-style warmth.  Local and regional artisans offer finely crafted wares.
All together, it makes for a spring celebration even if spring-like weather doesn't always show up.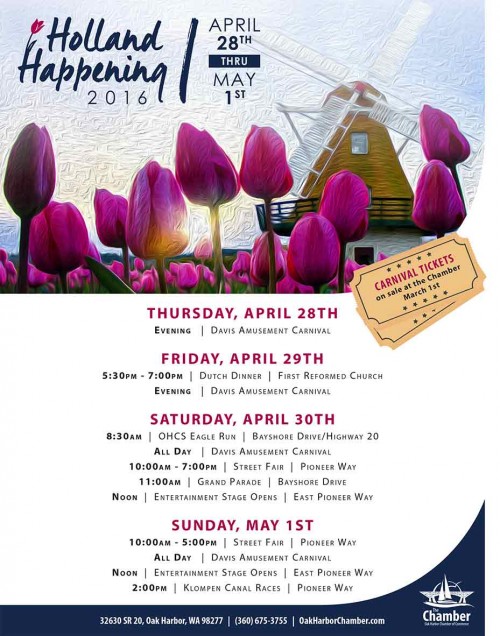 2016 Schedule
Thursday, April 28
Evening | Davis Amusement Carnival
Friday, April 29
5:30 pm – 7:00 pm | Dutch Dinner | First Reformed Church

Evening | Davis Amusement Carnival
Saturday, April 30
8:30 am | OHCS Eagle Run | Bayshore Drive/Highway 20

All Day | Davis Amusement Carnival

10:00 am – 7:00 pm | Street Fair | Pioneer Way

11:00 am | Grand Parade | Bayshore Drive

Noon | Entertainment Stage Opens | East Pioneer Way
Sunday, May 1
10:00 am – 5:00 pm | Street Fair | Pioneer Way

All Day | Davis Amusement Carnival

Noon | Entertainment Stage Opens | East Pioneer Way

2:00 pm | Klompen Canal Races | Pioneer Way