by Jack Penland
The thing about artists is that they're always learning.  There's a technique, a style, or even a mistake that takes them in new directions.
And, whether your "inner artist" hasn't yet been set loose, or you're an experienced artist, there are art schools on Whidbey and Camano Islands that can turn a week, or even a weekend, into a moment of personal growth.
---
Creativity can be
a little messy.
Imagine leaving the crowded city behind and relishing the freedom of having the opportunity and time to focus on yourself.  Imagine small classes taught by top artists who are also attracted to Whidbey and Camano Islands for the small-town charm and natural beauty.
Well, stop imagining, because we have a list of seven such schools that can turn your time off into time well-spent.
---

The Pacific Northwest Art School
Artists and students from all over the country come to this Coupeville school for classes that generally run for several days.  Imagine waking up in one of Central Whidbey's Bed and Breakfasts and walking the few blocks to school.  You might take that painting class that you always wanted to try.  Maybe you've been working in mixed-media for a bit and you're looking for a way to improve your game.  The school also specializes in classes in photography and fiber arts.  The classes are offered year-round, but most, especially photography, are offered from spring through fall.
---
Art is all around offering island-style inspiration.
---

Paint Your World
Oak Harbor's Paint Your World is an excellent way to wake up your inner artist with easy-to-approach classes geared to the novice.  Classes include pottery, glass fusing, stoneware, and more.  They have seasonally themed classes as well, giving you the chance to do things like create your own Christmas decorations.  And, with their own coffee-bar, the school is a relaxing way to spend an afternoon.
7 Art Schools
on Whidbey & Camano Islands
Escape from the Daily Grind on Rural Whidbey Island
Are you in need of a weekend getaway, a week-long escape, or a few days to remember that not everything moves at the speed of light?  Then it's time to explore our lodging and make some plans!
See All of Our Hotels, Motels, B & B's, and More!

WHAT ABOUT OTHER SCHOOLS?!?
From writing to kayaking to tree climbing to cooking.  We have a class for everyone!
See More Schools
---

A Guilded Gallery
The Stanwood-Camano Arts Guild offers single and multi-day classes in topics ranging from drawing and watercolors to mosaics, photography and more.  Classes are offered year-round and this is your chance to get a taste of Camano Island's special arts community.
And yes...There's More!
The artists on Whidbey and Camano islands are a generous, creative, and dynamic bunch.  Many of the artists, offer workshops in their studios.  They're held on an irregular basis and not always heavily advertised.  Check with our many local galleries that you can find listed here.  Or look at the Camano Arts Association website here...
And also check the Whidbey Arts Marketing Alliance calendar for information here...
---

Whidbey Fine Arts Studio
Langley's Whidbey Fine Arts Studio offers multi-day workshops from established leading national artists who are eager to demonstrate their artistic techniques.  Students get to work along with the artists on their own projects receiving professional feedback that's sure to inspire.
---

Callahan's Firehouse
Not so much a school, but more of a fun experience is Callahan's Firehouse in Langley.  Callahan McVay shares is love for glass blowing with customers who'd like to try it, themselves.  His studio is located in an old firehouse, and is the perfect place to create glass art.  He or his assistants will carefully guide you as you make your own hand-blown glass art.  There's also plenty of Callahan's own art available for purchase.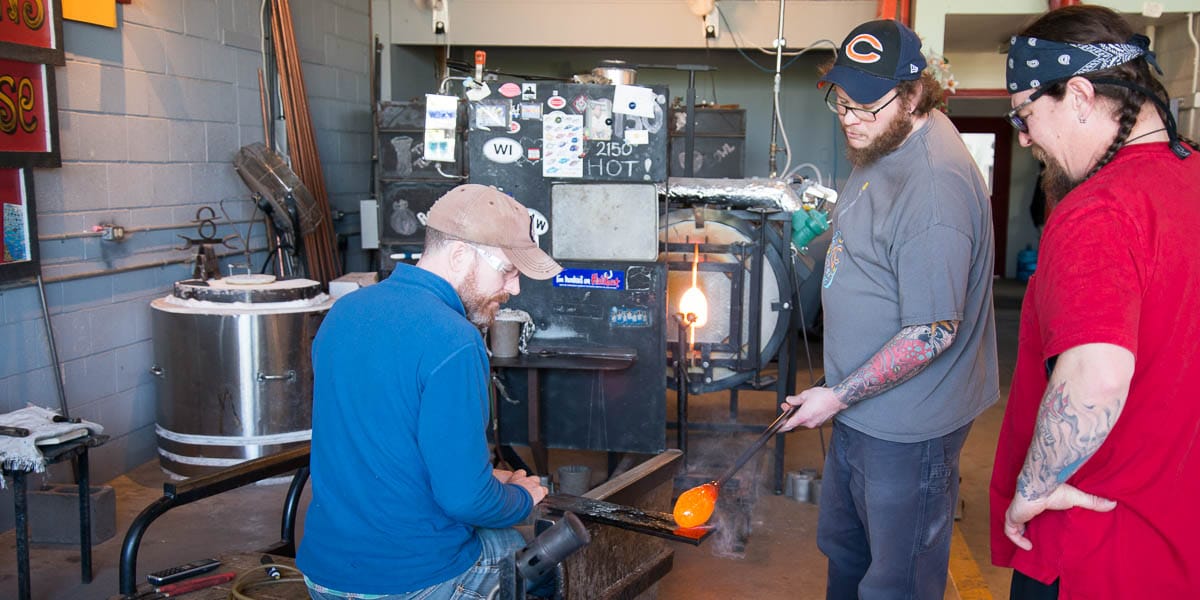 Learning to blow glass at Callahan's Firehouse
---

Whidbey Art Escape
Parents, this is a great place to come have fun painting pottery with your kids.  With gentle guidance from the staff, the entire family could find a shared hobby.  The Art Escape is also a great place to host a birthday party or a baby or bridal shower.  Need some away time? They also offer a ladies' night.
---

Whidbey Clay Center
If you're thinking of working in clay, but want to start slowly, the Whidbey Clay Center in Freeland offers weekly classes, workshops, events, and more.  Members have their own access to the space, pottery wheels, kilns, tools, and can even purchase clay!  It's a creative space for newbies and experienced artists, alike.