By Lara Dunning
On a recent trip to Whidbey Island, I discovered delicious things are bound to happen when you open a distillery next to a blueberry farm, are minutes away from an organic coffee roaster, and have ties to the rolling wheat fields of the Palouse.
Tucked between two salty bays in Freeland, Washington, Mutiny Bay Distillery is a new adventure for owners Rod and Kathy Stallman. In 2017, they opened the tasting room, and manage the business with their son Scott, and an adorable "distillery dog" named Obi.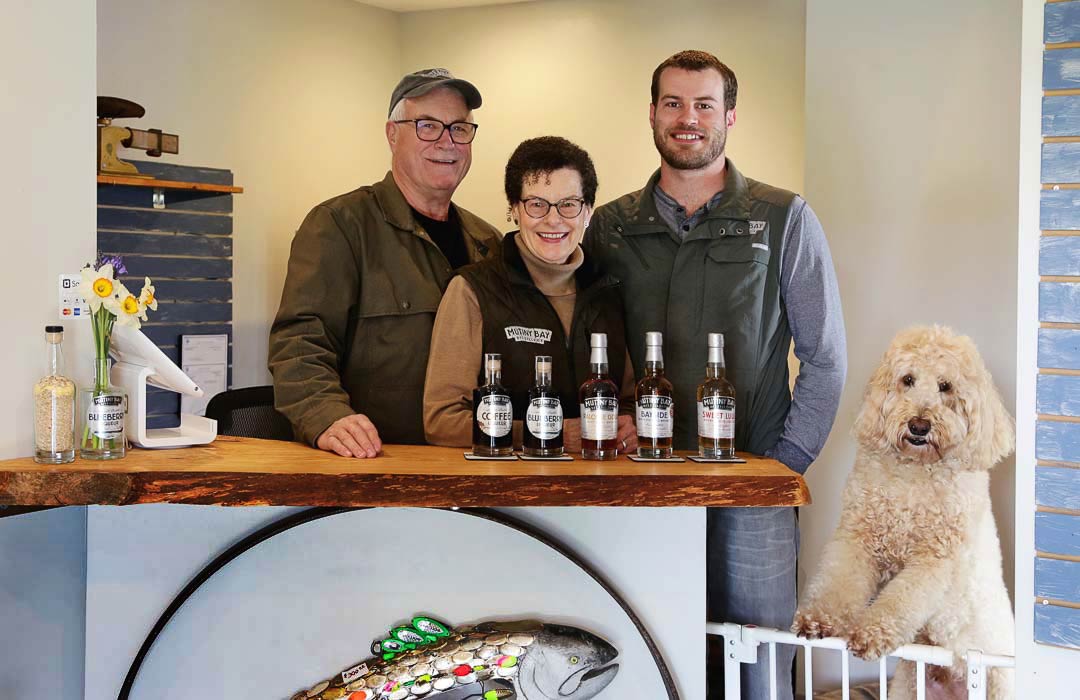 The Stallmans in their original
tasting room.
"After working as pharmacists for years, we wanted to do something creative in our retirement," said Rod. "Making whiskey is complex, and we can use our talents in many ways."
They make a total of six products, the Palouse Gold aged wheat whiskey, Bayside triple distilled whiskey, Sweet Lulu whiskey-basked liqueur, blueberry liqueur, and coffee liqueur. They produce everything in small batches, and make it "the old-fashioned way by taste and smell."
Inspired by Local Ingredients
In 2013, the Stallman's aged their first whiskey with grains sourced from Rod's cousin, a wheat farmer in the Palouse. Four years later, the Palouse Gold aged wheat whiskey debuted and became the first aged whiskey crafted on Whidbey Island. This flagship spirit is now aged for three years and the mid-year release already has a waiting list.
Two of their flavored liqueurs ‒ blueberry and coffee ‒ are even more local. The blueberries are sourced right next door at the blueberry farm Mutiny Bay Blues. The coffee is from Useless Bay Coffee Company in Langley. While they didn't have to go far to source these products, they did have to spend some time developing the proper flavor profile.
 "Blueberries are a hard berry to work with and finding that true blueberry flavor can be elusive," said Kathy. "It took us two years to develop a recipe that had the right balance of blueberry, whiskey, and a touch of sweet."
Having tasted both, I can say their tenacity paid off. The blueberry liqueur is like a ripe berry off the bush with spiced whiskey after notes, and the coffee liqueur reminded me of a slice of decadent tiramisu.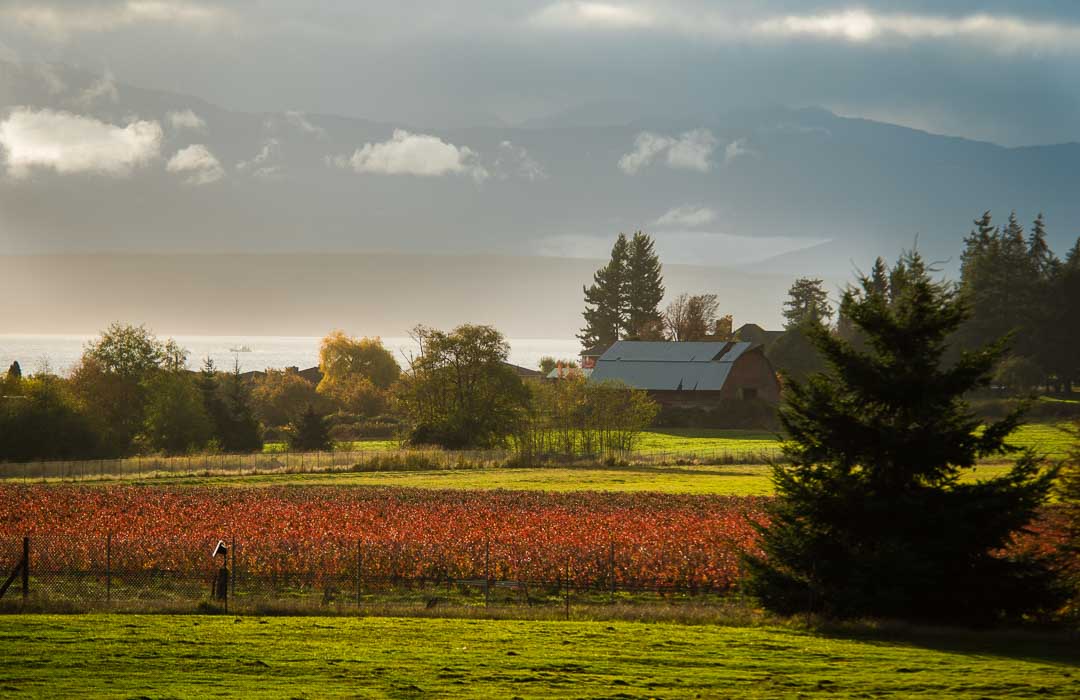 Some of the blueberries at Mutiny Bay Blues go into the blueberry liqueur.
New Distillery Tasting Room and Tours
In February, a bigger tasting room is slated to open in time for the Red Wine & Chocolate Tour. I got an early glimpse of the space which will double the size of the tasting room and expand the capacity of the barrel room. As you taste, you'll also be able to gaze through a landscape window at the fields of blueberries.
"We guarantee a warm welcome and want everyone to have a fun and informative experience," said Kathy. "We like to take the time to discover each person's interests so that we can tailor the experience for them and what they know about whiskey."
Whether this is your first time trying whiskey or you're a seasoned pro, they are happy to give tours and share more of the distilling process with visitors. Just ask!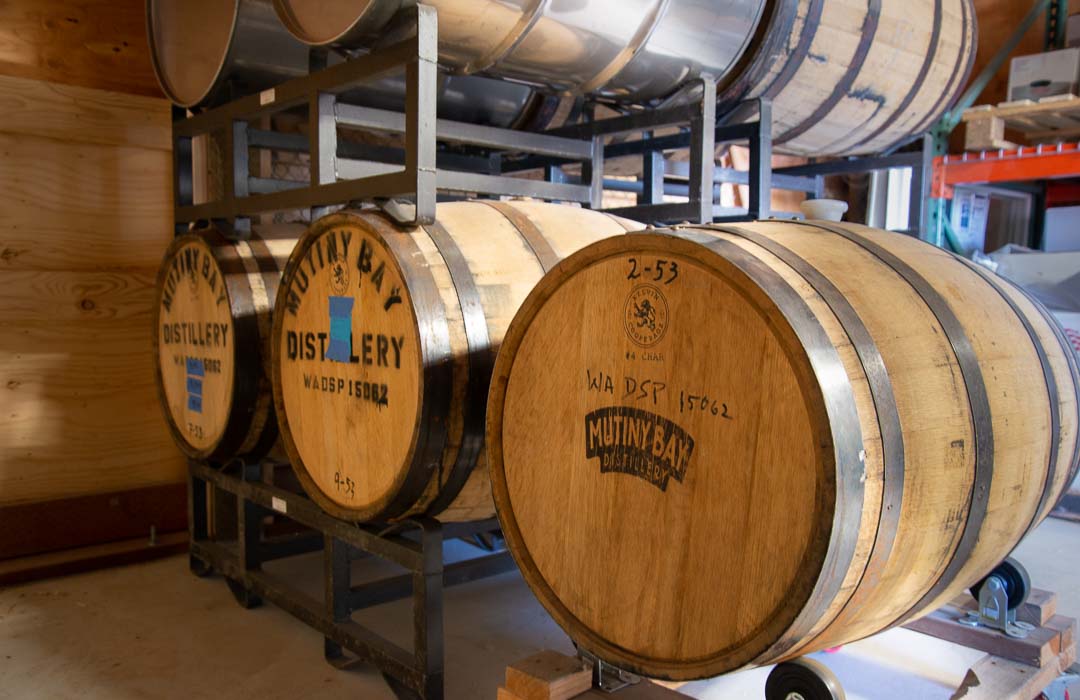 Taste the Flavors for Yourself
Want to have your own Mutiny Bay Distillery liqueur and whiskey tasting? Stop by the tasting room Monday, Thursday through Saturday, from 11 a.m. to 5 p.m., and Sunday from 12 p.m. to 5 p.m.
How to get there: Hop aboard the Mukilteo ferry to Clinton. From there take SR 525 to Freeland (about 15 minutes), turn left at Cameron Road, and you'll find the distillery shortly after the turn at 5490 Cameron Road. If you arrive from the north end of the island, expect a 50-minute drive from Deception Pass State Park.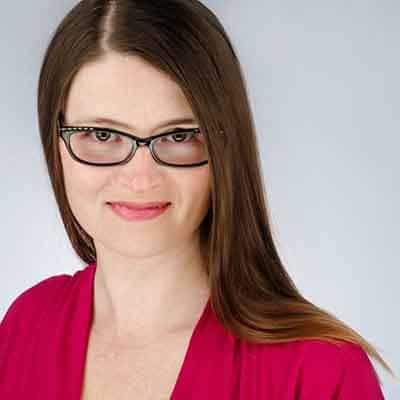 About the Author: Lara Dunning has a serious passion for small towns, history, food and light adventure. She has over 100 published travel articles, and on Small Town Washington & Beyond she shares her stories about small town traveling.