By Laura Hilton
These islands we love are bursting at the seams with creative energy and talented folks. While the easy access to Seattle is fantastic, there's no need to leave Whidbey or Camano for an evening of entertainment or cultural enrichment. Despite being a small community, we are fortunate to have an abundance of performance art and entertainment venues.
---
"...these venues we love have had to remain shuttered more consistently than most."
These places add so much to our enjoyment of living on the islands, yet they have suffered more than most with the long shutdowns. For our safety, these venues have had to remain shuttered for longer than most. The very things we love about them-gathering with friends and community, sharing an experience together-has posed the form of danger we've all been avoiding.
Find a Way to Perform
What a tough time for these places we cherish! As things begin to open up, it may take awhile to get comfortable in group settings again, and no one should feel rushed. But let's remember to show a little love and support, however we can, to these special businesses and organizations that keep the islands so vibrant and fun. Many of these troupes and groups are non-profits, where you can donate your time or talents as well as your dollars.
On the Stage
Creative people have a way of adapting, and our theater community has proven they're up for the challenge. Forget having a packed audience, even getting a few actors together to safely rehearse has been nearly impossible. And so the rise of broadcasts and virtual performances. Whidbey Playhouse has been bringing live performances to Oak Harbor for well over fifty years, and they weren't going to let a global pandemic stop them. Instead they began offering multi-camera virtual presentations, like last Halloween when they embraced the moment with their version of H.G. Wells' War of the Worlds (top of page). More recently, they presented Having Our Say the first 100 years of the Delaney sisters. Check out their website for the latest virtual show or sign up to volunteer.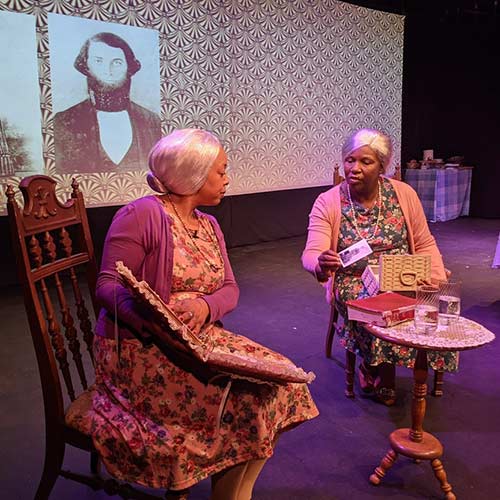 The Blue Fox Drive-In paired up with Whidbey Island Dance Theatre
Whidbey Island Center for the Arts in Langley has been working hard throughout the crisis to make their space safe. A new, highly efficient HVAC system has been installed, for better air filtration inside the theater. A beautiful new outdoor performance space has also been created, where a popular "Summer Nights" series was born and will return; with live music, comedy, and more. WICA has been producing an online talk show to keep us in the loop called 98260 Live!, and screening classic movies in the theater. In June they'll host their first live play in over a year, and this year's Djangofest is slated to go ahead, just minus the international musicians.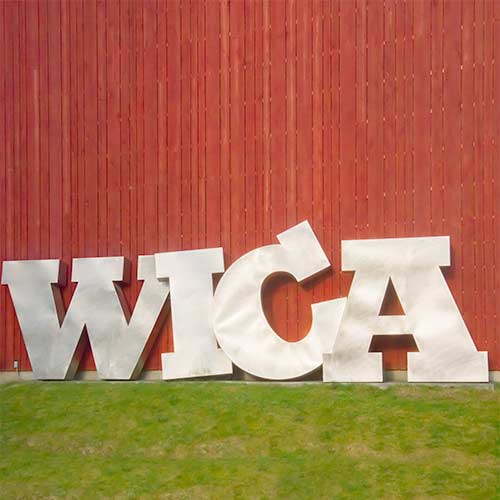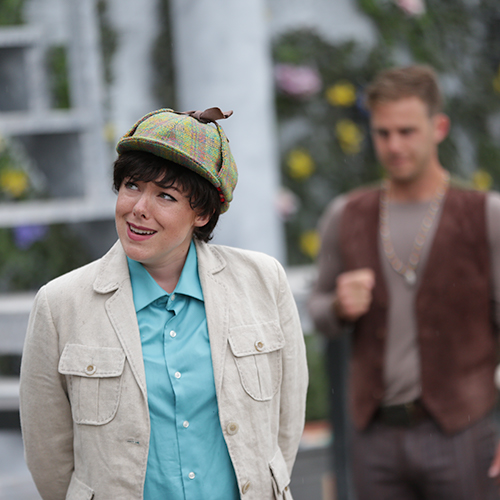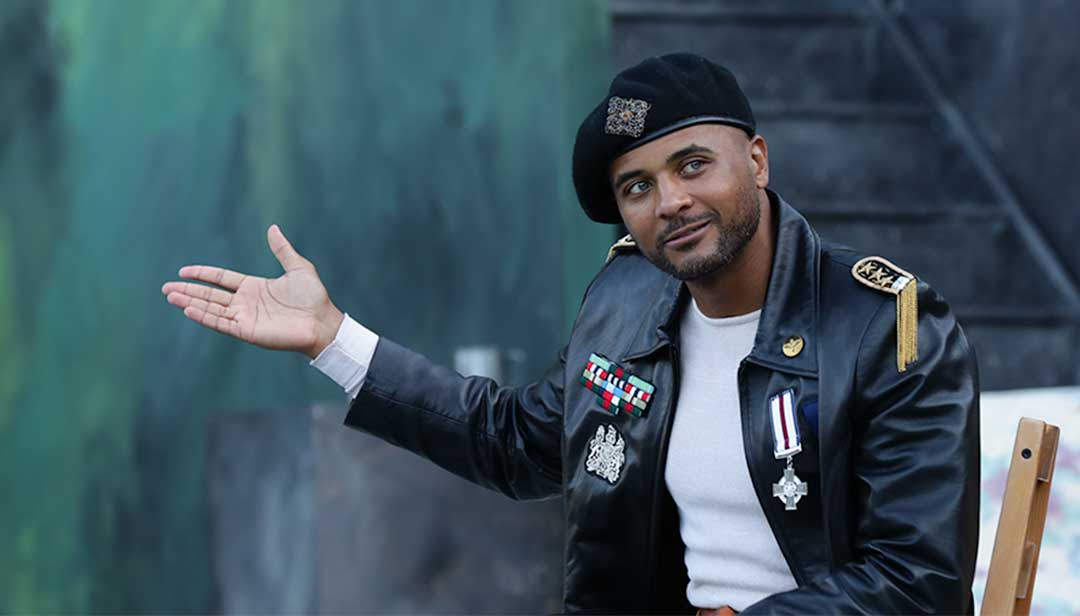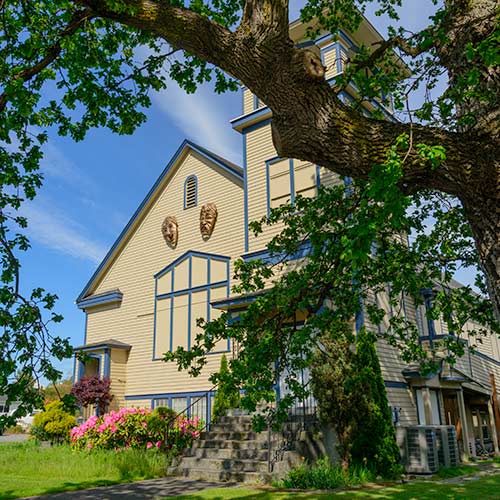 The Island Shakespeare Festival has been a wild success right from the start, bringing classic productions with a contemporary twist to islanders and visitors alike. In just over a decade they've found a permanent home, expanded their summer calendar to offer rotating repertory, added educational offerings, and now host actors from across the country. Unfortunately they had to forego what would have been their 10th anniversary season, but we'll hopefully get to see those shows in 2021 instead. For now you can enjoy their virtual offerings, such as Juliet Capulet reimagined as a modern day vlogger, or visit the Bard's Boutique in Bayview to support ISF through their gift shop.
Whidbey Children's Theater in Langley will be celebrating their 40th anniversary this year, having introduced generations of island kids to the stage. While in-person classes aren't happening yet, on May 1st you can enjoy their annual variety show and fundraiser Raise The Curtain in a virtual format. Just up the road at the Whidbey Island Fairgrounds, you'll find the Blackbox Theater, home to Outcast Productions. This is "theater with a social conscience", concentrating on social issues of our time and encouraging critical thinking. While the troupe waits for the all clear to get back to business as usual, you can see their first original virtual production Pandemonium-Life in the Pandemic.
WA's 4th Creative District
You'll notice a lot of these creative institutions are anchored in Langley, which all helped to contribute to the town being designated a creative district recently. In the chaos of 2020, many may have missed the news, but Langley became only the 4th creative district in the state! This is a program through ArtsWA that offers grant opportunities and much more to an area with a proven creative economy. What a piece of good fortune right as we headed into such a tough year.
Whidbey Island Dance Theatre has also found a home in Langley's creative district, within the historic building that housed the original high school. This wonderful ballet company has been bringing dance education to island students-and high quality performances to a delighted audience-since the early 90s. In 2020 they teamed up with the Blue Fox Drive-In to make a socially-distanced gala night possible, presenting their annual Nutcracker performance as movie magic. We love to see island institutions like these working together!
Camano Characters
While Camano Island is particularly well known for its visual artists, scratch the surface and you'll find fantastic performance options too. For a start there's Camano Voice, a popular podcast featuring local people and places of the island, with host Brandon Ericson of the Camano Commons Marketplace. To give you an idea of the artistic nature of Camano residents, one recent guest was Jack Archibald, owner of Archibald Glass. Jack is a local stained glass artist and mural painter, who also plays in the very talented South End String Band, set to begin performing again this summer. Keep an eye on their website or The Crab Cracker magazine for upcoming shows.
Speaking of local voices, this community is also home to the Camano Island Radio Theatre, bringing today's audiences a taste of 1930s radio drama. Unique live performances are presented at venues around the Puget Sound, so keep an eye on their Facebook page for all the latest news. Or contact founder Ed Bednarczyk directly for voiceover training, and develop your instrument.
Movie Theater Medley
We are always lucky to have a rare drive-in movie theater, but never more so than recently! During the initial shutdown, Blue Fox Drive-In was hard at work putting safety measures in place and making improvements. They even added a large open-air bar with 12 rotating taps, the new Backlot Tavern. Thanks to the socially-distanced nature of their business model, the drive-in was able to open up and bring some cinematic joy to locked down islanders. Sadly it wasn't an option for our other much-loved movie theaters, the Clyde Theatre in Langley and the Oak Harbor Cinema.
Not long before Covid, the Oak Harbor Cinema changed ownership and made huge improvements. The theater has luxurious reclining chairs along with a beer and wine bar along with practical improvements like new floors and bathrooms. Islanders can't wait to check out these big changes and catch some new movies after so long. The Clyde Theatre in Langley is a local favorite dating all the way back to 1937. This family owned business is all heart, and beloved by the community. Usually screening blockbusters on the weekends and indie/foreign/documentary during the week, they were sorely missed on the long winter nights of 2020! The Clyde can now take debit/credit cards, making it easier to pick up a gift certificate for later if you're not quite ready for a visit.
Arcade Games and Bowling Lanes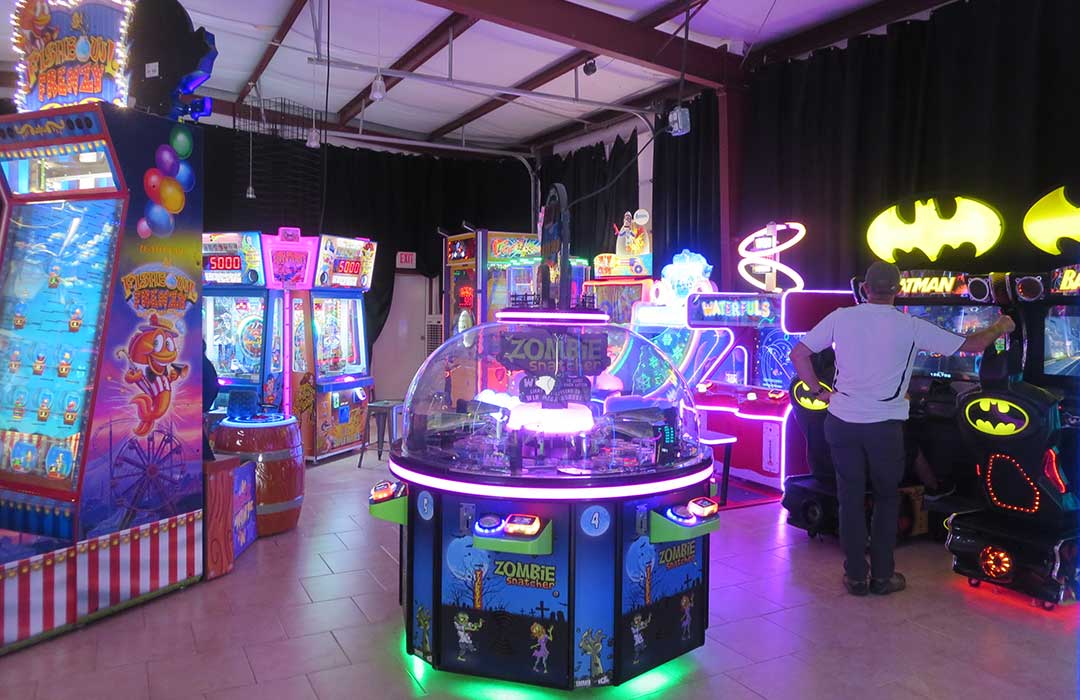 Blue Fox Arcade at the drive-in is open again, with dozens of large games to play and prizes to be won, plus a Go-Kart track outside. The Machine Shop in Langley catches your eye with its locally-made custom light features and signs. Inside you'll find over 80 playable pinball machines and classic arcade games, from vintage to contemporary. They have a snack bar and will open a new art space called Galactic Gallery on April 1st. So get your quarters ready for a visit, or buy merchandise from their website until next time.
For more old-fashioned fun, pay a visit to the classic Oak Bowl in Oak Harbor. A popular place for birthday parties or work events, this venue has more than just bowling! Along with the lanes they offer their own gaming arcade, plus a card room and lounge, restaurant and full bar. Less than 20 years ago, Whidbey Island still had three bowling alleys; now Oak Bowl is the last one standing and even the pandemic couldn't knock them down. If you're not ready to go inside yet, you can purchase a gift card for another time, or order a takeout meal from onsite Mario's Pizza.