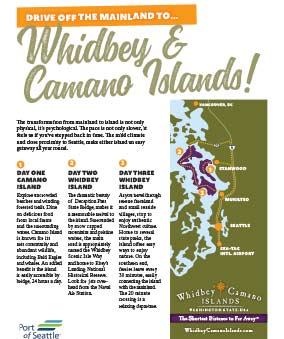 Drive off the Mainland
The transformation from mainland to island is not only physical, it's psychological. The pace is not only slower, it feels as if you've stepped back in time. The mild climate and close proximity to Seattle make either island an easy getaway all year round.
Explore uncrowded beaches and winding forested trails. Dine on delicious food from local farms and the surrounding waters. Camano Island is known for its arts community and abundant wildlife, including Bald Eagles and whales. An added benefit is the island is easily accessible by bridge, 24 hours a day.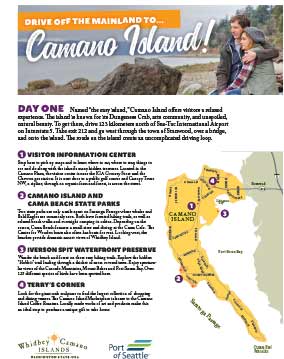 Day 1 – Camano Island
Named "the easy island," Camano Island offers visitors a relaxed experience. The island is known for its Dungeness Crab, arts community, and unspoiled, natural beauty. To get there, drive 76 miles (123 kilometers) north of Sea-Tac International Airport on Interstate 5. Take exit 212 and go west through the town of Stanwood, over a bridge, and onto the island. The roads on the island create an uncomplicated driving loop.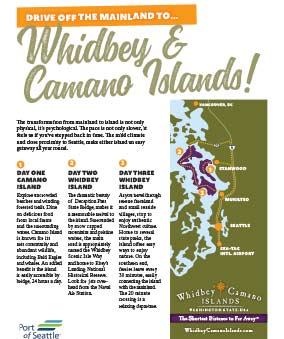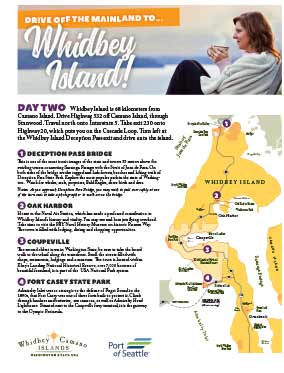 Day 2 – Whidbey Island
Whidbey Island is 42 miles (68 kilometers) from Camano Island. Drive Highway 532 off Camano Island, through Stanwood. Travel north onto Interstate 5. Take exit 230 onto Highway 20, which puts you on the Cascade Loop. Turn left at the Whidbey Island Deception Pass exit and drive onto the island.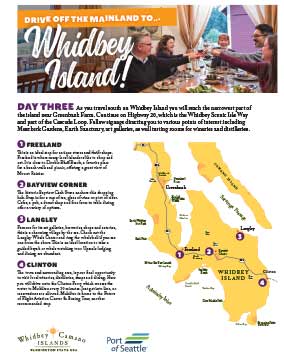 Day 3 – Whidbey Island
As you travel south on Whidbey Island you will intersect with State Route 525. Continue on it as you reach the narrowest part of Whidbey Island near Greenbank Farm. Follow signage directing you to various points of interest including Meerkerk Gardens, Earth Sanctuary, art galleries, as well tasting rooms for wineries and distilleries.