Horseback riding on an island. Sounds romantic, doesn't it?
Visitors, even if they don't own one, can experience the islands on the back of a horse.
Riding together is a great shared adventure for the family, or a wonderful way for a couple to add to their island experience.
For beginners, there are lessons and guided tours.
For those with more experience, take a relaxing ride along the trails and tracks.
Horse owners will be glad to know that there are boarding options, allowing you to bring your horse along on your island adventure.
Stables and Other Facilities
Wildwood Farm
2326 Happy Valley Rd
Oak Harbor, WA  98277
Phone: 360.679.3474
Experience the Equestrian Lifestyle
Home of the Pacific Northwest Riding Academy, Wildwood Farm consists of 80 acres and boasts some of the most outstanding equestrian amenities found anywhere in the Northwest.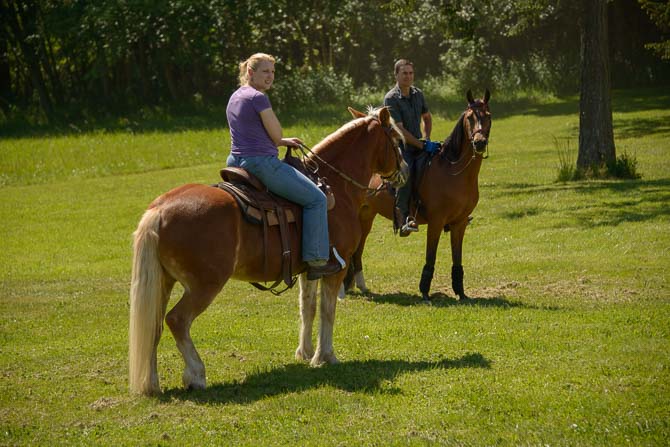 Amenities include:
Bed and Breakfast
100+ stalls
Two indoor arenas with viewing areas
Lessons
Trainers on site
25 acres of wooded riding trails
Track
Beautifully Landscaped Grounds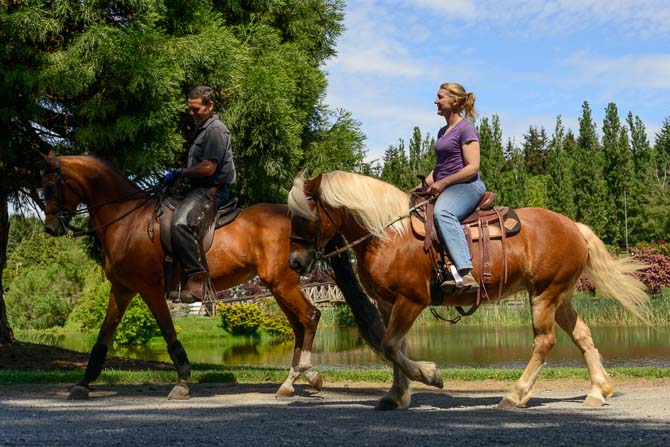 In addition to the best amenities, Wildwood Farm is also home to expert trainers who provide private and group lessons, horse training, horse and rider training, and share their expertise with those who want to achieve goals in horse care, breeding, competition and/or the marketing and selling of horses.
Visit the official website…
Harmony Hill Stables
737 Bush Point Road
Freeland, WA 98249
Phone 360.331.1065
Harmony Hill is a small family oriented Hunter/Jumper stable.
Owner and trainer Sarah Moulton trains her students in hunters and equitation over fences with flat work emphasizing dressage skills to improve performance of horse and rider. Focus is on great horsemanship, good work ethic, positive attitude and lots of fun.
Moulton ran Horsely Equestrian Center in Sonoma California for 18 years before moving to Whidbey Island in 1998. Her students have qualified for many year end awards in the Hunters and Equitation divisions. She has brought many green riders and green horses from the field to success on the show circuit.
Services include:
Vacation Visitor Drop-in Lessons
Group Lessons
Horse Leases
Boarding
Training
Summer Riding Camp for children 6 and up
Visit the official website…
Hope Therapeutic Riding Center
P.O. Box 334
Langley, WA 98260
Phone 360.221.7656
Since 1986, our goal at HOPE has been to empower children and adults facing special challenges – whether physical, cognitive or emotional – to discover their abilities, independent skills and explore their potential through use of our nationally accredited safe and effective equine-assisted activities and therapy.
Services include:
Group Lessons
Horse Leases
Boarding
Training
Summer Riding Camp for children 6 and up
Visit the official website…
---