Deception Pass State Park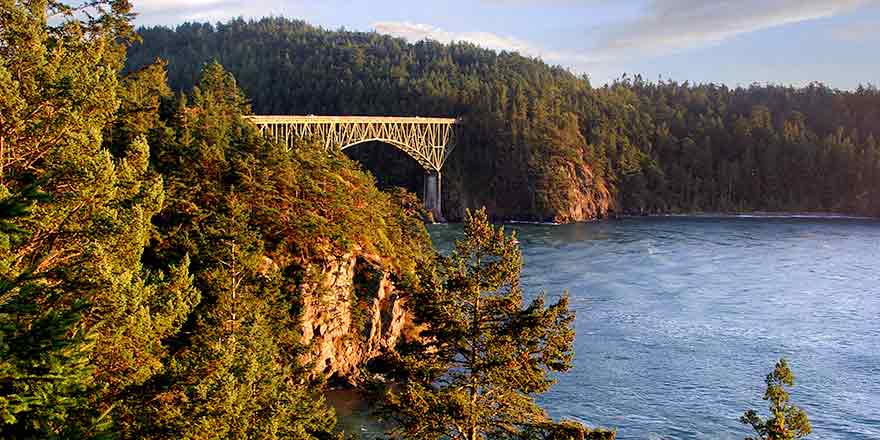 One of the iconic scenes in Washington, Deception Pass Bridge nearing sunset.
Photo Courtesy: Michael Stadler
Deception Pass State Park
Washington's most popular state park spans a spectacular saltwater canyon. Ocean waterfalls swirl through the canyon at the height of the tide changes. Hiking trails range from easy to challenging. Campsites offer ocean, mountain, forest, or lake views. With salt and fresh water fishing, kayaking, swimming, picnicking, and camping, there's something for everyone.

Discover Pass Fee Required:
The Discover Pass must be displayed on your vehicle when visiting state recreation lands managed by the Washington State Parks and Recreation Commission, the Washington State Department of Natural Resources and the Washington Department of Fish and Wildlife.
Park Hours:
Summer: 6:30 a.m. to dusk.
Winter: 8 a.m. to dusk.
Camping:
Check-in time, 2:30 p.m.
Check-out time, 1:00 p.m.
Quiet hours: 10:00 p.m. to 6:30 a.m.
For more information, visit their website.
Watch a 1 minute video showing Deception Pass in the Fog!
Watch video…
This is about as far away as you can get and still be somewhere near a city. Rent Ben Ure island (with cabin) for a night or several. Read more from Tan Vinh of the Seattle Times.
Read Story…
Seattle Refined's Jenny Kuglin writes about "Hiking, Camping, and Peace: A Trip to Deception Pass.
Read more…
Parking at Deception Pass State Park