---
Whidbey Island is the island portion of Washington's Cascade Loop, which loops you from Whidbey Island, through the Cascades and back. It's a road trip you'll want to do again and again.
Road Trip
by Jack Penland
One day it happens. The car you use for that daily commute is somehow off course. You're doing it!   It's a road trip on Whidbey Scenic Isle Way!
Drive it and you'll get a camera full of moments. Stop a few times and you'll get a weekend or even a week worth of memories.
Those who do the drive, even residents who commute, find that there's this moment, maybe on the ferry, maybe Deception Pass, or somewhere else, where you feel you've escaped to somewhere special.
But, to really see why this was designated a scenic highway, you'll have to slow down, make a few turns, stop, and get out.
While in the summer festivals happen nearly every weekend, it's the cooler months where the island becomes really special. A March night at a romantic bed and breakfast can make you feel like the city is several days away, not a couple of hours.
From farms to beaches, historic downtowns, shopping, galleries, and dining, relaxation options abound.
Whidbey Island was the first island in Washington State designated as a scenic byway and is part of the Cascade Loop, a road trip through the islands and mountains of scenic Western Washington.
Whenever you come, pencil in some time for that unplanned, "I wonder what we'll find when we turn here," moment. No, you won't find a picture perfect moment with every turn you make, even when you're traveling a scenic highway. But, you might, and maybe you should just go find out.
Isn't that the idea of a road trip?
---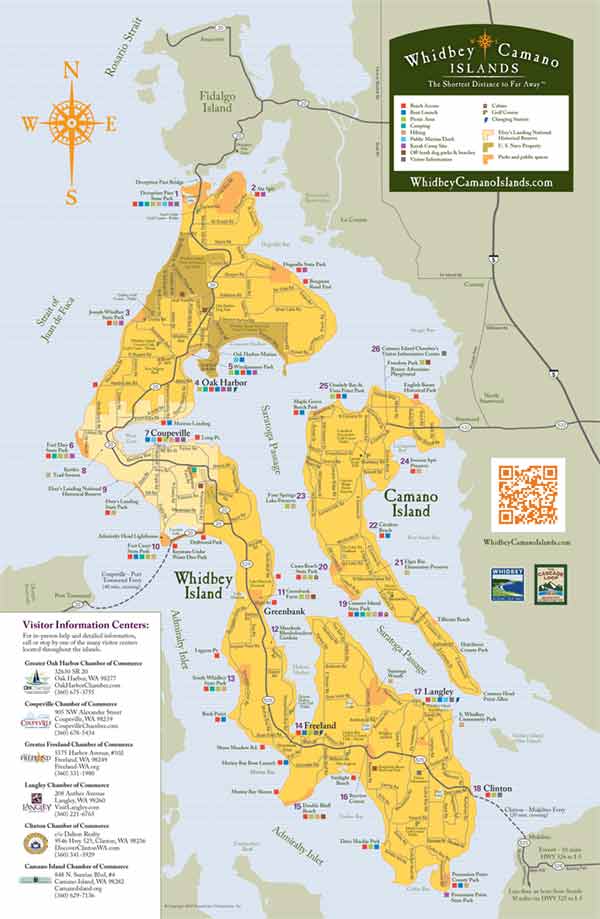 Download a Map of Whidbey and Camano Islands
More than a map, its our detailed guide to Whidbey and Camano Islands.