Take a self-guided walking downtown Oak Harbor walking tour of the Garry Oaks that give the city its name.
Please respect private property noted with *.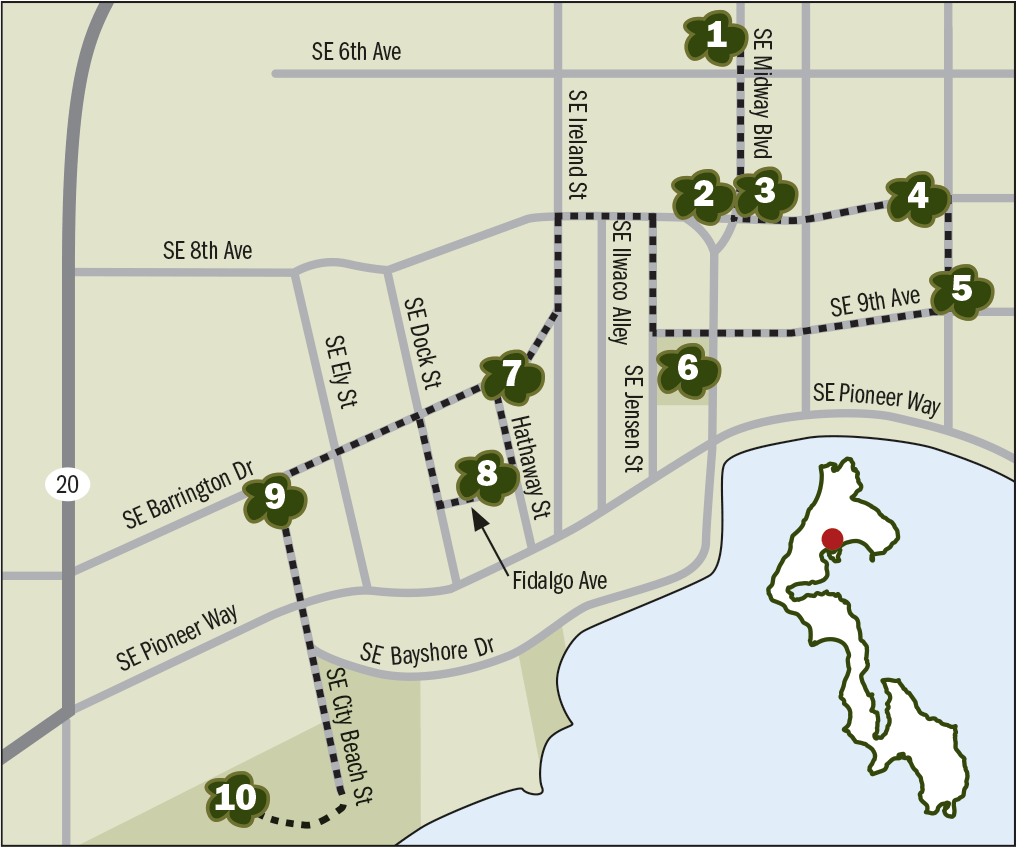 The "Oak Bowl Tree" is estimated to be 226 years old.
A large collection at the Presbyterian Church*.
At Whidbey Playhouse* this tree is 231 years old.
Called the "Avenue of the Oaks" and known as "the oak in the middle of the street" it was saved by Dorothy Neil.
"Impressive Diameter Oak" across from Calvary Chapel at a private residence*.
 Smith Park boasts the largest public Garry oak grove with over 150 mature trees and interpretive signs. The only park in the state composed entirely of Garry oaks. Also, note the mural on Jensen Street.
Next to city hall sit a trio of young trees planted in 1998.
Two oaks each with three trunks; also former site of Jerome Ely's house, Oak Harbor's first mayor in 1915*.
Near post office, the stump of the "Grand Old Oak" which grew from 1684-2014 (330 years old).
Estimated 45 year-old tree in Windjammer Park near the flagpole. Enjoy the many newly-planted Garry oaks in the park.
The tour brochure is also available for free download on the society's website.  Garry Oak Society
No Records Found
Sorry, no records were found. Please adjust your search criteria and try again.
Google Map Not Loaded
Sorry, unable to load Google Maps API.