Deception Pass State Park spans the gap between Whidbey Island and Fildalgo Island.  At 4,134 acres, the park has many different spots that are almost parks all by themselves.
The park has 14.6 miles of saltwater shoreline, three lakes, and 35 miles of trails.  Even though the park is the state's most popular, if you know where to go, there's always a place you can go to be on your own. 
---
"Deception Pass is iconic.
Deception Pass is epic.
It is among the most scenic and yet accessible
wonders of the State of Washington."
-- Jack Hartt - Former Park Ranger
Deception Pass Bridge
The best-known location is the bridge.  This iconic bridge opened in 1935 and, depending on the tide, sits about 18 stories above the water creating a spectacular frame for this saltwater canyon.  Beneath the waves, ocean waterfalls swirl through the canyon at the height of the tide changes.
There are actually two bridges.  Deception Pass Bridge extends from Whidbey Island to Canoe Island.  Canoe Pass Bridge then span from Canoe Island to Fidlago Island.  Collectively, they're called Deception Pass Bridge.
You can walk across the bridge.  There are sidewalks on either side.  The best places to park to walk the bridge are a parking lot at the south end of the bridge, a small lot in the middle at canoe pass bridge (northbound traffic only) and some pull-out spots just north of the bridge (southbound traffic only).
Because this remains the only bridge to Whidbey Island, traffic can be heavy.  The best times to visit are early mornings on weekends, particularly in the off-season.  There is less commuter and commercial traffic on the weekends, and when you visit early, you get there ahead of the other visitors.
---
The underside of Deception Pass Bridge disappears into the fog.
The water below can only be heard, and not seen.
A trail beneath the bridge provides this unique vantage point.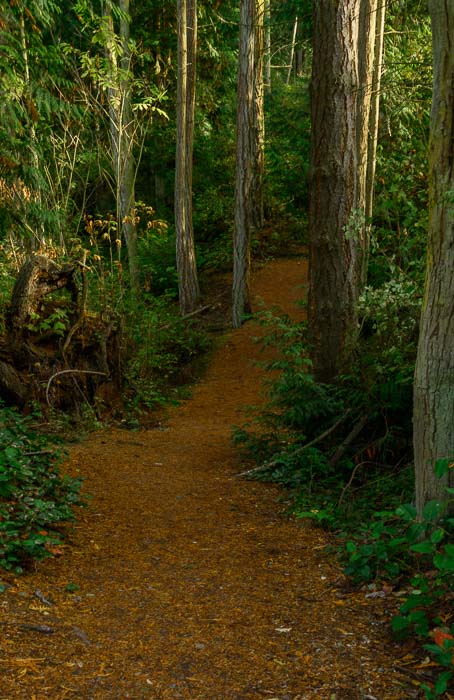 Hiking trails range from easy to challenging.
Campsites offer ocean, mountain, forest, or lake views.
With salt and fresh water fishing, kayaking, swimming, picnicking, and camping, there's something for everyone.

Discover Pass Fee Required:
The Discover Pass must be displayed on your vehicle when visiting state recreation lands managed by the Washington State Parks and Recreation Commission, the Washington State Department of Natural Resources and the Washington Department of Fish and Wildlife.
Park Hours:
Summer: 6:30 a.m. to dusk.
Winter: 8 a.m. to dusk.
Camping:
Check-in time, 2:30 p.m.
Check-out time, 1:00 p.m.
Quiet hours: 10:00 p.m. to 6:30 a.m.
For more information, visit their website.
This is about as far away as you can get and still be somewhere near a city. Rent Ben Ure island (with cabin) for a night or several. Read more from Tan Vinh of the Seattle Times.
Read Story...
Download a Trail Map
Deception Pass State Park