Chum Run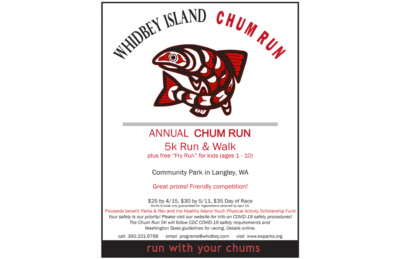 June 26 @ 10:00 am
$35.00
The annual Chum Run 5k run and walk will be held Saturday, Jun 26 10 a.m. at South Whidbey Community Park's forested trails off Maxwelton Road. Runners and walkers are all encouraged to participate. There will also be a free kids' "Fry Run" for ages 1-10, in addition to the main event. Youth must be accompanied by an adult for the Fry Run.
Proceeds from the event will support the Healthy Island Youth Initiative (HIYI) Scholarship Program and South Whidbey Parks and Recreation District. The scholarship program provides Island County youth, whose families may find the cost of organized physical activities a barrier to participation, with funds to participate in healthy and active organized programs such as sports, dance classes, karate, swim lessons and other programs.
The race is an all-inclusive family event. Prizes will be handed out to the first three finishers in the male, female, high school and middle school categories. All participants get a 23rd annual Chum Run shirt (sizes guaranteed if registered by April 15th).
Day-of race registration is 8-9:30 a.m., with the Chum Run slated to begin at 10 a.m., and the Fry Run at 10:45 a.m. Registration is $25 by April 15th, $30 by May 11th and day-of registration is $35.
Your safety is our priority! The Chum Run 5K will follow CDC COVID-19 safety requirements and Washington State guidelines for racing. Please visit our website for info on COVID-19 safety procedures.
Volunteers are still being sought for the event. Those interested in volunteering can contact parks program coordinator Carrie Monforte at [email protected] or 360-221-6788 for more information.
Related Events