Directions and Transportation Options from Sea-Tac Airport to Whidbey and Camano Islands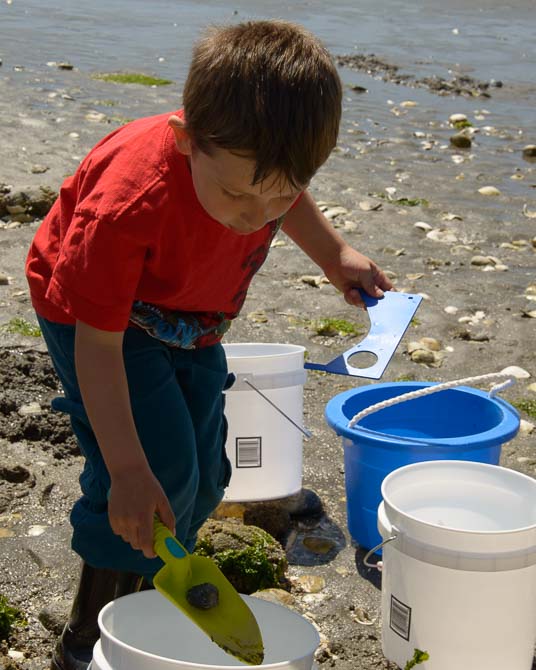 5 year-old Lukas Bas Verhulst puts a just-found clam into a bucket.
His family was at a class called "Digging for Dinner."
Visit Authentic Washington!
Stay Another Night
Before computers and jets, this region was about the sea, timber, agriculture, and farming.  Visiting Whidbey and Camano Islands gives travelers the chance to experience that slower pace.
You can visit unspoiled beaches, farms, wineries, and stay in unique lodging that enhances the experience.
On Whidbey and Camano Islands, we call ourselves, "The Shortest Distance to Far Away©." But, how do you get here?
Depending upon traffic, the ferry to Whidbey Island is about an hour's drive from Sea-Tac Airport. Getting to Camano takes about 90 minutes, but there's no ferry. Both drives are mostly straight shots up I-5 through Seattle.
Your options include shuttle buses, car rentals (including waiting to get to the island to rent) and public transit.
Air Transport


Lynk Air is a private airline offering on-demand service between Sea-Tac and Oak Harbor on Whidbey Island.  You'll need to book in advance.
Options for getting to Whidbey Island
This is a Whidbey Islanders', "insider super secret!"
Departing from Sea-Tac's gate 2 south of the baggage carousels, the shuttle offers stress-free transportation to eight locations on Whidbey Island, including car rentals (if you ask in advance). Check with your lodging to find options to get to where you're staying.
Options for getting to Camano Island
Offers frequent round-trip service from Stanwood/Camano Island to Sea-Tac Airport and downtown Seattle. Pickup/dropoff is in Stanwood. Advance reservations required.
Visit their website...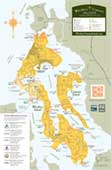 Download
our Map
Learn the island like a native. You'll find things such as:
Beaches
Best Driving Routes
Towns
State Parks

Download our Events and Things to Do
We have a handy list of some of the best things to do and top events on Whidbey and Camano Islands.