Deception Pass Bridge Painting
Summer 2019 & Summer 2020
At 83 years old, the Deception Pass Bridge and Canoe Pass Bridge are looking really good!  But, it's time for a paint job.  So, starting in May of 2019, crews will be on the job.  They'll be painting the bridge the same color it is now, Evergreen Green.
Contractors have started bringing equipment to the site and adding warning signs.  Eventually, they will close one lane of Canoe Pass Bridge from 8pm to 6 am Monday through Thursday. Other changes according to the Washington Department of Transportation, are:
Only one sidewalk available for those walking across the bridge.

Limited parking near the bridge

A containment system will be hanging from the structure (to keep paint/debris from falling into the water).

Noise day and night for those who live in or visit the area.
Construction crews will set up in the parking area north of Deception Pass (see photo).  They'll use this area to build the containment system that will be under the bridge.  They will also be using the small parking area between the two bridges.  Starting in late June or early July they'll start sandblasting the bridge.
Consider turning west at the traffic light south of Deception Pass to see the bridge.  Look for the signs that point to North Beach.  A Discover Pass or $10 parking is required.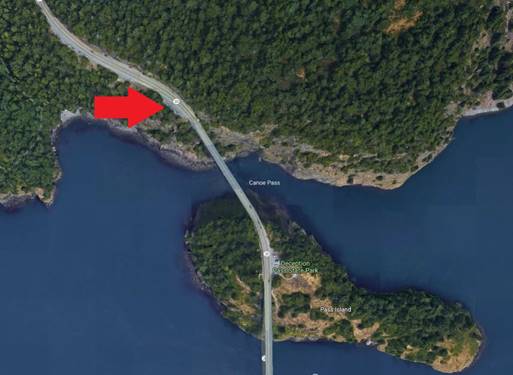 Roundabout Construction at S.R. 20 and Banta Road
Washington's DOT will be constructing another roundabout along S.R. 20, this time at Banta Road, 1.5 miles south of Deception Pass State Park. Construction is scheduled to begin May 29 and go around the clock.
The DOT says "AROUND-THE-CLOCK DELAYS EXPECTED"
Travelers should prepare for delays, especially during peak commute periods. To finish this $2.5 million project as soon as possible, crews will work 20 hours a day, six days a week through the month of June. They will build the roundabout one half at a time. Traffic control will remain in place around the clock with flaggers alternating traffic through the work zone.
To help keep traffic backups to a minimum, drivers should:
Avoid traveling during peak commutes, 6 to 8 a.m. and 3 to 5:30 p.m.
Carpool, vanpool or telework.
Save nonessential trips for another time.
The new roundabout will open to traffic before July 4, with the remaining work to wrap up in the fall
Here is when each phase of the project is tentatively expected to take place:
Wednesday, May 29 – Crews will mobilize equipment, put up electronic messaging signs and set up temporary traffic control

Wednesday, June 5 – Construction on the west half of the roundabout begins. Flaggers will alternate traffic through the work zone around the clock.

Tuesday, June 12 – Construction begins on east half of roundabout. Around-the-clock alternating traffic continues.

Tuesday, June 18 – Final paving and installation of temporary lane markings.

Friday, June 21 – Roadway will fully reopen.

Sunday, July 7 – Crews will lay down permanent lane markings. Intermittent lane closures expected.
Clinton Ferry Dock
Passenger Pick Up Area
February, 2019 into summer, 2019
Washington's DOT will be improving the passenger pick-up area at the Clinton Ferry Dock in the spring and early summer of 2019.  The changes are:
Widen Ferry Dock road so drivers no longer block the road when picking up or dropping off ferry customers.
Add a separate pick up and drop off zone, with a thru lane and pedestrian platform with a shelter and bench.
Improve sidewalks in the area and ensure that they are ADA compliant.
Include a new retaining wall on Columbia Beach drive.
Drive safely, watch for bicyclists, deer, and pedestrians.