S.R. 20 at Banta Road
roundabout is open to traffic
Contractors have finished building a roundabout at State Route 20 and Banta Road, about a mile south of Deception Pass.
Crews still must seal the new asphalt, add fresh striping and landscaping.  So, crews still have some work to do and there could still be occasional closures, but the long closures are over!

Deception Pass Bridge Painting
Summer 2019 & Summer 2020
At 83 years old, the Deception Pass Bridge and Canoe Pass Bridge are looking really good!  But, it's time for a paint job.  So, starting in May of 2019, crews will be on the job.  They'll be painting the bridge the same color it is now, Evergreen Green.
Contractors have started bringing equipment to the site and adding warning signs.  Eventually, they will close one lane of Canoe Pass Bridge from 8pm to 6 am Monday through Thursday. Other changes according to the Washington Department of Transportation, are:
Only one sidewalk available for those walking across the bridge.

Limited parking near the bridge

A containment system will be hanging from the structure (to keep paint/debris from falling into the water).

Noise day and night for those who live in or visit the area.
Construction crews will set up in the parking area north of Deception Pass (see photo).  They'll use this area to build the containment system that will be under the bridge.  They will also be using the small parking area between the two bridges.  Starting in late June or early July they'll start sandblasting the bridge.
Consider turning west at the traffic light south of Deception Pass to see the bridge.  Look for the signs that point to North Beach.  A Discover Pass or $10 parking is required.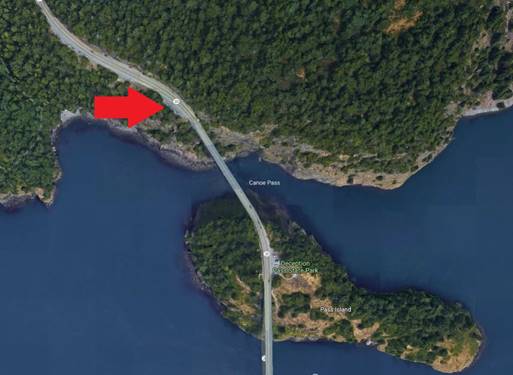 Freeland Construction between
Fish Road and SR 525
Scott Road and SR 525 is over
Contractor crews were working on a one mile stretch of SR 525 between Fish and Scott Roads.
There projects were:
Replace traffic lights to improve light visibility and timing at SR 525 and Fish Road/East Main Street by adding a flashing yellow warning light for turning traffic.
Add a warning sign and flashing light on SR 525, before Scott Road, to help people driving know when there is slow or stopped traffic ahead
Improve access at the intersection of SR 525 and South Woodward Avenue to connect people using the Freeland Trail and the nearby park and ride to businesses and bus stops on the north side of the street and instal

pedestrian-activated Rapid Flashing Beacons are up at the Woodard Avenue intersection.
Clinton Ferry Dock
Passenger Pick Up Area
February, 2019 into summer, 2019
Washington's DOT will be improving the passenger pick-up area at the Clinton Ferry Dock in the spring and early summer of 2019.  The changes are:
Widen Ferry Dock road so drivers no longer block the road when picking up or dropping off ferry customers.
Add a separate pick up and drop off zone, with a thru lane and pedestrian platform with a shelter and bench.
Improve sidewalks in the area and ensure that they are ADA compliant.
Include a new retaining wall on Columbia Beach drive.
Drive safely, watch for bicyclists, deer, and pedestrians.