North Beach is part of the expansive beach on the south side of Deception Pass west of the bridge. It's scenic, accessible, and very popular.
by Jack Penland
Our Best Beach This Month is so popular we're going to feature only part of it, and, like a great dessert, save some for later. It's the easternmost part of North Beach, in Deception Pass State Park between the Deception Pass Bridge and an outcropping known as Gun Point.
For sheer beauty and ease of access, it's hard to beat this part of the beach. While the beach is popular, those arriving early, and even better, visiting during the week, will find plenty of space to roam.
post continues below…
To Get to North Beach…
Take SR 20 north from Oak Harbor about 6.5 miles. Turn left at the light and into the park. Veer right at the fork in the road. Follow it for .5 miles until you reach the parking lot.
NOTE: Parking is $10 or a Discover Pass, good for a year at all Washington State Parks.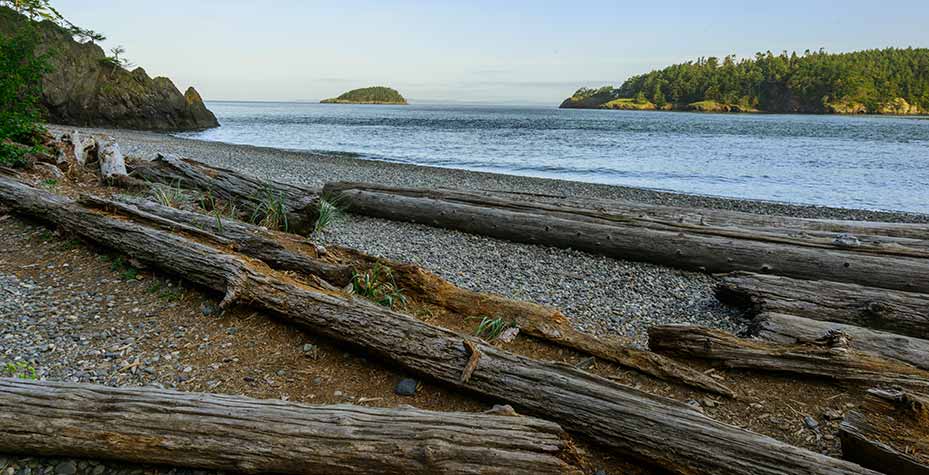 Morning comes a little late here, as the beach is literally nestled in Whidbey Island's shadow. Your early arrival will be rewarded with interplay of morning sun and shade enhancing the already spectacular views of the pass and Fidalgo Island across the way.
Iconic Deception Pass Bridge soars above you. On some days it will duck in and out of the fog and on others glow in the morning light. As the tide changes, you can watch the water flow like a river, the phenomenon that gave rise to the name Deception Pass.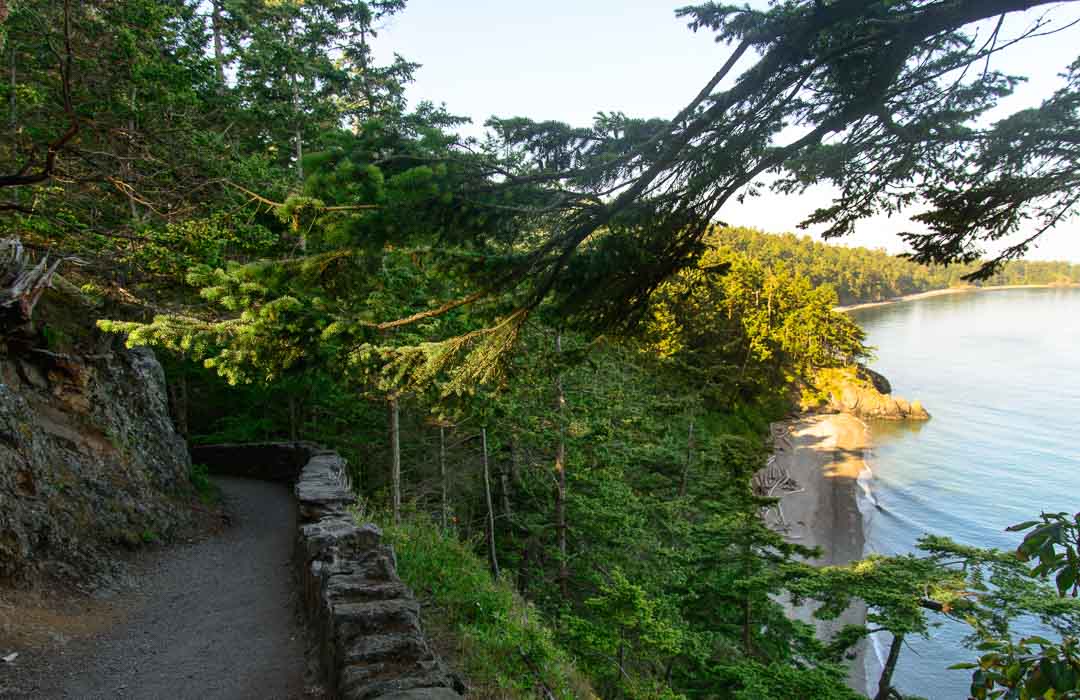 A short but "ambitious" hike takes you up to the bridge. From there you could either walk under the bridge to a trail that is level for quite some distance or you could also climb some stairs and walk across this spectacular bridge.
At the opposite end of this stretch of beach is Gun Point. To get to the rest of the beach, you'll need to head back to the parking lot and take a new trail.
It's an easy 50-yard walk from your car to the beach. There's a short downslope that runs about 30 or 40 feet taking you from the parking lot level to the beach level. You'll pass under cedar trees so big, it will take you and several friends holding hands to reach around it. Finally, there are some picnic tables and a shelter just in case your visit becomes rain "enhanced."