updated 3/6/19
by Lara Dunning
I'm standing along the edge of a fenced paddock at Wildwood Farm B&B on Whidbey Island.  From my vantage point, the fields seamlessly connect to one other and stretch all the way to the woods. Behind me, the large windows of the main house and bed and breakfast, take in the pastoral scene dotted with grazing horses. A few paddocks over, a horse watches me for a moment, before it bends its head down to munch on lush green grass.
"People love that Wildwood Farm B& B is in the country and quiet," said owner Gregg Lanza. "Some come to just relax and enjoy walking the trails in the evening. Others sign up to ride the horses, and families like the hay ride with an evening campfire and s'mores."
"People love that Wildwood Farm B&B is in the country and quiet"
-Greg Lanza, owner
Tucked onto 80 acres on a private equestrian estate, Wildwood Farms B&B is one of several accommodations whose rural setting is part of the overnight stay experience. The bed and breakfast features four rooms; three of which are en suite. The Master Suite is the largest with a queen bed, a private patio with a hot tub, and an additional queen-sized futon. The Double Suite sleeps four guests, the Single Suite two. The Bunkhouse is a great option for those who want a more rustic experience; it sleeps three and has bathrooms nearby. In the morning, everyone receives a hearty full farm breakfast, and they will cater to dietary needs.
During their stay, guests can get very hands-on with added experiences such as feeding the horses, taking a one-hour trail ride and a professional riding lesson. This spring and fall Wildwood is offering lessons on how to hunt edible mushrooms.
People can also enjoy the pastoral setting their own way by strolling the property's trails or observing farmhands and horse trainers at work. If you are interested in other things to do on Whidbey Island, like kayaking, whale watching or an in-room massage, Wildwood Farms B&B has a wide range of packages to add to your vacation.
Lavender Wind Farm
Set on nine acres of a working lavender farm, Lavender Wind Farm, has views of Puget Sound and the snowcapped Olympic Mountains. During the season, the farm is open to the public and visitors can walk through the flowering fields, harvest their own lavender, purchase plants and cut flowers, and learn about drying, harvesting and distilling lavender oil.
Guests staying at the farm have a private room inside the main house, which has a great room with a shared living room, kitchen and a large deck. The guest room features a queen size bed, a private bathroom with a double sink, and a private deck. One of the highlights – panoramic views of purple lavender fields and beyond the sea and mountains.
Rows and rows of color at Lavender Wind Farm
Six Unique Rural Stays
on Whidbey Island
Escape from the Daily Grind on Rural Whidbey Island
If this has got you thinking about other unique accommodations on Whidbey Island, here are our recommendations. All you need to do is hop aboard the Mukilteo ferry or the Coupeville ferry or drive over Deception Pass Bridge, grab a Whidbey Island map to discover its back roads and you're set for your rural adventure.
See All of Our Hotels, Motels, B & B's, and More!
---
A springtime cutie at Glendale Sheperd
Glendale Shepherd
Glendale Shepherd is a three generation family farm and creamery that makes a variety of cheese and yogurt from sheep milk. Their 80 acre farm is a mix of forest and hills with pasture, meadows and trails. To sample their cheeses, visit the cheese shop on Saturday and Sunday from 11 a.m. to 4 p.m. If you want to stay at the farm, a spacious studio apartment is next to the creamery. The room features a queen sized bed, a siting area with sheep wool throws, a full kitchen with a small dining area and a bathroom with a shower. Guests can hike the trails, walk to the beach, and check out the farm animals. If you visit in February, you'll have the opportunity to see the next generation of lambs. If camping is more your style, they have a seasonal camping site that comes with a shared outhouse, an outdoor shower, a covered deck with a sink, and a fire pit. Keep in mind that everyone is very busy, so don't expect a lot of interaction. If you do want do know about the inner workings of the farm, sign up for a seasonal 60-minute guided tour.
Maxwelton Aerie Alpaca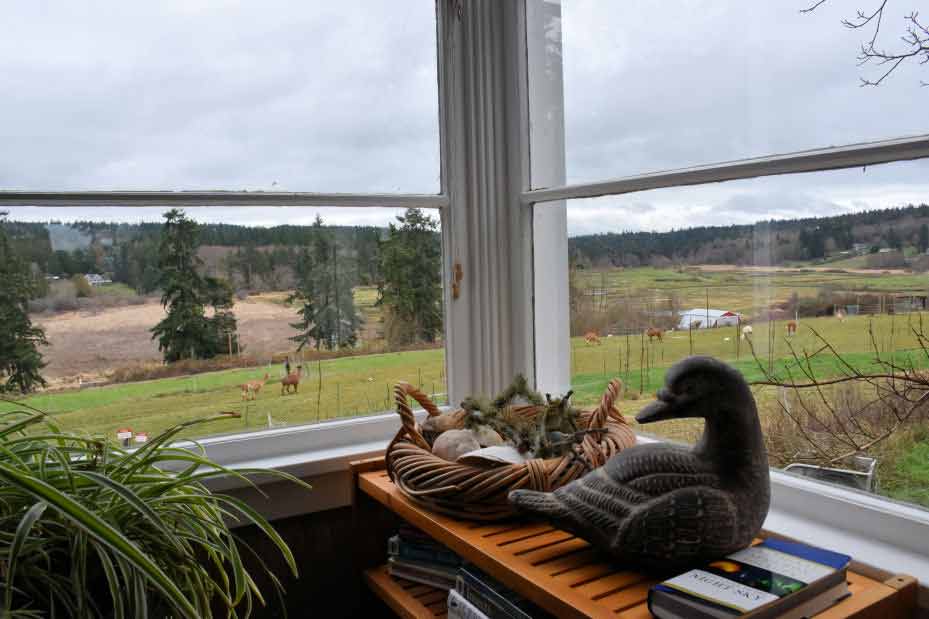 Perched on a bluff overlooking the water, Maxwelton Aerie Alpaca is a 1930s Cape Code style farmhouse. Surrounded by 25 acres of grassy slopes with grazing alpacas and panoramic views of Useless Bay and the Olympic Mountains the house is very secluded and offers an idyllic escape with sunrises, sunsets and wildlife watching opportunities. The farmhouse features four rooms and sleeps up to 12 guests. It comes with everything one would want in a holiday rental such as a full kitchen, a living area with a gas fireplace, a dining area with a view, outdoor patios, a large yard, board games and beach toys, private access to the beach, and more. To spend some time with the alpacas and feed them, arrange for a time with the caretaker. They always keep a bag of carrots on hand for such an experience!
Someday Farm Vegan Bed and Breakfast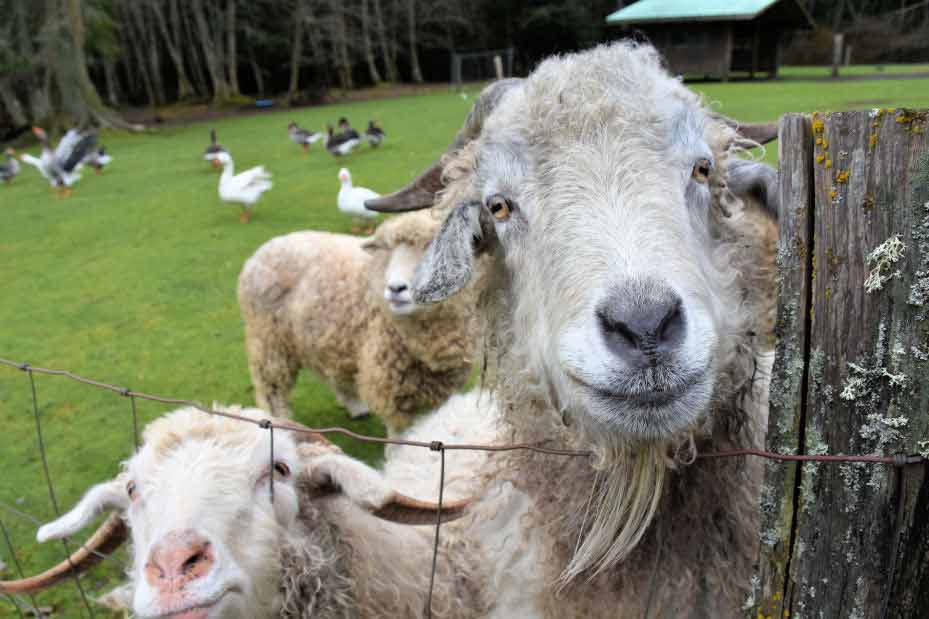 Vegans, Someday Farm Vegan Bed and Breakfast is going to make your Whidbey Island escape both a pleasure and super tasty. Set on 70 acres of pasture and woods, guest quarters are in a centralized cabin-style building steps away from a pen filled with quacking geese, and curious sheep and goats. The roomy suite has a queen bed, a cozy living room, and a full kitchen. Everything is accented with unique artistic details, many from Whidbey Island artists. In the morning, breakfast arrives at your doorstop, and includes many extra vegan morsels to last throughout the day.
The property also has camping spots and a funky bus with bunk beds. For guests that choose these options, there are men's and women's bathrooms as well as a communal kitchen and covered picnic area with a fire pit.
While there are no dedicated activities with the animals, guests are free to snap photos and watch them as they go about their day. The miniature horses and donkeys are favorites.
Comforts of Whidbey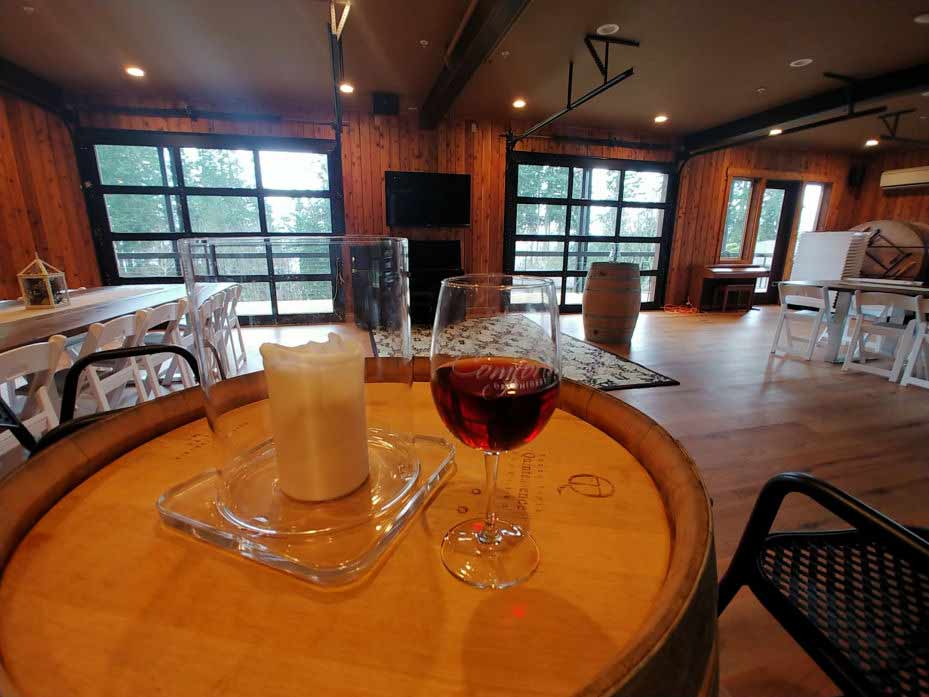 Comforts of Whidbey is both a winery and a bed and breakfast. Their rustic industrial tasting room overlooks an expansive grassy yard with rows of vineyards and fields with cows, alpacas and llamas. The tasting room is open daily, and wine lovers can sample their wines with a view of the water. They also serve cheese trays, have occasional live music, and in the summer, heat up the oven for savory wood-fired pizzas.
The luxury bed and breakfast is above the winery tasting room, and features six rooms with either a pastoral or water view. Each tastefully decorated room has a king bed and wine themed accents. Guests share a living area with couches and chairs and views of the farm and vineyards, and a kitchenette stocked with select dishes and wine glasses. In the morning, a full breakfast is served downstairs in the tasting room. When it comes time for wine tasting, be sure to try their Whidbey Island grown pinot noir.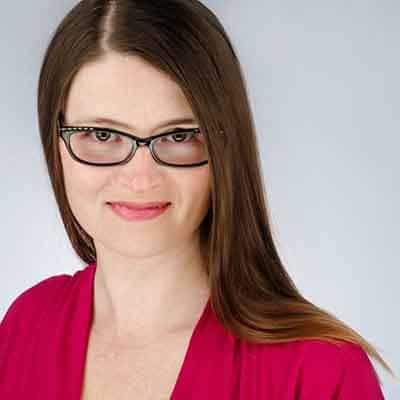 About the Author: Lara Dunning has a serious passion for small towns, history, food and light adventure. She has over 100 published travel articles, and on Small Town Washington & Beyond she shares her stories about small town traveling.
Discounts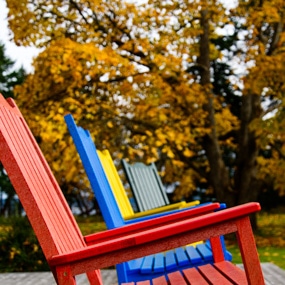 Check often for special
deals and discounts.
Read more…
Itinerary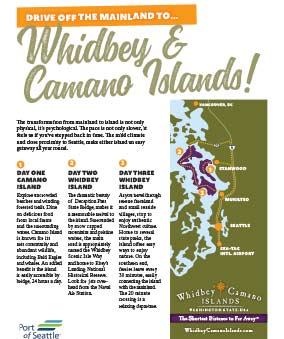 Restaurants