The Heart of a Soldier

by Lara Dunning

I'm admiring the love locks at "The Heart of a Solider" on the corner of THE LOFT on Fidalgo & Dock. The padlocks, fastened to a chain link fence in the shape of a heart, are different shapes and colors, and engravings include notes of love and gratitude.

You might already be familiar with the love lock tradition. It is believed to have started in China, and now, in countries all over the world, there are designated areas for people to lock their love. What you might not know is that the location in Oak Harbor, the premier naval base in the Pacific Northwest, has a twist on this enduring symbol of love, for the locks at "The Heart of a Solider" are dedicated to the men and women who serve our country.
"I hope it touches the hearts of people"
- Annabelle Rockwood
project founder
"I hope it touches the hearts of people," said Annabelle Rockwood, founder of "The Heart of a Soldier" and owner of THE LOFT, "and gives them a place to reflect on what the military does for our country."
Annabelle is very familiar with all that the military does for us. Her father was in the Navy, she grew up in Oak Harbor, and her son is in the U.S. Army. Last year, he was deployed to Afghanistan for the first time, and the experience raised plenty of emotions. That is when "The Heart of a Soldier" was born.
In September, the heart-shaped chain link structure went up on the newly renovated 1937 Feed & Seed building. To help spread the word, she gave away 100 padlocks, and Custom Engraving & Embroidery donated 100 custom engravings. Anabelle put up two padlocks; one for her son, and one for her son's wife, who is also in the military. 
"Everybody has a story to tell," said Annabelle, "and when people put up a lock, lots of tears are shed."
During my visit, she surprises me with my own padlock, and when I think of what it should say, and who it should be for, my mind draws a blank.
The padlocks at the "Heart of a Solider" are for
the men and women who serve our country.
Want to Leave a Love Lock?
Buy a Lock

Buy a padlock at your store of choice.

The Engraving

Drop it off at Custom Engraving & Embroidery on 919 Ault Field Road and fill out a form with your wording. Engraving takes 2-4 days, depending on what orders they have. If you need a quicker turnaround time, give them a call.

Bring in Your Lock

Take your engraved lock to THE LOFT on Fidalgo & Dock on 715 SE Fidalgo Ave. and lock it to "The Heart of a Solider."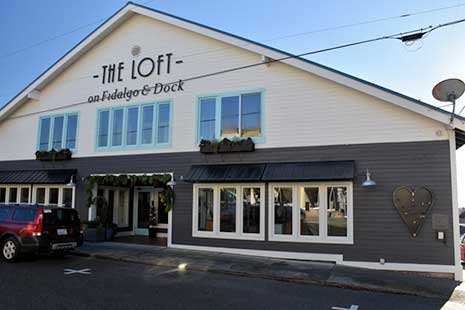 ---
When I first met Annabelle, she asked me if anyone in my family was in the military and without thinking I said no. Soon after, I realized my mistake.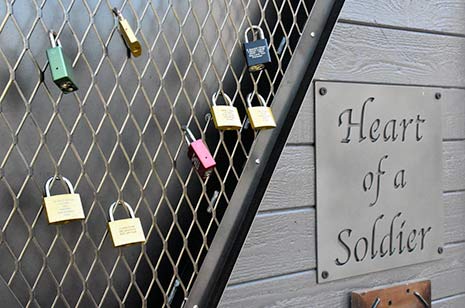 My grandfathers and most of my relatives from that generation, men and a few women, served in WWII. A couple of decades ago, a cousin served in the U.S. Marine Corps. Even though it hadn't affected me directly, the military played a role in my family's life and, with over one million people serving in the U.S Armed Forces, I'm sure many others can say the same.
By this point you might be asking, who is my padlock for?
My step-grandfather, Col. Felix G. Millhouse.
He served in the U.S. Army for 33 years, and last year he passed away. To honor his memory, I surprised my step-mother with his engraved lock. As she secured it into place next to the other locks, it felt like the perfect way to thank him and those that choose to serve our country.
And yes, a few tears were shed, too.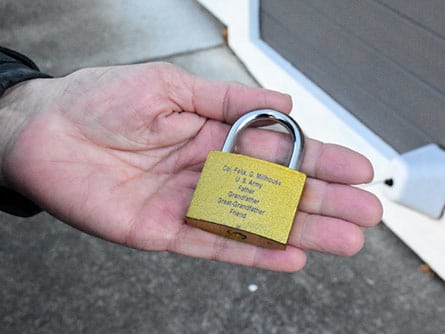 Want to learn more about the military town of Oak Harbor?
Visit The PBY‒Naval Air Museum, which is a short walk away from "The Heart of a Solider." Be sure to check out the outside exhibit to see the PBY-5A Catalina named Gigi.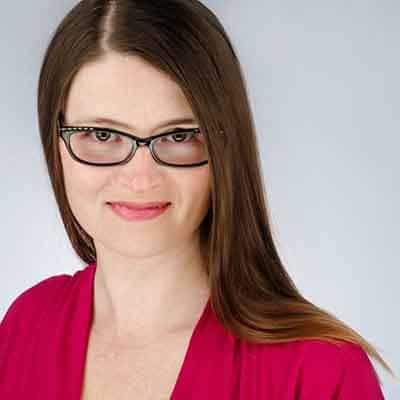 About the Author: Lara Dunning has a serious passion for small towns, history, food and light adventure. She has over 100 published travel articles, and on Small Town Washington & Beyond she shares her stories about small town traveling.