Kayaking Around Whidbey & Camano Islands
It's amazing how different the world looks from a kayak.  Push off and you've entered a world that can't be duplicated any other way.  You gently dip your oar into the water and, if it's your first time, test yourself against the water, feeling it's resistance.  As you paddle, you look up past your kayak and look back towards the shore just 15 to 20 feet away.  You see the waves break against the rocks or the beach.  Unlike most boats, in a kayak, you're practically in the water, and you sense you're part of the water.
Tour Operators and Rentals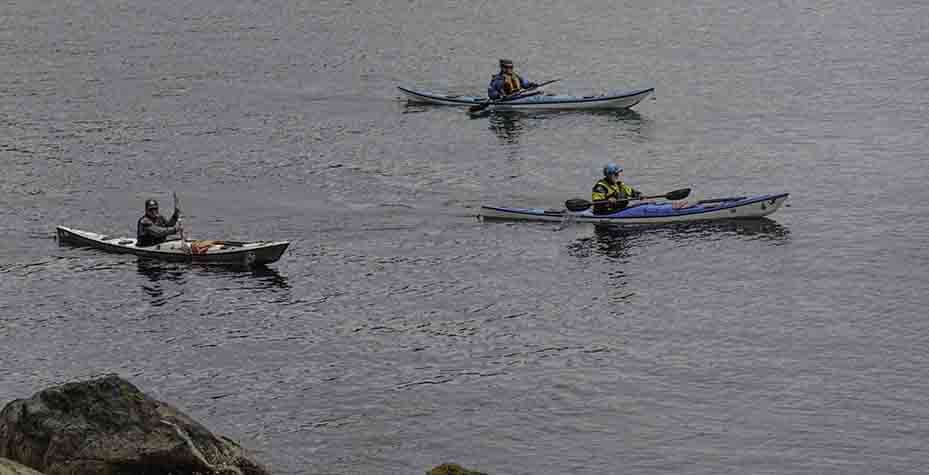 Unless you're experienced, you go parallel to the shore where the water is more likely to stay calm.  Besides, that's where the interesting stuff happens.
First timers and even those with only a few trips worth of experience, should be heading out with a guide.  Those puffy clouds may have some ugly friends. And, who knows how the current will change around that point up ahead.  With waters hovering at 52 degrees Fahrenheit, having kayaking experience or traveling with a tour operator is suggested. Tides, currents and weather all play a factor in getting around Whidbey and Camano islands.
Around here, you're likely to see wildlife; a heron, or maybe an eagle.  Harbor seals may peak out of the water at you, or watch you from shore.  Sea lions are around, and even orca and gray whales. Near the shore, look into the water, you might spot a Dungeness crab or other sea life.  Traveling in silence is a great way to get up close and personal with the wildlife that resides in, plays in and travels through the waters in Island County.  Just remember, you're in their world, now.
You'll also see the water side of some pretty amazing houses, along with the bluffs that give our islands its special character.
While kayak owners can launch from any of the region's boat launches, the best locations are Langley, Coupeville, Oak Harbor, Camano Island State Park, and Cama Beach State Park.  These are launches that are relatively sheltered and with people around.  The west side of Whidbey Island should be left to the experts.  That side of the island is exposed to open water, big shifts in weather, and currents best left to the experts.
Whidbey and Camano are on the Cascadia Marine Trail, a 150-mile water trail from Olympia to Point Roberts designated as one of only 15 National Millennium Trails by the White House. There are 60 campsites to visit along the way, with six in Island County.