Canopy Tours Northwest is a fun-filled zip line tour through the trees of Camano Island.
Imagine hurtling through the trees of the Pacific Northwest, flying like a bird and getting a view of the forest once reserved only for birds! That's what it's like as experienced and careful guides show you through the zip line experience.
The zip line operates year-round, giving people a chance to experience the many moods of the forest.
You're flying through a spectacular forest located on the historic Kristoferson Farm, which has been operating on Camano Island for more than 100 years! This island treasure is, by itself, a reason to come visit.
You'll experience:
A ride in a historic Unimog forest vehicle
6 zip lines (150 to 660 feet long)
A log bridge
2 short trail walks
A 47-foot final descent (uses a constant velocity device that does the work so you float down smoothly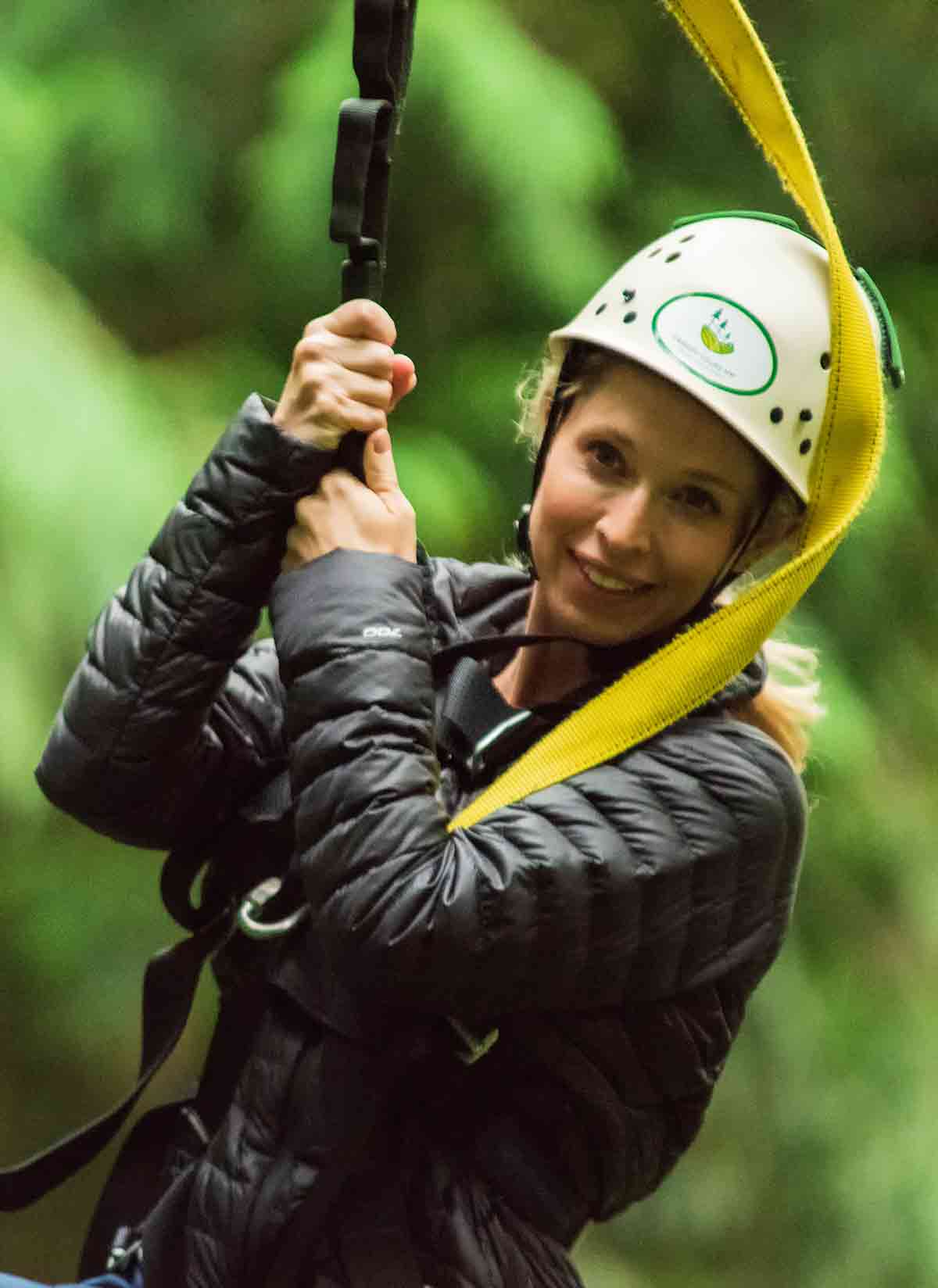 Tours of Kristoferson Farm are a Soaring Experience
Adventure the whole family can enjoy awaits on Camano Island where a farm that's been in the family since 1912 now has a distincly 21st century attraction; a zip line.
by Jack Penland
At first glance, Camano Island's Kristoferson farm looks much like any other farm in the area. A large red barn overlooks rolling fields of hay, there's farm equipment, and sometimes, like any other farm, passersby see equipment working the fields.
But looks can be deceiving. Visitors looking to find cows and sheep in the lofty Swedish barn instead find helmets and harnesses. And those aren't the lows of cows heard on the farm, rather the shouts and whoops of excitement in the woods.
The whoops come from those enjoying the unique family adventure created at the Kristoferson Farm; Canopy Tours NW, a zipline course suspended in the trees.
Six ziplines, a log bridge and a 47-foot final rappel are what await those ready for both an adventure and a learning experience. Thousands of visitors have donned helmets and soared through the canopy since Canopy Tours NW's operation began.   The farm part of the operation in 2014 won the Washington Association of Conservation Districts Wildlife Farm of the Year award for their conservation and wildlife habitat restorations.
The great part about this adventure is that there are no real physical requirements needed to enjoy the adrenaline rush.
story continues...
Engineered for Safety
The zipline experience is engineered for safety and can be easily done by people who are a little out of shape, said Mona Campbell, who oversees the zipline and is part of the fourth generation of Kristofersons to own the farm since 1912.
"Ziplining takes you a little bit outside of your comfort zone," she said, but added that it's more than just an adventure. "We're sharing our home here and we want to feature our sustainable timber and agriculture and highlight the beauty of Camano and the Pacific Northwest forest."
She said the family has learned much more about the unique beauty of the area while working on the zipline project.
"We are just so fortunate to have this beautiful piece of property with diverse habitats. The tour takes you over a creek and into some more open areas. Each line is a little bit different.You sort of get this progressive experience, and that's one of the things that I love about the tour."
Along with amazing photos and videos, Campbell said she hopes that visitors will leave with a "real appreciation for the natural environment that we have here in the Pacific Northwest."
"It's such a unique place, there's no way it couldn't be a unique experience," she said.
The tour operates year-round, giving return zipliners a chance to see how the forest changes from season to season.
To get to Canopy Tours Northwest: Take I-5 north from Seattle/Everett or south from Bellingham/Vancouver B.C. Turn west at exit 212 on to SR-532. Travel 12 miles bearing left at Terry's Corner to Kristofferson Farm and Canopy Tours NW.