by Jack Penland
All too often we travel somewhere only to eat at restaurants that are very similar to what we have at home.  We're torn between the desire for a new experience and the need to be comforted by the familiar.
But what if you made food exploration the central idea of your trip?  Then, it doesn't make any sense to head to those chain restaurants or drive-through burger places.  But, that kind of exploration takes a little planning, and that's what this guide is for.
In part one, we offered up a two-day itinerary on Whidbey Island that was all about the food experiences in the north part of the island.
Now, we continue heading south for another round of exploration and education.
Oh, and coming soon, a food trip to Camano Island.
"What if you made food exploration the central idea of your trip?"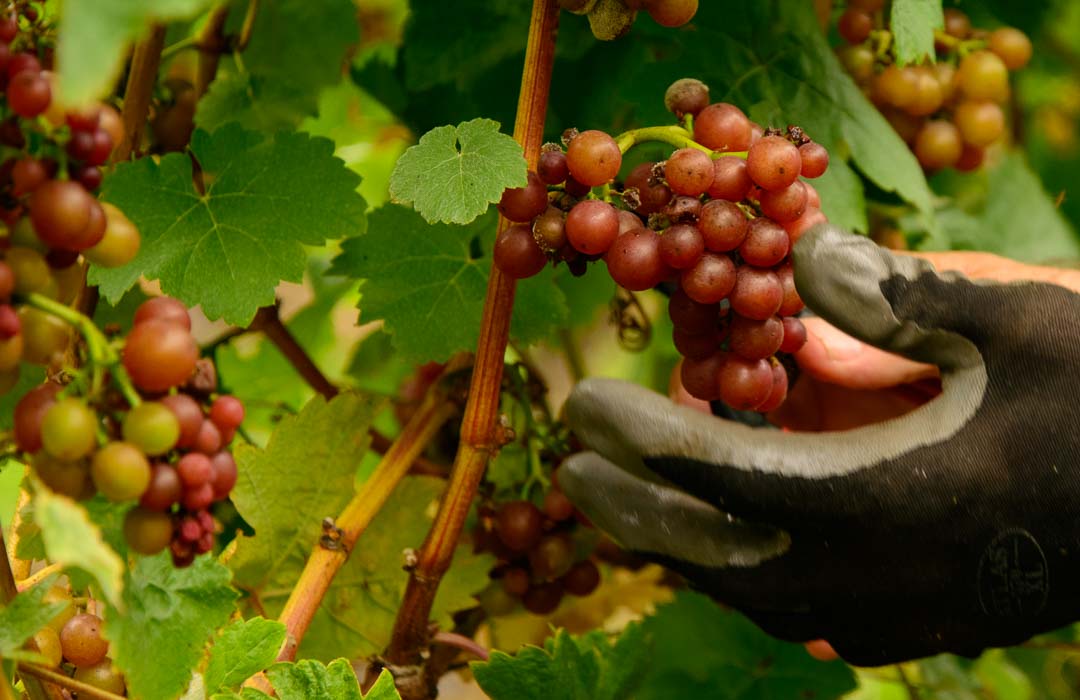 Harvesting wine grapes
on Whidbey Island
Day Three
From Coupeville, we head south to  Greenbank Farm.  The farm is no longer a working farm.  Instead, galleries and small shops occupy the buildings that were once part of the farm and the main barn is used for weddings and community events.  The food-lover is going to want to stop at Whidbey Pies and Cafe for lunch.  And yes, you can just skip the main part of lunch if you want and go straight for the pies that are made by hand right on the farm.  Their flagship pie is the Loganberry Pie.  The farm was once one of the largest growers of Loganberries and they're still an island favorite.  But all their pies feature local or regional ingredients.  The blueberry pie is made with blueberries grown at Mutiny Bay Blues, in Freeland, which just happens to be our next stop.
Mutiny Bay Blues is a relatively new farm, with acres of blueberries set in a wide valley that you can see from the highway.  When the berries are ripe, you can stop and buy some fresh from the farm.
There is another option, however, and that's our first distillery of the trip, Mutiny Bay Distillery, located right next to the blueberry farm.  And yes, they make a liqueur from the blueberries.  Hmm, blueberry pie and a blueberry liqueur.  Sounds like something to take home.  Their tasting room offers a low-key tour through a half-dozen or so spirits and a look at their still, which is right on the property.  Go slow here and make sure your driver abstains, because you're also in the wine region of Whidbey Island!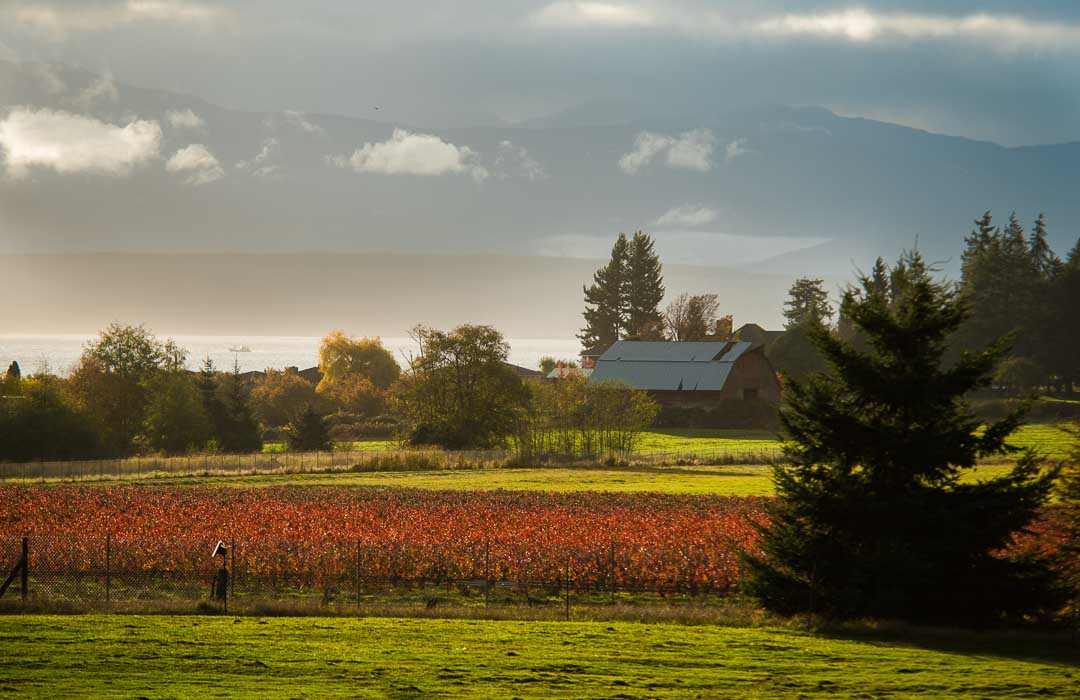 After harvest the blueberry
bushes glow red at sunset.
You won't be able to stop at every great winery and tasting room at this end of the island, but that's always an excuse to come back another time.
On this trip, let's stop at Holmes Harbor Cellars.  They make a wide variety of reds and whites, on their 20-acre estate and they always seem to be trying something new.   The winery has a great view of Holmes Harbor and you'll be tempted to spend the afternoon there.  But, stay the course, we have more exploring to do!
From there, let's head to the bunker.  That's the nickname the owners of Whidbey Island Distillery gave the partially-buried building that serves as both their tasting room and production area.  One special item makes this stop something that is not to be missed.  Their blackberry liqueur was awarded the prestigious Platinum Medal (98 points) by the Beverage Testing Institute and is the single highest rated spirit of any kind in North America and among the top rated in the entire world!  They don't use a distributor, so it's sold only regionally and in just a few stores.  Be sure to view their production room and the stills that are some of the most unique in the world.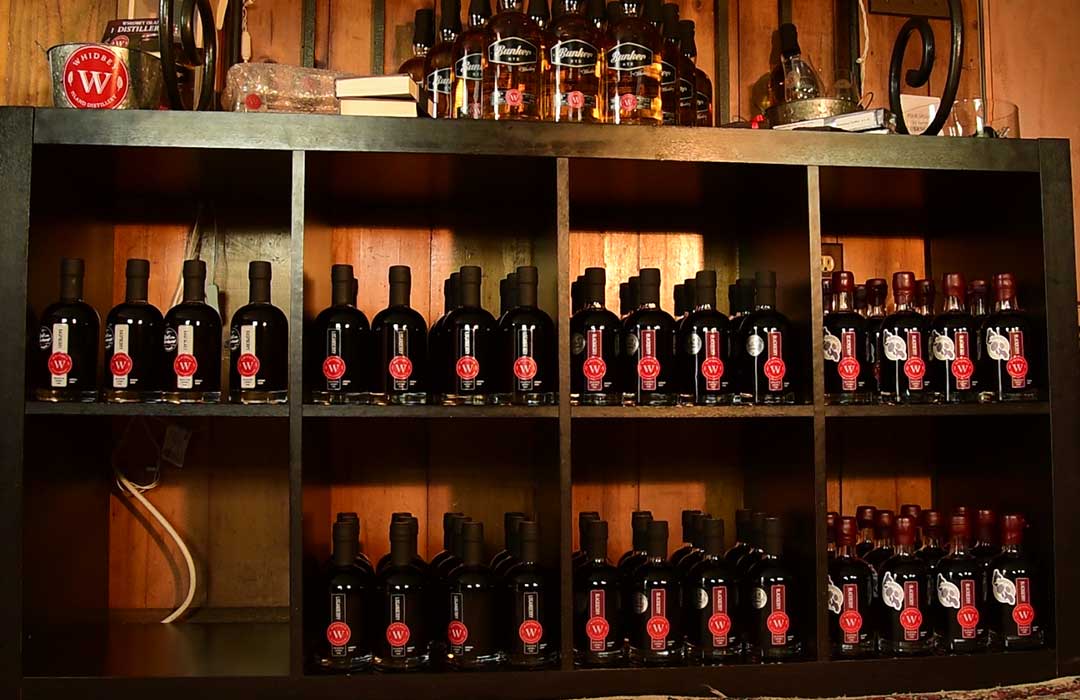 The spirits for sale
at Whidbey Island Distillery
From there we head to the beautiful Spoiled Dog Winery.  Their 2017 Escape Blanc won the 2017 Platinum Best of the Best of the NW in the Gold Seattle Wine Awards.  They have several other award-winning wines as well.  While there, be sure to ask about their commitment to sustainability.  Their work in this area is quite good and is your opportunity to learn.  And yes, there are some very spoiled dogs at Spoiled Dog Winery.
It's now dinner time and you have choices.  This is where you need to have planned ahead and made reservations.  For tonight you need to choose between the Orchard Kitchen and The Inn at Langley.  These are two dining experiences where the respective chefs will lead you on a gastro-tour through a multi-course dinner of their choosing.  So, everyone eats the same dinner, and are seated at the same time.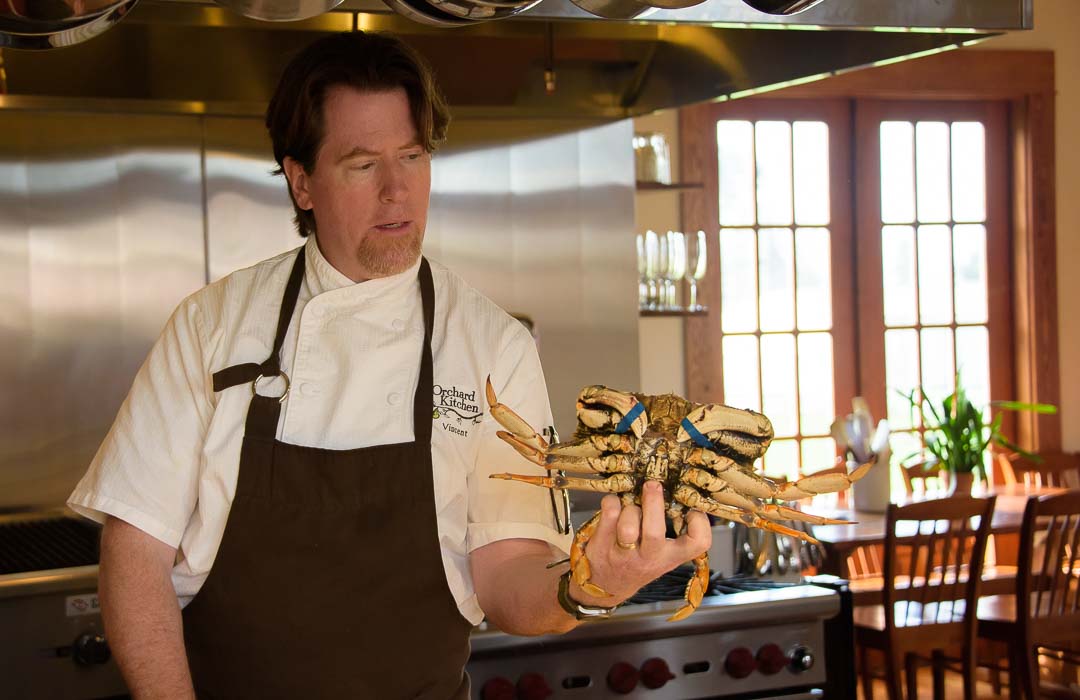 Chef Vincent Natress shows
the safe way to hold a live crab.
Chef Vincent Natress, the owner of the Orchard Kitchen has taken the farm to table concept to a new level by buying the farm next door to the restaurant.  He's a Whidbey native who left, made a name for himself in Napa Valley, and returned home with his wife Tyla to bring a Napa-style experience to his home island.
Chef Matt Costello of the Inn at Langley is a local legend.  He prepares and introduces each course from a stage-like kitchen as he presents his curated tour of northwest regional food.  Taking a dinner/tour with Chef Matt should be on every food lover's bucket list.
Both chefs will take the entire evening, stretch your palate and leave you full, satisfied, and more knowledgeable about food.  In the winter Chef Vincent takes education a step further by offering cooking classes.
If this style of dinner doesn't quite fit your style of eating, then Gordon's on Blueberry Hill in Freeland is the perfect choice.  It has a wonderful view of Holmes Harbor and Chef Gordon Stewart is ready with a full menu from seafood to steak.  Locals come here for special occasions like  birthdays and anniversaries.
Day Four
You can play the next morning one of two ways, depending on whether or not you want to sleep late.  If you'd like to burn off some of the calories you've been eating, and if you make reservations in advance, you can go kayaking.  The marina is essentially in downtown Langley and Whidbey Island Kayaking can take even the most inexperienced kayakers out on a tour.  Be sure to dress appropriately.  Mornings are cool and you're out on the water.
If breakfast is a priority, then either Useless Bay Coffee or the Braeburn in Langley will be your choice.  They're about 50 yards from each other, so they're equally convenient.  Useless Bay Coffee roasts their coffee right on the premises and the Braeburn features fresh organic ingredients.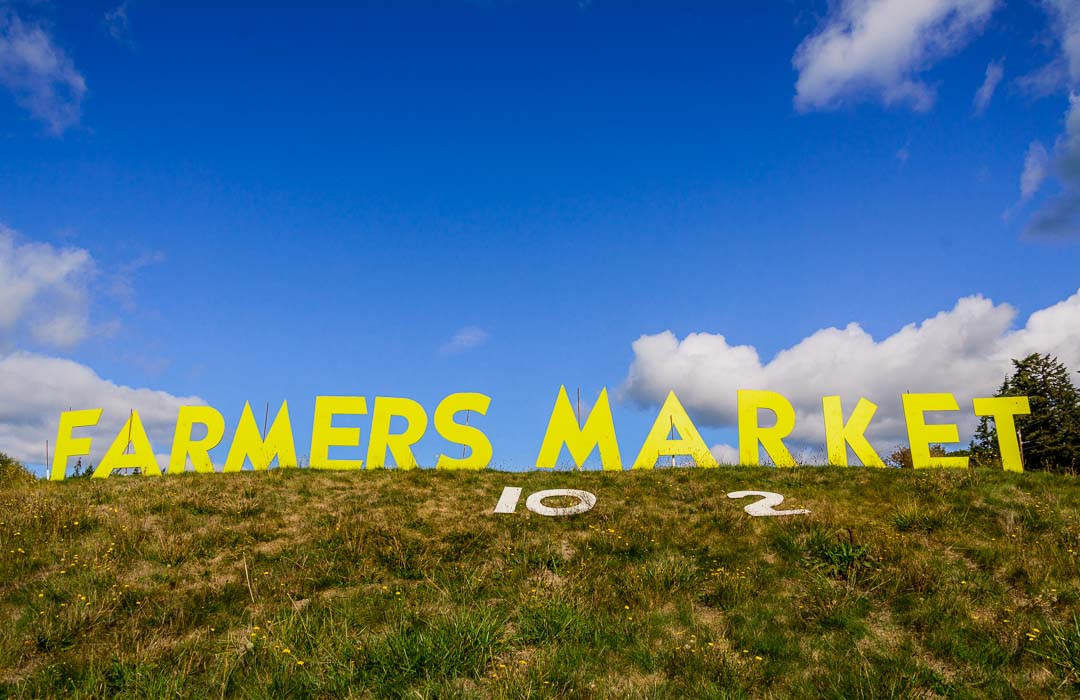 There are several farmers
markets on Whidbey Island.
Depending on the time of year you visit, you probably have the chance to visit one of the many farmers markets that run from May through October.  Be sure to stop and shop one of these markets.  Talk to the growers about the produce and what they're growing and why.  Ask how they cook with those ingredients and what works best.  Farmers markets are not just filled with goodies to eat, they're filled with people eager to share their knowledge about growing food in a sustainable way.
There are also the farm stands on the island and the guide I mentioned that's available for download here…  South Whidbey is filled with small farms and stands.  One that's a bit different is Glendale Shepherd.  They raise sheep and produce award-winning cheeses from sheep milk.  Their Island Brebis, is a 2014 Good Food Award winner and is a must-try.  Their cheese, along with lamb, is sold at area farmers markets as far away as Seattle's University District and West Seattle.
It's a bit of a drive to get to their farm, but the drive is a great chance to explore the south end of Whidbey Island.  Don't worry too much about getting lost.  On an island, if you drive long enough, you find either a beach or the main highway.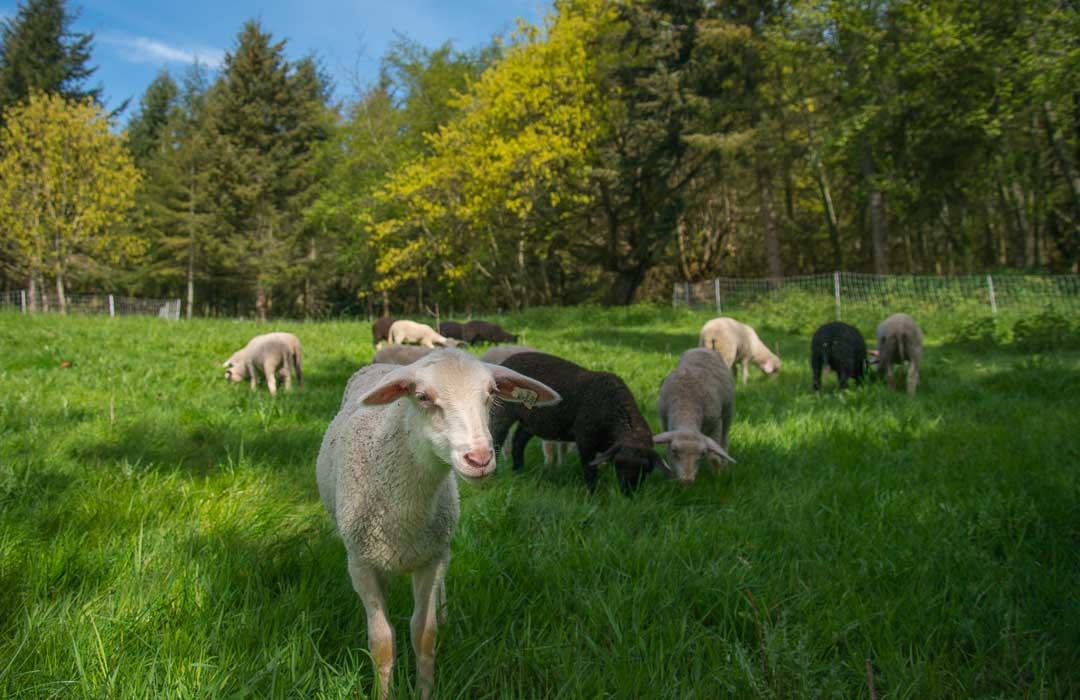 A meadow of sheep
at Glendale Shepherd
As you've traveled the island, you've probably seen signs saying, "Whidbey Island Grown."  These are farms and restaurants that work hard to give you an authentic taste-driven experience.  In late September and early October, they celebrate Whidbey Island Grown Week, 10 days celebrating local products and the people who make them.  Many of the farms are open to the public during a portion of that week.
Somewhere in here, you'll want to work in lunch.  The farmers markets are often filled with great things to eat.  But if you want something simple, yet memorable, head first to Clinton and the stores at Ken's Corner.  Almost next to each other are two casual eateries, the Whidbey Island Bagel Factory and Pickles Deli.  Order to go and unless the weather is really frightful, let's head to the beach!  You've spent all this time on an island and you're probably wondering, "where are all the beaches?"
Get directions to either Maxwelton Beach, Double Bluff Beach or the marina in Langley.  All have picnic tables and great views.  Breathe in the salty air and chow down on a sandwich or a bagel.  Some quiet down time at the beach is as authentic as it gets!
If you're not in the mood for an impromptu picnic but still crave some comfort food, Clinton still has you covered with Cozy's Roadhouse and Island Nosh.  Cozy's doesn't just have the perfect name for comfort food, they deliver the goods.  From spaghetti to nachos to ten different hamburgers!  Island Nosh counters with a killer mac and cheese, including one with crab.  Other dishes range from Thai Yellow Curry to späetzle and bratwurst.
For your last afternoon on the island, let's find some more adult beverages, shall we?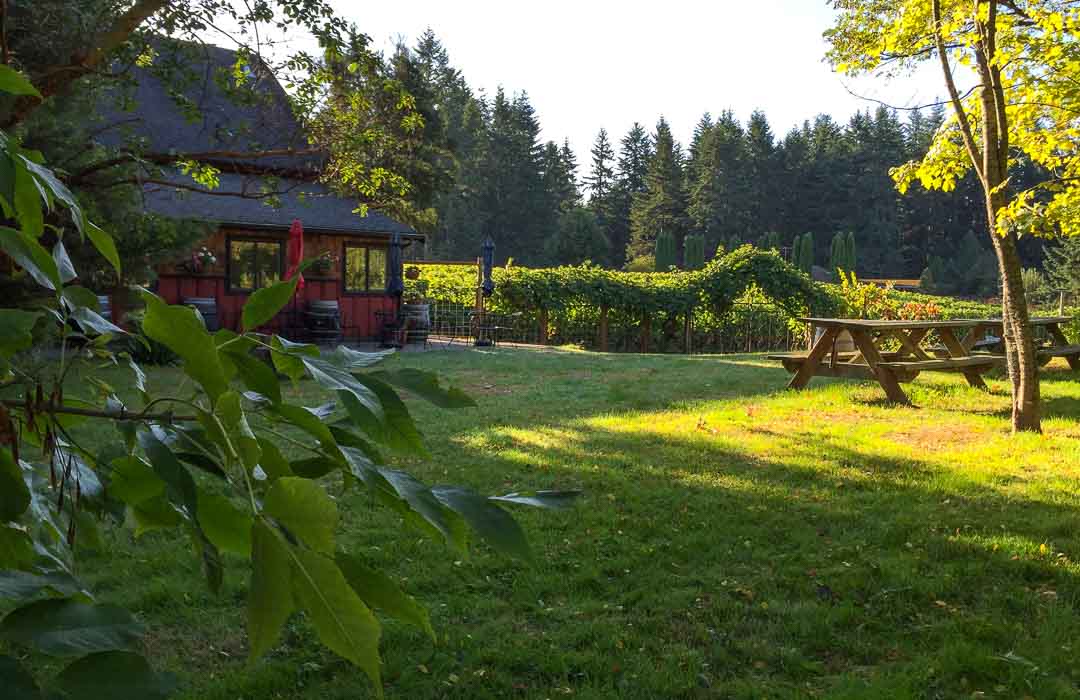 Whidbey Island Winery
The island's first winery.
In Clinton.  Cadeé Distillery features several whiskeys and gins, including a whiskey that is a double gold medal award winner at the Women's Wine and Spirits Awards in London in 2018.  It's a long day, so make sure the driver sticks with water or soda, because up next is a winery, Comforts of Whidbey.  You'll drive past their grapes on the way to the tasting room.  Likely, the llamas will watch with interest as you drive in to the tasting room.  Be sure to sample their estate white wines.  They've been recently experimenting with a sparkling wine that could become a special treat, once you get home.
And finally, we save the first for last.  Whidbey Island Winery is the place that started it all.  Greg and Elizabeth Osenbach planted their first grapes in 1986.  In 1992, they opened the winery with 400 cases of wine and proved the island was not too rainy to grow wine grapes.  Take time to look around the grounds and the vineyard.  From those, they make their Madeleine Angevine, their Island White NV, and more.  They also use grapes from around the region to make many other wine as well.  An authentic winemaking experience that Whidbey Island Winery and other wineries offer in the fall is helping bring in the harvest.  It's real work, but there's often a harvest celebration afterwards.
The day is nearing its end, and you've likely bought a few bottles of wine to take home.  But something is missing!  Chocolate!  Head back to Langley and Sweet Mona's Chocolate Boutique.  A few bites of her Creamy Dreamy Fudge or truffles and you'll have your chocolate fix for a month, but only if you buy enough to take home!
It's dinnertime once again, and we return to Langley to the Prima Bistro.   Its French-inspired northwest cuisine changes with the season.  When the weather is warm, the outdoor patio above first street is a must.  If you're craving seafood, then try The Saltwater Fish House and Oyster Bar, instead.  It has a large assortment of oyster and clam entrées.   Both restaurants will give you a real sense of northwest cuisine, and fresh seasonal vegetables, paired with local seafood.  Prima Bistro takes reservations.  Saltwater Fish House does not.
And that does it for your trip.  If you missed the first part, be sure to check all the food-related things to do on the North End of Whidbey Island here.
If you've asked enough questions of enough people, you'll know by now that there are even more great places to eat.  From fine-dining to casual and in-between, there are a lot more ways to express appreciation for food around here.  So, note what you missed, remember what other suggestions people gave you, pick a different season, and come back and try it again with your own list of must-eats!