When driving around Whidbey and Camano, have your camera ready!
by Jack Penland
Nature photography is supposed to be hard. To capture that perfect shot means traveling to exotic locations, hiking for miles, sleeping on the ground and enduring freezing temperatures and giant mosquitoes at the same time. At least, that's the image.
We're featuring on our website a video by Craig Johnson who, along with his wife Joy, have photographed birds on the islands for years and have produced books and videos on the subject. Craig isn't as mobile as he used to be, and in the video he uses that problem to highlight that on Whidbey you can go bird-watching by car.
I can't agree more, and in doing so I need to "confess" the story behind this picture. I spotted this guy while driving around killing time before an appointment in Coupeville. I pulled off the road, turned off the ignition, rolled down my window, took the camera off the front seat floor and started shooting. I used the window frame of the door as a support for my arm holding the camera.
I took a couple dozen shots before we both tired of this wildlife shoot and he flew away.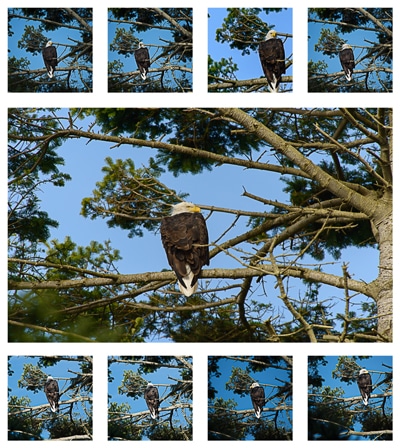 So, there it was, one of the icons of wildlife photography tucked safely inside my camera, and I never got out of the car. In fact, I never unbuckled my seat belt. No backwoods hikes, no backpacking of gear, no dehydrated food or power bars were needed for this wildlife photography encounter.
I'm not saying it's going to happen to you, and I don't expect it to ever happen to me again. But, there's always a chance.
So, when you come to Whidbey or Camano Island, take some time to look for the wildlife, because it's there to be seen, and photographed.