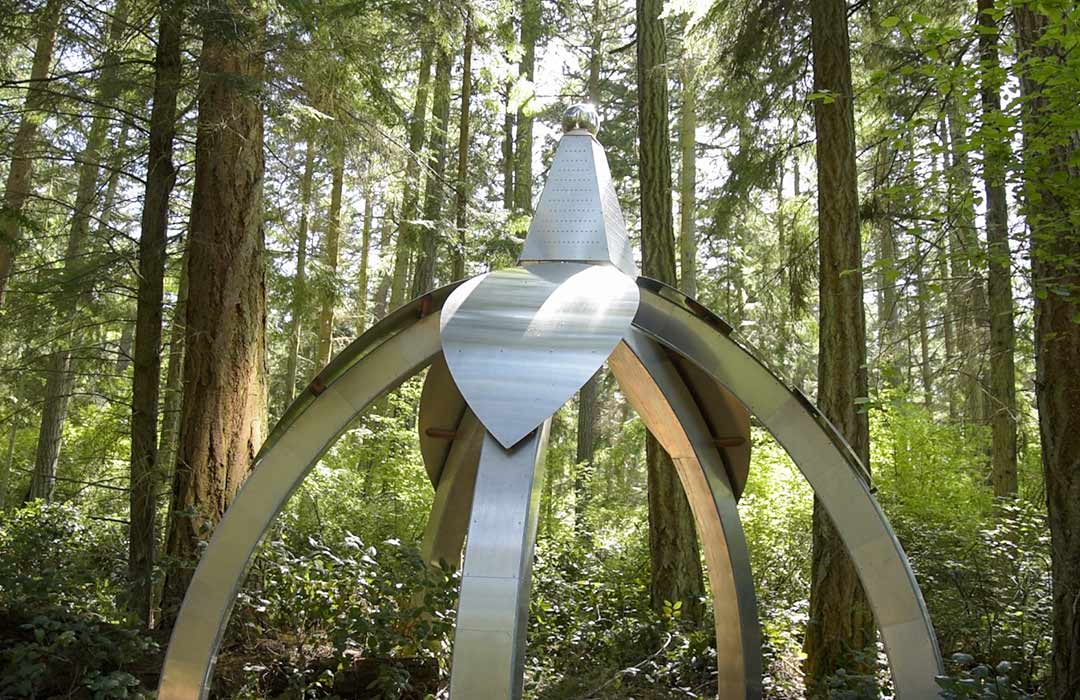 ---
Where art and nature complement each other
By Jack Penland
Scott Price dared himself to think big. As a result, 16 acres of Whidbey Island are now an enchanting blend of woodland and sculptures. The Price Sculpture Forest just outside the Coupeville town limits is a place where art, both serious and whimsical, blend with the forest to create an experience where art and nature compliment each other.
Price explains that the natural setting, "makes the experience of the sculpture more than you would get in a regular gallery,,,(and)..."The art enhances the natural experience because you get to walk along and wonder what is around the next corner."
After you enter through a beautifully carved wooden arch that says "Wander in Wonder", you first encounter a giant example of kinetic art.  Wind turns the arms of the giant sculpture and spins the blades on the ends of the arms.  It creates a gentle impression of something, maybe birds, in flight.  From there a series of sculptures greet you along a very flat wheelchair accessible trail (in dry weather) Price has named "Nature Nurtured." It's so-named because each piece relates, in some way, back to the natural world.
Flower Blossoms and Dinosaurs
Many pieces are quite large. One striking sculpture resembles a hanging blossom and several people at once can stand inside the "blossom."
A second path, "Whimsy Way" features art with a bit more of a playful attitude. It is slightly more challenging with an elevation change of about 80 feet. A kid favorite on this trail is a fearsome T-Rex that almost seems to jump out at you!.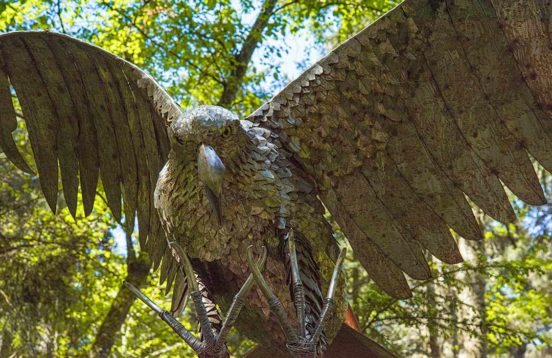 As you walk, you can use your phone to get information about the sculptures, including videos from the artists telling you more about the pieces on display.  But, be sure to sometimes put your phone in your pocket because nature is half the show, and there's an ever-changing assortment of wildlife you'll miss if you stay too tied to your phone.
From eagles to deer to squirrels and more, nature is there to remind us of the beauty of Whidbey Island.  One local birding expert who has visited the sculpture forest many times has, so far, identified more than 35 species of birds in the park.
Kept from Development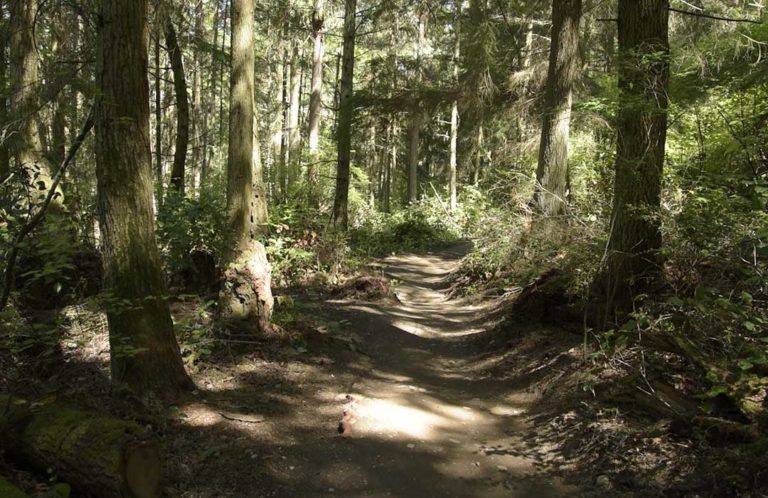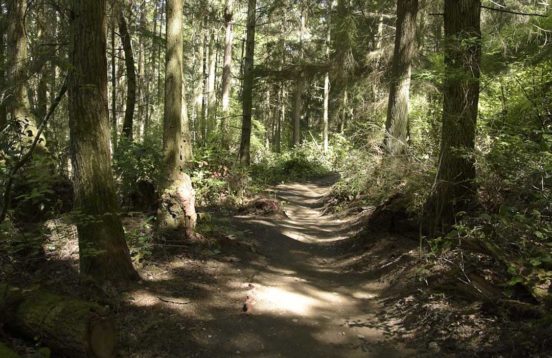 "I was originally going to build my home here," explains Price. But, after finding other property he liked better, he was in a quandary. The land could have easily been cleared, divided and sold for high-end luxury homes. "I didn't want that to happen," says Price. He had seen other sculpture gardens and decided he would try building one, opening the forest in 2020 just as the pandemic hit.
The openness of the forest gallery made it an immediate hit with people looking for opportunities to get outside, yet distance themselves from others.
Visit the Price Sculpture Forest Website
New sculptures are being added as the gallery grows. Others, over time, will be rotated out while some are likely to be sold and moved by new owners.
There is no charge to visit, but donations are always welcome.
The forest is open from 8:00 a.m. until either sunset or 7:00 p.m., whichever comes first. Also, to preserve the quiet of the place, dogs and bicycles are not allowed.