by Laura Hilton
Did you ever get involved in a scavenger hunt?  You know those goofy quests where you might have to ask your neighbor for a short stubby pencil or maybe something out of the kitchen?
Maybe you called it "I Spy" and played it with the family on a cross-country road trip.
What we have here is something like that.  Whidbey and Camano Islands are filled with amazing vistas and beautiful small towns.  But, it's also filled with things that are either quirky, fun, or unique to a rural landscape.  So, as you explore our islands, here's an invitation to try to spot the things that are maybe a little offbeat, or something you don't see every day, but they're definitely fun.
Be on the lookout for:
---


Classic red barns
These old-fashioned Americana symbols are very prevalent, with so much local farming done on both islands. Scan the menu when you stop for a meal, as many restaurants feature scrumptious local ingredients.
---


Farm Stands
From fresh flowers and eggs to jams and preserves, with everything in between. You'll see farm stands of all sizes and descriptions if you keep a careful eye out. Bring some homegrown produce back to the mainland with you to keep your vacation rolling.
---
Sculptures at Freedom Park
---


Public Art
Both Whidbey and Camano are home to a wide community of talented artists. There's no need to squeeze into a small gallery though, you can enjoy open air local art in public spaces all over. Keep an eye out for hidden creations, or ask for recommendations at one of the visitor centers.
You can also take the Oak Harbor Art Trail by going here...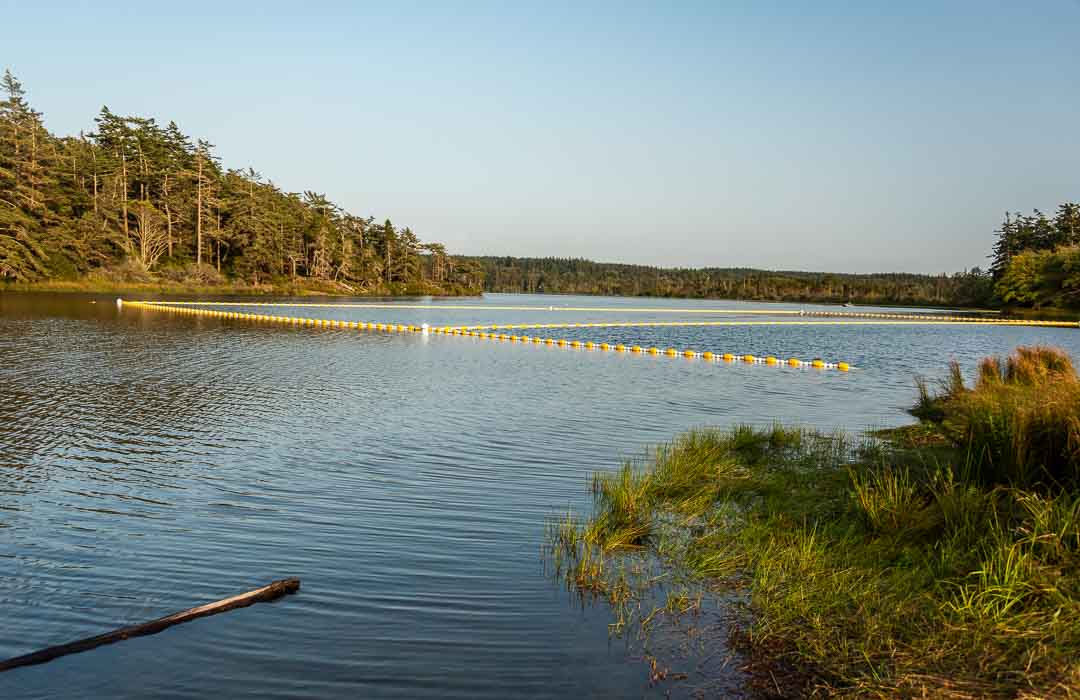 Cranberry Lake - only a few feet from Puget Sound


Bodies of Water
:
Have you hit the coast again or is it a hidden lake?
Not only are we surrounded by the Salish Sea, there are large and small lakes hiding here too. Look out for public access, picnic areas, and boat launches. I myself live beside a large pond with a small island in the middle. An island within an island, how idyllic is that?
---


Traffic Lights
!
Outside of central Oak Harbor, traffic lights are few and far between here. These can serve as good landmarks if you're really feeling turned around, as only the biggest intersections have them.
Instead of lights, more and more you'll see roundabouts.
---


Your Daydream House
What fun is it to visit a beautiful place and not fantasize a little about living there? As you get off the highway and start venturing down the side streets, it's fun to cruise around and think: "There's my future cottage! That one's my ultimate beach house! I would do it just like that but in green! Those could be my horses/goats/alpacas!"
---


Unexpected Mountain Views
Even living here and knowing which vantage points are best, I still find myself gasping sometimes when I go over a rise and am suddenly faced with a crisp view of a far off giant. Even a casual photographer could end up with dozens of snaps all worthy of the front of a postcard. Remember that almost any hill is worth cresting in your hunt for gorgeous views!
---

Gail the Whale
With the public health crisis going on, it's important to follow safety guidelines and look out for each other. You may see the friendly face of Gail the Whale around, reminding folks to wear their masks and keep a safe distance.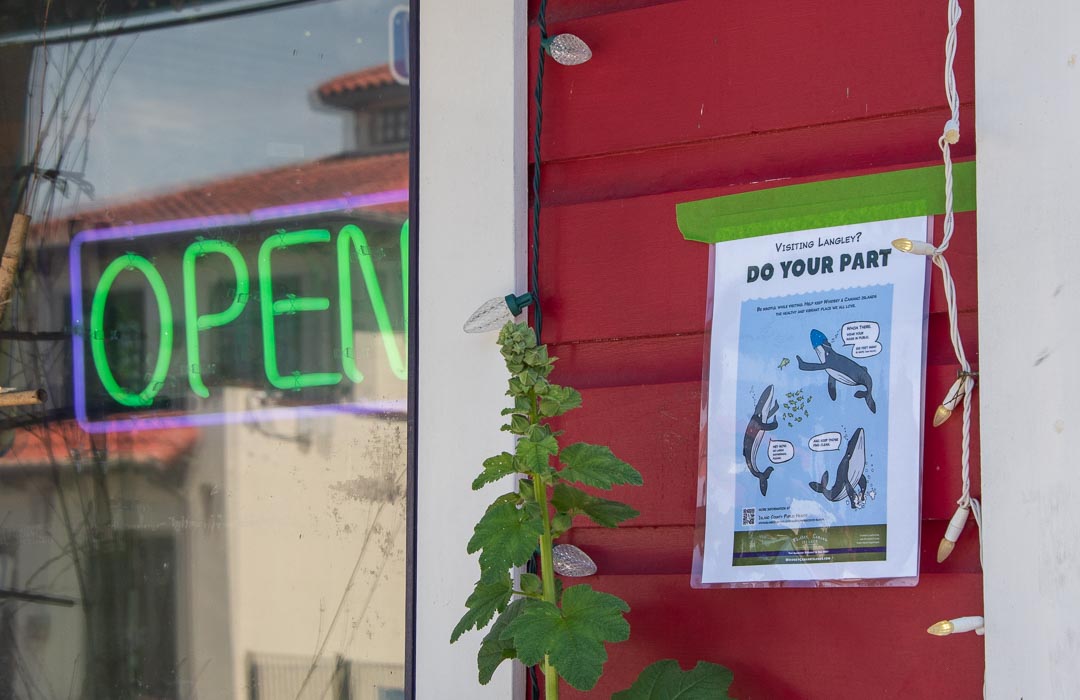 A poster hangs on a Langley storefront.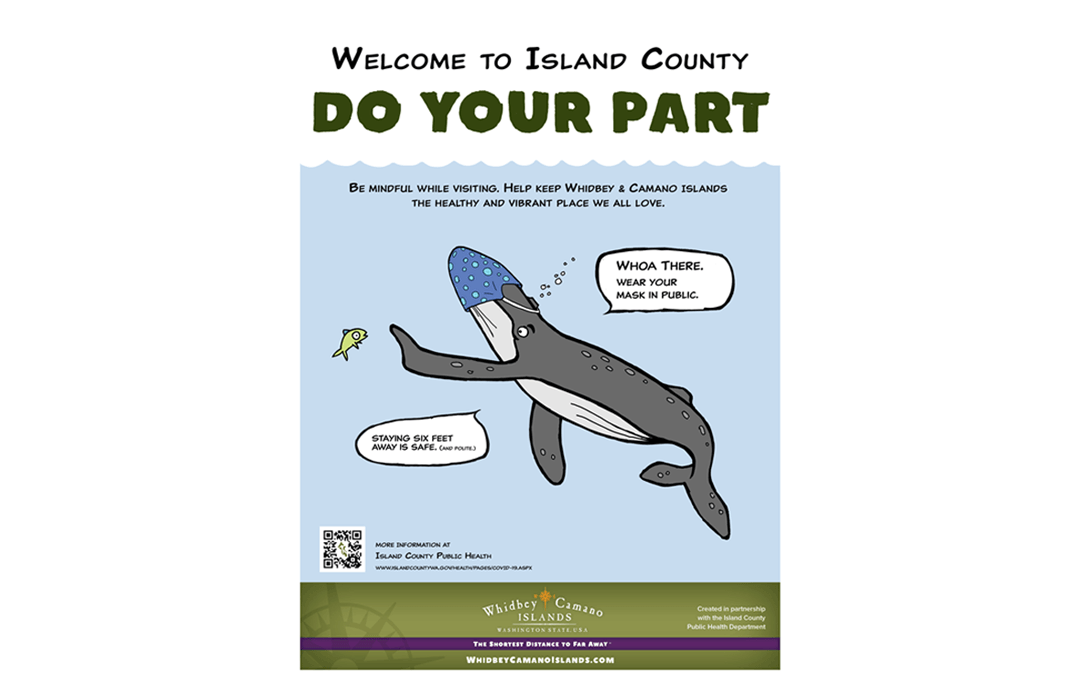 ---


Painted Rocks
This fun phenomenon is not unique to these islands, but it has been popular here! All over the world people have been painting rocks and hiding them in special places; to be found, photographed, and tucked into a new spot. There are some very creative ones around, and they are always a thrill to come across.
---
Eagle Lands at Fort Casey
---


Large Birds
All kinds of wildlife abounds in Island County, but the sheer number of large birds you see here is staggering. Be on the lookout for eagles, herons, owls, and more. With the birds of prey, you may even witness a dramatic dive!
---


Island Cars
Over here, if a car doesn't always start reliably you don't want to risk it on the ferry. If it's gotten too old for high speeds it's not going anywhere near I-5. But if it still goes well enough, it simply becomes an "island car", never to leave our shores again. Keep an eye out for these fun old clunkers, often adorned in bumper stickers or home paint jobs.
---


Fun Street Signs
When you live in a city, your address is usually a long string of numbers. Not here though! Instead of a big avenue somewhere, how would you like to live on Smugglers Cove Road, or Huckleberry Lane? Street names here range from odd to lovely to hilarious, so keep your speed slow enough to enjoy the passing signs.