Public Art is spread throughout Oak Harbor. Some is easy to find, especially in the historic downtown area along Pioneer Way. But some pieces are a bit off the beaten path. Here is your guide to finding the public sculptures in Oak Harbor.
The Streetside Gallery -
Oak Harbor's Art Tour
The Mermaid -
Pioneer Way and Dock Street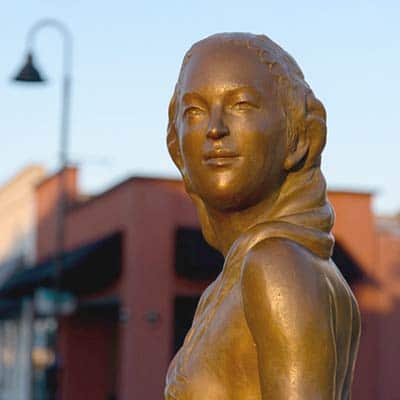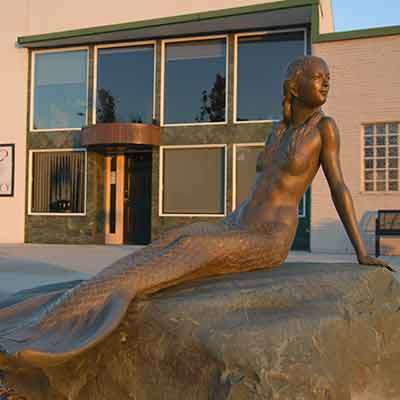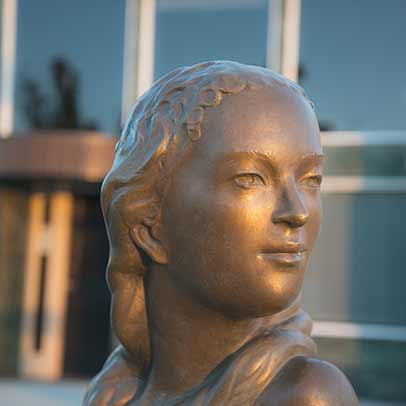 She sits atop a rock gazing toward the rising sun.
Each day people go by, her calm gaze begs us to see what she sees.
Commissioned by the City of Oak Harbor, the statue was sculpted by Oak Harbor artist Larry Marcell.  It was installed in April of 2012.  Marcell says the statue was inspired by the Greek marble sculpture, "Venus de Milo."
The dedication from Marcell includes these words: "This sculpture was made for the people of Oak Harbor & I wish to dedicate it to our nurses who are there for us when we need them most. With my thanks to you both, Larry Marcell."
Waiting -
Marina Park, south of the Yacht Club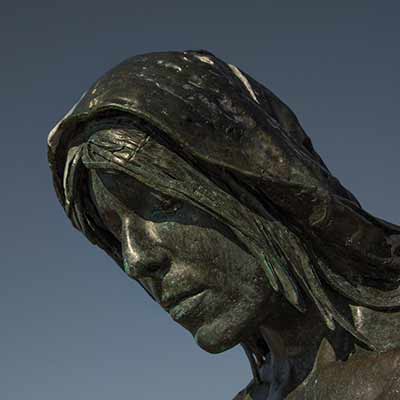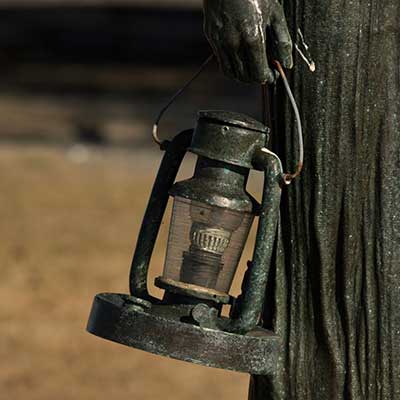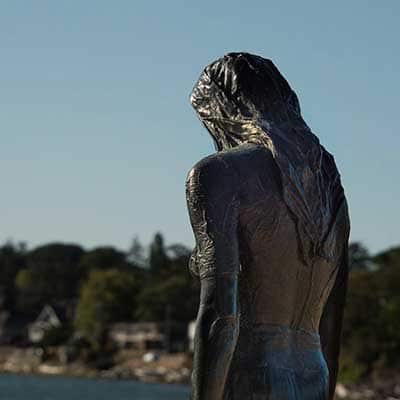 Barefoot, holding only hope and a lamp, she waits at the shore.
One of the oldest pieces of public art in Oak Harbor, this sculpture represents the region's sea-faring heritage.  Commissioned by the Washington State Arts Commission.  It was installed in 1975 by artist Daniel Sowards.
Stops on the Oak Harbor Art Trail
Stumbling Ducklings -
Pioneer Way by Ireland St.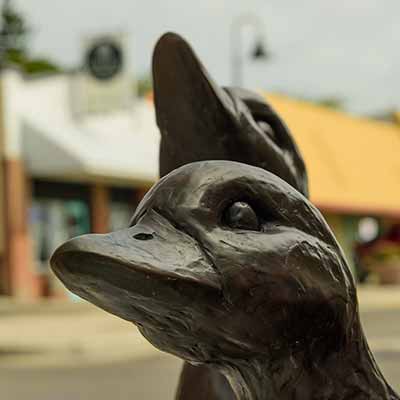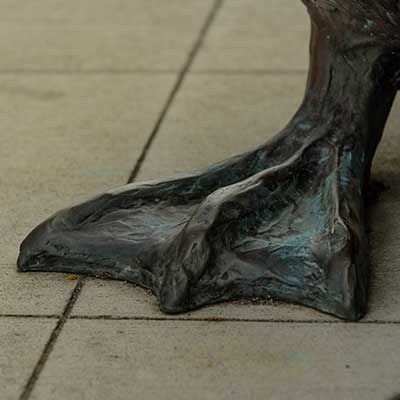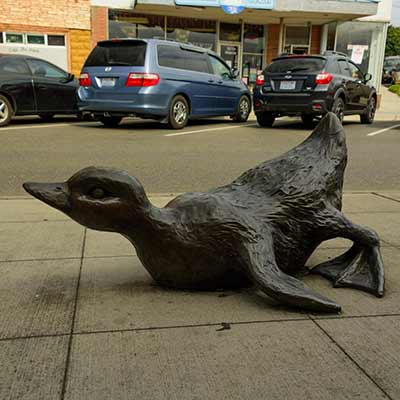 No young child can resist touching, and even climbing on the Stumbling Ducklings.
The whimsey of Whidbey Island sculptor Georgia Gerber is on full display with three ducks walking on the sidewalk.  The sculpture was installed in 2012.
More about Georgia Gerber can be found here...
Island Spirit -
Pioneer Way just east of Dock St.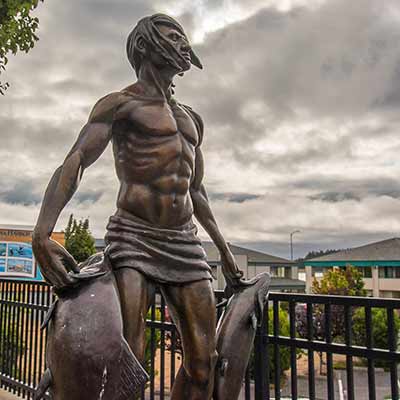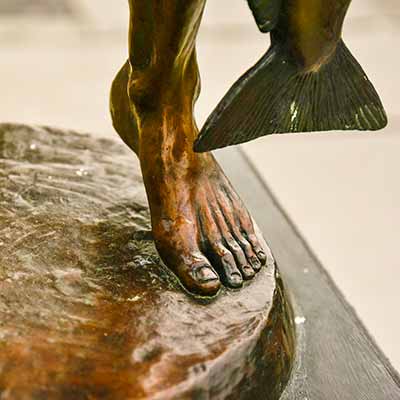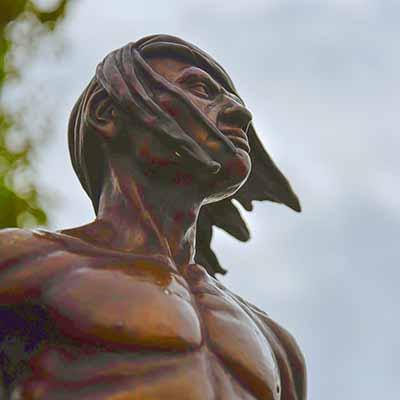 His strength is contagious.  Wearing little more than a loin cloth, he is impervious.
Tribute is paid to Whidbey Island's first people with the Wayne Lewis sculpture, "Island Spirit."
The sculpture was installed in 2014, as one of three sculptures by Lewis that are on display downtown.
Moon Waves -
Northwest corner of Pioneer Way and Midway Road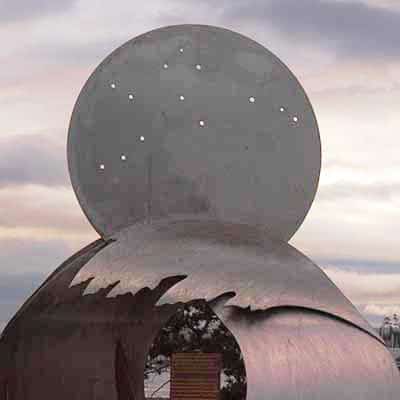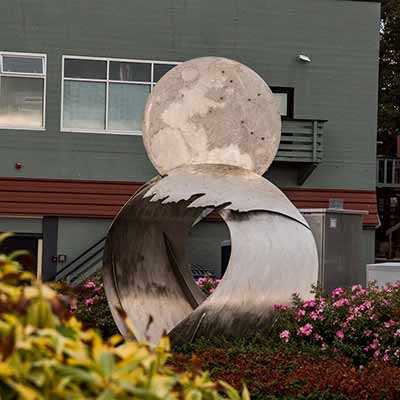 The full moon rises above the waves and night falls over the peaceful island.
Sultan artist Kevin Pettelle created this stainless steel art piece for the City of Oak Harbor.  It was installed in 2012.
One of his other works, "Late for the Interurban," is a Seattle favorite.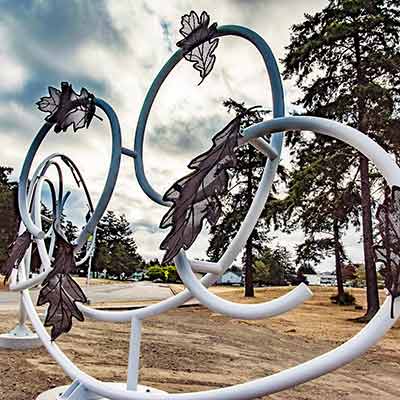 Autumn Leaves -
SR 20 near 4th Ave.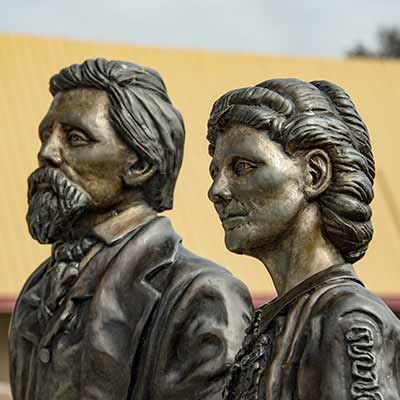 Cptn. & Mrs.
Barrington -
Pioneer way,
near Ilwaco St.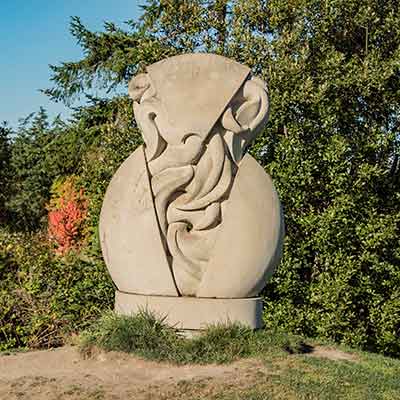 Release -
Ft. Nugent Park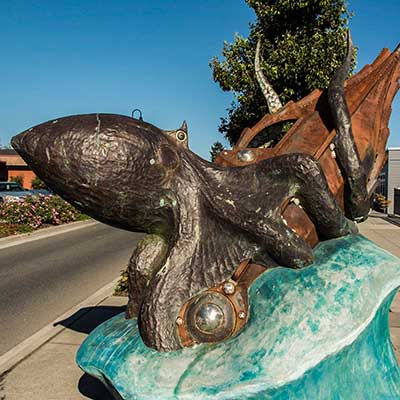 Kraken -
Pioneer Way &
City Beach St.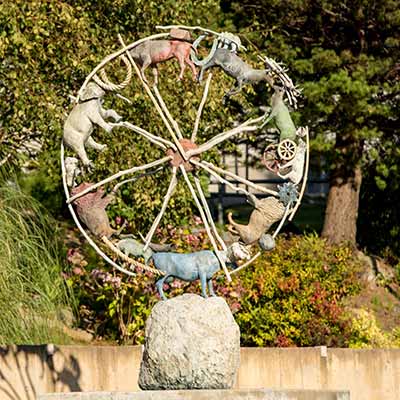 Motion of Life -
Skagit Valley College Campus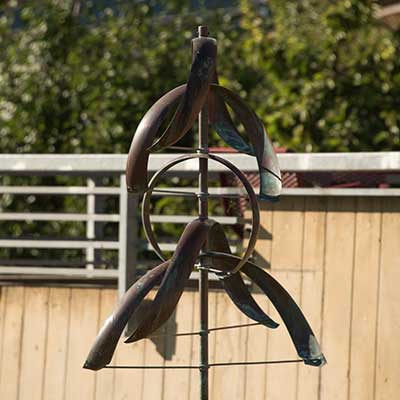 Kinetic Art -
Skagit Valley College Campus