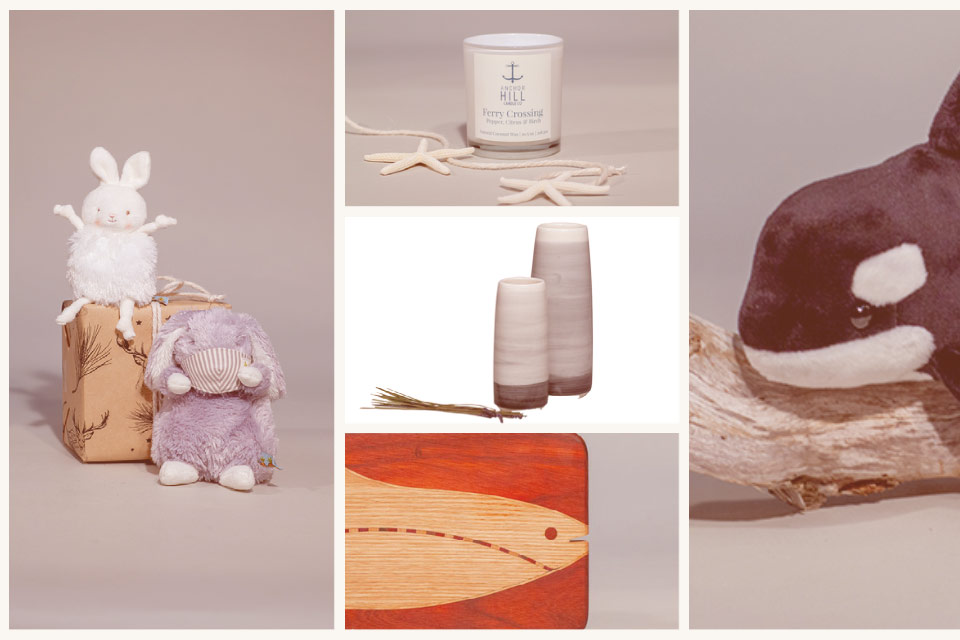 Gift-giving is easier when you shop local.
3 Sisters Market is one of your best locations for all things Whidbey Island.  From food, to crafts, to books, coffee, wine, and more, the bounty and creativity of the island is on full display here.

A Touch of Dutch is a European speciality food shop with some gifts from Europe as well. They sell food, cheese, beer, and other beverages from: The Netherlands England Sweden Germany Norway Indonesia Belgium Finland Iceland Australia

Aqua Gifts offers thoughtfully curated items from the islands and more. You'll find gifts, jewelry, shoes, bath and body and items for the home.

Back to the Island sells clothes and novelties popular with tourists and neighbors alike.

Briggs Shore Ceramics creates hand-made pottery with a clean and modern look.   Visit the store in historic downtown Coupeville or shop online here…

With wicks made from wood and soy candles, By the Sound Candles presents a sensory experience, complete with the sound of cracking wood.  These hand-poured candles come in a variety of scents.  There are also room sprays, hand cleansers, and more. Shop online here…

You'll probably laugh out loud when you shop Far From Normal, Coupeville's smile-filled gift shop.  Silly is the rule as you walk through a shop filled with fun signs, shirts, toys, games, mugs, and more.

Whether shopping for yourself or for friends, Harbor Gifts on the Wharf has great knick-knacks, kits, sweatshirts, hats, gifts, and more.

This toy store has fun finds and tastes for all ages.  Kids will wander for hours and parents will find things from their own childhoods.

Visit Madrona Blossom and bring a little happy to your home.  Located along Front Street in historic Coupeville, this shop features home decor, candles, flowers and so much more.