"I love this room. Can I have it?"
by Lara Dunning
"This place is so cool!" exclaims my teenage stepdaughter as she wanders from room to room at the Doctor's House at Fort Casey Inn. I agree. It is cool; historical, with a fully stocked kitchen and a cozy living room with patriotic accents. And, when I checked in, I received a real key.
Curious, we head upstairs to see the bedrooms. When she enters the front facing bedroom with a painted mural on the headboard, she says, "I love this room. Can I have it?" With her pure excitement over this unique Whidbey Island inn, I can't help but say "yes."
The Rooms are the former officers' quarters.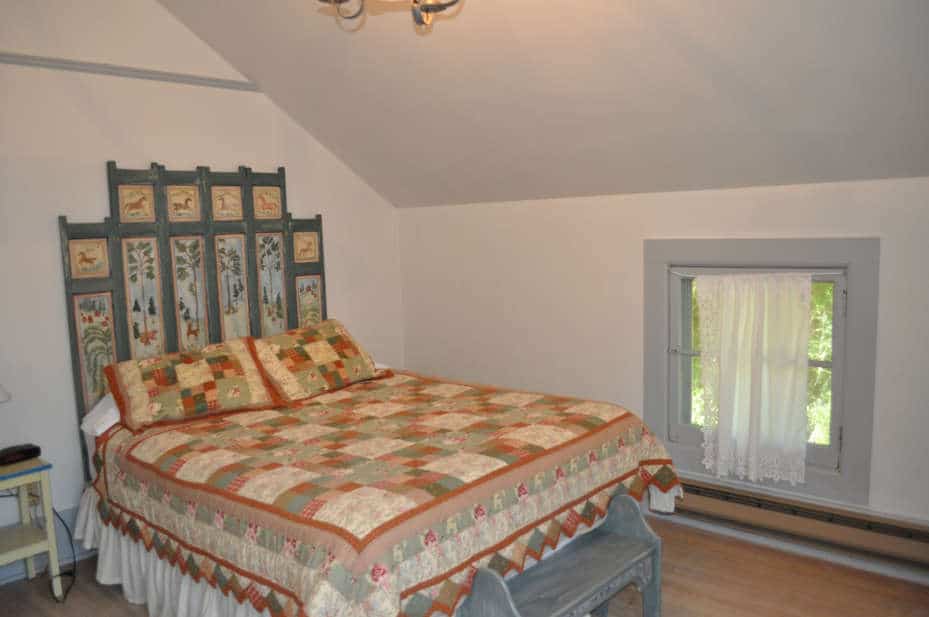 After we've settled in, we take a few moments and sit in the high-backed chairs on the covered front porch, admiring the view of Crockett Lake. Then, we head out to explore Fort Casey.
The Doctor's House at the Ft. Casey Inn.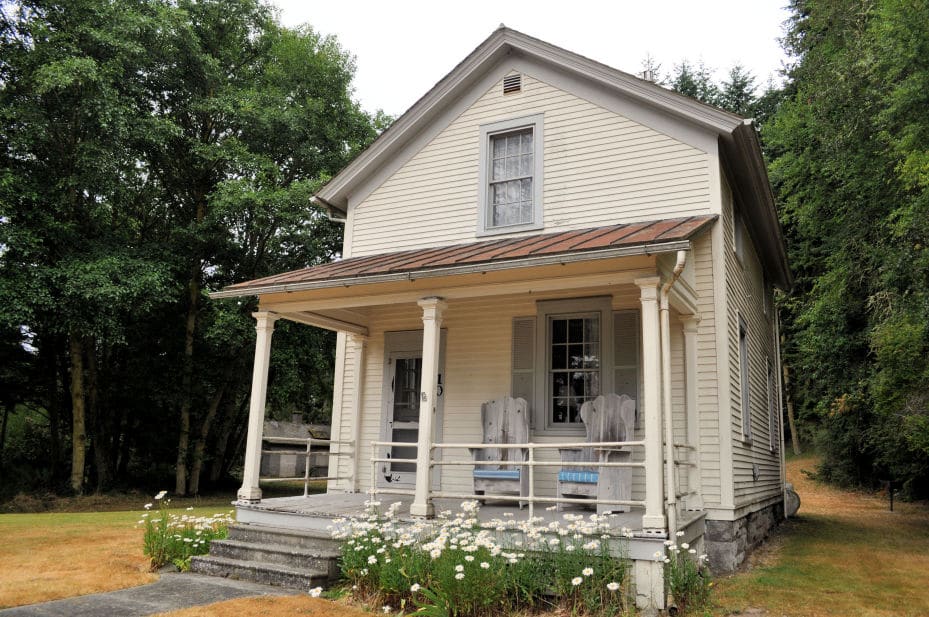 A Lighthouse Built to Last
---
The first stop is a tour at Admiralty Head Lighthouse.
Dick Malone, a docent at Fort Casey Historical State Park who earned the park's "Volunteer of the Year," award takes us outside and points to the fort's grassy southern point.
"That is Admiralty Head's true geographic point, and original lighthouse called Red Bluff Lighthouse was built there 1860," he says. "In 1903, when the construction at Fort Casey began, the lighthouse moved up here."
In 1860, Red Bluff Lighthouse was the first wooden lighthouse built in Washington Territory. Placed on a 90-foot bluff, it consisted of a two-story white house with the lighthouse in the center, much like a church steeple. The light from its fixed Fresnel lens could be seen for 16 miles.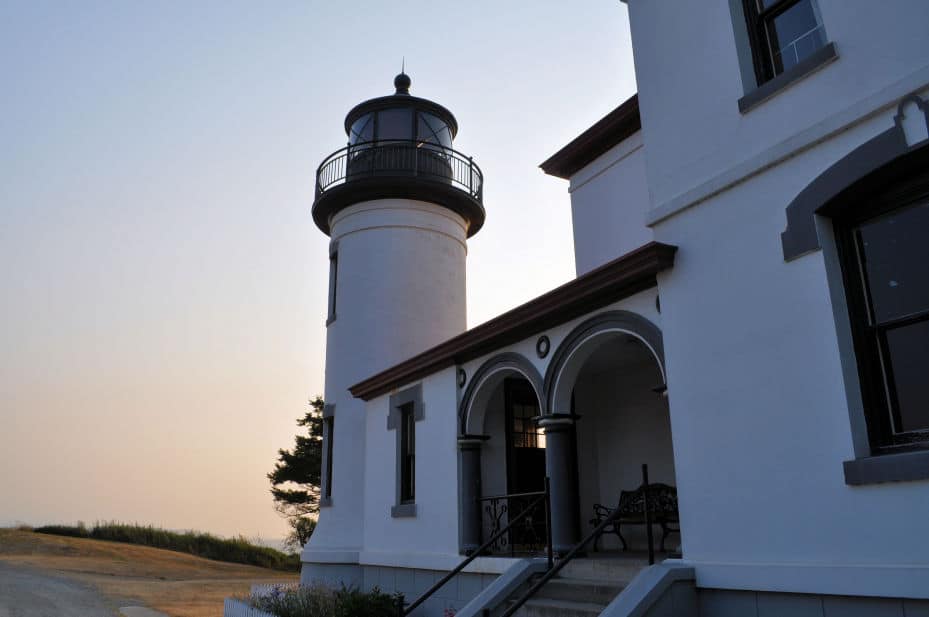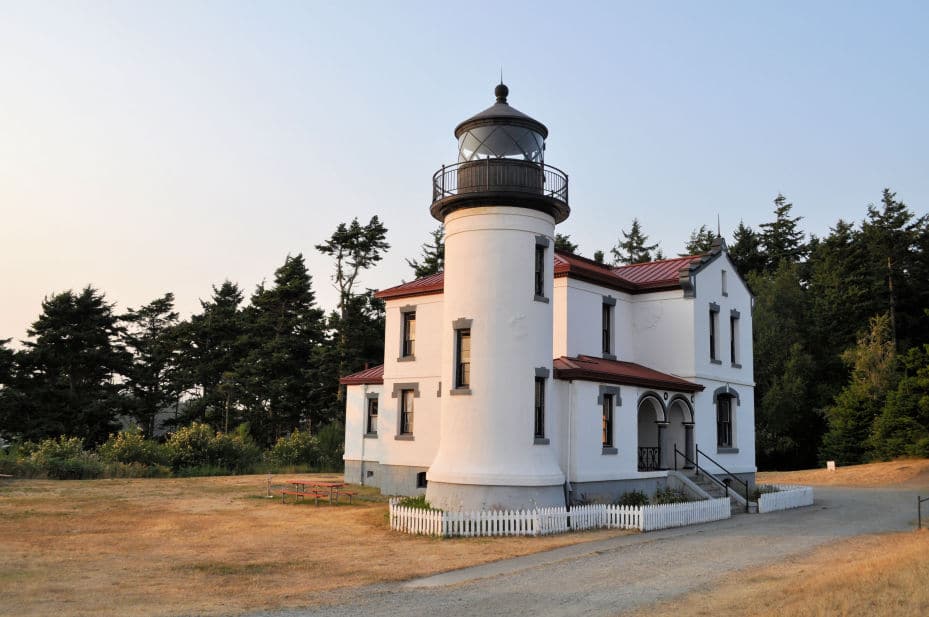 Dick draws our attention back to Admiralty Head Lighthouse and its architectural details. Sitting on a 100-foot bluff, it is also a white two-story residence. But instead of wood, it has 18-inch thick brick walls and is covered with white stucco with a 30-foot tower. It was built by German lighthouse architect Carl Leick, whose motto was, "Build 'em stout, and make 'em last." With its Victorian embellishments like peaked window frames and two arched porch columns, Admiralty Head Lighthouse is a perfect example of how Leick accomplished an understated and long-lasting elegance.
We move inside the lighthouse to view the museum exhibits. Here there are two Fresnel lenses; a Fourth Order fixed and a Fourth Order rotating bull's-eye lens. There are also displays on settler growth on the island during the 1850s, pictures of Red Bluff Lighthouse and the construction and completion of Admiralty Head Lighthouse. Afterward, we do the one thing everyone wants to do―walk up the spiral staircase to the lighthouse's lantern house and take-in the 360-degree view.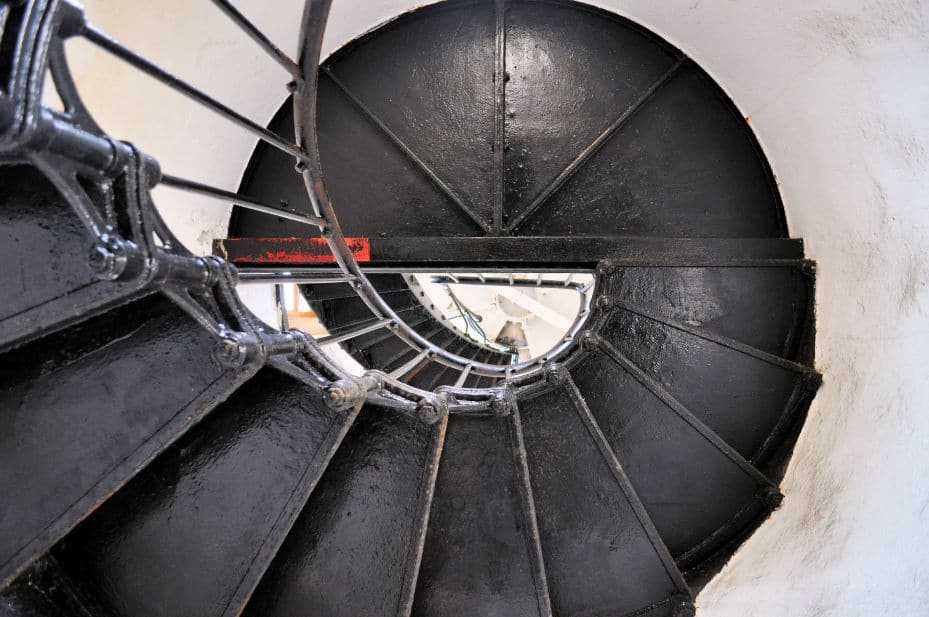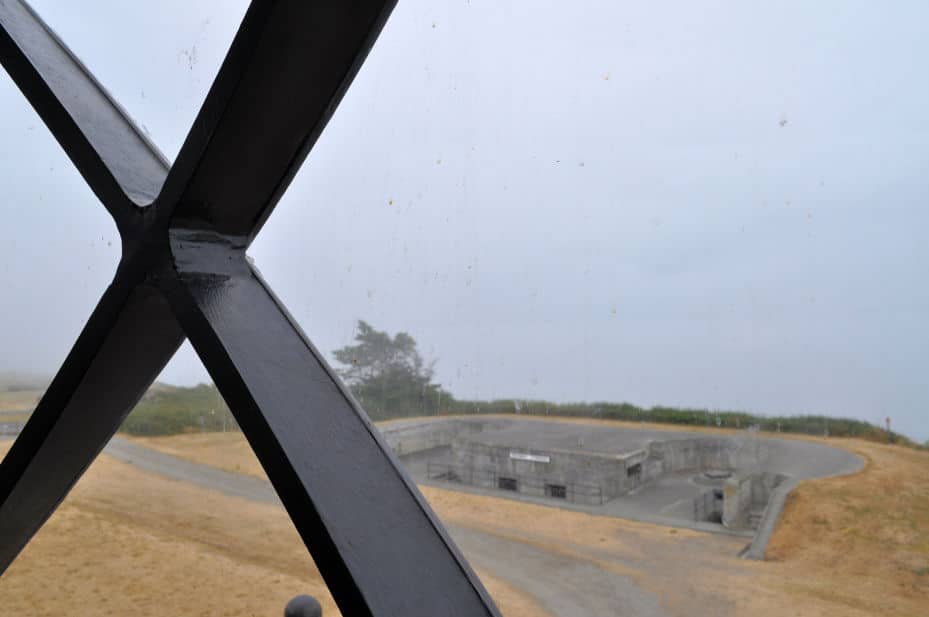 Major Events Taking Place in 2018
August 4 - National Lighthouse Day

August 11 - 50th Anniversary Big Guns Celebration

1:30 p.m. - Presentation of colors, speakers, and music provided by the Washington Army National Guard Band

October 26 - 27 - Haunted Fort
A Fort Built for the Battleship
---
From the lantern house, it's easy to see why the government decided to create a coastal defense system along Admiralty Inlet. Like it was more than a century ago, all ships heading to or from Seattle, Tacoma, or Bremerton must cruise through this passage. Fort Casey was one of three forts the government built that would make up what is known as the "Triangle of Fire." Three miles west, next to Port Townsend is Fort Worden. Southeast of that, on Marrowstone Island, is Fort Flagler. The idea was no ship could survive fire from all three forts.
We explore the fort grounds, walk through open bunkers, and watch people fly kites on the open grassy field. Then, we join a free 45 minute guided fort tour. We are happy to see Dick is our tour guide. Once the group has all gathered, he brings us to a grassy knoll above the fort where we can see Admiralty Inlet and the craggy Olympic Mountains beyond. He asks the group when the fort was built. Children call out answers. "WWII!" "No." "WWI!" "No."
"Construction began in 1897 and forts like these took ten years to complete," Malone answers.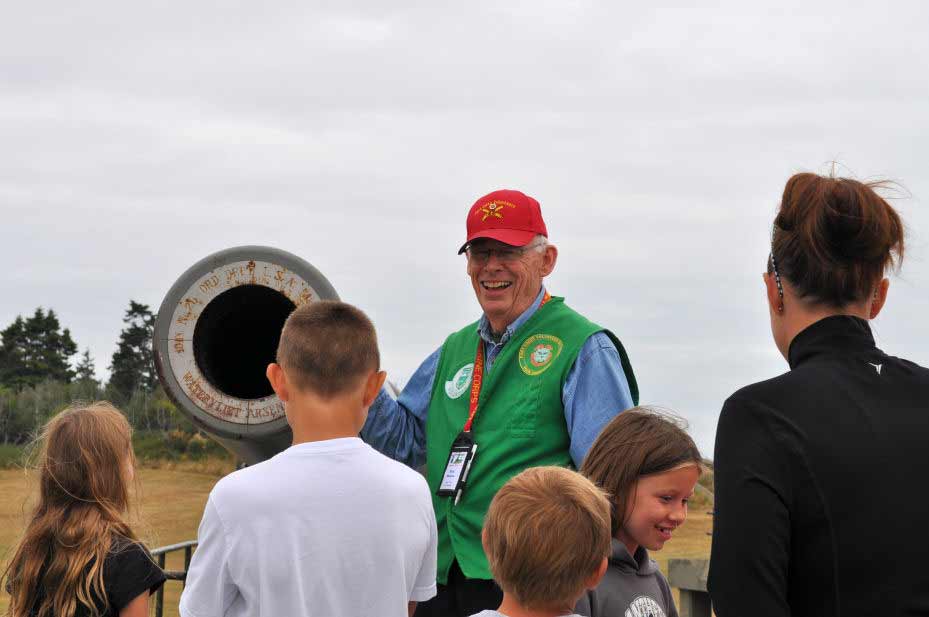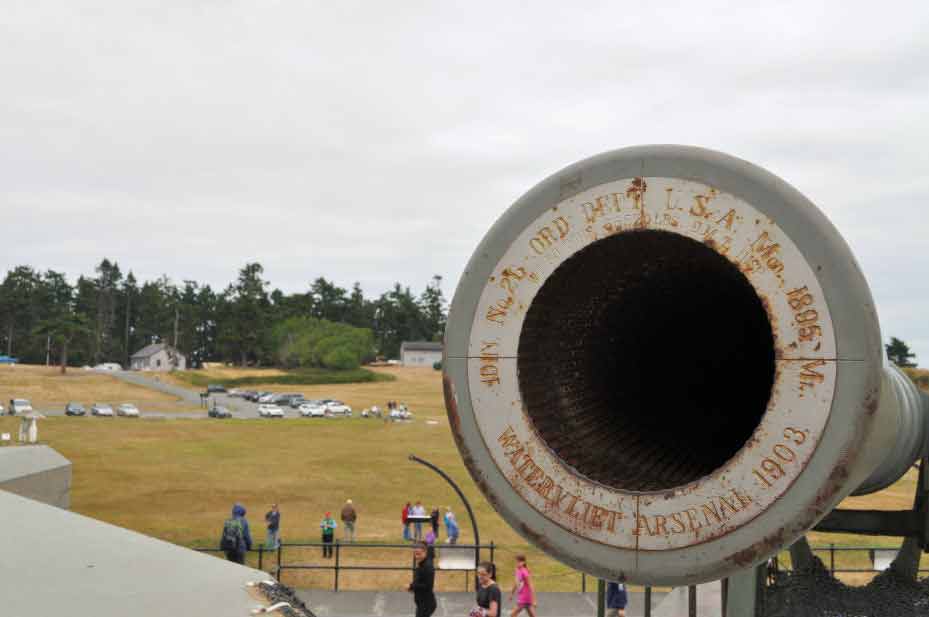 During that ten years, they moved dirt, poured concrete, mounted artillery guns and then finally started training. Why the concern? At the turn of the century, the battleship was the ultimate weapon. Cruising at 20 knots, it had a fully stocked armory and 12 inches of "belt armor" to protect it. With its 100 guns the "Triangle of Fire" posed a severe threat to enemy battleships.
All three forts were outfitted with the most sophisticated artillery power for its time. At Fort Casey that included 3-inch rapid fire guns, 10-inch D.C. rifles and 12-inch mortars. Those original guns are gone, but in its place are two 10-inch D.C. rifles they shipped from the Philippines. These are the only remaining D.C. guns in the world, and if you look closely, you'll see crater-shaped scars from Japanese fire.
The side is scarred from action in the Philippines in World War II.
Park Details
Park is open year round
Discover Pass or $10 Day Pass Required
Purchase Pass Online or
The Automated Pay Station in the Parking Lot
Lighthouse Details
June - August: Open Thursday - Monday
April & September: Open Friday - Monday
May - Open Thursday through Monday
The tour leads us through various rooms at the fort including the "Powder Room" where remnants of copper along the ceiling gathered water to keep the gunpowder dry from the "Pacific Northwest," and the four-foot thick walls protected soldiers from an accidental explosion.  There is also a demonstration where volunteers are encouraged to lift the 617 lb. shells to loading area above. The tour wraps up with a trip into the unlit subterranean communication room called the Switchboard. Rumor has it, a ghost of a British soldier roams its dark passages. We didn't bump into him that day.
With all the information we learned about the fort, we are set free to explore the grounds with fresh eyes. Purchased by the state in 1956, the park has 1.8 miles of hiking trails, a boat launch, hot showers and scuba diver-friendly restrooms, beaches, fishing, fire pits, and 35 campsites
If you are looking for a scenic spot for a Whidbey Island camping adventure, the campground at the park is picture-perfect. Situated along Keystone Spit all of the sites have water and ferry views, with a row of campsites along the seaside. The campground includes 22 standard sites, 13 RV sites with water and electric, and a restroom and shower. It is within walking distance of the ferry terminal, a small café, and Fort Casey.
Who owns Camp Casey?
In 2001, Seattle Pacific University purchased Fort Casey Inn. It manages the inn along with Camp Casey Conference Center which consists of several barracks, classrooms, auditoriums, mess halls and a gymnasium.  The camp hosts many events, including kids camps, company retreats, and local festivals.
Stay in Former Officers' Quarters
---
After our day of exploring we return to the Doctor's House to make dinner, which includes a premade meal we brought along. If you'd rather let someone else do the cooking, other options include driving ten minutes to Coupeville where almost a dozen restaurants await hungry travelers. While dinner is warming up in the oven, we talk about our day. With no television, our pastimes become ones we happily invent like watching deer graze in the yard and playing a game of rummy. 
In total, there are nine units on the property; the Doctor's House and an orderly row of former junior officer's quarters.
Units can sleep up to six people, including the sofa bed in the living room.
 "But we have no check-in headcount and don't charge extra. When large families or groups come some use the back porches as sleeping areas for all the kids," said Patty Encinas, a customer service agent for Camp Casey and Fort Casey Inn. "The only thing to remember is that each kitchen is stocked with dishes for as many as it sleeps."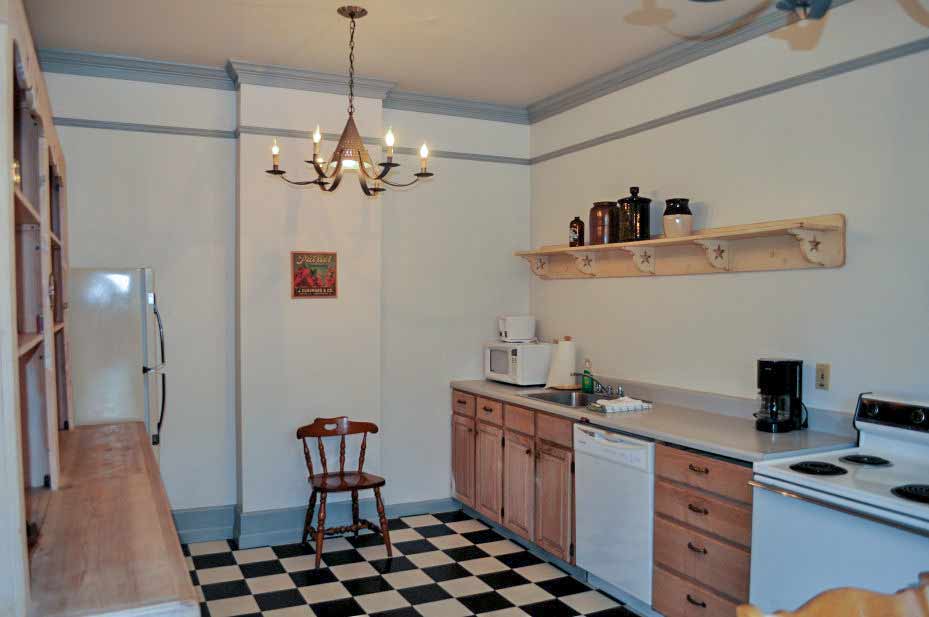 ---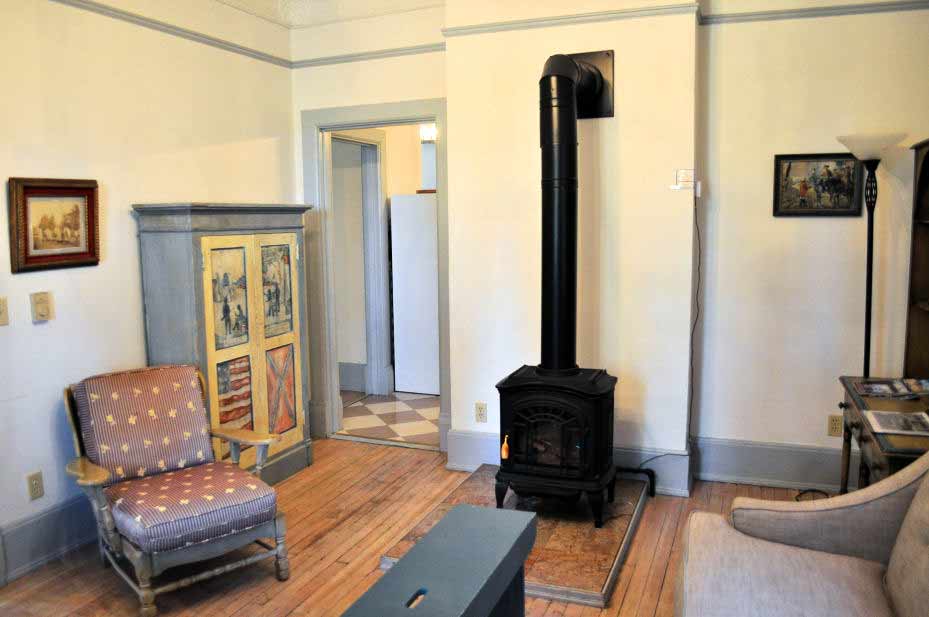 All units include a very large enclosed back porch and farm-style kitchens with everything you need like dishes, silverware, cookware, a full sized refrigerator, stove, dishwasher, and a dining area. The floor plans are similar too, with downstairs living rooms and gas fireplaces, with the exception that some bedrooms have twin beds. For solo travelers or couples, Eagle's Nest has a queen studio and a reception area with a kitchen. Guests also have access to an outdoor heated pool (June to August), picnic tables, charcoal grills, hiking trails and the beach. WiFi is available on the property, although it might mean a walk down the street to get a better connection. The setting is so serene that I don't even bother to check.
Beach Walks and Sunset Views
---
After dinner, we decide to take a walk down to the beach. The waves lap against the shore, and the sun is beginning to set. We hike up to Admiralty Head Lighthouse, and with only a couple of other visitors, it feels like we have the place to ourselves. As the sun slowly dips further toward the horizon and the sky shifts from orange to pink, we all agree that staying in this historic location has plenty of perks.
To Stay at the Fort Casey Inn
To reserve your room, visit the Fort Casey Inn Website.
Visit the website...
To Camp at
Fort Casey
Make your reservation through the official Washington State Parks reservation system
Make a reservation...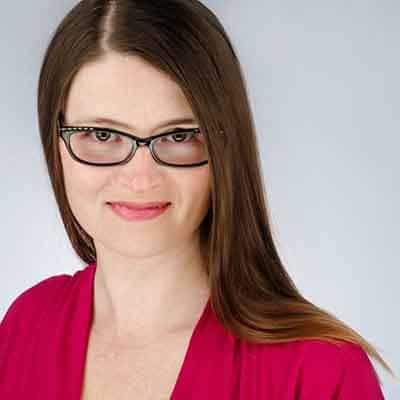 About the Author:
Lara Dunning has a serious passion for small towns, history, food and light adventure. She has over 100 published travel articles, and on
Small Town Washington & Beyond
she shares her stories about small town traveling.