by Jack Penland
Kayaking along the shore is like a slow stroll through the woods. It's peaceful. You're strolling the beach, just on water instead of land. You're not going very fast, nor are you straying very far from land. You're on the border between earth and ocean where wildlife thrive and nature is all around.
For a beginner, or even an experienced kayaker in need of a kayak, Langley's Whidbey Island Kayaking is a great place to experience the shore from the water side of things.
"It's a way of connecting to the island in a very tactile up-close way," says owner Krista Loercher, adding, "It's a total sensory experience. It's calming, centering, and rejuvenating."
"It's a way of connecting to the island in a very tactile up-close way" -Krista Loercher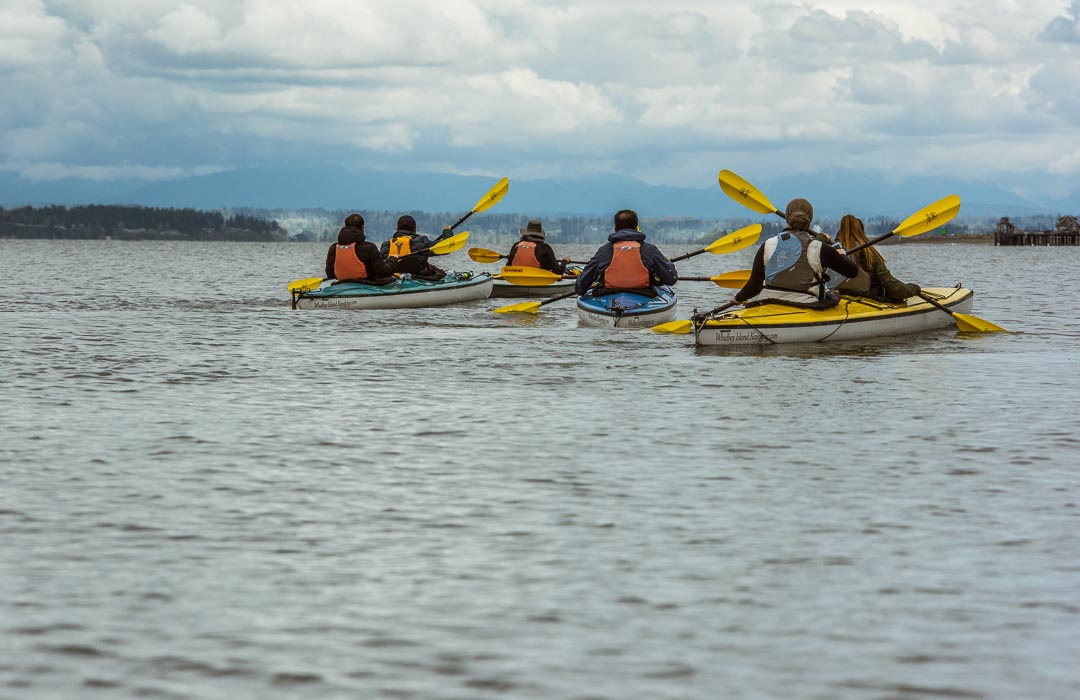 Kayakers head out as a group
from the marina at Whidbey
Island Kayaking.
We were about to find that out for ourselves as six kayaking newbies, Loercher and myself were set to head out on a Friday afternoon.  Marcus Raymond was the guide.
Marcus is a big man with a friendly manner that relaxed all the guests, even as he was explaining what to do if you fell out of your kayak.  It was a spring day during the work week and the whole thing felt a little like playing hooky from school.
Loercher bought the company in 2014.  Like many around here, she traded her success in the corporate world for an independent challenge.  You might call it permanent hooky.
This spring day was one where the sun and clouds would battle for the sky.  We'd have to watch carefully to see who won.  Marcus was detailed and thorough even though the nine-year-old boy in the group was anxious to get going.  I suppose, the truth be told, the nine-year-old in all of us was also ready to go.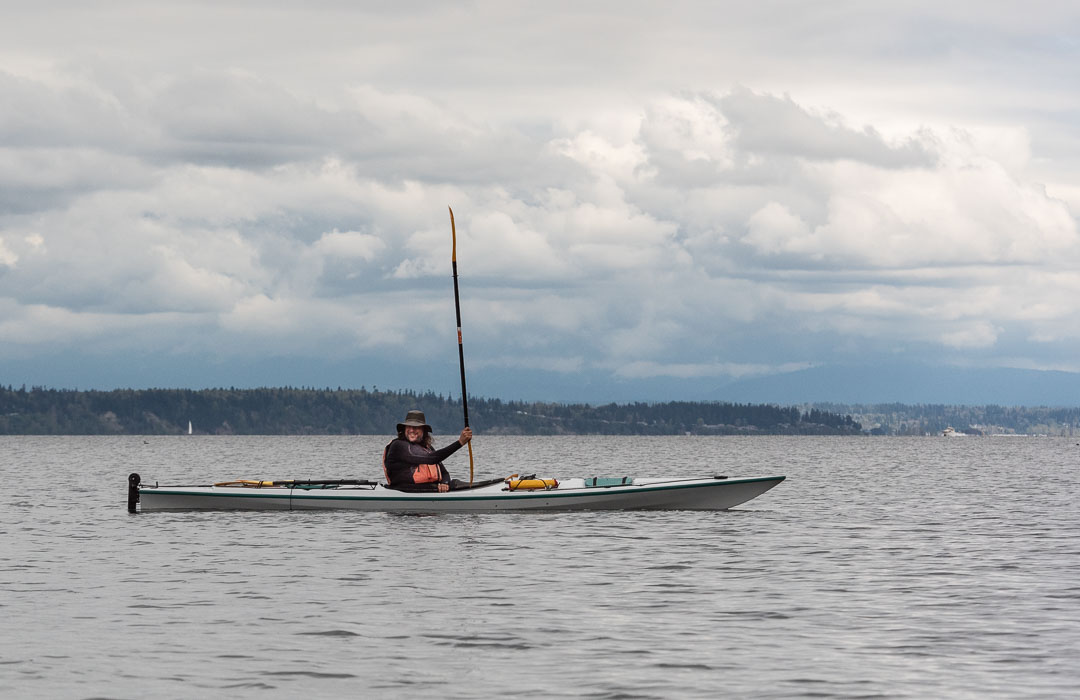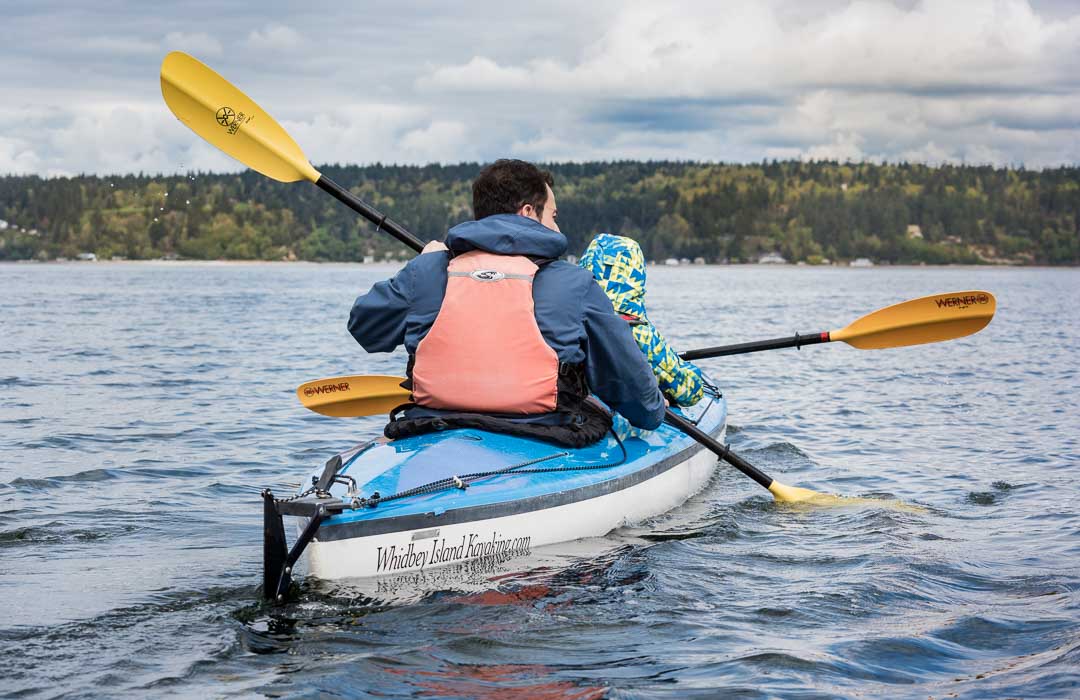 With safety vests on, we headed north in our kayaks towards Langley's Seawall Park.   Depending on the tides and the wind, this tour can also head the other direction, out towards Sandy Point and a little more open water.  From there, Krista explained, "You can see from Mt. Baker to Mt. Rainier."
Because it's spring, the kayaks share the coastline with gray whales that stop in these waters during their migration from the waters off Mexico to the Gulf of Alaska.  They come to within a few feet of the shore to eat the ghost shrimp buried in the mud.  Marcus told the group they saw a grey whale a week earlier just a few dozen feet away.
Whidbey Island Kayaking is based out of the Port of South Whidbey at Langley.  "It's one of the more protected spots on the island, explains Loercher.  In addition to kayaking, people can visit Langley's whale museum or go shopping in Whidbey's "Village by the Sea.  Loercher also notes that after a few hours of kayaking and seeing sea-life up close, many then ask, "Where can we get some seafood?"  Langley is filled with dining options and she fills them in on her favorites.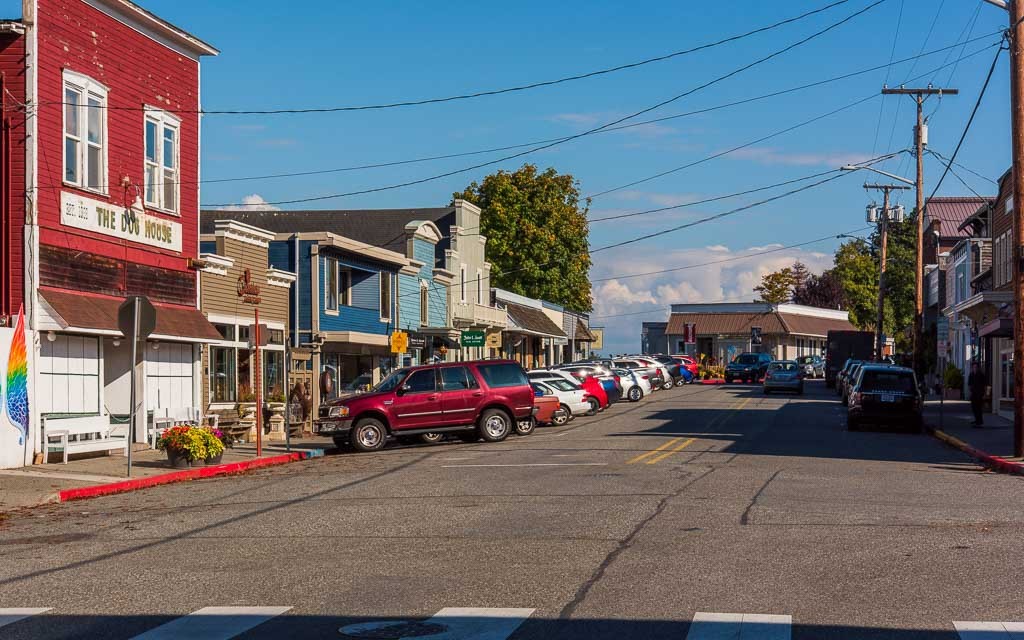 Langley awaits at the
end of a day of kayaking.
Since buying the company, Loercher has expanded the kinds of tours the company offers. In the summer there are early morning tours, great for those who want to experience golden hour. Loercher says people can upgrade to a personal tour for two. She says they've been popular with people who, "want to celebrate something special," or maybe have some, "quality mother-daughter time."
There are also half-day tours that depart from Langley, Coupeville and Clinton. The exact route and agenda depends on nature. Loercher says, "You have to take what the tides and the winds give you."
Their most popular and unique tour is the Nighttime Bioluminescence Experience, a group tour from Langley  at night. They paddle near the shore on moonless summer nights looking for the sea life that give off their own glow. Loercher says these bioluminescence tours are, "an absolute hit" and always sell out.
At Seawall Park we see a family playing on the beach. It's a bit hard to not feel sorry for those stuck on shore while we are free to go where we please. We have a view of Langley most people don't get to see. Further up Saratoga Passage, the coastline becomes a bit more natural as Langley gives way to residential properties. More views of wildlife awaits.
The group moves a little faster as they become better accustomed to their paddles and kayaks. On this spring day we have the water to ourselves.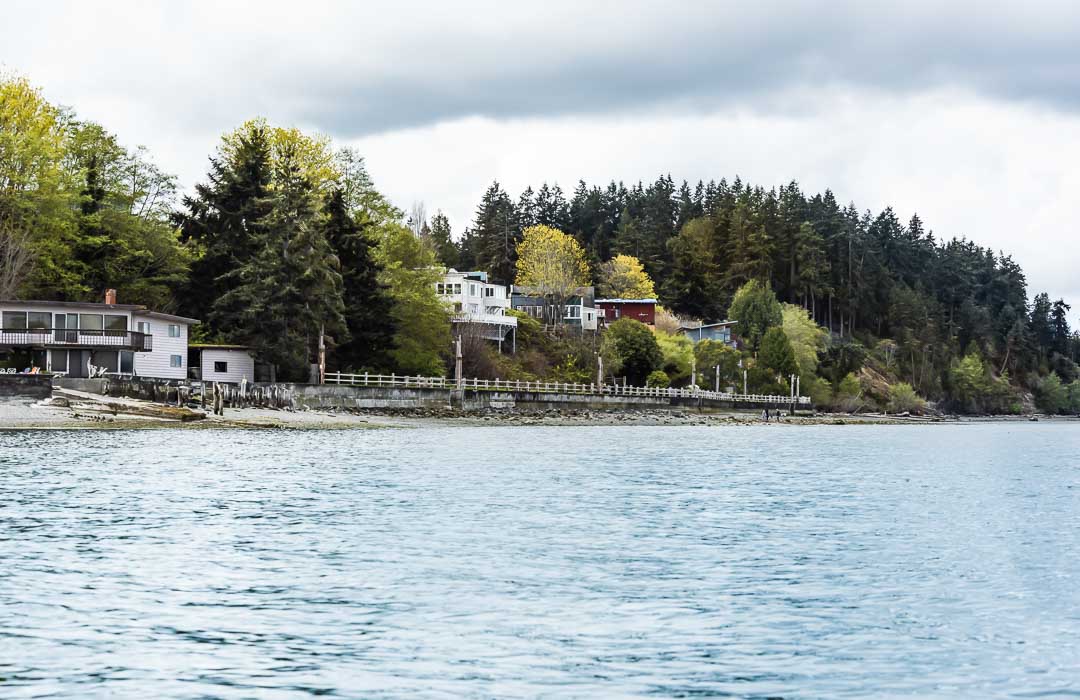 Langley's waterfront and Seawall Park.
Loercher sees these tours as something for island residents as well as visitors. She wants them to come kayaking to see, "A side of the island that they've never seen before." For that reason, Whidbey Island Kayaking now offers classes in June.  They are four, three-and-a-half hour long classes that cover everything from types of craft to safety to what to wear and how to self-rescue. She's passionate about safety. That's one of the reasons tour orientation is comprehensive and often takes 20 minutes.
But, at the end, it's about having fun and enjoying yourself. When I ask what Loercher wants her customers to get out of a trip, she says, "We look for smiles as they're coming in."