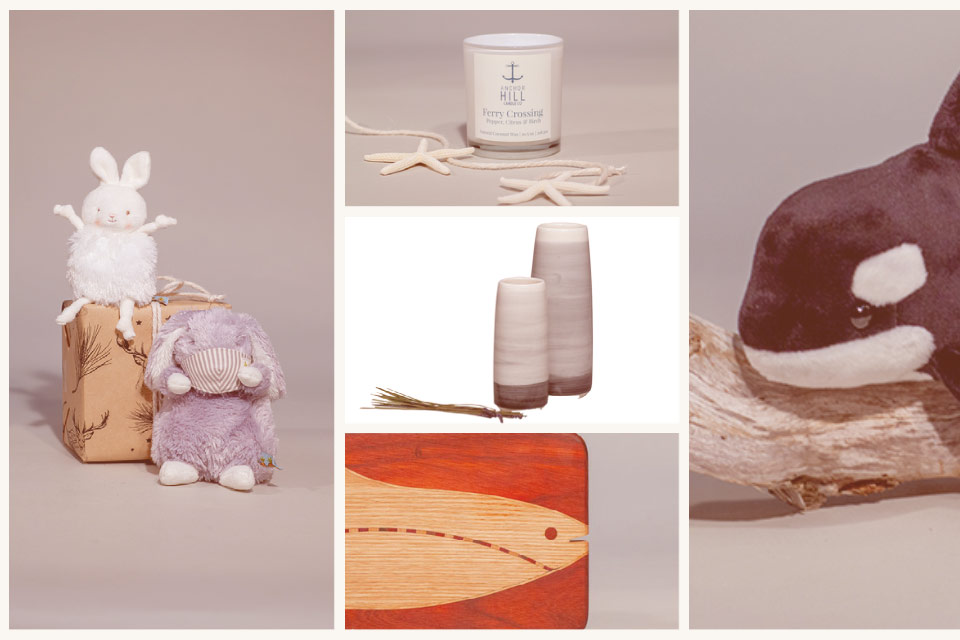 Gift-giving is easier when you shop local.
A Touch of Dutch offers gifts and foods from around the world, with an emphasis on Dutch and European items.  Stop in for chocolates, European foods, gifts, and more.

Anada Farm is a no-till natural farm, homestead, and Yoga Ashram on Camano Island.  They sell farm-fresh produce, hand-made soaps, salves, tea, a wide variety of lavender products, and more. You can shop their online store here…

Aqua Gifts offers thoughtfully curated items from the islands and more.  Located in one of the historic old buildings along Coupeville's Front Street, the store has been offering home and personal fashions since 2003.  You'll find gifts, jewelry, shoes, bath and body and items for the home. You can also shop them online here…

Bayview Farm and Garden is one of the top 100 independent garden centers in the United States.  Come visit and feel inspired.  There are thousands of square feet of ideas to enhance your yard and home.  The centerpiece is the arbor of Laburnum trees.  When the trees bloom, tourists from all over come to see this arch of hanging gold. ... Read More

With wicks made from wood and soy candles, By the Sound Candles presents a sensory experience, complete with the sound of cracking wood.  These hand-poured candles come in a variety of scents.  There are also room sprays, hand cleansers, and more. Shop online here…

Explore Fair Trade Outfitters for unique women's apparel, home & accessories store that ONLY sells brands they deem as "Fair Trade." That means that anyone involved in the manufacturing of the garment/product is paid a fair "living" wage, given a safe working environment, and fair working hours. All this, plus the great styles that are now available, mean you can feel ... Read More

You'll probably laugh out loud when you shop Far From Normal, Coupeville's smile-filled gift shop.  Silly is the rule as you walk through a shop filled with fun signs, shirts, toys, games, mugs, and more.

Flying Bear Farm and Design is a more than a supplier of flowers, they are a farmer-florist.  From the seeds in the soil to the petals in a vase, Flying Bear Farm carefully nurtures flowers along the entire grower and designer's path.  When the winter months set in, they source their flowers as locally as possible, looking for like-minded growers ... Read More

For 50 years Lind's has offered gifts, jewelry, books, travel needs, souvenirs, clothing, cards, and more.  Their jewelry department is filled with quality fine jewelry and their jewelers also produce finely-crafted custom jewelry.  Their gift section is filled with great ideas with a special flair for the traveler in each of us.

~ A Sanctuary for the Spirit ~ Llynya's is more than just a gift shop, it's a space that welcomes and celebrates the diverse paths of spirit in all of us.