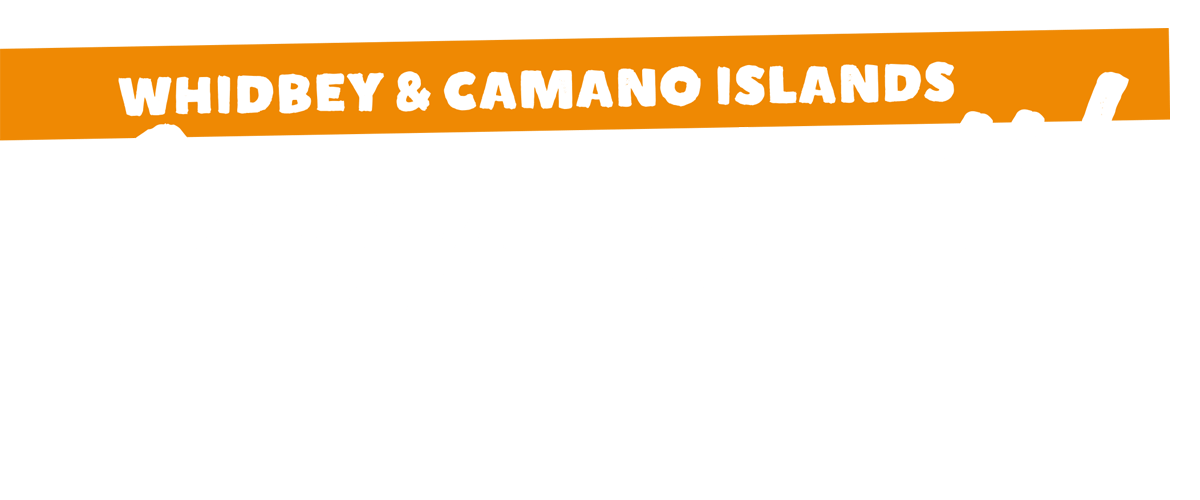 Escape to Whidbey and
Camano Islands
Are you ready to #EscapeItAll?
Travel here "virtually" with our series of quick escapes.  Whether you're working from home, ventured back to the workplace, or never left the workplace, we invite you to daydream a little about coming to Whidbey and Camano Islands to #EscapeItAll.
We have lots to do and plenty of hideouts with our hotels, inns, and bed and breakfasts.

A Virtual Drive
at West Beach
When the video starts, be sure to click the gear in the lower right corner and choose a high-quality playback.
A drive on West Beach is always an #EscapeItAll kind of moment.
Depending on which way you drive, you pop out of the woods and drive into this fun valley with a single row of houses between you and Puget Sound.
On the other side is a marsh filled often filled with wildlife.
It's not a "wow" moment, so much as it is an "aah" moment.
When you need a moment to enjoy a drive, don't forget West Beach Drive at the northwest corner of Whidbey Island.
A Virtual Drive
at Deception Pass
When the video starts, be sure to click the gear in the lower right corner and choose a high-quality playback.
Driving Deception Pass is a grand entrance to, or a beautiful exit from, Whidbey Island.
This 360 degree view of crossing the two bridges gives you the chance to look all around on this sunny summer's drive.
This grand bridge is having some work done, and you'll be able to tell that in the video.  The bridges are getting a new coat of paint, and that means sandblasting old paint and rust away.  The work area is essentially wrapped so that the debris doesn't fall into the water.
A Virtual Drive
at Ebey's Landing
When the video starts, be sure to click the gear in the lower right corner and choose a high-quality playback.
Imagine driving a tranquil tree-lined country road. Suddenly, there's a hard-right turn and you realize you're driving down a several story-high bluff down to a beach.
After a half-mile of driving parallel to the ocean, there's another turn, a hairpin 180-degree turn. As you double back you see the bluff you drove and an amazing ocean view.
You then drive onto an open prairie, a place that's been farmland for a hundred years. You've just driven Hill road through Ebey's Landing.
Authentic Lumpia
Christy's Lumpia on Camano Island
When you think Northwest Cuisine, you think of seafood or farm-fresh flavors.
But, Christy's Lumpia on Camano island is popular for the delicious fried Philippine favorite from which it gets its name; lumpia.
Available at her kitchen and at select supermarkets from Oregon to Alaska.
What the video to see how all this came about!
The Water's Edge with
Whidbey Island Kayaking
Whidbey Island Kayaking offers kayaking and paddle board tours and rentals. Based in Langley, they're prepared for everyone from novices to experts.
For first timers, guided tours emphasize everything there is to see and learn while exploring the water's edge. Beyond that lies adventure with a strong eye towards safety and fun.
More for Your Virtual Visit
Visitors from the big city are always excited when they get to see deer. For your "Moment of Zen" today, we offer deer just hanging out.
Where art and nature come together.
#EscapeItAll
A gallery wrapped in a park.  That's the best way to think about Camano Island's Matzke Fine Art Gallery and Sculpture Park.
While many parks have art, this park was especially built for the art.
The art, and the 10 acre park, itself, is ever changing and offers delightful surprises around each corner.
"Waiting"
Oak Harbor Art Trail
Oak Harbor has so much public art they've turned it into its own self-guided tour.
Near the Oak Harbor Marina is one of the oldest and most haunting works. A barefoot woman holds a lamp and looks out into the harbor. It is entitled "Waiting."
Located beneath the Pacific Flyway, English Boom is a great place for bird watching.
#EscapeItAll
English Boom on Camano island is a great place to watch the sun rise over the distant mainland and an even better place to watch birds.
This nearly 7 acre waterfront park features an ADA trail, and a waterfront trail,. The park was once a logging boom owned by the English Lumber Company. Trees were hauled to the water, tied together and pulled by tug to sawmills.
Once Upon A Time:
Cama Beach State Park
Memorable vacations can come from the simplest of things.
#EscapeItAll
Thinking it's time to simplify your vacation?  Looking for the chance to just be somewhere else?  That's the way many people vacationed 90 years ago.  Puget Sound was filled with small waterside get-aways.  They were a collection of cabins and maybe a small store.
Most of those special places are lost to history.
But one remains and is now a Washington State Park.  Here's the story of its rescue.
Craig Johnson:
Bird Photographer
"Being outside in nature is a win-win, whether you get the photo or not."
-- Craig Johnson
#EscapeItAll
Craig and Joy Johnson are well-known bird experts here. The couple has written several books about local species of birds.
But, before the writing can happen, there has to be the moment when mother nature stops and poses for the camera. Craig explains how it's all about being ready to take the shot.
You can read more about them here...
Del Fairfax Preserve:
A space of peace and solitude
Magnificent 2nd growth fir trees dominate the landscape.
#EscapeItAll
This is one of the secret places only Whidbey Island locals know.
Only a small sign on a back-island road gives notice anything is there. But park at the sign and go for a walk around this space of peace and solitude.
After walking through the forest, you come upon a giant open meadow surrounded by tall trees.
It's a 50-acre forest with a 10-acre meadow in the middle.   It's one of the lands protected by the Whidbey Camano Land Trust.
It's located at the corner of Zyltra and Fawndrop roads, about two miles from Oak Harbor.
Bart Rulon:
Wildlife Photographer
photo: Bart Rulon
An Orca spyhops to see whats happening on the surface of the water.
#EscapeItAll
Photographer and Naturalist Bart Rulon is one of those people who gets to spend lots of time in nature.
He moved here especially for the abundant wildlife and wild nature of the Pacific Northwest and has had many interesting and unique experiences here.
His photographs are his artful record of nature in and around the Salish Sea.
Haller House:
A Grand Lady Gets a Makeover
Haller House – A House With Stature
#EscapeItAll
Built in 1866, the Haller House, in Coupeville, on Whidbey Island, is one of the grand old houses built by some of the earliest American and English settlers in the Pacific Northwest. But, the house never quite made it into the 20th century, with minimal improvements.
Saved for public use by a large number of generous donations, the house is now being renovated for another 150 years of life.
The Golden Arch That's
an Internet Star
An Instagram-Worthy Arbor in Bayview
#EscapeItAll
More than 20 years ago, the owners of Bayview Farm and Garden planted Laburnum Trees on either side of two metal arbors.
They and the staff tended to the trees and weaved them through the arch.
The trees' golden "chains" bloom each spring, and the results of echoed around social media ever since.
The Best Liqueur in the World?
Professional Tasters Were "Blown Away"
#EscapeItAll
What happens when a couple retires to Whidbey Island but gets bored and decides to, "do something?"
Steve and Bev Heising were among the first to take advantage of a new state law enabling small distilleries.
Whidbey Distillery may be a small distillery, but the results have been pretty big.
These giants of Puget Sound inspire awe and remind us of the beauty that surrounds us.
#StillBeautiful
Each spring gray whales feed in the waters around Whidbey and Camano Islands.  They take a break here from their migration to the Gulf of Alaska.
The orca are often in Puget Sound.  There are resident orca that are usually here and transient orca, that are doing the orca version of, "passing through."
Georgia Gerber - Sculpting Whimsy
It's not uncommon to find Georgia Gerber surrounded by large clay animals.
#StillBeautiful
Georgia Gerber makes people the world over smile every day through her artwork.  Her art almost always evokes a certain whimsy, whether they're stumbling ducks, or a boy leaning against a rail, or a whole soda fountain.  She's most famous around here for Rachael, the Pike Place Market pig.

There's more to know about Georgia Gerber.  You can read all about her AND see a second video that shows how the sculptures are a team effort!
Learn more!
There's a skill to opening oysters.  Chef Vincent shares the secret!
#EscapeItAll
There's a world of flavor locked up inside an oyster shell.  The trick, however, is getting inside.
Chef Vincent Natress is the owner and chef at Whidbey Island's "Orchard Kitchen."  It's a farm to table dining experience on Whidbey Island.
Here, he guides us through what you need to know to get at the good stuff.
And, if you want to know more about the dining experience, check out our blog post here...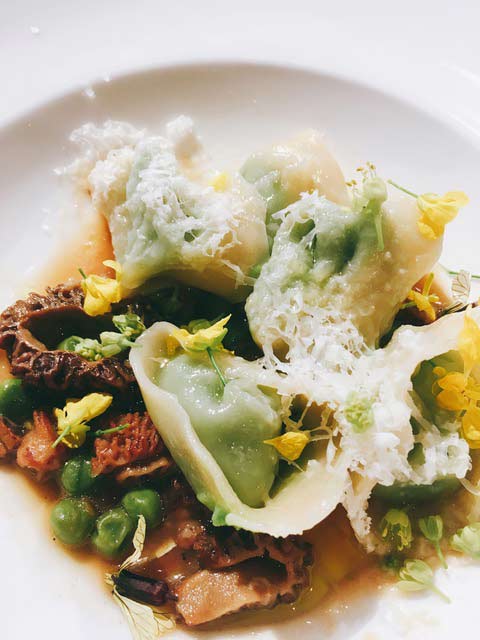 Can something be both a comfort food and a new experience.
#EscapeItAll
At once new and also comforting, this recipe combines familiar tastes in a new way.
Chef Vincent Natress of The Orchard Kitchen gives us the recipe for Sweet Pea Tortellini and tops it all with cheese from Glendale Shepherd.
Download and enjoy!
Is it the scenery, or the waves?  You decide!
#EscapeItAll
There's something about being near water that just makes you feel better.
Even science has done research that supports the idea.
So, turn up the speakers, hit play, and go for a virtual relaxing walk on Hidden Beach.  (see map below)
Oh, and if you want to read about the science, click here...
The Moods of Deception Pass
The Iconic Deception Pass Bridge in a sunny mood.
#StillBeautiful
While summer is the busy season for Deception Pass, the "off-season" is perhaps when the pass is most interesting.
It can be in a foul-foggy mood one day and a cheery bright sunny day the next.
While that's common in many places around here, at Deception Pass, it has a special charm.
These bees are helping make a honey of a comeback on Camano Island.
#StillBeautiful
Camano Island Honey is more than just a bee farm.  It's one woman's effort to re-establish bees on Camano Island.