by Jack Penland
Updated 1/10/2022
All too often eating on a vacation is reduced to quick grabs of fast-food crammed down quickly around whatever adventures you have planned.
But what if food was the adventure?
You can do that on a trip to Whidbey Island.  With a little planning and insider information, you can enrich both your palate and your knowledge about food.
"You're on an island, and therefore, seafood should be the first order of business."
How to begin
The first bit of advice is, "don't get in a hurry." That's not how we do things here, and you can always come back.
The next advice is, "plan ahead." Many places are open only a few days a week. They are family operations that are big on quality, but they need time off sometime. Other places require reservations, or at least reservations are strongly recommended.
There are simply too many options to do this in one weekend trip, so I'll divide this food trip into two parts. Part 1 is the northern half, part 2, the southern half.
And coming soon, a food trip to Camano Island.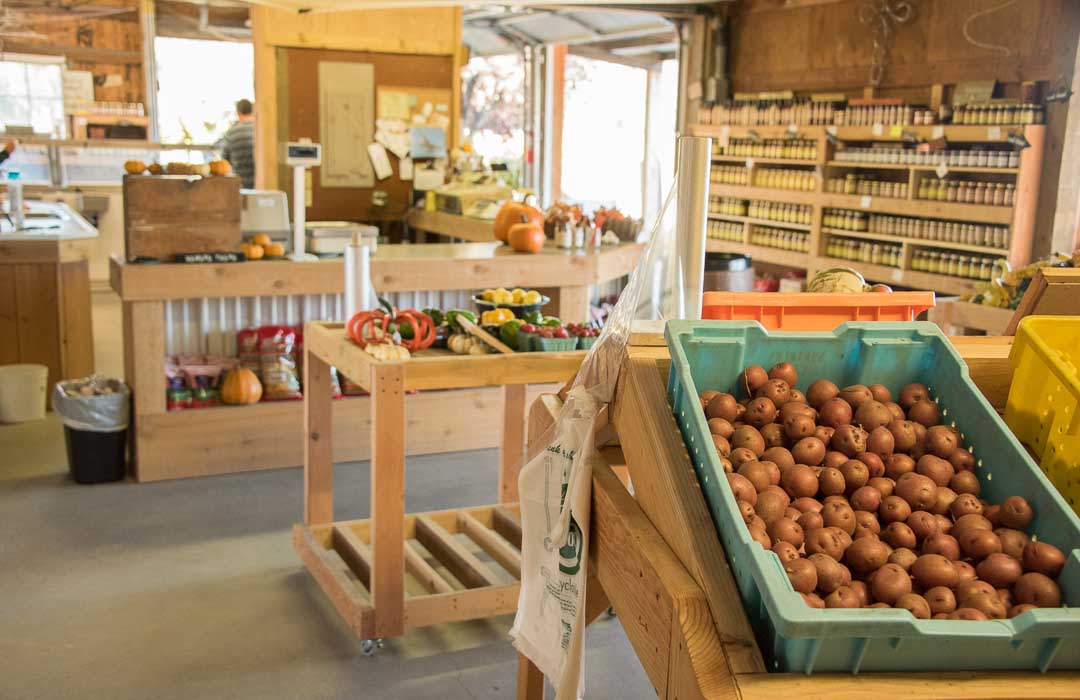 The farm stand at Dugualla Bay
is larger than most.
Day One
You start your island trip by crossing Deception Pass.  Just because this is a food adventure, doesn't mean you can't stop and enjoy the view.  I recommend you turn west at the stoplight south of the bridge and drive into the park.  It's $10 for parking or free with a Discover Pass.  Look for the signs for North Beach.  A short walk gets you to the water's edge and a great view.
A few miles further down SR 20 is your first food adventure.  At Dugualla Bay is a large vegetable stand with produce from all over the region.  In October there's even a corn maze and pumpkins.
You're on an island and therefore seafood should be the first order of business.  Seabolt's Smokehouse in Oak Harbor is a regional favorite.  For several years, locals have voted it as Whidbey Island's best seafood.  If you have a tough time deciding, go with their sampler and chips featuring cod, halibut, and salmon.
It's time to go searching for more sources of much of the great food that you'll soon be eating, the island's farm stands.  The farms, themselves are not open to the public, but many have farm stands that sell produce that is far fresher than anything you can get at a supermarket.  The best information on the farm stands comes from a non-profit called "Goosefoot."  They have a detailed farm stand brochure that you can download from their website here…  Be sure to bring cash, because the stands are mostly cash-only.  Bell's Farm on West Beach Road is one such stand, selling seasonal produce from the farm, and is open daily.  When there, be sure to ask questions.  You're here to learn as well as eat.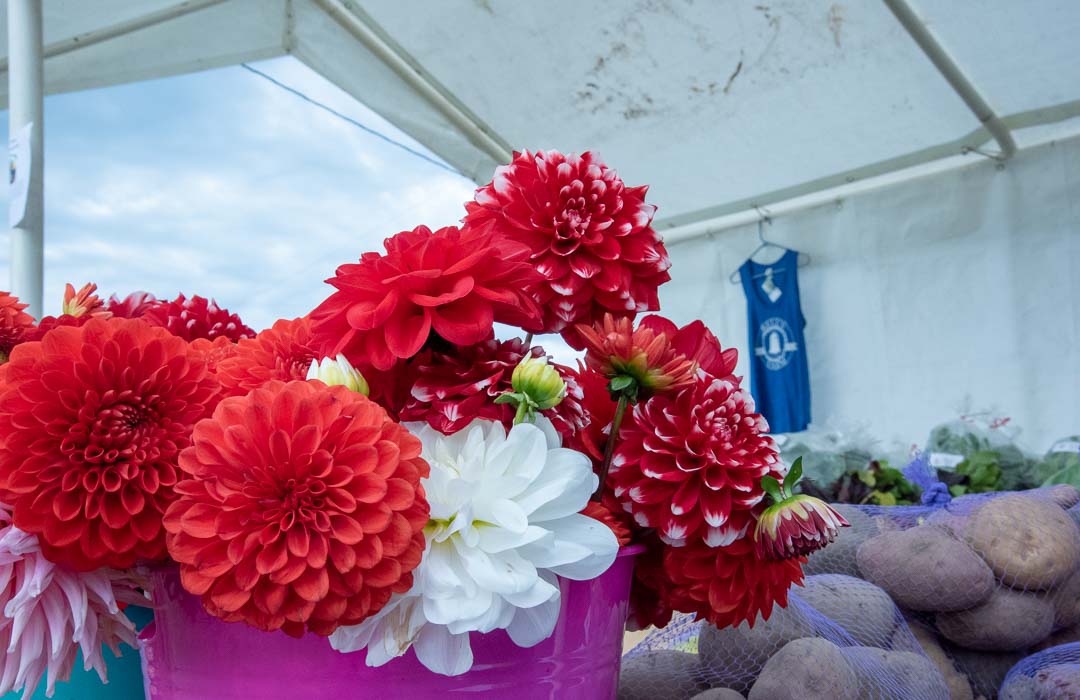 Remember that flowers, as well
as fresh produce, are often available
at local farm stands.
Whidbey Island is filled with artisan chefs, producers of honey, lavender, jellies, and more.  The best way to see as many of them as possible in one place to head to the 3 Sisters Market on SR 20 just north of Coupeville.  It's like all the goodness of Whidbey Island wrapped up in one little store.  The 3 Sisters Farm also produces beef, pork, lamb, and chicken that are sustainably raised on the island.
It's nearing dinnertime and time to head back to Oak Harbor. If it's still early, take time to stroll the shops along Pioneer Way.  You'll find plenty of interesting boutiques, shops, another interesting stuff along the several block-long historic district.
We're giving you a choice between two wonderful restaurants only a few blocks apart.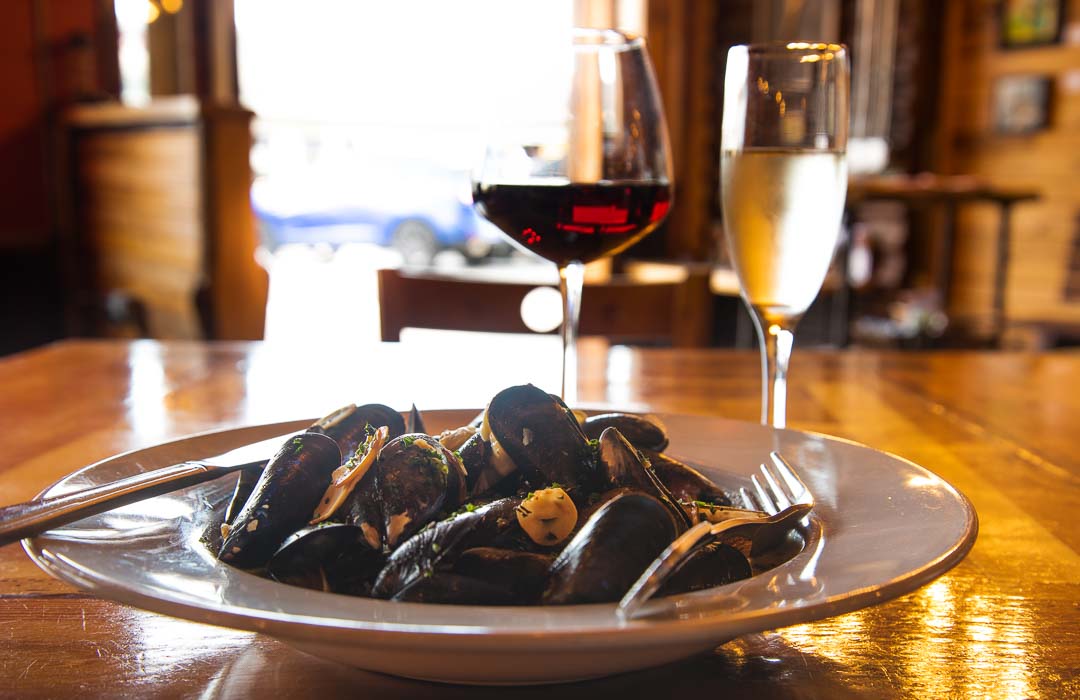 The first is Rustica Cafe, Wine Bar and Kitchen, right in the heart of downtown Oak Harbor.  This is a farm to fork restaurant with a great selection of local seasonal offerings.  What never goes out of season is Penn Cove Mussels, harvested just outside of Coupeville.  Many island restaurants serve Penn Cove Mussels and Rustica is a great place to experience your first bowl of this local favorite.  But, if you get districted by, say, the limoncello crab ravioli, I wouldn't blame you a bit!
Be sure to check out the decor, made from recycled wood from around the island.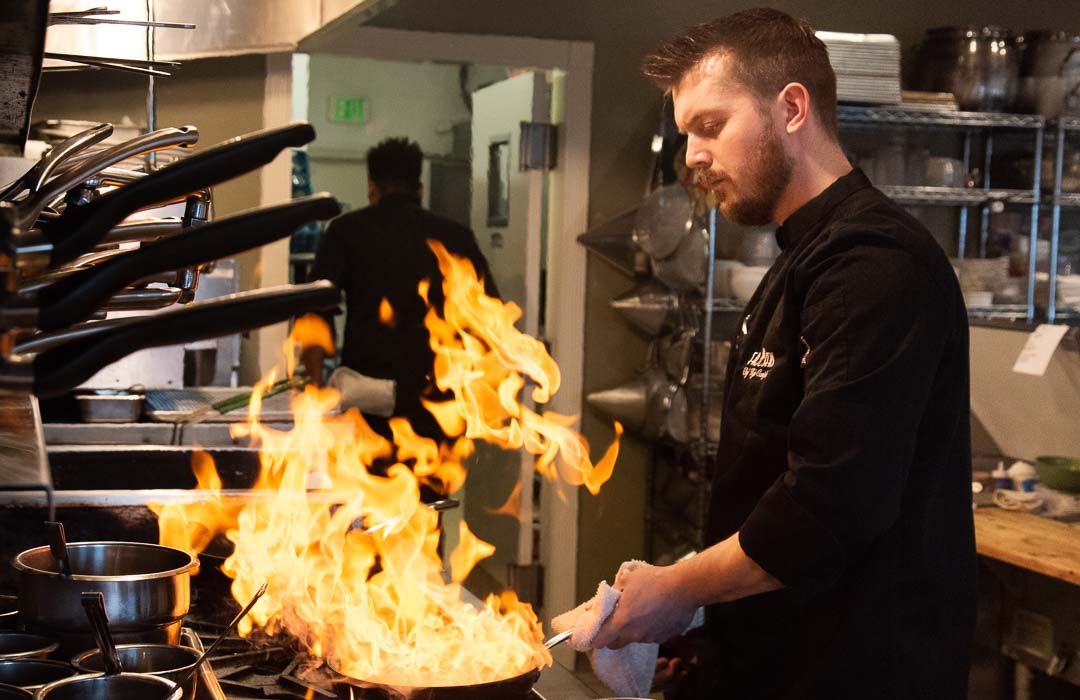 It gets a little hot in
the kitchen at Frasers.
Your other Oak Harbor dinner destination is Frasers Gourmet Hideaway just a couple of blocks up from Pioneer Way.
Scott Fraser tuned his skills at French restaurants in Vancouver, B.C. before coming to Whidbey Island and Frasers is a fine dining experience with many tables having a great view.  One insider tip is to make reservations ahead of time and ask to be seated at the illuminated onyx chef's counter that's part of the restaurant's open kitchen concept.   The scallops over truffle pasta are always a hit, but if he's slow-braised beef that day, you might want to give it a try.  Save room for dessert because they have a special pastry chef on the premises ready to make it memorable.
If you need one more stop before calling it a night, the nearby Terrace Wine Bar serves beer and wine in a quiet and elegant setting.  Don't stay up too late because…
Day Two
It's a new day and time for breakfast and it's time to eat like a local.  Riverside Cafe, again located in the historic downtown area, can meet the demands of a variety of tastes.  The Raspberry French Toast is a vegetarian, but decadent start to the day, but so's their "Meat Eater Meal."   The virtuous can try a veggie omelet or hot cereal.  Best of all for you late-sleepers, breakfast is served all day.
Otherwise, get up early and put some miles behind you and head to Coupeville's Little Red Hen Bakery offering breakfast take-out.
Coupeville's Front Street is filled with historic buildings and looks much the same as it did a hundred years ago.  The buildings are filled with all kinds of shops that are perfect for walking off that big breakfast.  Two, in particular, fit our food travel theme.  One, is a store called bayleaf.  It is a gourmet wine and cheese shop with lots of other goodies for you to buy and take home.  If you check their site ahead of time, you might plan your trip around one of the many special food-related programs they have on Saturdays.  Across the street is Lavender Wind.  Yes, it's filled with all things lavender; from plants to oils and soaps to snacks made with lavender.
The shops in Coupeville range from places like Vail Wine Shop to an upscale handbag consignment shop to Kapaw's Ice Kreme.  You'll want a taste of their ice cream.  While there, note the sign on the outside of the building and you'll learn this was the original home of Seattle's Best Coffee.  It was serving high-end specialty coffee here years before Starbucks opened in Seattle.
When you're in Coupeville, you are on Penn Cove, home to Penn Cove Mussels, served in restaurants all over the country. And, while the company that produces the mussels takes great care to deliver mussels to those far-flung restaurants in just a day, you get to have them super-super fresh.  Coupeville is so crazy about its mussels that they hold an annual celebration called Musselfest.  All the restaurants around compete as to who can serve the best mussel chowder.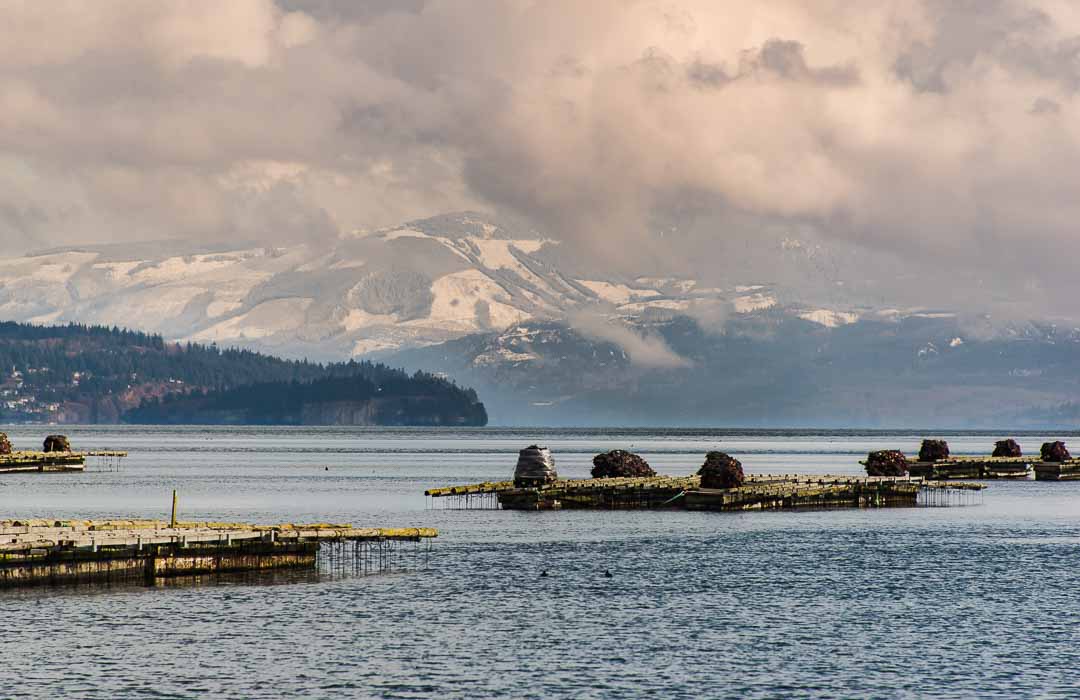 The Mussel Rafts 
on Penn Cove
But where to eat mussels?  If you haven't already given in to temptation and already tried them, now is a good time, because you have lots of options.  Toby's Tavern is an old-style bar, but serves a mean bowl of mussels, but just to those 21 and over.  The Front Street Grill has an entire menu page devoted to mussels, and The Captain Whidbey serves them in a 110+ year-old hotel.  In the summer, their outdoor brunch overlooking Penn Cove is the perfect way to spend a weekend mid-day.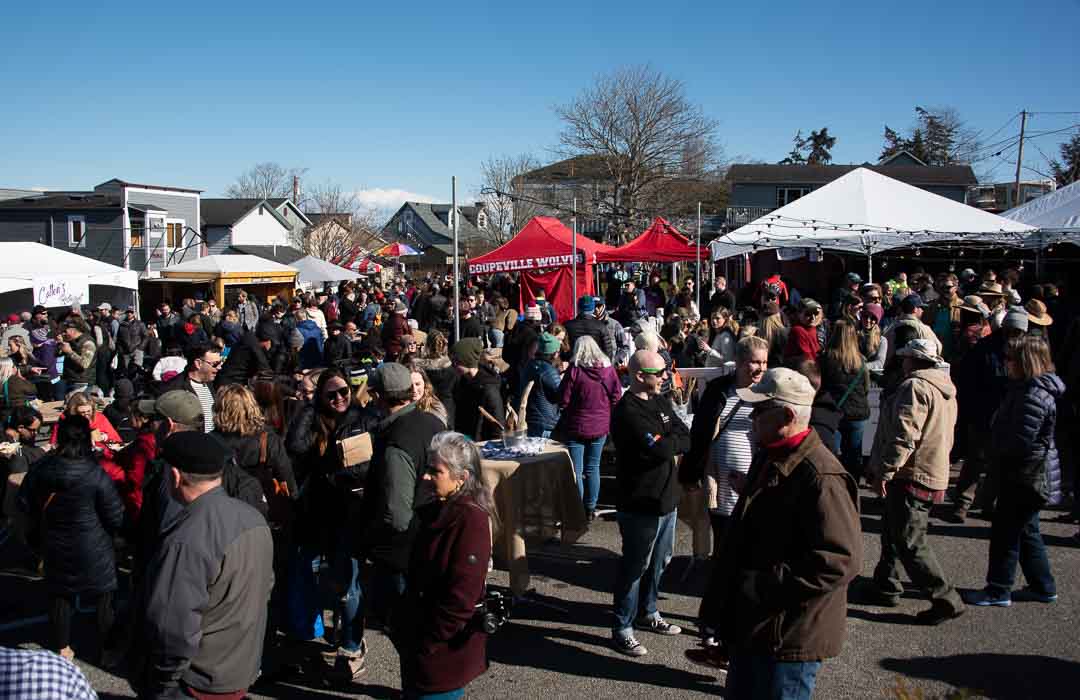 Musselfest is a springtime
celebration of Penn Cove Mussels.
After lunch, it's time for a drive, because you are actually in a national park, Ebey's Landing National Historical Reserve.  It's the first-of-its-kind public-private partnership to preserve the land much the way it was a hundred years ago.  There are farms here that have been in the same family for generations.  Many of the items produced here find their way onto plates at the top restaurants in Seattle.  Pick up information at the Coupeville Visitors Information Center and take time to drive around the reserve.  Realize that some of the homes are among the oldest in the state of Washington!  Remember that directory of farm stands?  It can lead you to many of those farms.  Again, you have the chance to pick up the freshest produce around.
Still hungry?  Then Callen's Restaurant is for you.  Located in the middle of the reserve just steps from the ferry and a very short drive from Fort Casey, the restaurant offers classic comfort food done from scratch.
But you can't eat and shop all the time, at least not here.  It's time for a little history.  Drive to nearby Fort Casey State Park. Like Deception Pass, it will require either $10 parking or a Discover Pass.  This is an opportunity to explore a fort that was built in the 1890's to defend America's coast from invading ships.  You can also climb the lighthouse that was the region's first.  The area has a spectacular view of Admiralty Inlet and is a great bird-watching location.
For dinner, it's back to Coupeville and your last big food event for this trip; dinner at Oystercatcher.  This intimate restaurant features fresh regional ingredients, so the menu is constantly changing.  The cassoulet will always highlight local ingredients, including Whidbey Island's own Rockwell Beans.  Chef Tyler and his wife Sara list local farms several times a week to hand-select the freshest ingredients.  Chef Tyler is actually taking things a step further, spending time at one of the local farms, learning his ingredients literally from the ground up!
We interviewed Chef Tyler about farm fresh ingredients, and you can see it here...
In our next part, we'll continue our journey south, including a visit to a restaurant that should be on every food-lovers' bucket list.
Keep going by clicking here...