By Laura Hilton
Even if you go back 100 years or more, when Whidbey and Camano Islands were more inaccessible than today and mostly the frontier of farmers, artists were drawn to these shores. Early painters were inspired by the versatile landscapes and wildlife of the islands, forming artists' colonies that attracted more creators. Today, it's hard to imagine a medium that isn't represented here, and both islands have flourishing arts councils with busy event calendars.
Studio Tours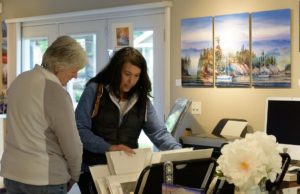 One popular way to see art, and meet the creators behind it, is the annual Studio Tour. Artists of all stripes open their studios to the public, for a peek behind the curtain at their creative process. On Camano this takes place over Mother's Day weekend and the following weekend; on Whidbey the event is for one weekend in August. It's become so popular, both islands usually have close to 40 locations to explore, and the opportunity to purchase artworks for your own creative sanctum.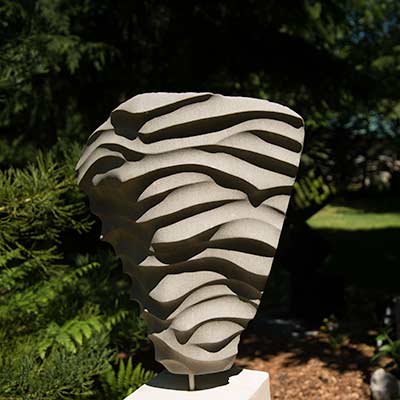 There's no need to wait for a particular weekend, here in the islands we're surrounded by art every day. A great option to keep you outside is a visit to one of our many sculpture gardens, blending human art with Mother Nature's. On Camano Island you can experience Matzke Fine Art and Design Sculpture Garden. On Whidbey, check out Langley's Schouten Gallery and Sculpture Garden, or Earth Sanctuary in Freeland. The newest addition is the Price Sculpture Forest near Coupeville, just opened in late 2020.
To make an evening of it, stop in at Blooms Winery and Bistro in Freeland, where you can enjoy the art gallery, a glass of local wine, and maybe some live music too. Then there's the First Saturday Art Walk each month in Langley from 5 to 7pm, where you can explore local galleries and meet featured artists. Many galleries use this event to kick off new shows, and most serve complimentary wine and hors d'oeuvres, or feature live music. For a rotating variety of art shows and events, keep an eye on the website of Whidbey Allied Artists. This local non-profit collective started in the 1950s, and describe themselves as a "floating gallery."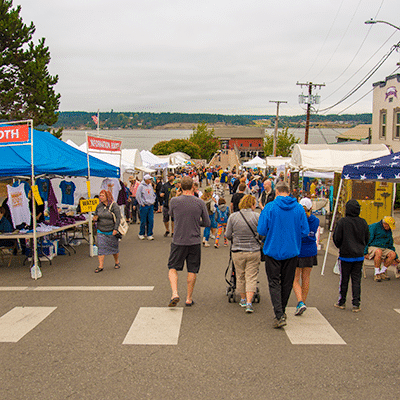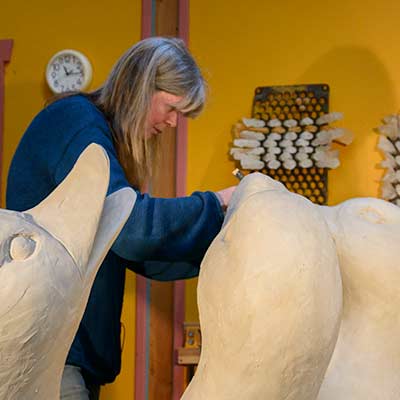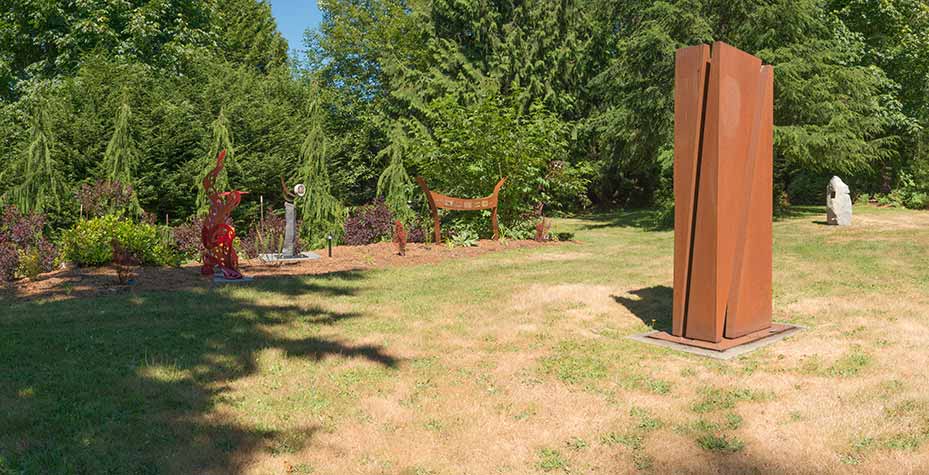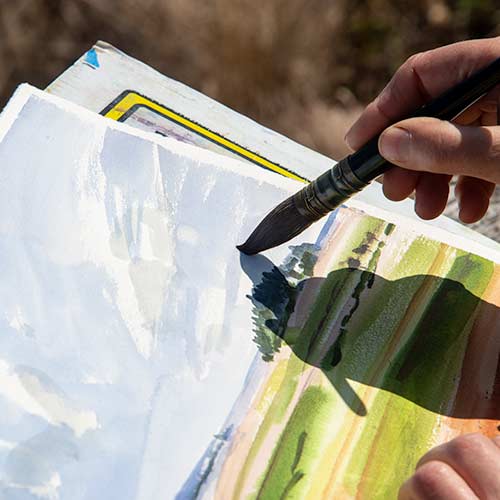 Shop the Stores of Creative Hands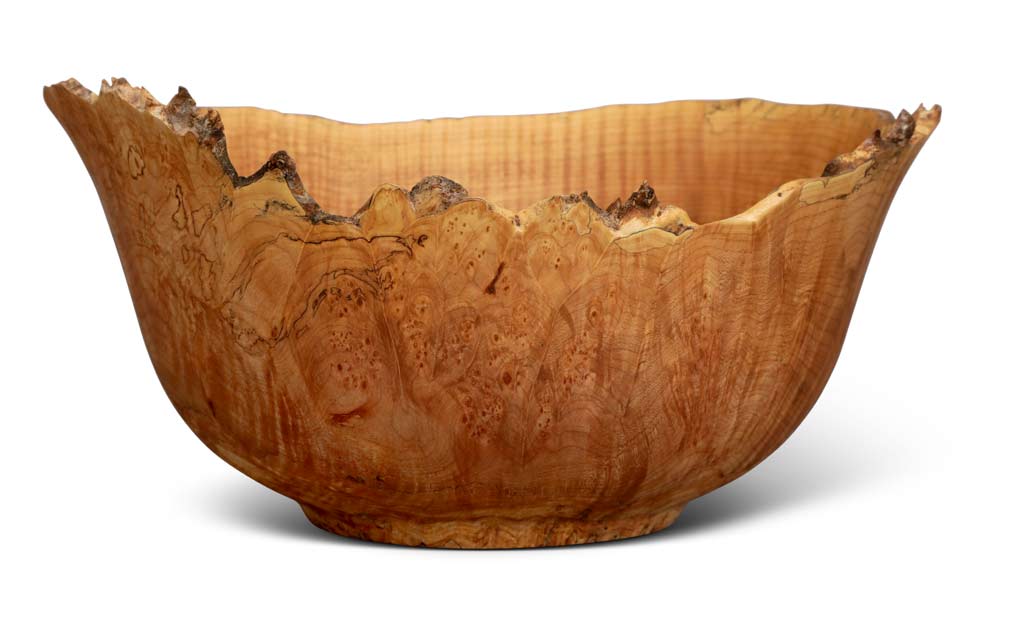 Many local artists present a variety of works including: watercolor, oil, fiber art, ink, glass, and more. Twenty-Six Whidbey Island artists are on display.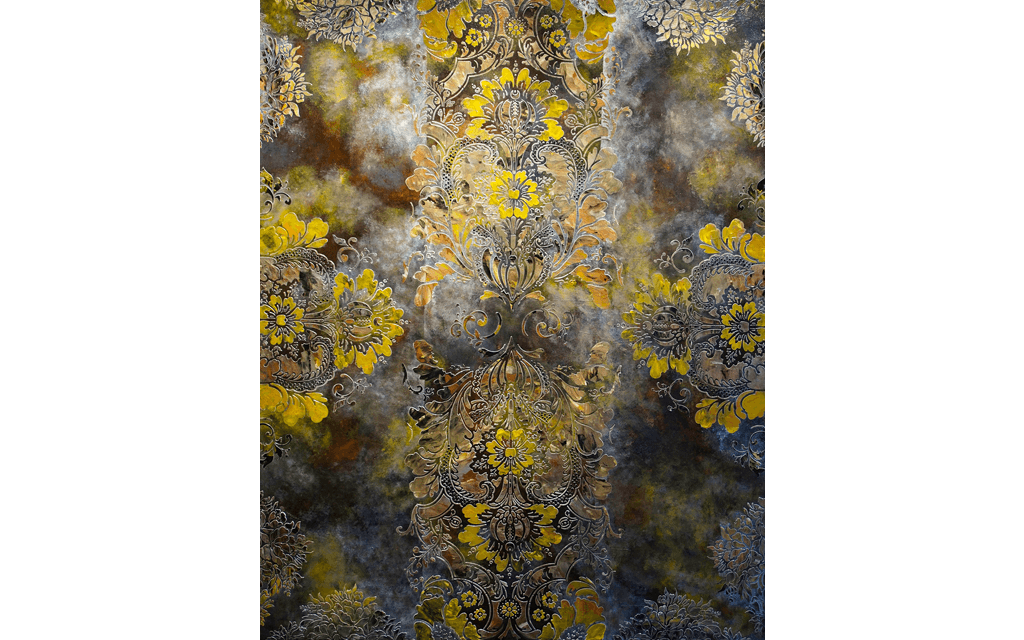 Artists Elizabeth LaCount's and Doyle Reno's gallery offers an intimate look at their work and a variety of other artists.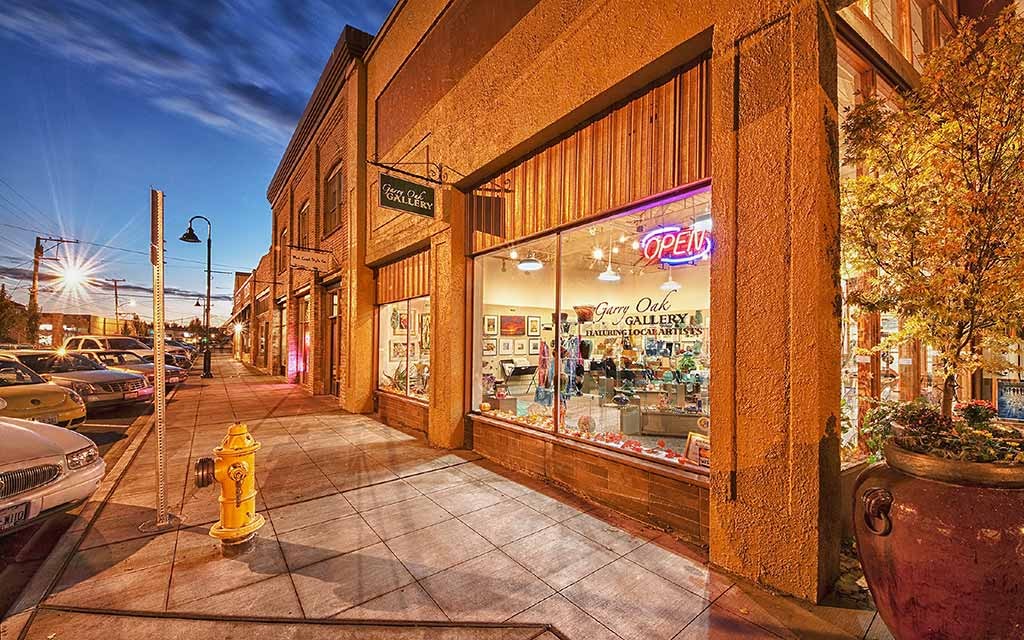 The Garry Oak Gallery is Oak Harbor's artist-owned gallery with more than 25 established and emerging artists working to bring this gallery to life.
Artist Portrait: Georgia Gerber
One of the region's favorite artists is Georgia Gerber.  Her whimsical sculptures are on both Whidbey and Camano Islands and, of course, Pike Place Market, where her giant pig is enjoyed by thousands each year.  Take a sneak peek into the artists' studio and learn how these beautiful sculptures are created.
Artists Seeking Artists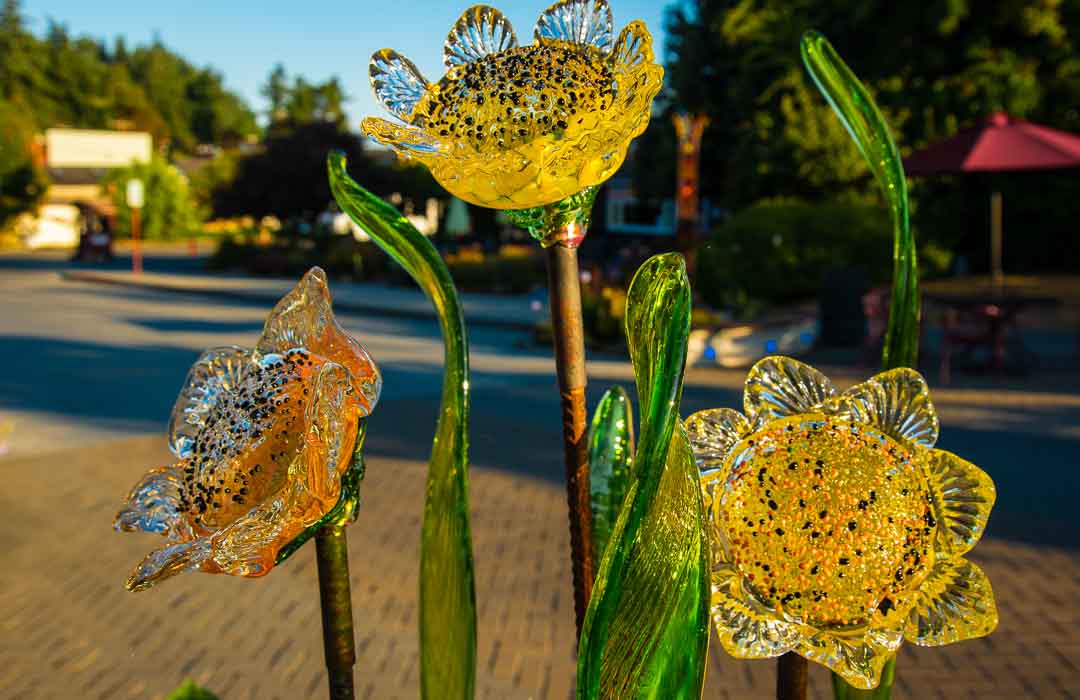 Another staple on the arts calendar is the Coupeville Arts and Crafts Festival. A summertime tradition going back nearly 60 years, this event brings people to the historic waterfront for art, music, and culinary creations. For the children in your life, order an eco-friendly art activity box from Outside The Box Creation, new every month and delivered right to your door!
Shop the Stores of Creative Hands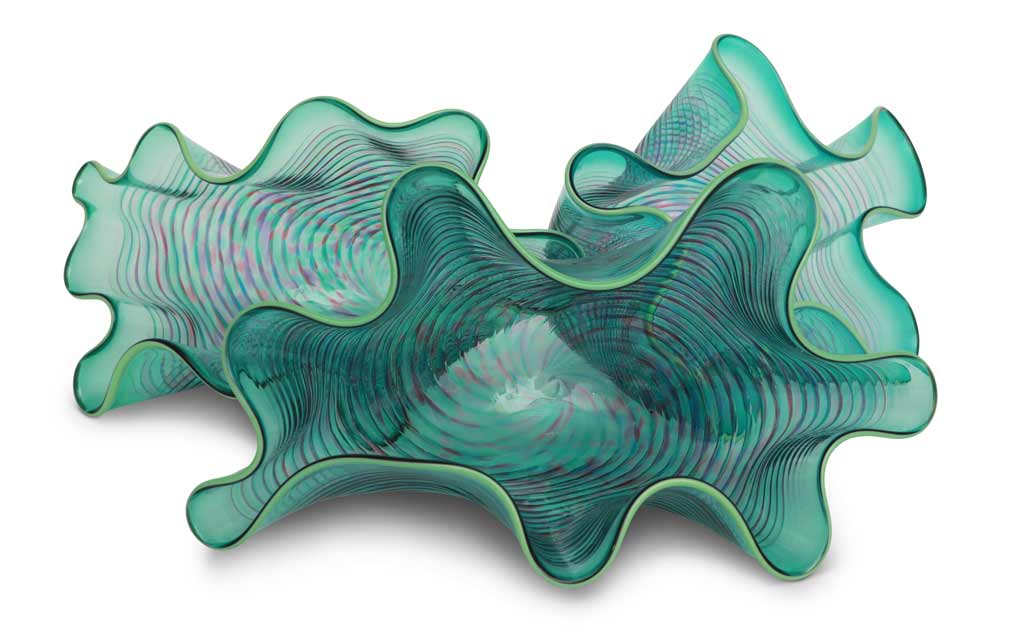 Glass artist George Springer produces beautiful glass art at his studio and gallery.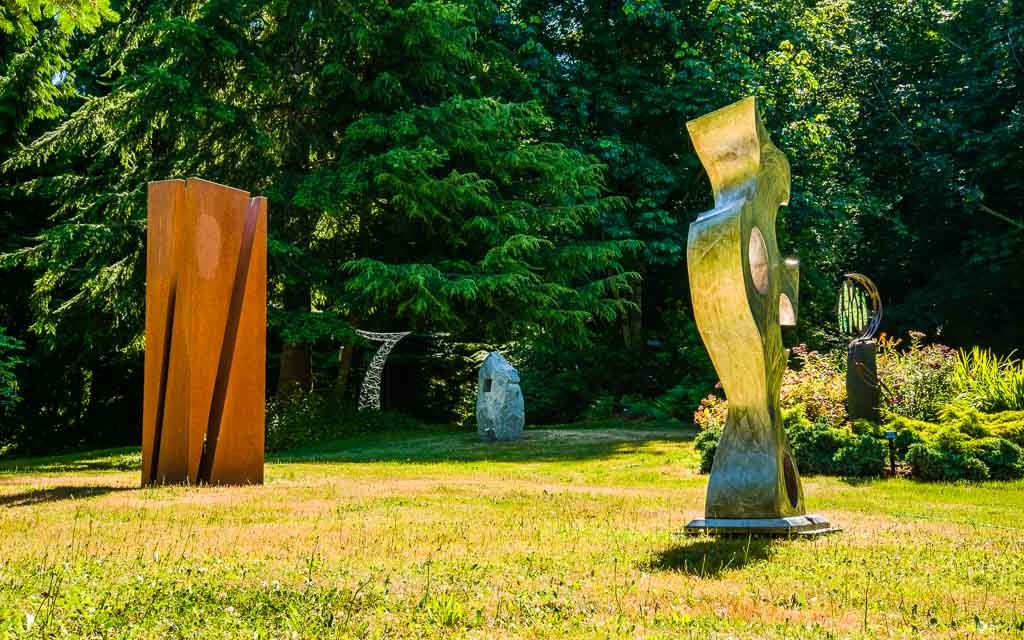 Matzke Fine Art Gallery and Sculpture Park
The Matzke Outdoor Sculpture Park is a ten-acre green refuge where art fans can walk among sculptures, big and small. More than 75 works are on the grounds at any one time. There is also a 3000 sq. foot indoor art gallery.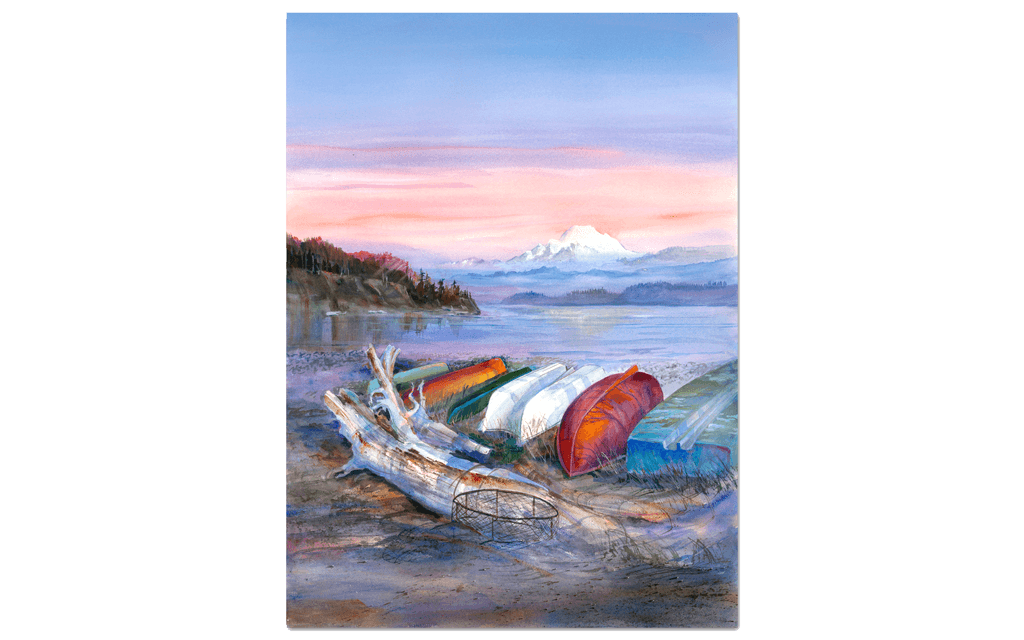 Jack Gunter Fine Art Gallery
The gallery is 4,000 feet of rare 20th century decorative art and early electric industrial lighting, one of the finest collections on the West Coast.
Artists Seeking Artists
Coupeville is home to the Pacific Northwest Art School, where working artists share their knowledge with students of all levels across many mediums. Classes and workshops are also available with nationally recognized instructors at the Whidbey Island Fine Art Studio in Langley; or venture again to Coupeville to learn the wet-on-wet painting technique made famous by Bob Ross. After just four hours with Bobbi Bradley - a certified Bob Ross instructor - you'll be painting happy little trees like a pro.
Artistic Solitude
Or perhaps your inner artist is seeking solitude? To escape the hectic pace of life and plan your own mini retreat in nature, consider Four Springs House on Camano Island, an event center at the heart of a gorgeous 50-acre nature preserve. Or Camp Casey Conference Center on central Whidbey, where history and nature collide in a breathtaking setting. For a truly relaxing retreat, take advantage of Camp Casey's catering options, available for pickup or delivery. Other inspirational places to stay include Camano Island Inn right on the water, Country Cottages within easy walking distance of all Langley's downtown attractions, or Wildwood Farm B&B near Oak Harbor, where gardens and horseback riding are right at your door.