By Laura Hilton
With the allure of natural beauty all around us, it's easy on the islands to get outside and get moving. Whether you just want a beautiful trail to walk or you're looking for an exciting new experience, there are more than enough activities available to get the heart rate up. Self-care and wellness is a real focus too, with island practitioners of all stripes to help you unwind and recenter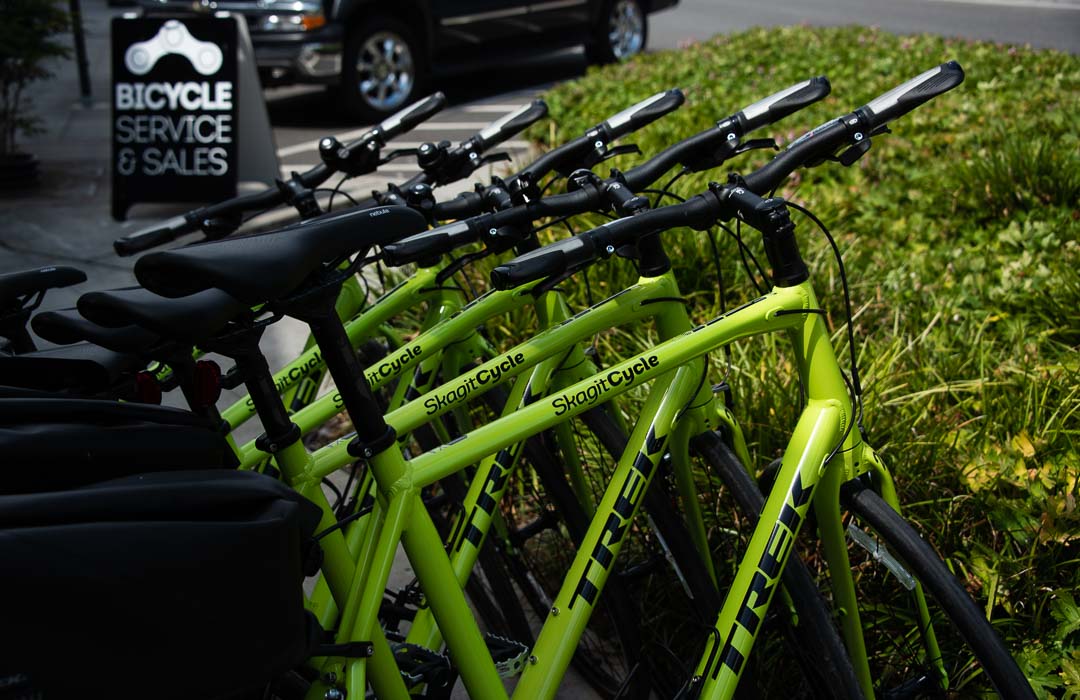 ---
"Whidbey and Camano Islands offer
opportunities for healthy adventures."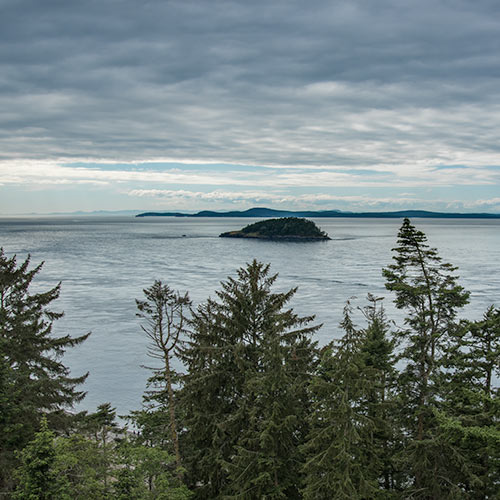 The waters of Deception Pass seen from 200 feet up a tree"
See the world from up in the canopy when you book a guided tree-climbing experience with AdventureTerra in Deception Pass State Park. An electric lift is now available, making this unique activity accessible to all. On Camano you can zip-line through the forest with Canopy Tours NW. Both companies offer team building adventure courses, perfect for families or work groups.
Go Play Outside
Our long, scenic, winding roads are just begging to be explored, and bicycles are a great way to get out there and keep fit. Even if your fitness level's not quite up to it, electric bikes are an increasingly popular option for bridging that gap and riding a little further. Visit the Skagit Cycle Center in Oak Harbor to find any kind of bike or equipment you could need.
Before You Ride
Before you ride, read more about cycling on Whidbey and Camano Islands and view our maps.
Learn More...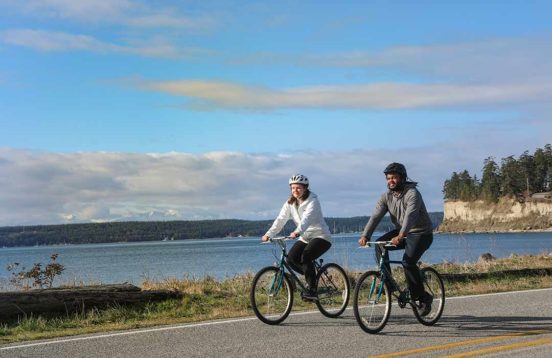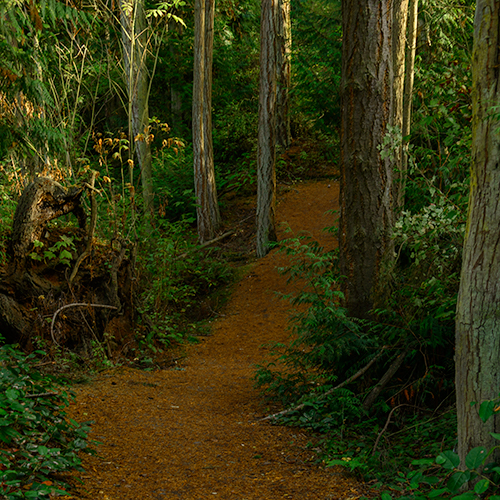 "One thing we certainly have
in abundance is beautiful
walking trails..."
Whidbey and Camano have an abundance of beautiful walking trails, often maintained by devoted volunteers. Clinton's serene Whidbey Institute has a 106-acre trail network that's open to the public from dawn to dusk every day; though bikes, horses, and dogs should be left at home.
Take your canine companion on-leash through the woodland trails between Maxwelton and Langley Roads. These South Whidbey Parks and Rec trails will lead you to Community Park, affectionately known as "Castle Park" for its fabulous playground. Your kiddos will surely love a visit to the 12,000 square foot playground at Freedom Park on Camano. Another excellent choice for trails, playground and sports fields is Fort Nugent Park in Oak Harbor; set on 40 acres near downtown.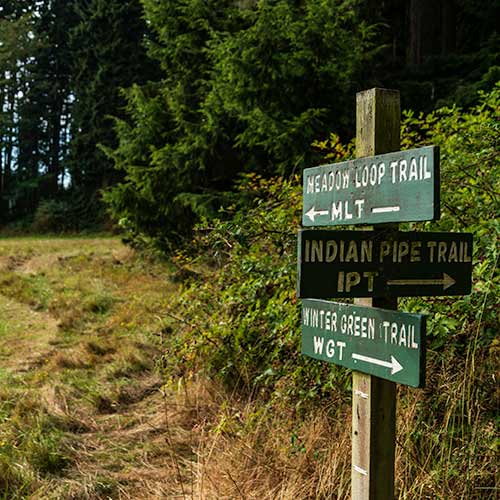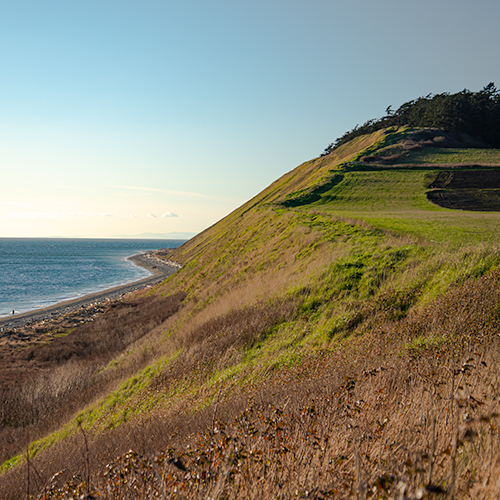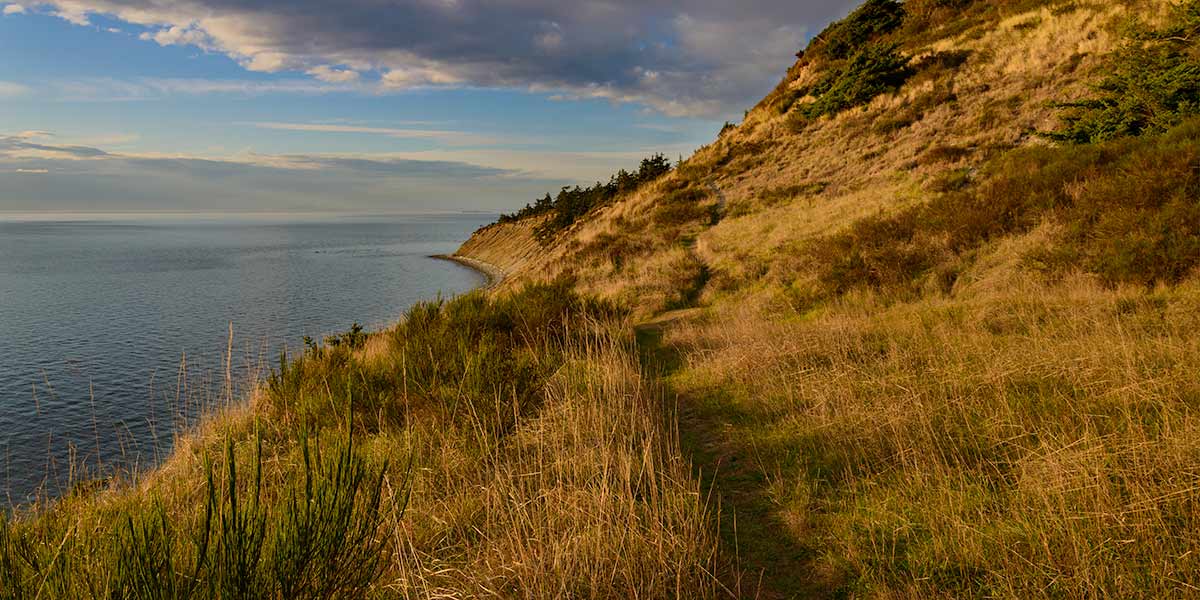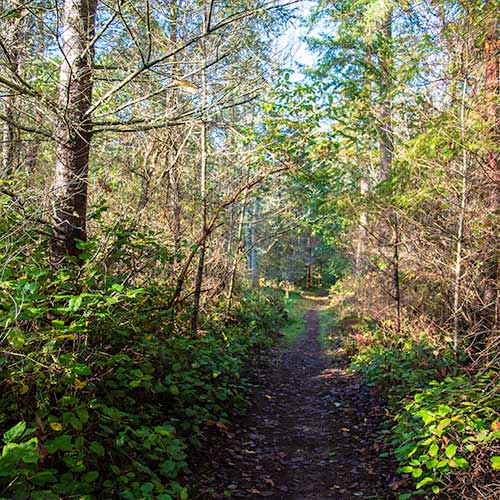 Trails for the Mobility Challenged
Hoypus Point
Hoypus Point in Deception Pass State Park was a paved road now blocked-off from cars.  The flat road parallels the water taking you first to a beautiful view of Deception Pass, then on to Hoypus Point.  Parking is adjacent to the trail head and a Discover Pass is required.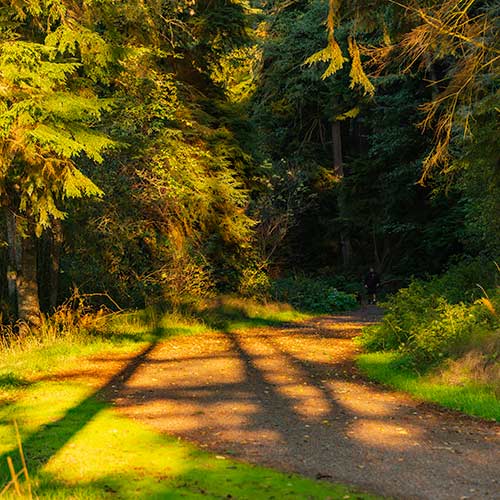 Trustland Trail
Take a walk among the trees on the Trustland Trail.  This is a 1.7 mile long ADA compliant trail.  It is gravel with ample parking.  However, there is no restroom.  It's located about 2 miles north of Clinton just off SR 525.  Free parking is adjacent to the start of the trail.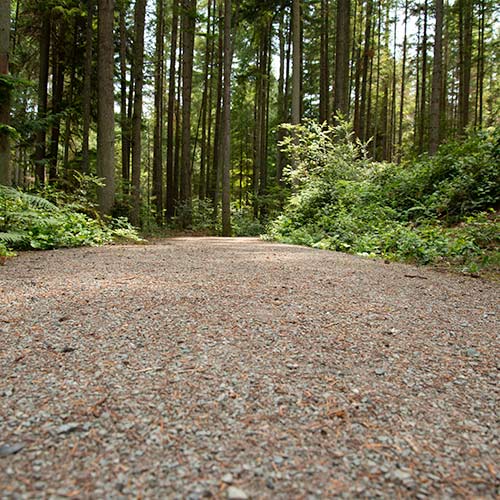 English Boom
Take a walk among the trees on the Trustland Trail.  This is a 1.7 mile long ADA compliant trail.  It is gravel with ample parking.  However, there is no restroom.  It's located about 2 miles north of Clinton just off SR 525.  Free parking is adjacent to the start of the trail.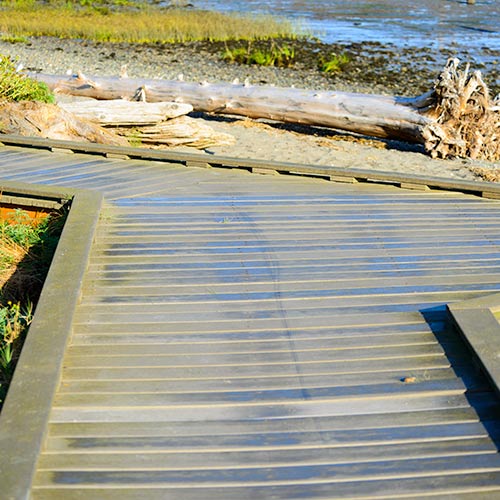 Explore Some More!
Find more Accessible Outdoor Adventures
Learn more!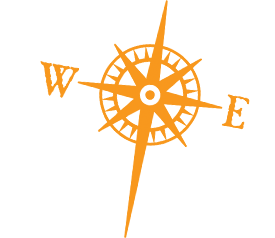 Stores for an Active Lifestyle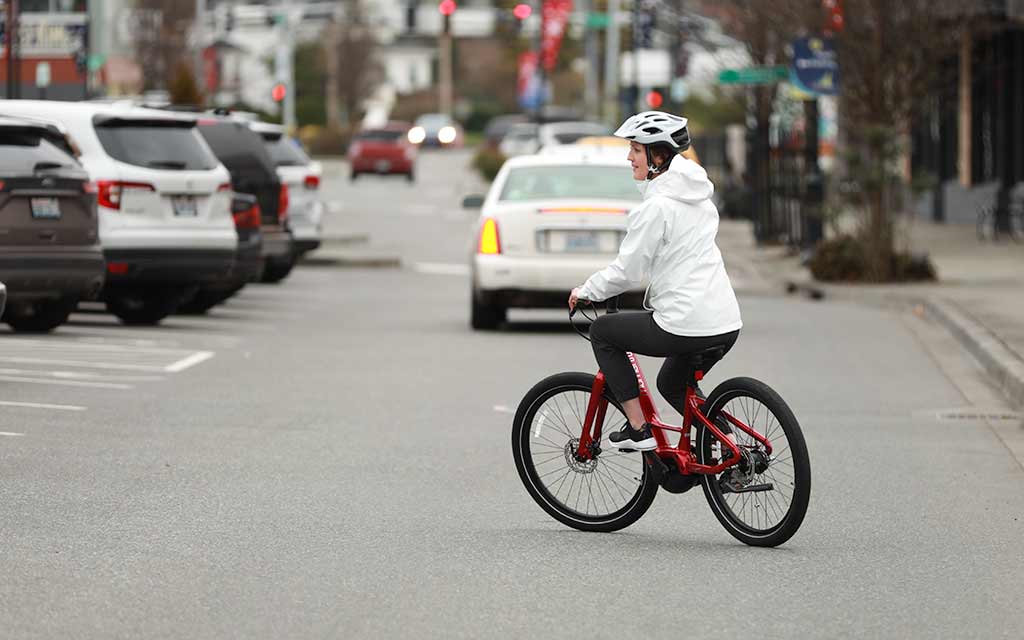 Skagit Cycle Center offers bicycles ranging from off-road to recumbent to e-bikes. It also offers accessories and bicycle repair.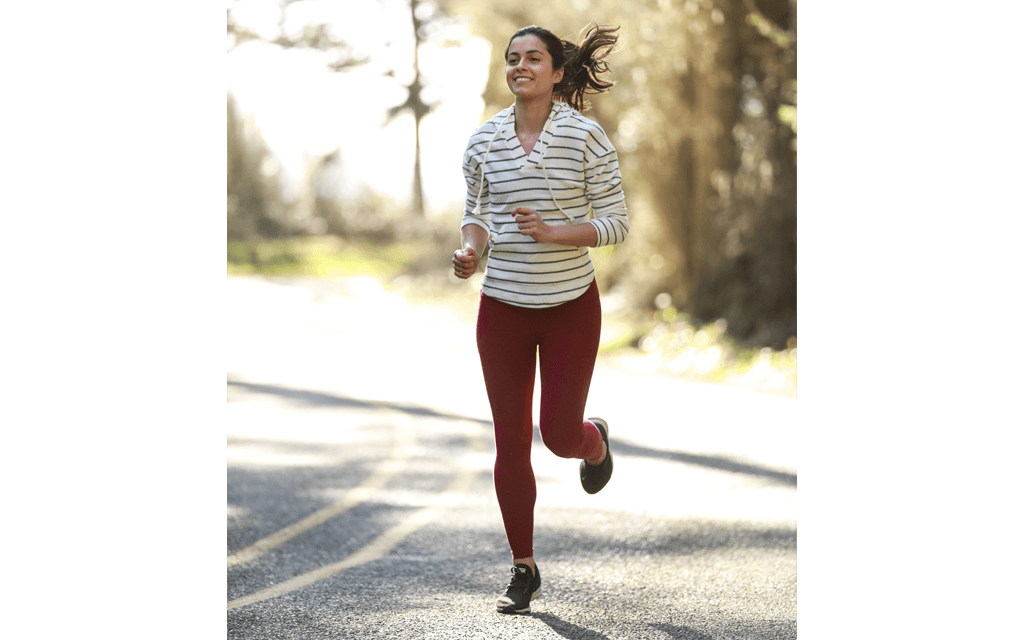 From hats, socks, and bags to items for the home and more, the Feel Good Shop has a carefully curated selection of fascinating gifts.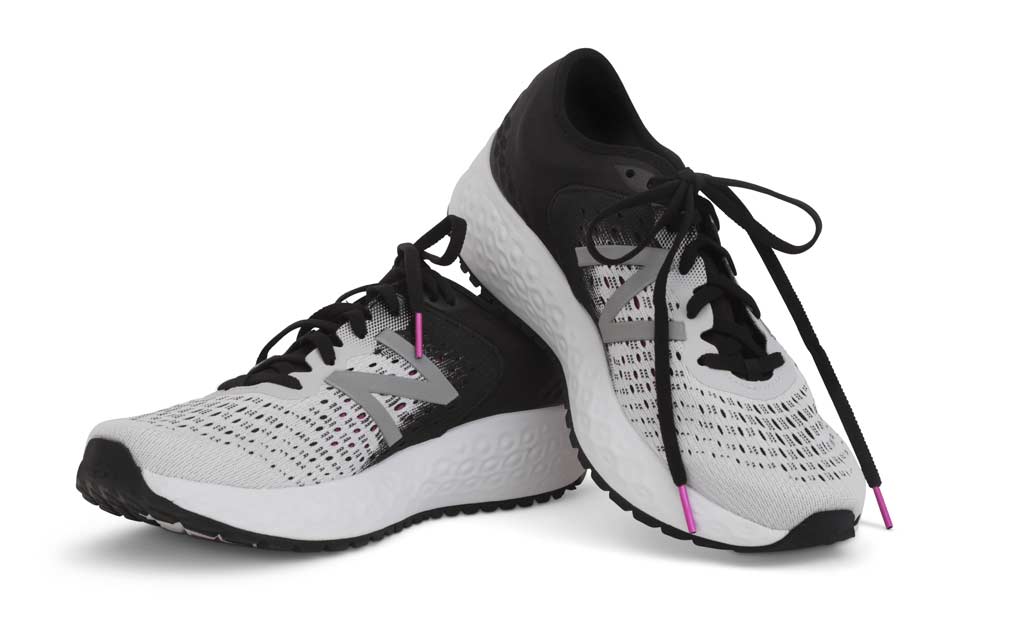 Webb's Department Store offers clothing for men, women, and children along with a great selection of shoes and accessories.
Golf and Fitness Centers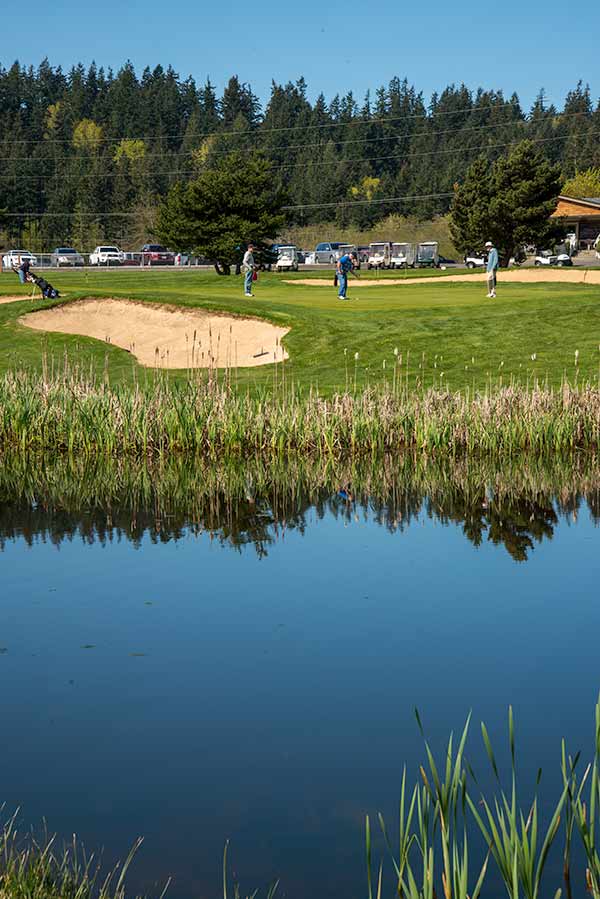 If hiking is too unstructured for you, try one of our many picturesque golf courses. Even if you've never played, it's hard not to enjoy a stroll over manicured lawns with views of the water. Oak Harbor is home to the Whidbey Golf Club, a semi-private course with public tee times available. Check out the pro shops at Holmes Harbor Golf Course in Freeland or Useless Bay Country Club in Langley, to equip you with everything you'll need. Camaloch Golf Course on Camano also has a pro shop, plus the onsite Rockaway Bar and Grill.
Fitness Journey
If you're feeling inspired to get active but don't know where to begin, there are local professionals to help you reach your goals. Try Coupeville Health and Fitness or Vibrant Fitness in Langley, for a personal trainer to set you on the right track. Nutritionist Lori Taylor in Coupeville can guide you with a plan, and the Island Athletic Club in Freeland has a swimming pool to help you get your strength up. Oak Harbor has Planet Fitness if you want to work out at your own pace.
Yoga and Pilates are a popular choice, with many teachers and studios available to help you advance your practice. The Pilates Collective has locations in Langley, Freeland, and Oak Harbor. Even as so many in-person classes were unable to meet, teachers and students have been connecting virtually. For all the downsides of distanced togetherness, never before have you been able to take a class on Camano without leaving Whidbey, or vice versa! Try Movement Arts on Camano for yoga, or Chrysalis Yoga Shala in Oak Harbor. You'll also find the Lotus Tea Bar and Studio there, for some healthy eats before or after class.
Treat Yourself
Wellness is not all movement however, sometimes we just need to take a quiet day for some self-care. For a beauty treatment that will leave you feeling your best, try Allure Salon and Spa in Oak Harbor, or The Beauty Lounge in Langley. Pamper your paws at Island Girl Nails in Clinton. For a taste of island bliss through massage or reflexology in a calming environment, check out The Seaside Spa and Salon in Coupeville, or the Camano Island Day Spa. Take some "me time" and drop off the kids for martial arts lessons at South Whidbey ATA. Fitness and fun for them, peace and quiet for you!
Everyone knows the benefit of green spaces and how they soothe the psyche, but to islanders the blue spaces are just as important. We treasure our nearness to the sea, and are always looking for new ways to connect with our coastal environment. For more information about how you can protect this precious habitat we share, reach out to Sound Water Stewards, always looking to the future.