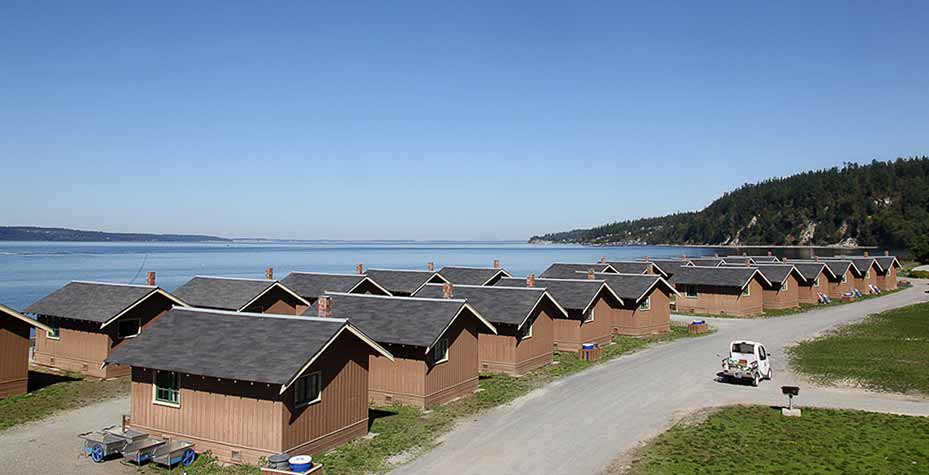 Cama Beach State Park offers a throwback vacation experience with 50's era fishing cabins next to the waters' edge.
Photos Courtesy: Michael Stadler
Perhaps it was destiny that the mile-long beach on the southwestern side of Camano Island would be a tourism hot spot. But, this popular beach is different from those with super-sized, all-you-can stand, audience-researched, corporate-owned mega-resorts.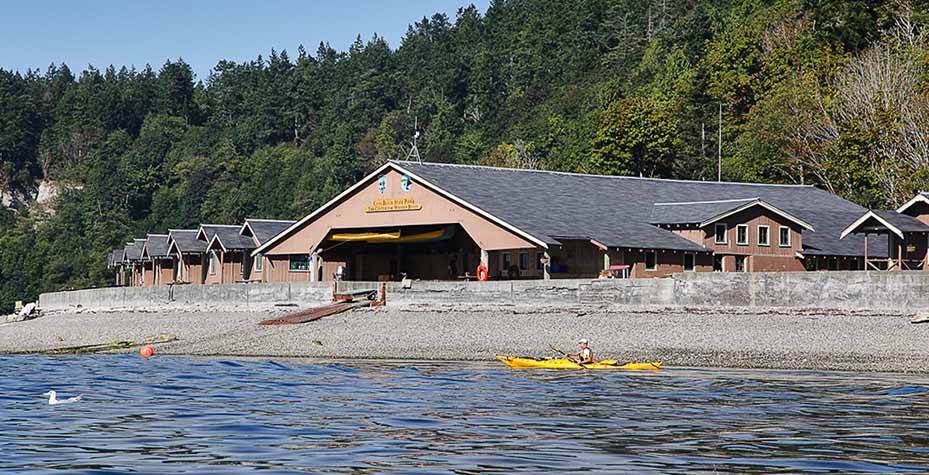 Cama Beach is a throwback to when recreation involved doing things, not just watching things. It's a waterside state park where the activities include swimming, fishing, bird watching, crabbing and boating. Cama Beach is the re-birth of a family fishing resort that opened in the 1930's and provided happy memories for countless families until 1989 when changing vacation patterns forced it to close.
Cama Beach State Park reopened in 2008 and is one of Washington state's newest. From opening day, it's been a popular destination.
Instead of becoming a corporate resort or an upscale vacation destination, owners of the land, Washington state and many other groups worked to create something different.
As a state park, the resort has undergone a historically faithful and environmentally sensitive face lift that gives families the chance to spend a few days together on the waters of Puget Sound enjoying simple pleasures similar to what their parents or grandparents might have enjoyed years ago.
A recent addition is the Cama Center Great Hall. Located on a bluff overlooking the cabins, the facility hosts weddings, business retreats, parties and family reunions. With soaring ceilings and windows, and a floor made from reclaimed wood, the hall is the perfect complement to the original cabins and bungalows. Not only does the café in the hall cater the events, it also attracts customers from both the cabins and Camano Island.
Everett schoolteacher Elizabeth Kennedy, her children, her mother and her grandmother were all part of the Park's extended family and came to the park shortly after its rejuvenation
"I was five when my family first came here to Cama Beach," Kennedy said. Among her first memories were, "being liberated and very free" to run around with relatives and other children in the cabins.
"I think that it's a confidence builder for the kids," Kennedy's mother, Kathryn Requa, said.  "When I brought my kids here they got to explore and find their own way and their own freedom. Now I'm watching the grand children do the same thing."
Sisters Karen Risk Hamalainen and Sandra Risk Worthington know all about being children at the park. It was their home.
Their grandfather built it and they later helped their parents run it. Unlike owners of similar resorts that dotted the Sound, the sisters and other family members wanted to find a way for the public to again enjoy coming here.
"I guess in the American sense I had the right to sell it, but in some real moral bigger-picture way that I really had responsibilities," Hamalainen said.
Worthington added, "If you make it, you know, condominiums, you'd have a few people who are going to have gorgeous pieces of land to enjoy. We wanted to have it open to the public."
So, while Cama Beach did become a popular resort, those that worked to make it happen did so in a way that made sure this beachfront resort remained faithful to the idea that life was once simpler, and that even today, simple, even if just for a vacation, is still possible.
Twenty-four standard cabins, seven deluxe cabins and two bungalows are only steps from the water and enjoy sweeping views of Saratoga Passage, Whidbey Island and the Olympic Mountains. The feel inside these cabins is both rustic and comfortable and they're affordably priced, especial for families who need to get away but not spend a fortune.
The cabins are so popular that summers are often completely booked and weekend bookings are not available until late fall. To try to give everyone a chance, individual cabin bookings can only be made as far as nine months out.
One thing visitors won't find is private automobiles. Instead, people park nearby and are shuttled to their cabins, giving guests the chance to trade the convenience of on-site parking for the quiet of nature dominated by the waves along Saratoga Passage.